What You Need To Know About Lace Frontal Wig
Mar.15,2018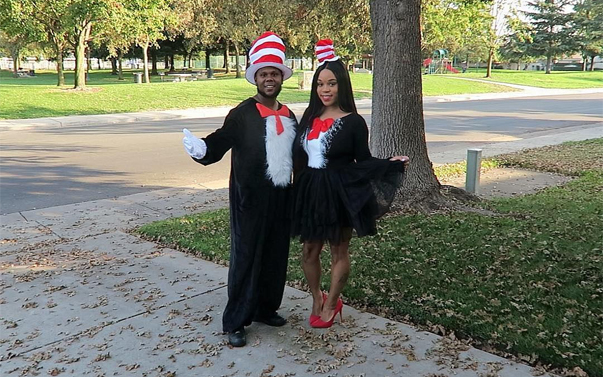 Spring is quickly approaching and what that means for many Black women is that they're looking for their next protective hairstyle. When it comes to protecting your hair during the warm months there are so many options and it truly depends on your lifestyle, desired maintenance level, personal hair philosophy and budget.
Every one of us all wants to have a beautiful and fresh look. Wigs are a great way to switch up your look in little to no time at all. You can go short, curly, long, straight and everything in between. Wigs have come a long way and have more of a natural look to them in comparison to the past. The most popular wig right now would have to be the lace front wig.
But, what do you know exactly about lace frontal wig? No worries, today, we will share with you all about lace frontal wig in this article. Enjoy reading!
What Are Lace Front Wigs Exactly?
Lace front wigs or front lace wigs, as they are sometimes called, are a variation of Lace Wigs. They are extremely popular among our clients and among people who wear wigs in general. Lace wigs can be classified by their mesh appearance that adds a greater realism to your wig.
Front lace wigs are so named because the sheer lace that makes up the wig is located in the front part (the part that rests on the forehead) of the wig. These lace frontal wigs are ideal and extremely popular because it will appear as if you have a natural hairline in front, even if you are wearing a front lace wig.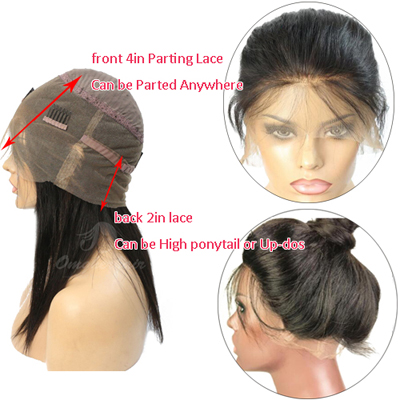 Will Hairline On Lace Wig Have A Natural Look?
Yes, when you wear the lace wigs correctly according to our user guide, the hairline will have a natural look, just similar to your own hair growing from your scalp. For customer order, we recommend you to have baby hairs on the front and perimeter of the wig and make the hairline with more natural looking.
How long do front lace wigs last?
The longevity of your lace front wigs is usually determined by the material that they are made of. Real human hair lace front wigs can last up to years if they are maintained properly if you follow our tips for caring for your human hair wigs.
Do lace front wigs need to be stored differently?
No, they do not, which is the amazing thing about them. Storing your wigs properly is an essential part of making sure that they always look their best because when your wig looks beautiful you can guarantee that you are looking dazzling as well. Storing lace front wigs and other wigs as well should never be a difficult task, but it is important that you remember to store them properly so that they remain in peak condition.
The Price Of Lace Front Wigs
Usually, lace front wigs are not cheap. High-quality wigs can run close to two thousand dollars. They are pricey for most budgets at three hundred dollars although the more affordable options are cheaper. If you experience sticker shock once you see the price, you can get a wig on a payment plan. However, wearing wigs can help to save you the trouble of going to the stylist while still helping you look good.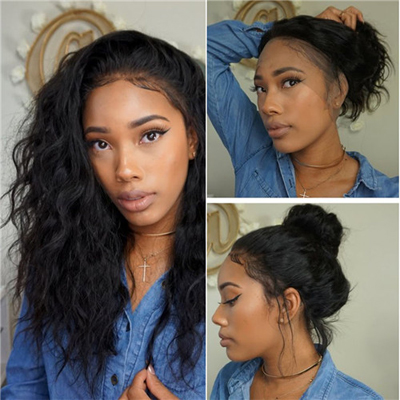 Are Lace Front Wigs Harder To Clean?
No, they are not! The differences in cleaning the wig do not stem from the style of the wig, but rather from the material that the wig is made of. For instance, human hair wigs require much more maintenance (especially after cleaning and washing) than synthetic wigs. If you have a human hair front lace wigs then it will be much harder to clean than a synthetic lace front wig. Luckily for you, if you have one of our lace front wigs, washing your human hair wig will not be much of a hassle.
Somethings Need To Know When Laying Lace Wigs
Lay Your Hair Flat
One way to get your hair flat under the wig is to braid your hair in 6-8 cornrows going straight back. Another easier way is to part your hair all the way down the middle into two sections. Braid those sections so that you have 2 regular braids. If your hair is long, simply crisscross the braids so that they lay flat on both sides.
Wig Caps
Wig caps are completely optional under a lace wig. Some people like the cap because it creates an additional barrier between their hair and the wig. Other people simply put the wig over their hair without a cap. It's completely up to you.
Cutting The Lace
We get a lot of questions on how to cut the lace. The best way to cut the lace is to put the wig on and pull it down so that hairline of the wig is in front of your natural hairline. Take your scissors and cut along the lace so that it matches your natural hairline.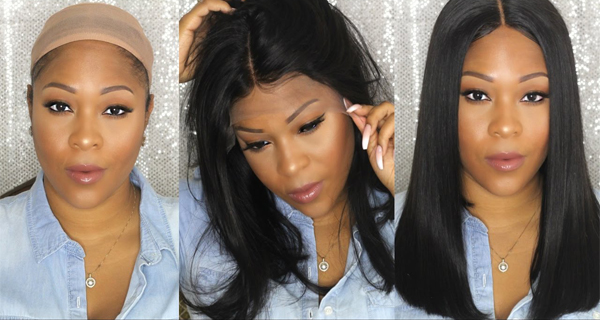 Parting The Wig
Lace front, full lace and 360 wigs can all be parted in any direction you'd like. The lace mimics the look of a natural scalp. Your new wig may not lay flat at first. However, you can use a hot comb so that the hair stays parted in the direction that you like. You can also use a scarf to tie the wig down so that the part stays in place.
Styling The Baby Hairs
All of our wigs come with baby hairs to ensure a natural look. You can gel them down just like you would gel down your natural baby hair.
Securing The Wig
The wig comes in a universal size. The adjustable strap allows you to customize the fit of the wig to secure it on your head. You can also use an adhesive like the gel to apply it slightly in front of your natural hairline.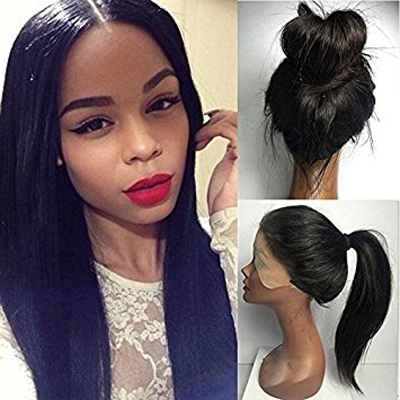 Others You Need To Know
1. A wig can be glued, taped or sewn into place. Sometimes there are even small combs on the side and back of the wig to help keep it in place.

2. If you do end up having an allergic reaction, try opting for a hypoallergenic adhesive product or use a glueless wig altogether.

3. Keep in mind that no matter what the length of your hair is, make sure that it is moisturized properly.

4. Test the fit of your wig on your head before you apply any adhesive product. Place the wig on your head so that it matches up with your natural hairline and blends smoothly.

5. After you have made sure that your wig fits properly and is comfortable, prepare your scalp for the adhesive. Make sure to cleanse the hairline where the adhesive will be placed and be sure to apply a protective serum to the skin.

6. Apply the glue or double-sided tape along your hairline as necessary and make sure to line your wig up with it as you place it on your head.

7.If you're using the sew-in hair weave method, just place the wig on your head and sew it in along the hairline. Just make sure to keep it in place until you're finished sewing in order to achieve the most natural look.
Shop For More Affordable Human Hair Wigs
Shop For Julia Peruvian Curly Hair Full Lace Wigs
Shop For Julia Cheap Straight Full Lace Wigs
Shop For Julia Short Wavy Brazilian Real Hair Bob Wigs
Shop For Julia Best Quality Wavy Hair Long Wigs
Related Articles
Comments are Closed for this post.