What Should You Know Before Buying A Wig?
Dec.16,2017
Human Hair wigs are so pretty easy to get an amazing natural look that is comfortable and completely secure. There are many reasons why you might find yourself considering wearing a wig, but if you've never actually shopped for a wig before, you may have some misconceptions about them. To solve this problem, you simply need to be more informed about wigs and know something before buying a good quality wig that suits you.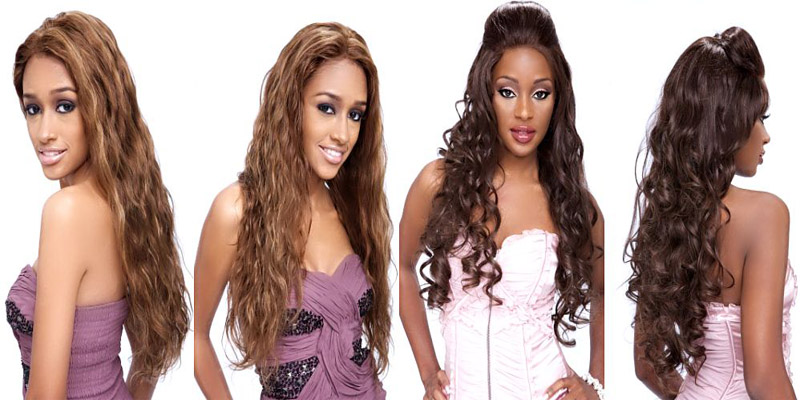 Something You Should Know Before Buying Human Hair Wig
What Are They Actually Made Out of?
There are two kinds of wigs: Human hair and synthetic hair. Real human hair wig is more expensive than the synthetic wig. Because real human hair wigs can be cut and styled using curlers and tongs. They can also be parted in different ways and most often have lace frontals that look like nature hairline. Synthetic wigs, on the other hand, have less natural hairlines and often can't be parted and re-styled. You can read this article: Why Choose Real Human Hair Wigs?
What Types of Wigs Are Available?
There are 3 main types of wigs. There are lace front wigs, which mainly type. They come in all lengths, styles, and colors and even in individual pieces. You can use it to make a full chignon, add volume, or give the appearance of longer hair. What should we look for when buying a wig? It's great to try and experiment with new styles and colors when buying a wig. If you are wanting to wear them on a daily basis go for a more natural style and always look at customer reviews if you're purchasing from online. They can tell you more about the wig than just pictures alone. You can read this article: The Dos And Don'ts While Wearing A Human Hair Wig.
Color
Match wig's hair color to your natural hair, skin tone, eyes color. Try out different colors and shades. Using your eyebrows as a guide, choose a color that suits your skin tone. To add a bit of flair, go with a wig that has some highlights which will give the color you choose dimension. You can go for more contrast if you're looking for something more striking; just be sure that the contrast works well with your facial features.
Wig Cap
Thoroughly pick a wig's cap. Look at the construction of the cap. Caps are extremely versatile and come in a variety of hand-stitched high-quality options. Capless wig choices employ a honeycomb design offering better ventilation and you can pull your real hair through.
Lifestyle
Your lifestyle, schedule, and ability to style hair should be taken into consideration when buying a wig. How much time do you have to spend or are willing to spend on styling your hair? What climate will you be in? And of course… budget! The answer to these questions will determine whether your best options are synthetic hair or human hair wigs. They are both amazing and have their advantages over the other… But the most important thing is to figure out which works best for you.
Be Natural
A good tip for first-time wig wearers is to mirror your natural hair when it looked best. You can save new and different styles for your next wig purchase. For now, choose a wig that looks healthy and natural. You can read this article: Wearing Human Hair Wigs To Change Your Look.
Style
When you will select wig's style, take into account the shape of your face. Just as not every hairstyle you tried was suitable for your features, not every wig will look right on you, either. The first step to choosing a good wig is to find a style and color to match your features, which will help the wig to look more natural on you. One of our Hair Loss Specialist can determine the perfect wig for you based on what you're looking for and our expertise at fitting wigs to your features that will look natural.
Size
It's important to choose the right size to make sure that you get the perfect fit. Get the volume of your head properly measured. Make sure that a wig comfortable fit your head.
Quality
There are many different ways in which wigs are made. You don't have to be an expert to know if one is good, but even knowing a little bit can help you find a wig that fits your budget and your needs. A high quality real human hair wig is a great option to get a much more natural look. These are usually more expensive but can be worth it if you wear the wig often.
Length
You should also make sure that you purchase the right length wig for you so that it is not too short. It is best to purchase a wig that is longer than you would like as you can always get it styled to suit you and get it trimmed to the correct length. So, make sure to measure the length of wig that you need before purchasing it or try it on to make sure that it is the length that you require, not too short.
Care Tips For Human Hair Wigs
1. Store on a wig stands for proper ventilation! Always remove your wig at night and place on a wig stand unless it is a glue-on lace front. These can be worn for weeks at a time.
2. Keep out of direct sunlight! Covering your wig with a scarf is a great way to keep dust off and shield any sunlight from nearby windows. This is especially important for human hair, the color of which will be changed over time by the sun's UV rays.
3. It is recommended to wash your wig after about every 10 uses. Wash more often if sweaty or active. If you want to learn more care tips on wigs, you can read this article: How To Care For Your Human Hair Wigs?
4.Check out some tips on how to wash your human hair wigs.
With the right considerations in mind, buying your first wig doesn't have to be nerve-wracking. Choose one that makes you feel confident and is comfortable with your scalp and type of hair loss.
Comments are Closed for this post.