How To Style A Human Hair Wig?
Apr.04,2018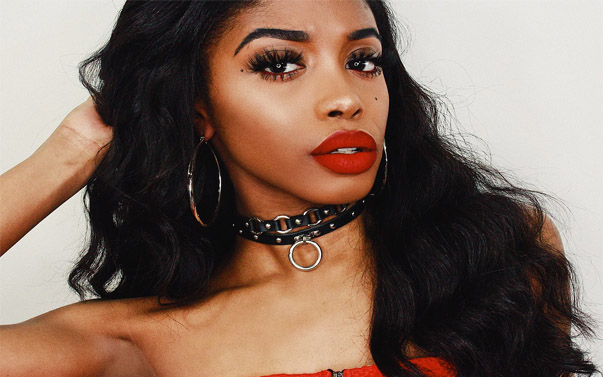 For years, men and women of all ages have been enjoying the freedom and versatility of this simple-yet-life-changing product. The human hair wig is quickly becoming as commonplace as hair-color, acrylic nails, and body-shapewear for that instant boost in beauty, confidence, and overall fabulousness.
Human hair wigs completely changed our life. Not only did our hair look more authentic on our head, but the more we take care of them the more the texture and durability lasted.
There's no shortage of ways to style your human hair wig. Today's wigs have built-in memory. A few basic styling techniques are all that is needed to "remind" your wig of its intended look. By learning these wig styling methods, you can achieve a more natural look that you'll love to wear.
First, Why Do We Choose Human Hair Wigs?
1. Limitless styles
Change your hair in an instant, without making a permanent commitment. You can choose a wig that enhances your natural hair or make a statement with a bold, new look. Either way, you have total control over your style, head to toe.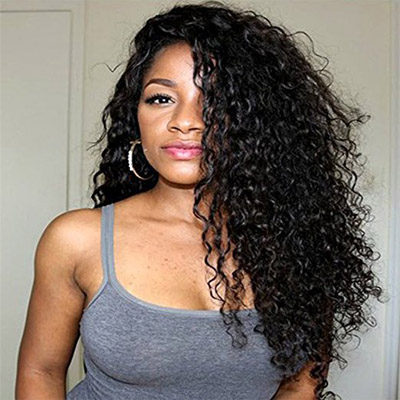 2. Convenience
The time spent blow-drying, straightening, curling, treating, coloring, styling, and maintaining your hair can add up to more than you realize. Wearing a wig can give you more hours in the day that can otherwise be used for whatever you want!
3. Thinning Hair
Both men and women can suffer from hair loss for a variety of reasons, including genetics, hormonal changes, illness, and medication. Many people consider hair to be a vital part of their overall appearance, and wigs can hide the thinning and restore confidence.
4. Protection
Wearing a wig can protect the health of your hair, as there is no need to continue damaging it every day with harmful styling products and heat treatments. Wigs can also protect your budget since you won't need as many salon appointments.
5. Fun
Wearing a wig, in general, is a fun way to spruce up your style. If you enjoy Halloween, costume parties, masquerade balls, cosplay events, or just like playing "dress-up," wigs offer boundless opportunities to truly define your character.
6. Appear Natural
Wigs used in human hair have the ability to appear completely natural, smooth and glossy. When touched, they feel natural to the hand and provide the same feeling as when touching the real human hair.
How To Style A Human Hair Wig?
If you wear a full lace human hair wig, there's no need to skimp on style. Just style your human hair wig to upgrade your look or to give your natural hair a break from the rigors of daily styling products.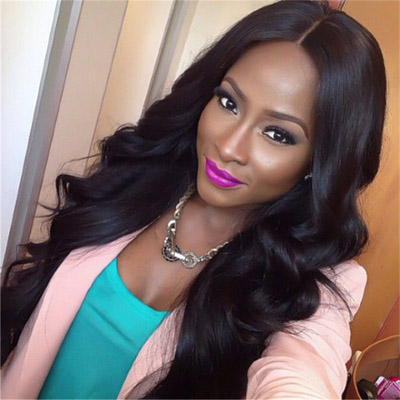 What You Will Need
Curling iron or hair rollers
Step 1: Washing Human Hair Wig
Wash your human hair wig gently. The gentler, the better. Put the wig on a wig stand.
Step 2: Detangling Human Hair Wig
Comb the hair of the wig with a detangling comb. Don't comb the base of the wig or the mesh where the hair is attached.
Step 3: Keep Human Hair Wig Moist
Roll the wig with hair rollers while it is still damp. You may use a spray bottle filled with diluted setting lotion or water to keep the hair moist as you work with the hair to style it. This will help the hair to adhere to the rollers and give a good curl to the ends of the hair.
If you prefer to curl the wig with a curling iron, you may do so once it's dry. Curl each section of the wig with a curling iron. Skip to "Step 6."
Step 4: Drying Human Hair Wig
Either let the virgin hair air dry overnight or place the wig and wig stand under a hard hat dryer. Keep the setting of the dryer low. It will take 45 minutes to 2 hours for the wig to dry depending on the length and thickness of the hair on the wig. Take out the rollers once the wig is completely dry.
Step 5: Styling Human Hair Wig
Style the wig to your liking using gentle strokes with a comb or wig brush. Spray a light mist of hairspray or spritz to seal the curls and the style.
Step 6: Fitting Your Face
Remove the wig from the wig stand and try your freshly styled human hair wig on to see how it looks. You may need to add a few finishing touches to personalize the style of the wig to fit your face.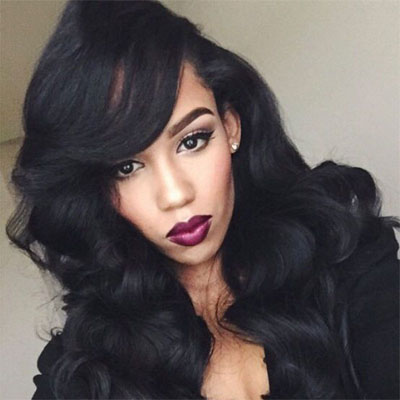 Tips on How to Style A Human Hair Wig Better
TIP 1: If you don't like to use heated styling products, the easiest time to style your wig is your wig is still wet after washing, as wet hair is a lot easier to style than dry hair.

TIP 3: When the hair is washed or dried, comb through the hair with a detangling comb while placing it on the wig stand (easier to style your human hair wig).

TIP 4: DO avoid combing or styling the roots or base of the wig.

TIP 5: Use a chin strap to secure the wig on your head. This gives you the freedom to use both hands and see both the wig frame and your face as you style.

TIP 6: Take advantage of wig styling tools, such as a styling head. When you use this accessory, you can easily see all sides of the wig. This is especially helpful if you have difficulty reaching up or to the back to comb your wig.

TIP 7: Brush your wig to wake up the fibers. Styling begins with proper brushing. For Human Hair wigs, a boar bristle brush is recommended.

TIP 8: Keep your style in place using wig styling products that are formulated specifically for wig fibers, such as wig spray or volumizing mousse. To spray your wig, lightly mist the entire wig. Start at the back and spray forward, keeping the spray 12 inches away from your head.
Juliahair Goddess Day Sale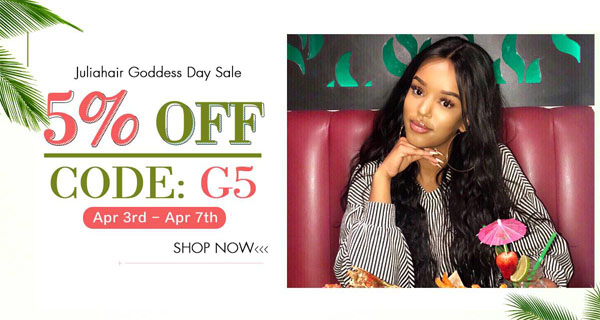 If you want to buy human hair wigs, please click our official store online, we have many types of human hair wigs. Now, we have a big promotion for you - Goddess Day Sale. Julia Hair, Your Best Choice. Change your look from now on!
Time: Apr 3rd - Apr 7th
All the Products will enjoy 5% off for Goddess Day!
Coupon code: G5
Welcome to Julia Hair Online Beauty, using the coupon code to get your high-quality human hair wig for your fashion and beauty. We have human virgin hair wigs, full lace wigs, lace frontal wigs, and they all have curly hair wigs, wavy hair wigs and straight hair wigs in different length for your beauty.
Goddess Day Sales Cheap Human Hair Wigs
Shop For Julia Peruvian Curly Hair Full Lace Wigs
Shop For Julia Cheap Straight Full Lace Wigs
Shop For Julia Short Wavy Brazilian Real Hair Bob Wigs
Shop For Julia Best Quality Wavy Hair Long Wigs
Related Articles
Comments are Closed for this post.