How To Install A 360 Lace Frontal With Hair Bundles?
Apr.23,2018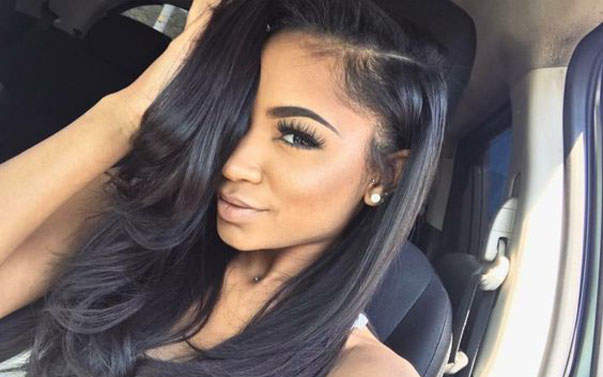 360 lace frontal become more and more popular these days! Are you interested in 360 lace frontal? How much do you know about 360 lace frontal? There are different size Lace Frontal : 4 x 4 ,5 x 5 , 13 x 2 ,13 x 4 and 360 Lace Frontal. Except for 360 Lace Frontal, other sizes are very easy to install. There is a good method that we install 360 lace frontal with hair bundles. Enjoy reading!
First, What is 360 Lace Frontal?
Well, the per-plucked 360 lace frontal with bundles just gives the option of being able to style your hair the way you want all around not just the front. The Lace Frontal will fit any standard medium wig cap size wearing women (basically 22-22.5" in circumference). With 4 inches to the front and 2 inches towards the back.
This isn't a wig but can be used to make a wig or for a human hair weave you just add the bundles to the middle. It goes around the whole head so you can put it in a ponytail, and part anywhere too. All hand-tied and bleached knots with the natural hairline. In short, 360 lace frontal save your time and big money!
Why Choose 360 Lace Frontal And Hair Bundles?
1.Can use 2-3 bundles and a 360 lace frontal to make a full head -360 Lace Wigs.

2.Can wear in a mid-high ponytail without exposing wefts/weaving tracks in the back, gives the option of being able to style your hair the way you want all around not just the front.

3.Traditional Track Hair need to take 3~4 hours, 360 lace frontal with bundles only need 1 hour to install.
If you want to know more about the reasons to choose 360 lace frontal, you can read this post: Why Choose 360 Lace Frontal And Human Hair Bundles?
How To Install A 360 Lace Frontal With Hair Bundles?
What You Will Need
C-Curve needle for sew-in hair bundles

360 Lace Frontal and 2-3 hair bundles
Step By Step
Step 1: Customizing Your 360 Lace Frontal
You can pluck the hairs from the hairline, bleach the knots, or dye the lace to better match your specific skin tone. After making any customizations to the lace frontal, you can then cut off the lace from around the circumference.
Step 2: Braid Your Own Hair Toward The Back
You can lay your own hair down by plaiting or braiding it toward the back so that it can lay flat. The flatter your hair the better your 360 lace wig will look.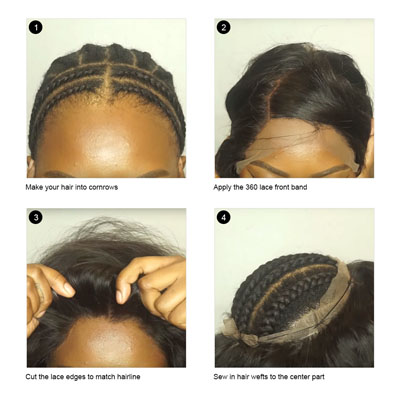 Step3: Install The 360 frontal On Your Head
Place the frontal on your head and align it with your natural hairline. Braid or pin your own hair out of the way while working with the frontal. Once the frontal is matched to your hairline, you can start to adhere it by either using the sew-in method or using an adhesive glue or tape. The most popular option is to have it sewn down along the outside of your wig cap.
Step4: Install The Bundle Hair To The Crown Area
Once your 360 frontal has been secured, you can now start installing your virgin hair bundle deals or wefts to the crown area. When installing a 360 lace frontal with bundle hair, only 2-3 bundles are usually required to get your extensions to look like your natural hair.
Step5: Style Your Baby Hair
Use a little styling gel to add the finishing touches to your 360 lace frontal and style your baby hairs to your desired look.
Lace Frontal with Hair Bundles
A common question is How Many Bundles Do You Need With A 360 Lace Frontal?
Because a lace frontal covers ear to ear and is larger than a closure, you will probably need a little less hair from bundles. This is especially the case if you are using a lace frontal 360 that wraps entirely around your head and just leaves the back portion open to sew-in bundles.
With a Lace Frontal 360, you will need about two bundles up to 22″ and three bundles once you are going over 24″ in length.
When deciding how many bundles you need with a standard Brazilian lace frontal closure you have to take into consideration not only the length of the hair but the size of the lace. Consult with your stylist before deciding on exactly how many bundles you will need based on these factors.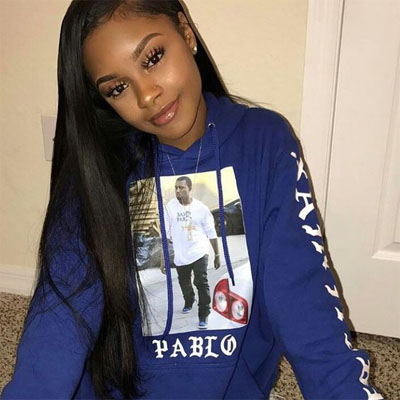 The Pros And Cons Of 360 Lace Frontal
The Pros
Reduces the difference between your skin and the beginning of the 360 frontal.

It allows your forehead and the hairline to align making it difficult to tell if you are wearing a 360 frontal.

May last up to a year if maintained routinely and properly.

No more hassles of blending hair.

You can use whatever color you want. It is real and sufficiently protective.

The adhesive is easy to rinse off with water with no skin irritation or hair breakage.

The glue can last 2-3 weeks and meshes lace with the skin.

The tape is easy to apply and remove and lasts about one week.

The elastic band doesn't use any product and can last very long.
The Cons
It may begin to slip after some time.

The wig may damage your scalp if not maintained properly.

The adhesive lasts for only 4-8 days hence the need for regular maintenance.

Adhesive needs retouch after two weeks and can cause skin irritation.

The tape may irritate the skin and does not lay as flat as the lace glue; it also shines through the lace.

The elastic band can be uncomfortable causing headaches.
Shop For More Popular Lace Closure
Shop For Virgin Body Wave Hair Weave Bundles With Lace Closure
Shop For Thick Soft Straight Virgin Hair Weaves With Closure
Shop For Jerry Curly Hair 13x4 Lace Frontal Free Part Frontal Closure
Shop For 360 Body Wave Lace Frontal Natural Hairline Best Virgin Hair Closure
Related Articles
Difference Between 360 Lace Frontal And Lace Frontal, Which One Is Better?
Comments are Closed for this post.