How To Install 360 Lace Frontal Closure?
Mar.14,2018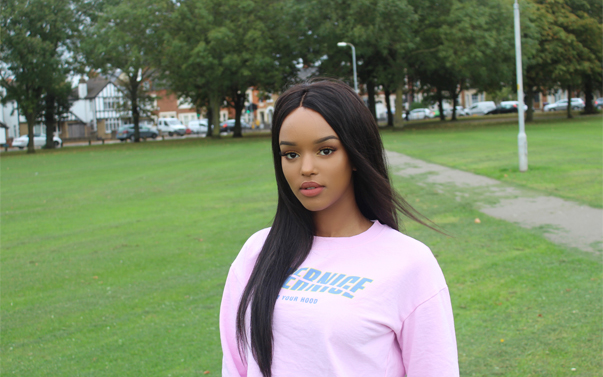 360 lace frontal become more and more popular these days and it's the latest trend in hair extensions and weaves. This is because it allows you to wear hair extensions and hair weave bundles to look like your own hair.
So, you want to know how to install the 360 frontal? Well, Below as we give you step-by-step instructions on how you can use your 360 lace frontal to make a beautiful, realistic pronto quick weave. The usual time it takes to install the 360 lace frontal closure installed is approximately one hour. Follow reading!
Firstly, What Is 360 Lace Frontal Closure?
Essentially a pre-plucked 360 Lace Frontal is full lace closure designed to go all around the head perimeter, unlike the regular lace frontal that is installed only on the front of the head.
They were designed with the aim of decreasing weave installation time significantly. It requires less weft and bundles, and there is no sewing of wefts along the outer head portions. It needs only 2-3 bundles to complete the task. It's definitely an effective way to get your hair installed in terms of time and money.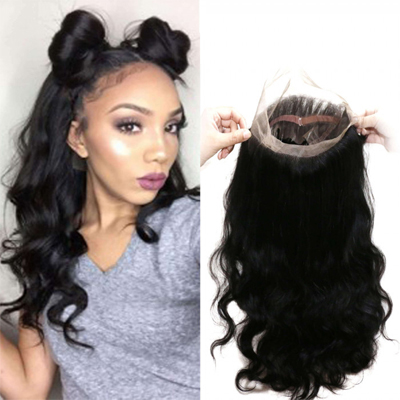 Why Choose 360 Lace Frontal?
1. Less than 2 bundles of hair weft to make a 360 Lace frontal Wigs.

2. Can wear in a mid-high ponytail without exposing weaving tracks in the back, gives the option of being able to style your hair the way you want all around not just the front.

3. Traditional track hair needs to take 3~4 hours, 360 full angle lace frontal band need one hour to install.

4.Make your scalp more breathable.
How To Install 360 Lace Frontal Closure?
What You Will Need
360 Lace Frontal and Virgin Hair Bundles

Styling Tools and Products (comb, hairspray, gel, etc.)
Step-by-Step On Installing 360 Lace Frontal Closure
Step 1: Just like it is with all human hair weaves, begin by prepping your natural hair and virgin hair bundles. This includes washing, conditioning and trimming the natural hair if necessary. You can also pluck frontal hairline hairs, bleach the knots if needed or dye the lace to match your skin tone. After making the changes to your 360 lace frontal, trim away any excess lace.
Step 2: Proceed to style your hair by plaiting or making cornrows then put on the wig caps. Sew the two wig caps using big stitches around the crown. Using scissors, cut the excess from the wig cap top.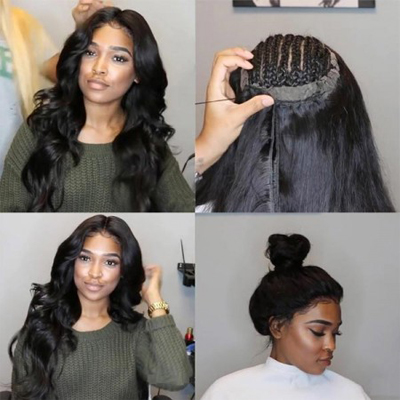 Step 3: Apply and carefully position your 360 lace frontal as desired along with your hairline. Braid or pin the hair out of the way. After carefully setting the 360 frontal, sew it down on the top wig cap.
Step 4: Once installed correctly, prepare to glue or sew the hair weaves down in the remaining areas. If you are bonding (glue) first, spray this circular area with hairspray or just begin gluing it on the tracks. Start gluing from the back working upwards. Measure the track against your head before beginning cutting and gluing. For sewing start at the end of the track, from the back working upwards, using a c- curve needle and thread.
Step 5: After gluing or sewing all tracks, cut away any remaining lace from your hairline. Use a lace adhesive or styling gel to secure the frontal as needed properly. And you will have learned How to install 360 lace frontal. You can achieve many styles very easily using this method and the 360 lace frontal.
Video Tutorials
Do you want to get your frontal seems more natural and look like real hair? This video will teach you.
Hair Information: Malaysian straight hair: 22 22 24 inches lace frontal 18 pouches
360 Lace Frontal Styling Options
You can use 360 lace frontal to make the new quick-weave. You will still require hair wefts matching the hair texture to complete your look. Approximately two-three bundles will be ideal, keep in mind the hair texture determines the number of wefts you will require to complete your desired look with these 360 lace frontal. Bellow, you can have the versatility in styling options.
Up-dos and high ponytails.

Freestyle parting – so you can part in any desired direction.

No more need to worry about your edges showing or your tracks being exposed.

You will have more depth in styling options with this trending and revolutionary hair extension piece.
Lastly, The Pros And Cons Of 360 Lace Frontal Closure
So now you know how to install a 360 lace frontal. Let's look at the pros and cons that associated with it.
Pros:
Reduces the difference between your skin and the beginning of the 360 frontal.

It allows your forehead and the hairline to align making it difficult to tell if you are wearing a 360 frontal.

May last up to a year if maintained routinely and properly.

No more hassles of blending hair.

You can use whatever color you want.

It is real and sufficiently protective.

The adhesive is easy to rinse off with water with no skin irritation or hair breakage.

The glue can last 2-3 weeks and meshes lace with the skin.

The tape is easy to apply and remove and lasts about one week.

The elastic band doesn't use any product and can last very long.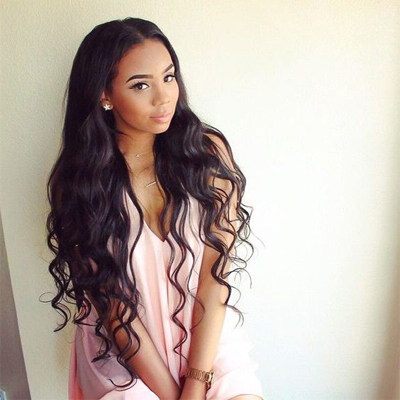 Cons
It may begin to slip after some time.

The wig may damage your scalp if not maintained properly.

The adhesive lasts for only 4-8 days hence the need for regular maintenance.

Adhesive needs retouch after two weeks and can cause skin irritation.

The tape may irritate the skin and does not lay as flat as the lace glue; it also shines through the lace.

The elastic band can be uncomfortable causing headaches.
All the above steps you have learned. Get the premium human hair bundles with lace closures that's pretty much all you need to get a flawless, natural looking.