Lace Closure VS Lace Frontal, What's The Difference?
Feb.07,2018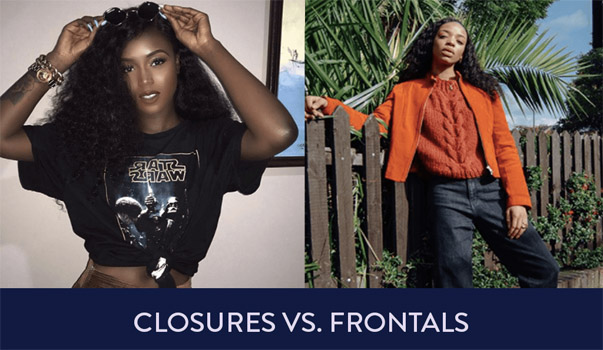 When it comes to wearing human hair weaves and extensions, the goal should always be to obtain a natural-like appearance. No one deliberately wants their weave to be easily detected, which is why many installations require leaving hair out in the front to cover tracks. That is why lace closure and frontal are quickly becoming bare necessities of weave-ology.
Lace frontals and lace closures are both very useful in creating beautiful sew in weave installations. They both serve the same purpose, which is to close off an install. They both eliminate the need for blending. They are both made of either Swiss lace or French lace. But they also have several differences between them some that we will discuss in this blog post. Keep Reading!
Contents Of This Article
What's The Difference Between Them?
How To Choose From Lace Closure And Frontal?
What Is Lace Closure?
Lace closure is an off circle shape of lace that has hair attached. It is usually pretty small and is around 4X4 in size.

A 4X4 lace closure can be used to place on the top of your braided hair in order to make your weave or sew-in look more natural. This allows you the option to have no real hair left out (leave out) when wearing a full head of weave.

To have a full head sew-in with a closure you would want to purchase 3 or 4 bundles to complete a style.

As lace closure is almost the same except that they come in different sizes, and they come in different styles like middle part, three part and free part lace closure.
You can learn more to read this post: Difference Between Free And Three Part Lace Closure.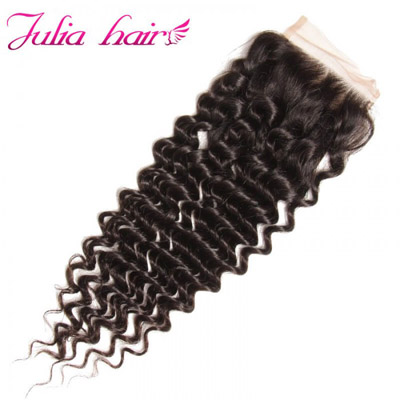 Why Choose Lace Closure?
Lace closures are usually a square-shaped lace that has hair attached, the closure can be used on top or side of your head, it could make your hair extensions look more natural when wearing a full head of weaves. You can read this post: How To Make A Lace Closure.
1. Great Versatile Parting: Lace closure offers a great versatile parting to create a natural hairline. Customers can part their closures in the middle or part.

2. Can Be Dyed: You can lighten or darken your closure without the need to worry your natural hair damage.

3. Little Maintenance: Lace closure needs little or no maintenance, it protects your hair from heat damage.

4. Seamless Blending: Blending is your most concern when adding hair extensions. Lace closure will give you a seamless blending, the scalp color and hair density make the hair look very natural.

5.Give You Perfect Look: Lace Closure is close to your scalp color, bleached knots and proper hair density, lace closure is made to fit your natural hair perfectly. A great closure gives you countless hair styling options.
If you want to know more about lace closure, you can read this post: Some Questions About Lace Closure.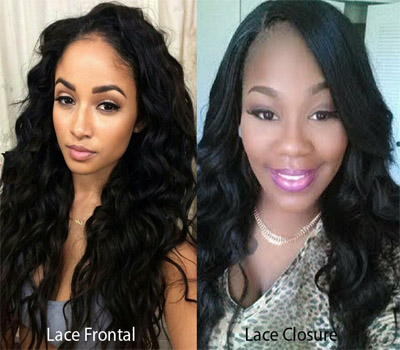 What Is Lace Frontal?
Lace frontal is a half wig which goes from ear to ear and is sewn with approximately 3-4 bundles of hair. The size is 13″ across and 4″ back. The frontal can be held in different styles and you can hold the hair back whereas the closure cannot be held back.

Lace frontals complete the desired look of a sew-in by closing off the install, eliminating the need to blend and leave out. It's the "finishing piece" that completes a full head of weave.

It's a recreation of the hairline that is essentially a protective style, giving your hairline and edges a break from the tension of sew-ins.

If you want to try something different, regarding hair color cut or style, lace frontals could be the perfect solution without you having to make any changes to your actual hair.
If you want to wear a wig, you can read this blog: How To Make Lace Frontal Wig?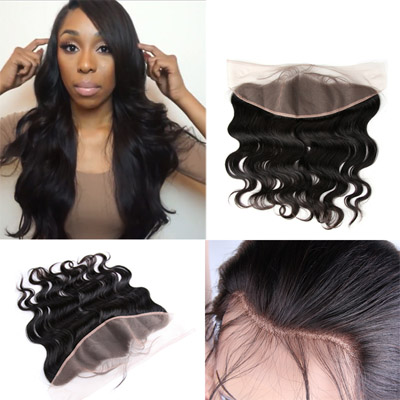 Why Choose Lace Frontal?
1. The main benefit of choosing a lace frontal is its unmatched styling versatility. Wearing a lace frontal can allow you to achieve a styling option that a closure doesn't, lace frontals allow you to wear pulled back hairstyles.
2.The lace frontal is more comfortable to install and wear. It is generally meant to be bonded in place and placed in front of the hairline usually because they are bonded. If you want to know more about lace closure, you can read this post: All You Need To Know About Lace Frontal.

3. Lace frontal covers the entire hairline and will allow you to achieve a seamless style that you can pull back off of your face.

4.Lace frontal 13x4 saves fewer hair bundles compared to lace closure. It seems that lace frontal is expensive individually but from the whole, you can buy fewer hair bundles to match. Thus you also save sew-in and wear much comfortable.
If you want to wear a hair weave, you can read this blog: How To Do A Lace Frontal Sew In?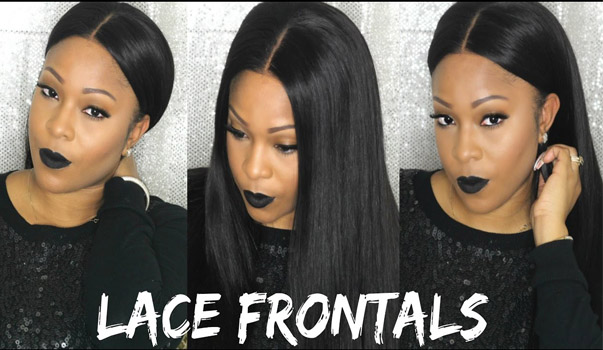 What's The Difference Between Them?
Before using Frontal or Closure, it is essential for you to understand the difference between two to achieve the desired look.
Size
The most obvious difference between a closure and a frontal is their respective sizes. Closures are typically 4 x 4 inches and sit either perfectly in the middle of the crown or can be shifted slightly to the side to achieve a side-part look. Frontal is similar in width and position along with the hairline across the front of the head, from ear to ear.

A new generation of frontal (the 360 lace frontal) allows you to cover your full hairline coverage around the entire head with space left in the middle for the extensions installed.
Installation
Another difference between lace closure and lace frontal is installation. All frontal or closer look best when they are correctly installed to mimic your natural hairline.

Customization and Installation of Frontal and closure depend on your desired look, level of convenience, and level of versatility.

Lace closures are sewn on to your head where lace frontals are generally bonded along the hairline.

Though both can be placed behind the hairline or in front of it, lace frontals are normally placed in front of the hairline.

So, this is the reason frontals are bonded. For an expert beautician, it's not a tough job to place the frontals behind the hairline using a thread that is invisible.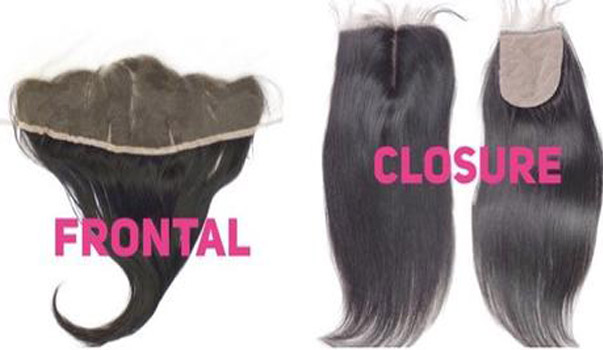 Base Material
Design structure for frontal and closure is different in appearance. Materials used within closures and frontals themselves arguably require more attention.

Both Closure and Frontal are typically made with either lace or silk. Some of the frontals are evenly made of putting silk in the middle 4X4 section and lace on either side.

Silk base closure cover head scalp more accurately when it is viewed from the close.

Lace based closures and frontals are preferred as the material lays much flatter against and blends better with the scalp. This allows lace users to achieve not just a natural, but accurate replica of their scalp.
Video Tutorials
Check out this video on the FAQs about lace frontals, lace closures and wigs with the Elastic Band Method and more. You will learn more lace frontal closure and know the difference between them according to watch this video.
How To Choose From Lace Closure And Frontal?
Knowing the distinctions between them will help you choose the perfect one for you. You will choose according to your need, budget, and your hair condition.
Whatever your hair condition and need are, a frontal will be able to give you more options for styling. So, I will suggest you go with a frontal but it will cost you more when compared with the cost of a closure.
If you want to just hide your install with a scalp that looks natural then closure is a good choice. Being small in size and structure, lace closures will cost less you.
Shop For More Popular Lace Frontal And Closure
Shop For Virgin Body Wave Hair Closure
Shop For Julia Soft Straight Virgin Hair With Closure
Shop For Jerry Curly Hair Weave With Lace Closure
Shop For 360 Lace Frontal Virgin Straight Hair With Natural Hairline
Shop For Jerry Curly Hair 13x4 Free Part Full Lace Frontal Closure