FAQs About Lace Closure
Aug.12,2017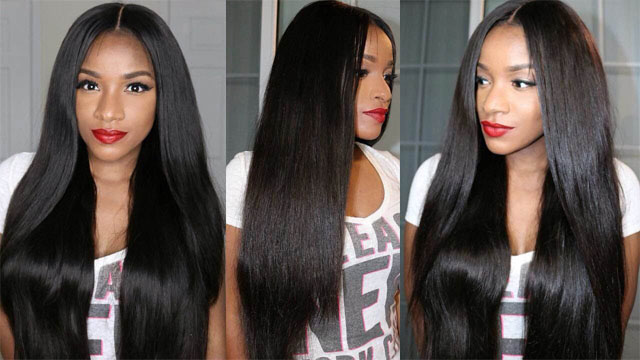 Recently years, lace closures have become immensely popular on the market. Some women who care about human hair products may have known much about lace closure, some of you may still don't know much about it. We have received a lot of questions from our customers. We will help you here.
What Can You Learn From This Post?
The Content
3. How To Install Lace Closure?
4. How To Remove Lace Closure?
5. How Long Do Lace Closures Last?
6. How To Care For Lace Closure?
7. The Pros And Cons Of Lace Closure
8. Can You Create Baby Hairs With Lace Closures?
9. How Many Bundles Do You Need With Lace Closure?
10. We Offer The Best Lace Closure
What is a Lace Closure?
A lace closure is a small piece of lace fabric, usually about 3.5"x4", 4"x4" or 5"x5" with individual strands of hair ventilated through and knotted directly to the lace. It covers only a portion of the head and proves ideal for people who want to hide thinning hair or temporarily change their hairstyle.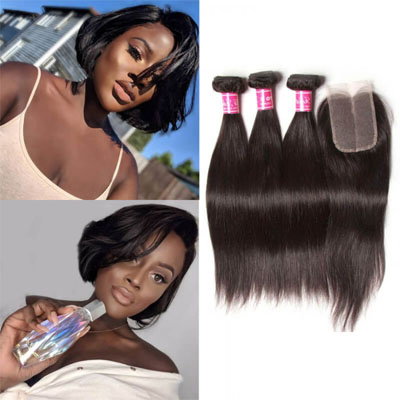 To cover thinning hair, the lace on the unit should blend with the wearer's skin tone before its glued or tape into position. Matching the closure with the wearer's hair type and the color is the key to a natural, flattering look.
Types Of Lace Closure
Just like there are different types of hair extensions, hair weave bundles, frontals and wigs, there are different types of lace closures. Closure hair varies from the kinds of parts, sizes and even base materials.
Different Types Of Sizes
There are different sizes when it comes to closures. While the sizes can vary, lace closures usually come in dimensions of 3.5"x4", 4"x4" or 5"x5".
Different Types Of Base Materials
A lace closure consists of individual strands wefted onto lace materials. The subtler differences of the materials used within closures arguably require more attention. Lace closures are generally made with either lace or silk.
If you want to know more differences between the lace closure and silk base closure, you can read this post.
Different Types Of Parts
Lace closures come in various parts for your styling needs. Some hair closures part in one way and others part in multiple ways. The main types of parts are middle part lace closure, three-part lace closure and free part lace closure in any hair texture, such as straight hair, wavy hair and curly hair in any color.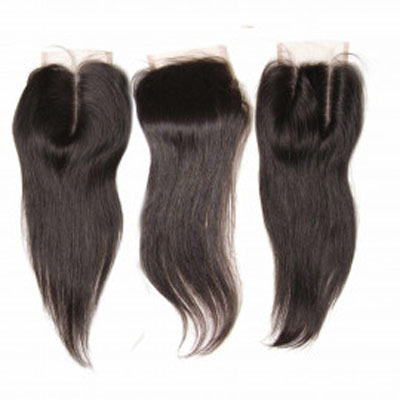 How to Install a Lace Closure?
Lace closure hair is not very hard to install at all. By following the few simple steps, you can achieve a hair closure that looks realistic. Here are the standard steps to install a lace closure.
Step 1: Regardless of whether you want to install a lace closure hair on sew-in or glue-in weaves, tracks will be needed for the weft of the closure.
Step 2: Complete the process of sewing in or gluing in hair extensions to tracks or cornrow braids of natural hair.
Step 3: Clean the skin around the outer edge of the hairline with rubbing alcohol.
Step 4: Make sure that you leave a U-shaped portion of cornrow braids on the crown of your head. This is what you have to install the lace closure.
Step 5: Apply a thin line of adhesive. Keep in mind that a little bit of adhesive is enough. Gently press it down until it is secured. Alternatively, you can use a dark-colored sewing thread and C-shaped needle to attach the lace closure to the U-shaped section of tracks.
How Long Do Lace Closures Last?
Our lace Closure hair pieces are 100% virgin human hair. With the beautiful and high-quality closure, it can last for a long time depending on how you maintain it. Treat it like your natural hair and take outstanding care of it for it to last longer.
How To Care For Lace Closure?
1.Brushing
When brushing your weave closure, do so gently while holding the roots of the closure hairs against the scalp and brushing slowly from the hair tips toward the scalp. Brushing your lace closures too frequently can cause shedding and balding.
2.Bleaching or Dyeing
Regarding bleaching or dyeing your hair closures, we suggest you have a professional do this for you. Otherwise, you run the risk of discoloring the closure hair piece - this is particularly bad because the whole point of a hair closure is to match as closely as possible the color of your scalp.
3.Washing
Use nourishing conditioner and shampoo and ensure that your weave closure is 100% dry to avoid attracting odor to it.
Warning Tips
Avoid using a lot of product on your lace closure.

If you have to blow-dry it, use a low-to-medium heat setting.

Don't treat your lace closures like a real scalp.

Don't want it getting weighed down and looking greasy.

Don't brush the lace closure when it's wet. It makes hair get shedding.

Comb curly hair gently with your fingers. Don't brush.
I hope these tips can help you to take good care of your lace closure and make your lace closure look natural.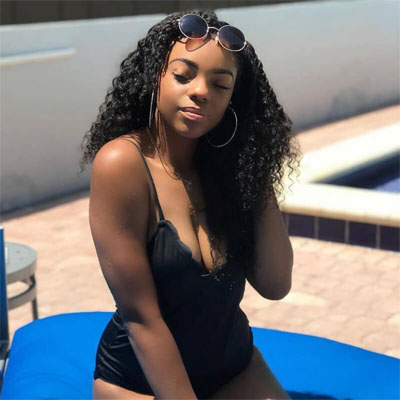 The Pros And Cons Of Lace Closure
Pros:
It gives a scalp-like appearance when placed against your skin or natural scalp.

It allows for a very flat and smooth application that will make your install look very real.
Cons:
You'll need to do some tweaking to lace closures to achieve the best results.

Our lace closures are sold lightly bleached, so we do not recommend re-bleaching the knots, this will ruin the closure.

You may have to add concealer on the lace material or a flesh tone is stocking under the closure to achieve a natural appearance.
Can You Create Baby Hairs With Lace Closures?
You can create baby hairs with hair closures. Just pluck and cut the hairline to create baby hairs and then lay them down with some blow edge control.
How Many Bundles Do You Need With Lace Closure?
The amount of bundles you will need all depends on how long the bundles are. For bundles from 8-14 inches, you need 2 bundles, 16-20 or 22 inches, you'll need 3 bundle deals and anything past that, you need 4 bundles with a closure.
We Offer The Best Lace Closure
Lace closures are generally more popular among fashion girls and women. Our customers love lace closure because of the natural look that it gives, and this makes it much easier for them to adjust to wearing hair bundles.
Julia hair offers Brazilian lace closure, Indian lace frontal closure, Malaysian top lace closure and Peruvian lace frontal closure which are all 100% virgin human hair, various lace closure styles like Body wave, straight and curly are available you to choose. With proper care, you will ensure that you enjoy your lace closure for as long as possible.