Three Part Closure: Something You Need To Know
Mar.29,2018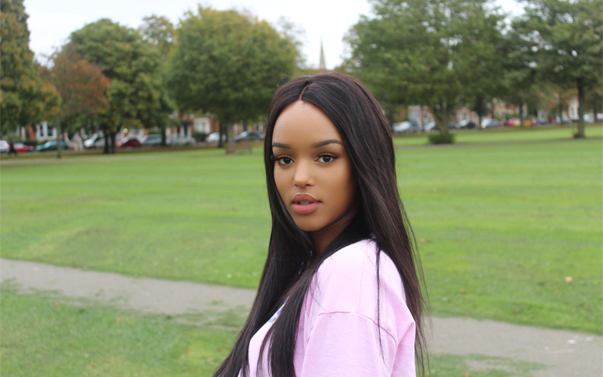 If you need to change your hairstyle in hours and maintain its sexy look, then the revolutionary three-part lace closure fashion products are the best solution for you. It is designed for people who have limited time but have a taste for different hairstyles to fit on different occasions. This classic fashion does is made from human hair and comes as weave or hair extensions and the look is outstanding for every woman to feel beautiful and unique.
The hair is divided into three part: to the right, to the left and center at its start on the forehead. For this hair fashion, the hair can be waved, curled and straightened to suit your needs. It can then be easily adjusted sideways falling on the shoulders, backward or come a part of the hair towards the forehead to give a new look hairstyle.
This fashion collection has hair from almost every part of the world that come in different qualities and color. For this fashion hair, what do you know? Today, we will tell you something you need to know about three-part lace closure. Enjoy reading!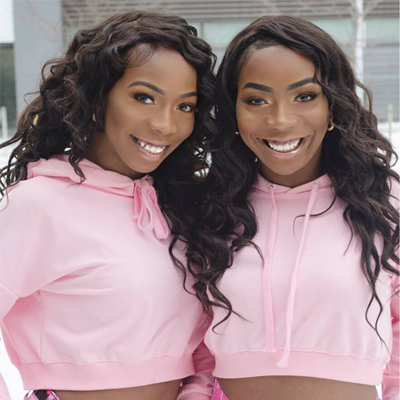 Firstly, What Is Lace Closure?
Lace Closure is an off circle shape of lace that has hair attached. It is usually pretty small and is around 4X4 in size. A closure can be used to place on the top of your braided hair in order to make your weave or sew-in look more natural.
This allows you the option to have no real hair left out (leave out) when wearing a full head of weave. To have a full head sew-in with a closure you would want to purchase 3 or 4 bundles to complete a style.
Various Parts Of Lace Closure
Lace closures come in various parts for your styling needs. Some closures part in one way and others part multiple ways. The main types of parts are free part and middle part. Also for those of you who just cannot decide there are free part closures allowing you to part your closure in multiple ways.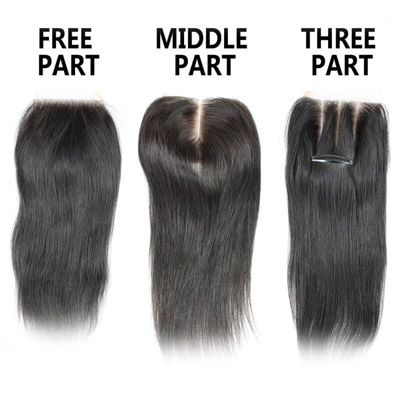 The Free Part Lace Closure: You can part this closure anywhere. You can create a zigzag part, a curvy part, and you can part it any way that you can part your regular hair. This closure is also the best if you want to wear your hair straight back with no part. The hair will look like it is coming from your scalp.
The Middle/Side Part Lace Closure: Which is where the closure is pre-parted one way, and you can only wear the closure parted in that area. If you want to wear a middle part, just position the part to the side of your head instead of the middle.
The Three-Part Lace Closure: Where there are three parts. Two on each side and one in the middle, allows you to wear a middle part and a side part on either the right or left. Unlike any closure before you can produce versatile hairstyles with such incredible ease!
There are also various textures from straight, wavy, kinky to curly allowing you to achieve almost any style you want with a natural looking part.
Why You Have To Go For Three-Part Lace Closure?
This fashion has a high-quality hair and it's made to perfectness as there are no visible sew or glue which makes people feel the itch on the head and this eliminates the embarrassment caused by sews and glue lining.
There is no hair breakage caused by this product as no hair chemicals are required to treat the hair as it's in its natural form and normal hair creams and sprays can keep the glow of the hair in its original form.
The three-part lace closure product developed and it takes away the long experienced complication in matching the natural hair with the weave ladies wish to have on their head and it's easily installed and removed.
How To Install Three Part Lace Closure?
Three-Part Closures are not very hard to install at all. By following a few simple steps, you can achieve a closure that looks realistic. Here are the standard steps to installing a 3 part closure.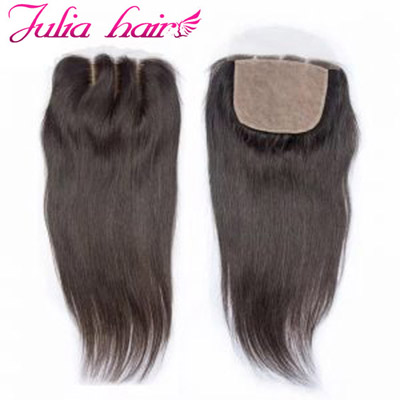 Step 1: Braid your hair down so that the closure can lay flat. You want your closer to lay down as flat as possible to create a natural look.

Step 2: It is probably the most important. You want to make sure your closure is secure. If your closure is on a wig, you can secure it down with straps or even glue it down with some hot glue gel. If you are doing a sew in you, want to sew down your closure. Keep in mind that you can also tape down or glue down your closure.

Step 3: It is adding the remaining tracks to your wig or sews in. You can do this before or after customizing your sew in.

Step 4: This step in customizing your closure is cutting the lace. You can cut the lace straight off or cut it to fit your hairline.

Step 5: This step is optional, but you can pluck the closure along the hairline or even along the part.

Step 6: You may want to use concealer or foundation to tint the lace to match your skin tone.
Video Tutorials
The Pros And Cons Of Three Part Lace Closure
Pros:
1. Depending on the installation method, a three-part closure can allow you to easily switch your part from side to side (if it is larger than 4X4)

2. Depending on the method used, it can make it a little easier for the stylist to install.

3. Makes it easier for the client to keep up with their part.
Cons:
1.For some people, these closures don't make installing easier. They actually it much more difficult. It restricts us to one or three set parts that look unnatural.

2. It requires the stylist to sew the closure down with the three-part lined up exactly with where the client wants their part. If it doesn't perfectly align then the install looks bad!
How To Care For Three-Part Lace Closure?
1.Throughout your install, be sure to tie nice hair down every evening with a silk shawl to keep it from unnecessarily tangling when you sleep.

2. Scuff it less than possible. A lot the more you scratch, the greater you release the hairs, the greater it'll shed.

3. Make sure to carefully comb your closure. Cleaning causes unnecessary dropping as well.

4.When cleaning, never scrub the closure. It'll tangle. Just run the hair shampoo through the hairs by using a downward action with your hands and rinse.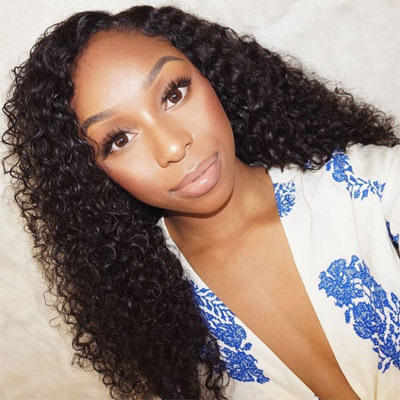 Which Should We Choose Among The three Lace Closures?
First, the three lace closure doesn't have any difference in the texture and installing. They are all 100% human hair and all hand tied lace with baby hair. They are equally good and all are easy to style, but it is essential that you bleach the knots for either style of closure.
Second, it depends on the different hairstyle ideas. We wear freestyle when we want the option of wearing my closure going backward with the lace glued down.
Third, it depends on your face shape. Middle part or three part closure doesn't suite the long face for it draws the face length wards and makes someone look weird. Thus free part may be a better choice for long face.
Fourth, three-part and middle part are nothing special. When we wash many times, it isn't much different from a free part closure. Thus you can choose any one of them if they all-suite your face shape.
Remind Tips
1. Closures will move back. There is absolutely no way to avoid new development from overtaking.

2. They are not designed to be worn for weeks at the same time; however, you'll be able to fix the closure without obtaining a new install!

3.Make your braids under the lace closure small. Small the braids, the flatter the closure. This will not simply do little stringy braids.

4. They ought to still be strong. You must never have vulnerable braids under any install.

5. Mildew/set the closure. Utilize a setting up foam to place the hairs on the closure in the correct direction. It is advisable to then set your client under the clothes dryer.