What Is The Difference Between Lace And Silk Base Closure?
Dec.27,2017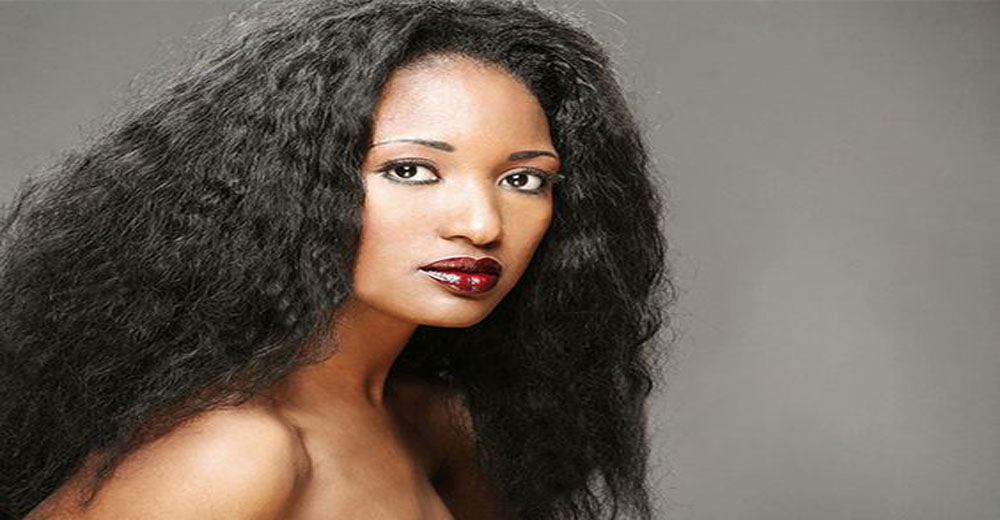 When it comes to wearing weaves and hair extensions, the goal should always be to obtain a natural-like appearance. Its still winter and we are still protective styling to keep our natural hair safe from the harsh elements and weather.
Many people choose to use wigs and sew in weaves as a means of protective styling. This form of protective styling can come with a lace closure which is a means of extra protection that blends in naturally while giving you a natural looking part/scalp.
However, we all know about closures and frontals by now. But what many of us don't really know is the difference between a lace closure and a silk base closure. That's what I'm here for! To drop some knowledge in this post.
Who Needs A Closure?
If you aren't interested in leaving any of your hair out when getting new extensions, a closure is an awesome option for you! They're also great for people who have suffered hair loss due to hair damage or medical issues because they have the ability to appear as if the hair in them is growing directly from your scalp (when applied properly).
Another great reason to incorporate closures into your style is the versatility it provides. They generally have great parting space and you can also choose any type of piece that is identical to the type of extensions you wear.
What Exactly Is A Closure?
By definition a Closure is referred to as an oblong or circle shaped piece of fabric, that has hair attached to it, with the sole purpose of being placed on the top or side of your hair to be used as a finishing piece to close in an install (sew in or quick weave). It is used to make your weave look more natural. With the main function being to avoid leaving out any sections of your natural hair. Used to protect and maintain one's natural hair.
Now that we have gotten that out of the way, let's discuss what the difference is between a silk and Lace closure.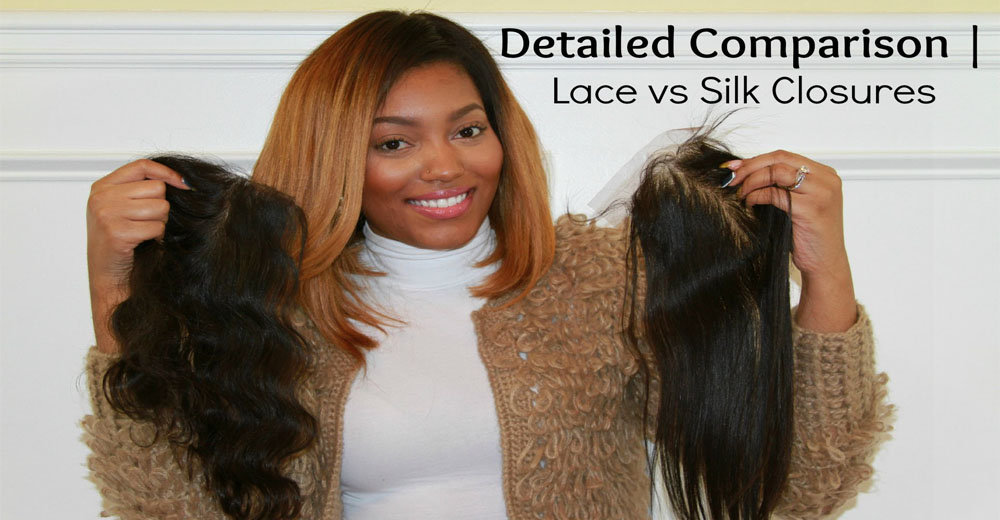 What Is Lace Closure?
The base of a lace closure is made with nothing more than lace with hair strands embedded into the tiny holes. Lace closures are usually thinner and tend to lay flatter, which allows for a more natural looking hairline.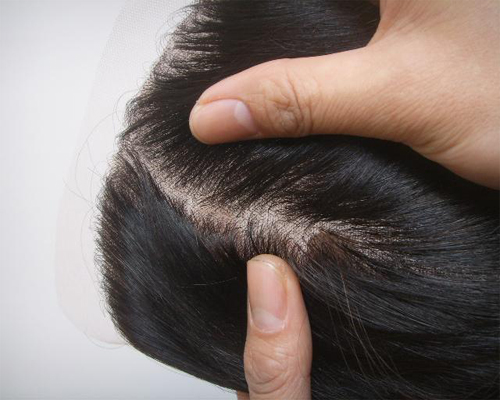 Pros:
It gives a scalp-like appearance whenever it is positioned against your skin or next to the natural scalp.
It assures an exceptionally flat and effortless installation which will make your overall hairstyle look incredibly real.
Cons:
The lace closure will require some tweaking to achieve the best results.
It is best to bleach the knots in your closure eliminate the grid-like effect of the matrix.
Bleached knots will simulate the individual strands of hair growing directly from your scalp.
You risk wasting your money by ruining lace and the hair if your closure is not bleached correctly.
Add foundation or concealer to the lace to enhance the natural appearance.
What Is Silk Base Closure?
A silk base closure is made with a silk base. They are made with hair strands embedded into a nude, skin-like silk material that is reinforced with lace.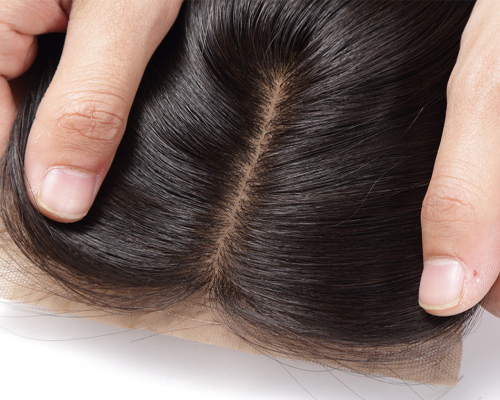 Pros:
Silk base closures have a tendency to last much longer.
Silk base closures usually don't call for bleaching.
The knots are not detectable due to the silk fabric backing on the closure, so imitate the scalp without considerable changes.
Cons:
All scalps are not created the same although the silk component helps to conceal the knots to provide a natural scalp appearance.
You had better alter and even tint your silk base if you are of deeper skin tone with a significantly darker scalp.
This style of closure usually is a bit thicker, which may represent a challenge to achieving an extremely flat install.
Difference Between Lace Closure And Silk Base Closure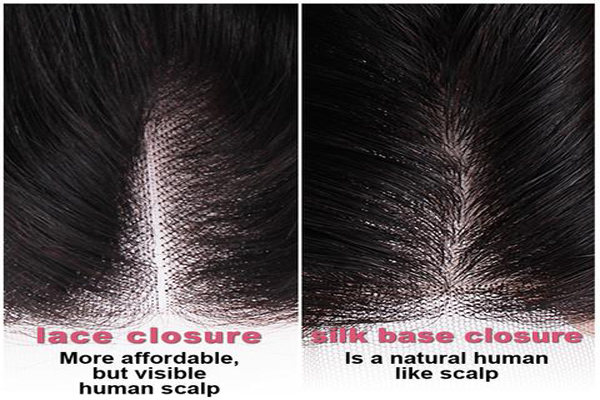 The big difference in a lace frontal and a closure is the construction, the materials, and how they are applied. In general, a closure piece is usually used for sewing in installs/applications. If placed properly just behind the hairline, it can allow the wearer to wear a full weave with no hair left out while giving the appearance of a natural scalp area.
Construction: The construction of silk closures make the hair unit look more natural and more like your scalp. The silk material underneath is the ideal method for using a closure as the finishing piece of your hair install. However, this type of closure tends to be a little thicker, which can pose a challenge for getting a super flat install.
Materials: Lace Closures are made out of thin lace-like materials such as Swiss lace, which is the one we sell. Silk Closures are made out of thicker material, which makes it difficult to see your natural scalp underneath and it also gives a more natural looking part/scalp.
Watch The Video On Lace Closure VS Silk Base Closure
This video is a side by side comparison of two different types of closure: Lace & silk base. When it comes to closures it depends on your personal preference as an individual.
Hair information: Virgin Brazilian Body Wave 3 Bundles & 16" Lace Closure
Which Closure Is The Best?
The best closure is the closure that looks most natural to you. Try both to be sure you know which one you're most comfortable with or allow a professional to conduct a brief consultation to see which closure will be best considering your hairline, head-shape, lifestyle, and the style you're looking to achieve.
If you're still nervous about wearing hair bundles with closure, another option is to have your stylist braid your hair into a special pattern that'll enable you to remove the closure without having to remove the entire sewin.
While there are numerous differences in a silk base and lace closure, the overall purpose remains the same. They are used to give you a very "flawless and natural look". They can also be used to alleviate and reduce the amount of stress or damage being put on your natural hair from wearing installs with sections of your hair is left out.
Shop More Affordable Lace Closures
Julia Virgin Body Wave Hair Closure Three part Middle Part and Free Part
Peruvian Virgin Hair Body Wave Lace Closure With 3 Bundles
Virgin Brazilian Hair Straight 3 Bundles With Lace Closure