How To Make A Lace Closure?
Nov.30,2017
Recently, we have received a question from people about how to make a lace closure by themselves. Many women are also concerned that closures will make them look "wiggy". We wanted to post this blog to help answer this questions.
What Is A Lace Closure?
A lace closure piece is a small piece of lace fabric, usually about 3.5"x4" or 4"x4", with individual strands of hair ventilated through and knotted directly to the lace. It is a piece that is used to cover the area of the head considered the "leave out" zone. They ensure that the area in front of the hairline and crown are well-blended. This lace closure is thinner than a silk one, which makes them lie flatter on your head. They can either be applied with weaving thread or a liquid adhesive. A closure gives a more natural appearance, which keeps people from knowing that what you have is not your natural hair growing out of your head.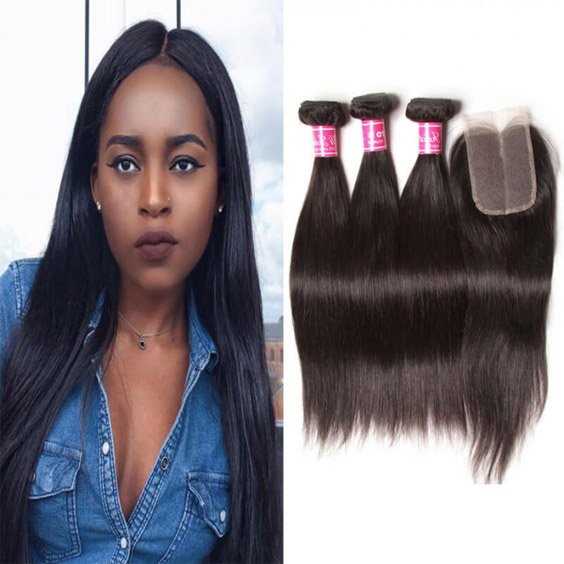 How To Make A Lace Closure?
Something We Need
1. Lace (can be bought at your local beauty supply, tailoring or cloth store)
2. Scissors
3. Bond glue (a hot glue gun can also be used)
4. Hair
5. Masking tape (Thumbtacks are preferable though)
6. Flat surface (table)
7. Paper surface (I used this to protect my table from the glue, nylon can be used).
Steps We Need To Do
1.Placed the stretched lace on a paper on the table and attached with thumbtacks or masking tape at the perimeter of the lace. Please be sure to stretch the lace out. Then we measured and cut out a stretch of the weave in a U-shaped pattern.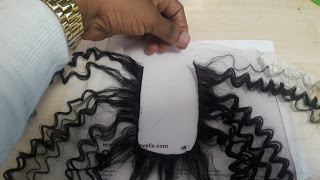 2.We applied the bond glue to this weft of hair and waited about 10-15 seconds for the glue to dry, then we attached it to the lace.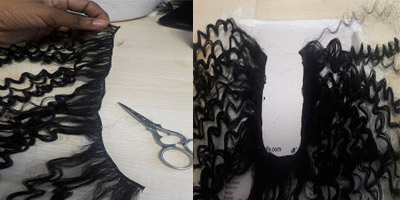 3.We repeated step 2 for another layer or 2 if you prefer to give the closure a well-defined perimeter.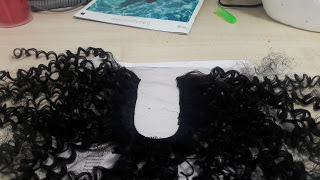 4. Next, we measured and cut out about 1-2 inch hair wefts to begin the invisible part method. (I used this width because I wanted a full closure, you can use smaller widths if need be).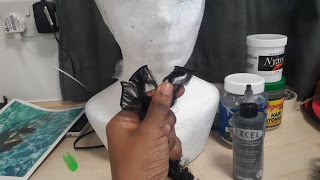 5. We cut out theses wefts and started gluing in batches of 5-7. When using virgin human hair, you can aid the drying with a flat tong.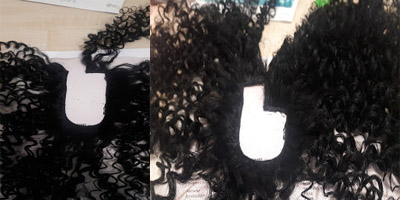 6. Next, we began attaching the hair, one layer over the other using the invisible part pattern. We began with one side, and when we were the three-quarter way through we switched to the other side (please hold the hair weft firmly on the lace till it dries to avoid it pulling off).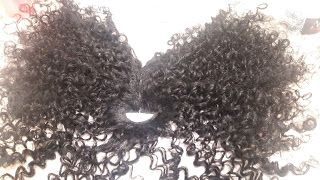 7. When we were done with both sides, It was time to make the final closure to seal the slit left open. We measured the width of the slit by going around it with the weave till it was covered then we cut the hair.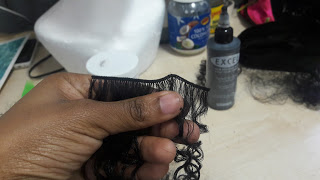 8. Next, we unrolled the cut hair weft and applied the bond glue to it. We rolled it back to shape we had previously rolled it and held it firmly till the glue dried.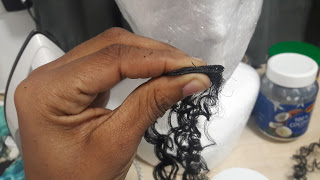 9. We parted the rolled hair after it had dried to reveal the center of the closure. Knowing that heat would spoil the weave we place 2 layers of paper to serve as protection for the hair and we placed a flat tong on the glued and parted middle for 1 second and removed it. I repeated this 1-second routine till the closure was firm and flat. Then we placed it into the slit left on the lace.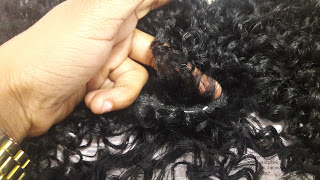 10. We left the closure to air dry. Now, congratulations, we finish our lace closure by ourselves.