Ash Brazilian Straight Hair Review From Youtube
Oct.25,2018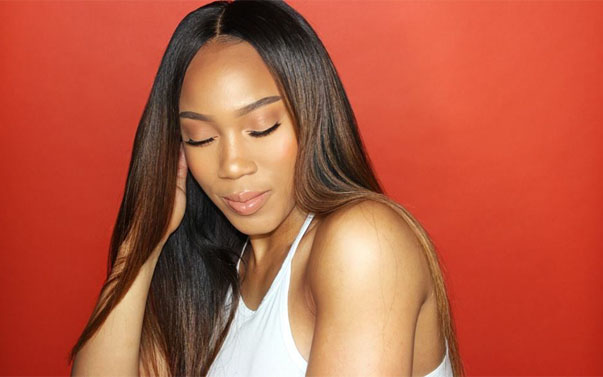 Brazilian hair is one of the most popular hair types on the market, probably because it looks amazing and natural on almost everyone. Brazilian hair extensions and hair products are extremely sought-after by customers nowadays.
Brazilian straight hair has elegance and looks good on anyone! As you probably noticed, straight hair goes pretty well with almost every face type and it's hard to make a mistake with straight hair. Speaking of Brazilian straight hair, it is beautiful, immensely popular nowadays and it makes great looking wigs, hair extensions and other hair products.
If you have doubt, you can see our real review from our honest customer Ash who is also a YouTuber. She loves our hair and highly recommends it.
Ash Brazilian Straight Hair Review
It's Ash here, this is another hair from Julia hair. This is the same hair that I did. I hear you the first time so if you want to know some inspiration or knowledge you know the other kind of stuff I post on my channel.
This video is a hair review for girls who would like want to know how hair is before you purchase. I got this is about this hair. I've been like moving a lot and stuff I didn't even realize. I think I've had this hair in for like at least a month less than two.
Love The Natural Color
I don't know if you remember, this is like my the length of my actual hair and this is the length of his hair, so if I wear human hair extensions I want this hair to belong. it's a different color why would I want natural hair that's already the length of my hair.
I got this hair in 26 24 22 inches and it comes down to. I can't be tall enough. I'm the length worked pretty well for me. so far like I said with shedding.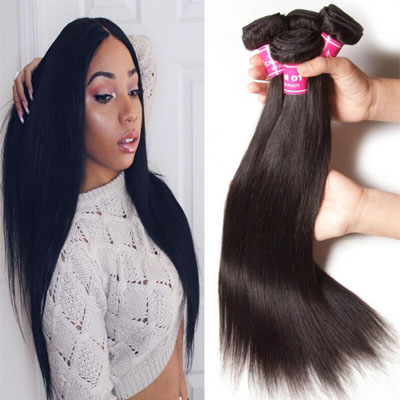 About The Shedding And Fullness
Two important things to me are shedding and fullness. So it still seems pretty full. This is Brazilian straight by the way the only issues I have would be like when I wouldn't wash my hair like enough, then I would straighten it too much and put like here.
This hair is not in particular, but when I straighten my hair even if it's like fake hair like not mine. it's human hair but not mine. I put this on whatever brand but just so. Whenever I would do that too much and it goes like a week without washing it. It would get thin obviously but then you just wash it like I watched this.
Today it's still kind of like wet back here but you just wash and it gets like full again. I think it'll last my hair is straight. I like wearing it like this. I just wash it let it air dry and it does this kind of like straight wavy hair.
I have to spend the time to style it because it's long, you know what I mean. So that's why I like this if you just want to like I said, it's Brazilian straight hair you can get this from just washing and just letting it be obvious. You have to straighten your hair but so for fullness.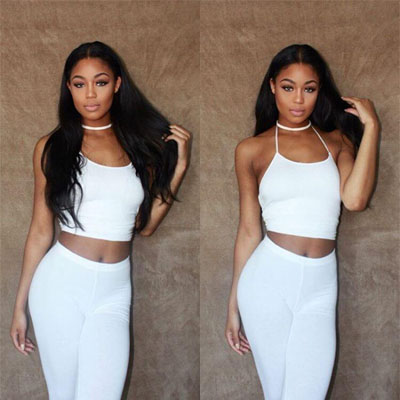 Straighten it, The fullness is still pretty good
The only issue I had was when I didn't wash it frequently enough, but other than that obviously. It also looks fuller, if you let it dry then you straighten it with the straightener. The fullness is still pretty good. So that's good and I have three bundles in my hair.
Shipping Fast
But I really liked it. Julia hair company ships their hair very fast. I anticipated they have like two days shipping and you know a lot of people will say they have two days shipping like Amazon.
Good Customer Service
They are actually like really good at shipping and responding to emails. The company is really good at sending out the products in a timely manner and responding. They literally respond like within the hour. So if you ever have any questions for them, they must have like staff one file to always answer emails, because they answer them very fast.
You Can Curl The Hair
This hair obviously works really good with heat. I never tried curling it with a curling iron. I don't own one but I did straighten it. And if you know shortened well. So if you wanted to curl it with a curling iron. I'm sure it worked good too because like I said it worked with the straightener overall the hair is good.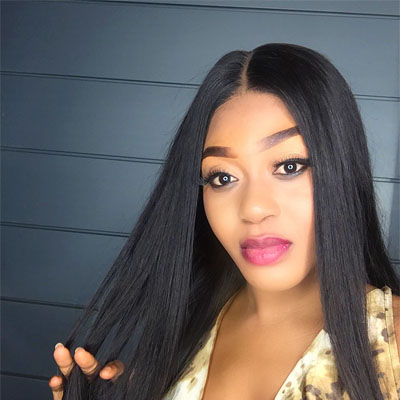 Love All Different Hair Textures From Julia Hair
I don't have too many different hairs to compare. How long it lasts and this is the only first time I used it. it's Julia hair and they have like I said this is straight hair they have obviously like Peruvian hair and like all Malaysian hair and different textures.
I really like their straight hair and even though this is straight it kind of waves. I washed it today if you want to get this look. It's Brazilian straight, just wash it air dry it. If you have to straighten it and kind of twirl it in here or whatever, but it comes with the closure.
Let me know some other questions, you might have other than it doesn't shed. I know those are the things important to me. it comes fast, it doesn't shed and it's full like it maintains its fullness throughout the whole install.
Make The Hair Into A Wig
Now if you want to make it into a wig, that'd be even better because you could take it on and off. I think I start making them into wigs because that just will afford you a lot of freedom with your own hair.
Affordable Price And Highly Recommend
I'm gonna try to give myself a haircut I was cutting my own hair. I want to cut bangs. It's really cute. So I try to do that tomorrow. You'll know why I keep wearing cheap hair bundles from Julia hair. I really like it. Especially for the price, I highly recommend it.
Hair Information: Brazilian straight hair 20 22 24+18 closure
Shop For More Affordable Brazilian Hair
Shop For Virgin Brazilian Loose Wave Weave 3 Bundles Deals
Shop For Virgin Brazilian Straight Hair 3 Bundles Hair Weave
Shop For Brazilian Body Wave Virgin Human Hair 4 Bundles
Shop For Virgin Natural Wave Brazilian Hair 4 Bundles
Related Articles