Halloween Julia Hair Sale 6% Off
Oct.15,2018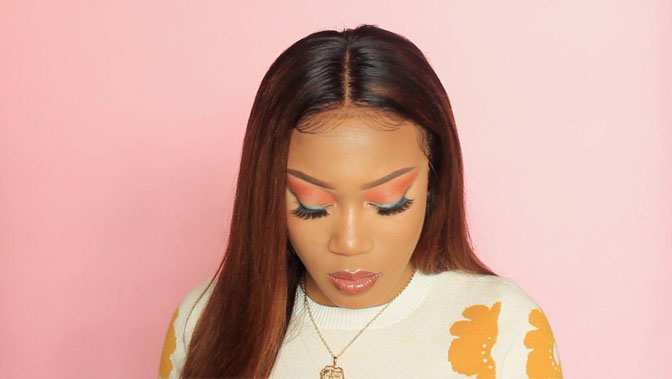 Halloween has long been a popular celebration in the US and it is just around the corner and for many people, the evening, or rather, the season, is marked by attending parties and events where you can show off a fabulous hair and enjoy a night of ghoulish fun.
Here we will share with you high-quality human hair products and amazing hairstyles to enhance your beauty. Julia hair mall offers human hair weaves, hair extensions, lace closures, and hair wigs for your beauty with the big discount.
Halloween Promotion
Halloween is coming soon, we must change our look in this evening. It is a wonderful day, be amazing with Julia Hair.
Fresh New Look with Julia hair, Screaming your Halloween Day.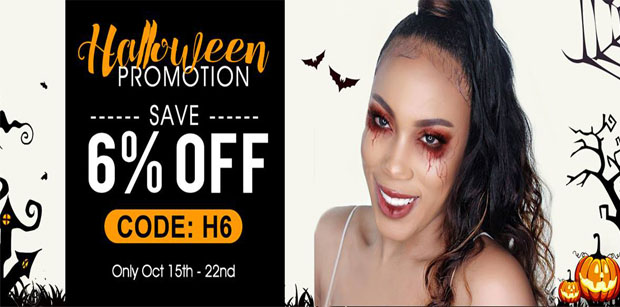 Sales Time From Oct 15th To Oct 22nd
All the Products will enjoy 6% off for Halloween!
Coupon Code: H6
Halloween Julia Hair Hot Selling
Human Hair Weave Bundles
Human hair weave bundles are that they allow dramatic hairstyle changes in a short amount of time. The flexibility that hair bundles offer gives so much creative freedom in changing the texture.
We have Brazilian hair, Malaysian hair weave, Indian remy hair and Peruvian virgin hair bundle deals in any style and color. They are all 100% human remy hair.
Straight Hair Bundles
Straight hair is an often-coveted, universally flattering hair type. It's always in style, and it gives a sleek, put-together look to the person wearing it — one of the reasons hair straighteners have become popular. Our Peruvian straight hair is hot selling.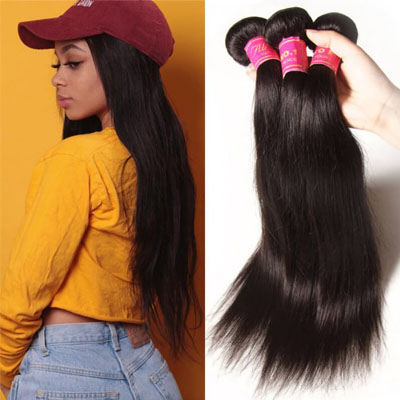 Wavy Hair Bundles
Wavy hair looks beautiful as natural with its perfectly tousled tresses, but if you're feeling like a change, wavy hair is easy to straighten and holds a curl like no other. Brazilian body wave is the most popular hairstyle.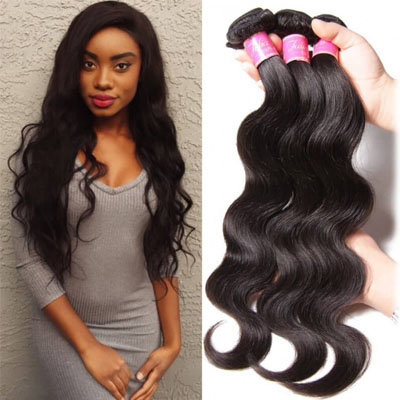 Curly Hair Bundles
Curly hair, with its vibrancy and texture, is capable of a range of diverse looks that can add a feminine flair to anyone's style. It suits just about any face shape with the right cut. Brazilian curly hair is the good choice to change your look.
Human Hair Extensions
Human hair extensions can give you fuller, more luxurious hair. One of the first things people notice about you is your hair, so you must treat yourself to the most beautiful and luxurious hair.
We have colorful I-tip, U-tip, Clip-in hair and PU Skin hair extensions in any style. We believe that if our customers experience the highest quality human hair extensions they will become customers for life.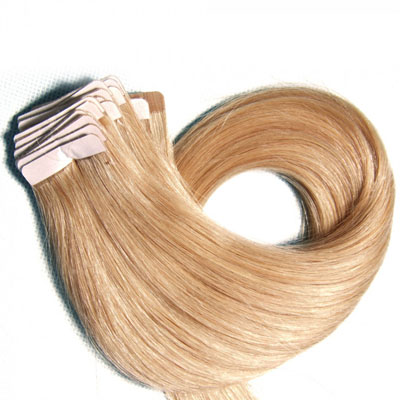 Closure Hair
A closure hair is a hairpiece which can either have a durable lace or a silk base. The hair used in a closure is 100% virgin human hair which is individually attached to a lace type material to offer a versatile parting for the user. The great thing about using a closure is that there are no glues or adhesives required to apply the closure to your own hair.
We have 4×4 lace closure, 4×13 lace frontal closure, and 360 lace frontal closure in any style and color. Body Wave, Straight, Curly, Loose Wave, Deep Wave and Natural Wave, different hairstyles for your choice.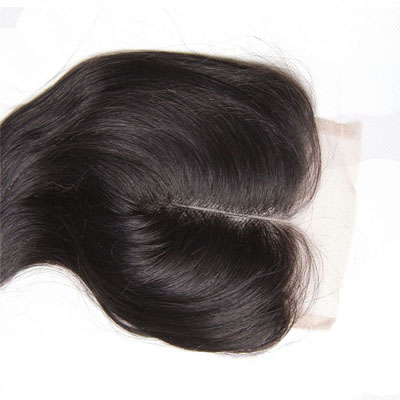 Human Hair Wigs
Human hair wigs have been considered fashionable. However, they became very trendy in recent years more so with celebrities that have to play different roles or even for a new look on the red carpet. If you choose a wig at Halloween, you must be a queen.
Our human hair wigs are available in various styles: full lace wigs, lace front wigs, cheap none-lace wigs and short bob wigs. They all have curly hair wigs, wavy hair wigs and straight hair wigs in different length for your beauty.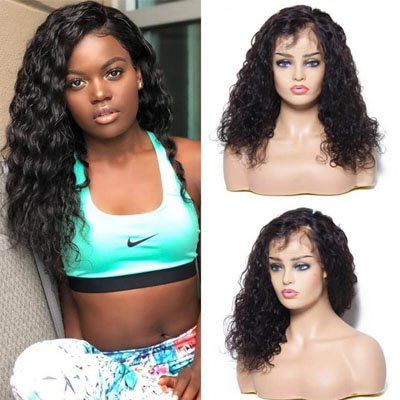 Great Halloween Hairstyles
Halloween is almost here and it's time to start planning your look for a fantastic night! Halloween is as much a holiday for adults as it is for kids. Our children are also very beautiful that evening. Here is some fun do it yourself ideas to really complete your look.
Simple, Fun Hair for All Ages
Take the sock bun to the scary side with an addition of some pipe cleaners, a pom-pom and some googly eyes! Simply create a bun, we recommend the sock bun or using a donut bun accessory, then bend eight pipe cleaners to resemble spider legs.
Insert into the bun and secure with bobby pins. For the spider body, glue the eyes on the pom-pom, flip over and glue a bobby pin or two onto the back. Do this the day before to ensure the eyes and pins are secure, then simply insert in the center of your bun. Or, take plastic rings and apply them to braids as shown for a festive, fun look! That's scary cute!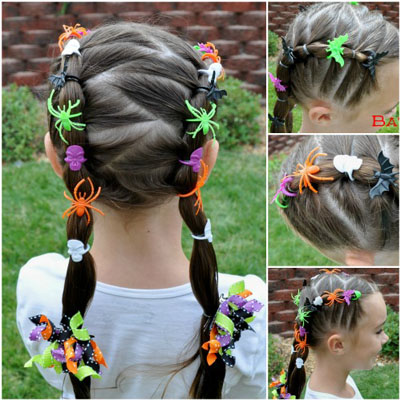 Classic, Iconic Hair
Halloween is for big kids too! Whether your look is scary or sexy, your hairstyle can really take your costume to the next level. Sometimes the hair is so iconic that is essential to capturing the character.
Without the upswept french roll and baby bangs, you'd just be a girl in a black dress and pearls. This look requires some back-combing and lots of strong-hold hairspray. Then just add in some white hair paint and you're ready to do the monster mash all night!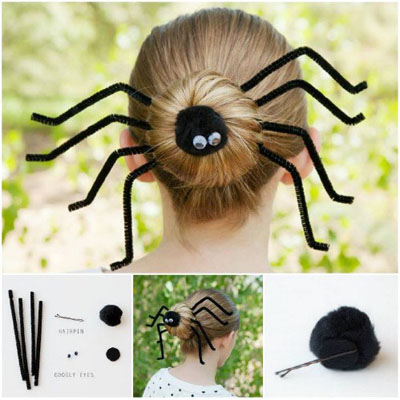 Vampire Hairstyle
Vampire hairstyles are kind of open to interpretation because vampires are all about the teeth. (Naturally.) Still, nothing gives vampire vibes quite like sleek, stick-straight hair, which can look so perfect it's almost unnatural—making it an ideal vampire hairstyle.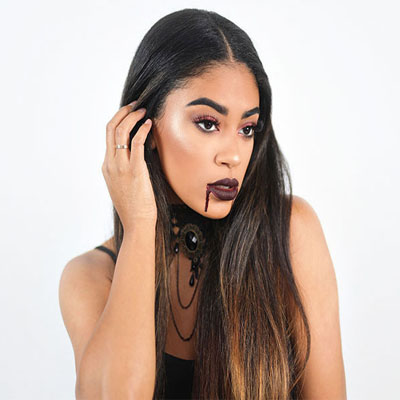 Fairy Hairstyles
Calling all woodland creatures. For a fairy hairstyle this Halloween, it doesn't have to get too complicated. Just choose your favorite braided hairstyle and intersperse small flowers throughout as you braid it. It adds some pretty, delicate detail that keeps it from looking like your usual festival hairstyle.
Witch Hairstyle
No witch is complete without a broomstick and that signature pointed hat. The trick is to wear this Halloween hairstyle without your hair falling flat throughout the night—which is why big, voluminous wavy hair weaves are essential. No matter what your hair texture is, you can make magic happen with your witch hair so long as you have the right products.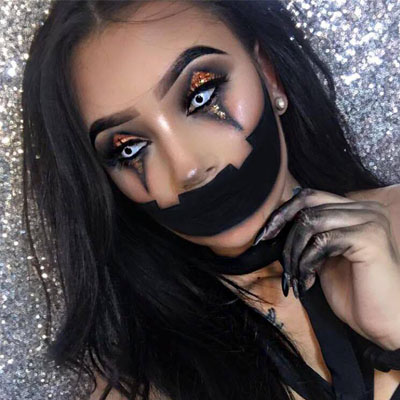 It is never too early to plan your Halloween hairstyles. Julia Hair online store gives you the best discount on all hair products for Halloween. You can change your hairstyle and enjoy a wonderful night. More choices for you with the lowest price and good quality.
Halloween Sales Human Hair Products
Shop For Virgin Indian Natural Wave Hair 3 Bundles Deals
Shop For Best Brazilian Colored Real Human Hair Clip In Extensions
Shop For Best Virgin Indian Remy Loose Wave Bundles
Shop For Best Ombre Body Wave Virgin Hair 3 Bundles
Shop For Julia Lace Front Full Lace Wigs Peruvian Curly Hair Wigs
Related Articles