Youtube Star Peruvian Straight Hair Review
Sep.05,2018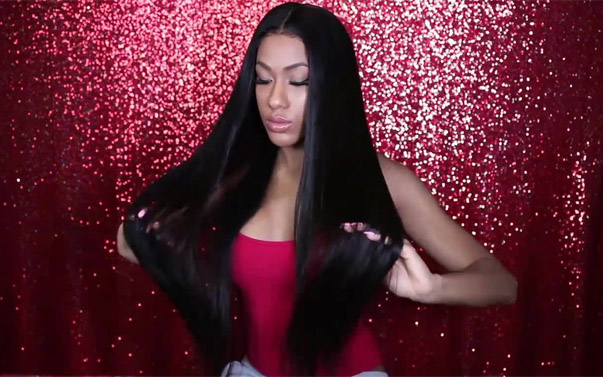 One of the greatest gifts to women folks is 'hair'. It is said to be the crown of her beauty or the definer of herself. That is the reason most meaningful women spend so much to keep the beauty on by investing in human hair extension.
The virgin Peruvian straight hair is one of the hottest and the most sought out for in the range of human hair extension. It has the sleek and smooth look with a lovely hair texture. You can wear it straight for an everyday look and curl on the weekend for a night out or date night for fun and flirty look. This hair has a lasting ability of more than one year making it a great investment!
Many superstars love Peruvian straight hair bundles with lace closure of Julia Hair Mall. Today, we share the hair real review from Youtube star.
Peruvian Straight Hair Review
Love Sleek Straight Hair
I'm rocking some hair from Julia hair. This is the box that my hair extensions came from. I have two 28 26 24 and a 20-inch of closure hair in and I have not worn like really long hair since like high school. really I don't think in college my hair went past, but this hair is going past, but I really love the sleek straight middle part look alright.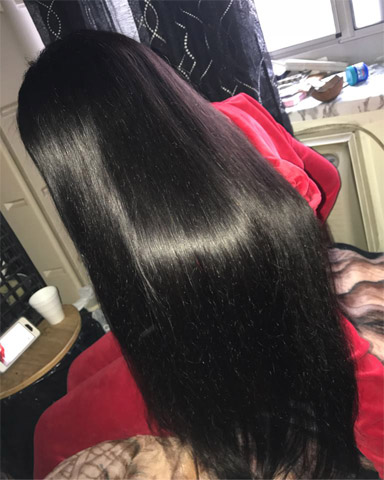 How To Install The Hair Bundles
let me tell you a little secret with this wig. I did the hot glue gun method, so my hairstyle is basically a hot glue gun. This whole unit and this is four bundles and a closure. So recently I've been liking my extensions to be made into a wig or already be a wig because I like to be able to take it off wear it again down the line.
I got this hair maybe like three weeks ago. Start the process of making the wig didn't finish it. put it away just threw it somewhere and now we're back and this hair is actually doing pretty good. It was washed and then installed now.
This is the Peruvian straight hair and this was washed and blow dried and flat on. but it is bone straight, so it's not like wavy when you wash it, so it is bone straight but to get it that silky look.
We did pass it through the flat iron, so this is how it looks. So the hair goes past my hips as you can see. This is what it looks like to the back super beautiful.
The Closure With Baby Hairline
So for me, the only thing that I would say about this hair that I took note of was the closure did have a thick hairline which it didn't take much to pluck it. This closure was bleached, so this is a bleach closure and this is the baby hairs on the closure. so I have no hair left out.
Now you can make the baby hair thinner or thicker if you would like or push them back to be no big hairs. This is how my hair looks right now. Let's see how it will look if I I just whip them. So this is what the closures hairline looks like with plucking and the baby hairs push back.
I think I like this just depends on like what mood you're going for or like how you want your hairline to look. You like the baby hairs do like closures and front tools without a baby hairline.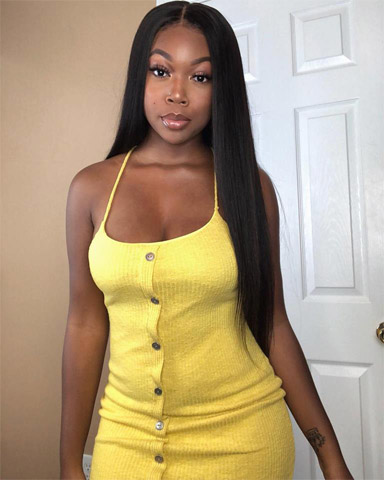 Full Volume
What are you I like - this look, I think this one looks good - right here. But seriously in love with my hair middle part super straight. I think that's like my look as you can see this hair is very full. So with four hair bundles, you're getting a full head. It's really thick, it's not thin at all.
I know sometimes we get four bundles, it like it's not enough hair especially with such a long inch, so super thick as you can see. Let me know if you tried this hair before and if you're interested in purchasing. Make sure you check the comment section because some people may leave their review on the air.
I actually really like the straight hair. This is the Peruvian straight if you are interested so far it's so long. It is the 28 Inches Long and Soft Peruvian Straight Hair.
Review Video
28 Inches Long and Soft Peruvian Straight Hair Review
Hair Information: Peruvian straight hair (24 26 28 28 + 20 closure)
Characteristics of Peruvian Virgin Hair:
Coarseness – It's mostly negative whenever we think of the word coarse. But Peruvian hair is dense and coarse, meaning it blends more easily with your hair. This is one of its biggest pluses. It's also coarser than Brazilian and Indian hair. Again due to its coarseness, Peruvian hair works very well with thicker hair.
Manageability – Hair is shiny and can be styled in many different ways. It's easy to color and holds curls extremely well. This is very important for those who prefer a curly look.
Virgin Peruvian hair is durable and combines the strength and body of Brazilian hair, and the smoothness of European hair.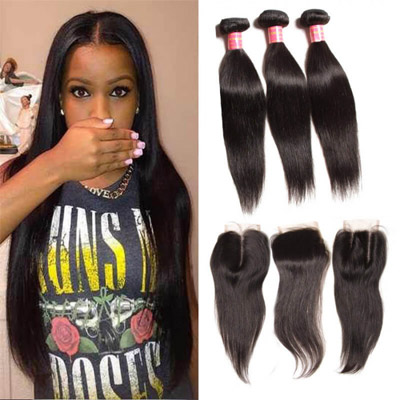 Volume – Provides incredible volume, yet still lightweight and soft enough to retain its beautiful, silky texture.
Easy Maintenance – Can still look presentable even during those busy times when we tend to not care for our hair the way we should. As long as you follow the care instructions, virgin Peruvian hair does not stress you by shedding and tangling.
Shop For More Affordable Peruvian Virgin Hair
Virgin Straight Peruvian Hair Weave 4 Bundle Deals
Virgin Peruvian Natural Wave Hair 3 Bundles
Virgin Peruvian Hair Body Wave 3 Bundles
Curly Virgin Peruvian Hair Weave 3 Bundle Deals
Related Articles