11.11 Julia Hair Shopping Festival: Up To $60 Off
Nov.01,2018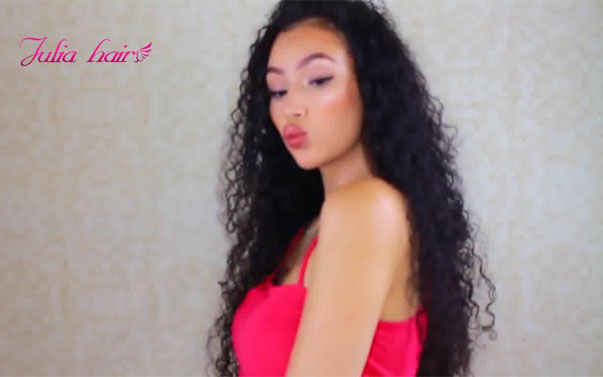 It's that time of the year again. China's – and the world's – biggest online shopping event is about to take place on 11 November. 11.11 is the largest online shopping festival, on this day there will be a lot of products with very preferential price promotions.
Human hair products in Julia Hair Online Shop are the lowest price of the year. The hair bundles are also the lowest price and have the biggest discount in the year. Let us provide you with more information about 2018.11.11 sale.
Julia Hair 11.11 Global Shopping Festival Sale
Yearly 11.11 sale offers human hair weave, extensions & wigs with up to $60 off discount prices. Whether you need new hair weave bundles, wigs or other kinds of hair decor products, this is the real day to buy!
Get ready to enhance your beauty, we have good news for you!
Sales Time: Only Nov. 10th - Nov 12th
Over $100, Get $15 Off, Coupon Code: N15
Over $199, Get $30 Off, Coupon Code: N30
Over $299, Get $45 Off, Coupon Code: N45
Over $399, Get $60 Off, Coupon Code: N60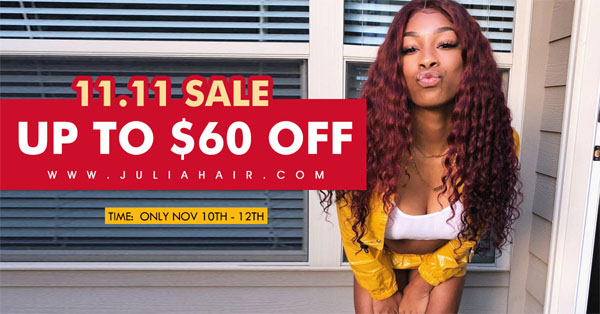 Julia Hair 11.11 Hot Selling
Julia Hair - 11.11 Sale - Straight Hair
Straight hair is all virgin human hair bundles and top-selling products, soft human hair thick end, no shedding no tangle. Straight hair is often fine hair.
It can easily get oily and shiny since the lack of curls in the hair means that the oil from the scalp goes all the way down the hair shaft faster than in curly hair. We have Brazilian, Malaysian, Indian and Peruvian straight hair.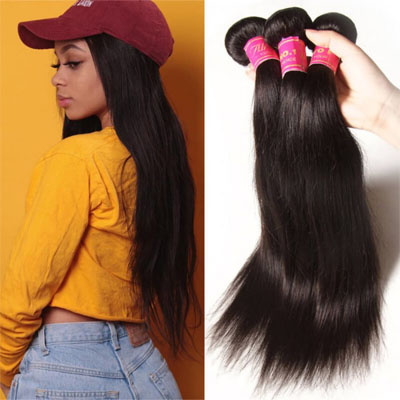 Julia Hair - 11.11 Sale - Body Wave Hair
Body wave hair is one of the most natural waves, It just has a small bend Angle, so many customers will find that the wave doesn't hold well after washing.
Julia hair body wave have Brazilian body wave, Indian body wave, Peruvian body wave and Malaysian body wave, also have 3&4 hair bundles, 3&4 bundles with lace closure, 3&4 bundles with lace frontal sale, they are all 100% virgin human hair body wave. Better quality and cheaper.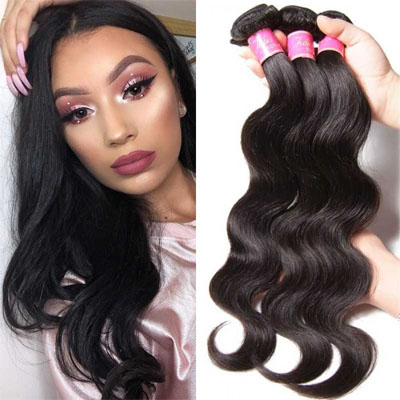 Julia Hair - 11.11 Sale - Deep Wave Hair
Deep wave hair is one shape that is clearly curly can be seen but not over-dramatic style. Its texture wave is smooth and natural. If you want to try a wavy hair for the first time, I would recommend the deep wave hair weft. it is fit for all the age and can greatly adorn your face.
We also have 3&4 hair bundles, 3&4 bundles with lace closure, 3&4 bundles with lace frontal up to $60 off deals.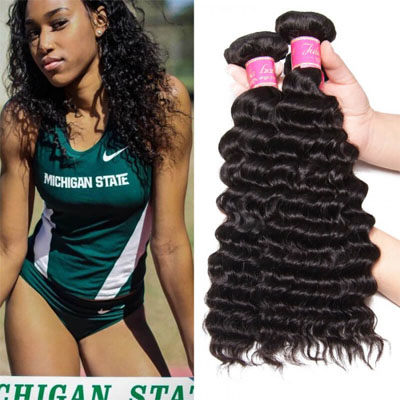 Julia Hair - 11.11 Sale - Loose Wave Hair
Loose wave hair is a big loose wave, this texture is much similar to body wave, but the loose wave is a little bit more curly. It is a big sexy wave look but not just about, loose wave human hair weaving can be made in different styles if you like. You can choose any hairstyle.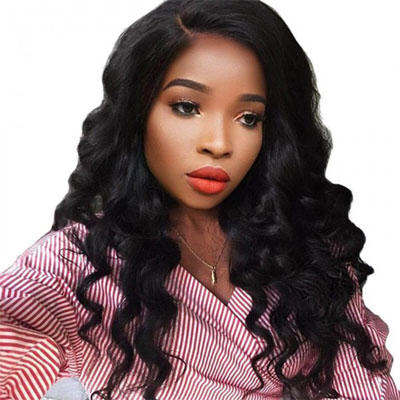 Julia Hair - 11.11 Sale - Water Wave Hair
Water wave hair is usually made of luxurious 100% virgin Remy hair. It has a big natural weave, looks natural. This hair is between deep wave and curly wave, its curl is big than curly but small than deep. Its pattern like water wave, It makes your hair look thicker. Many fashion women and girls who want to try a new style will choose it, which makes you look more attractive.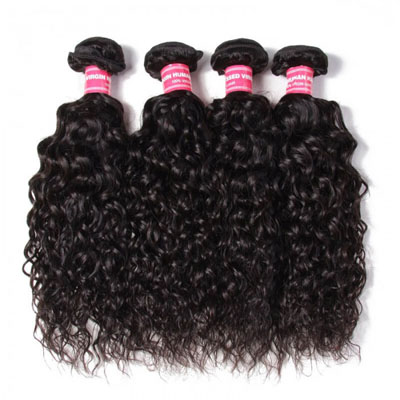 Julia Hair - 11.11 Sale - Curly Hair
Julia curly hair is 100% human remy virgin hair. These curl hair waves are luxuriously soft and bouncy! Our curly wave hair is easily blended with most hair textures and styled easily! Julia curly hair gives you more choice.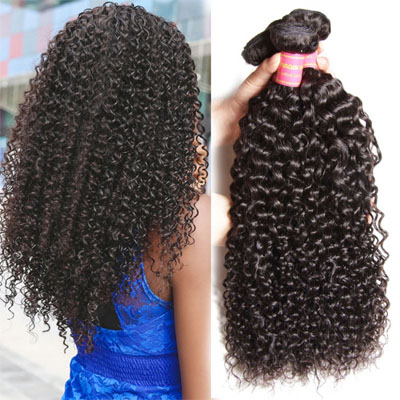 Julia Hair - 11.11 Sale - 613 Blond Hair
Julia lightest blonde 613 hair color makes you look gorgeous, sunny and refreshing. 613 blonde hair color is on trend this year. Julia 613 Blond hair weave use 100% virgin remy human hair. With 3-4 bundles, you can have a full human hair sew in weave.
Julia hair pure 613 color blonde hair have body wave and straight hair, 3&4 bundles, bundles with closure and frontal for full head big sale, cheaper price.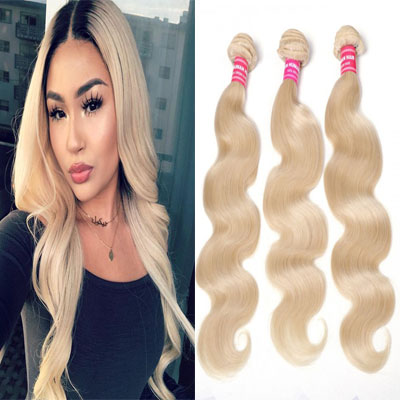 Warming Tips for surviving 11.11
1. Never buy the items you don't need no matter how cheap it is, how low the discount is.

2. Make your 11.11 shopping list in advance. Add the products you plan to buy to the cart and know their regular prices.

3. Keep trimming your 11.11 sale shopping list until November 11 starts. You will find there're many unnecessary products you don't need to buy.

4. How to find the best 11.11 deals: I never searched by #product #tag. I always checked my favorite stores one by one. In another word, I never bought things from the stores I'm not familiar with.

5. BACKUP!!! 11.11 sale is a real good chance to buy backup products.

6. Check if the seller has coupons. You may save even more after the existing discount.
Only a few days left for the most anticipated event of the year to take place. Don't miss out or you will have to wait for 12 months! Julia hair 11.11 big sale, Nov 10th to Nov.12th, no pre-sale price, no pre-heat price, only big-sale price, 3 days happy shopping. Come on!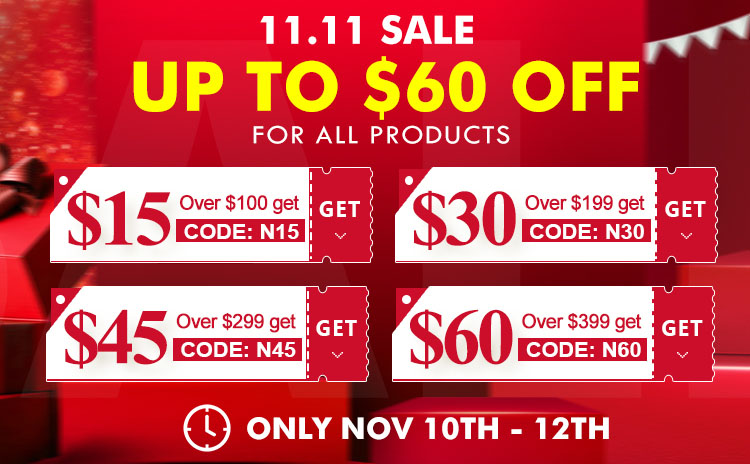 Julia Hair 11.11 Big Sale Human Hair Products
Shop For Virgin Indian Natural Wave Hair 3 Bundles Deals
Shop For Best Brazilian Colored Real Human Hair Clip In Extensions
Shop For Best Virgin Indian Remy Loose Wave Bundles
Shop For Best Ombre Body Wave Virgin Hair 3 Bundles
Shop For Julia Lace Front Full Lace Wigs Peruvian Curly Hair Wigs
Related Articles