What Are The Different Types Of Hair Extensions?
Dec.26,2017
The choice for a particular set of hair extensions is based on several factors: personal preference, hair type/needs, lifestyle, hair texture, hair length, budget etc. Sometimes it can be very confusing and hard to differentiate between all the virgin hair extension methods available.
If you're new to this world, you probably have a lot of questions about how each one works. In this article, you will get all the basic information about the most popular types of hair extensions and obtain knowledge that can help you choose the one that fits you best.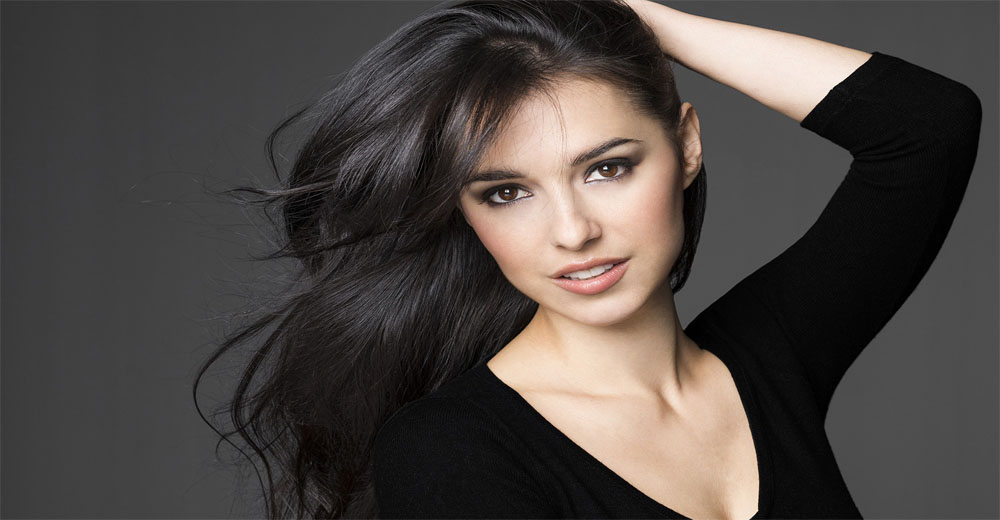 What Are The Hair Extensions?
Hair extensions are also known as hair integrations. They are used to add to the length and volume of one's hair. They can be made of natural or synthetic hair. Virgin natural hair extensions are the best quality and the most expensive, of course, as the cuticle of the natural hair is preserved and all the hair runs in one direction, giving it the most natural look.
Reasons To Go For Hair Extensions
There can be various reasons for someone to go in for hair extensions.
Those who do not have good hair growth can go for these to add extra length to their hair.
It can be used to get a new look like a fringe or a particular cut.
Add some bounce to your regular hair.
Add some color to your hair without using chemical colors.
Different Types Of Virgin Human Hair Extensions
Clip-in Hair Extensions
Clip-in extensions have a reputation for being the easiest to add and remove. However, this type is also considered the most temporary of every type. As such, they are a great way for teens to experiment with hair extensions before selecting more permanent versions. This type of extension is fantastic if you require a new hairstyle quickly and for a little while. More than just the huge variety, this type is absolutely easy to maintain and do not cause any damage to your hair.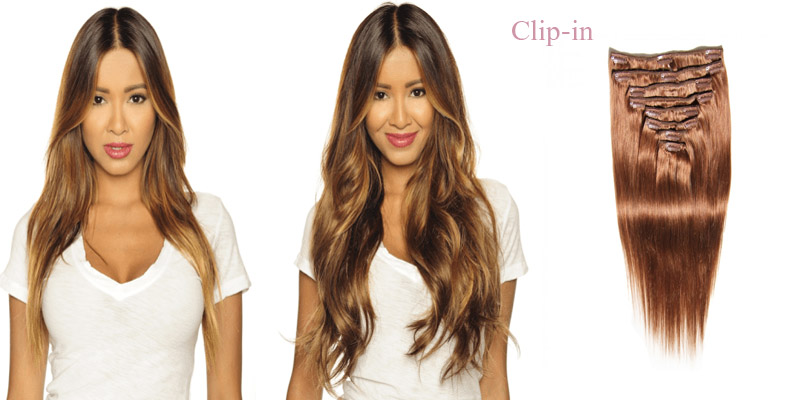 Application Time
Hold Time
Pros
Easy to apply
Easy to care for
Can install on your own
Cons
Have to remove daily to prevent damage to real hair
If left in for a long time, clips will damage natural hair
They are cheap, so usually, the hair will not last very long
Tape-in Hair Extensions
Tape-in extensions come pre-taped and are applied by a hairdresser on either side of your hair. They are exactly what they sound like. They are small wefts of hair that can be taped to your existing hair. This process takes roughly 1 hour since each piece is carefully aligned to your roots and applied using a tool that heats up with glue.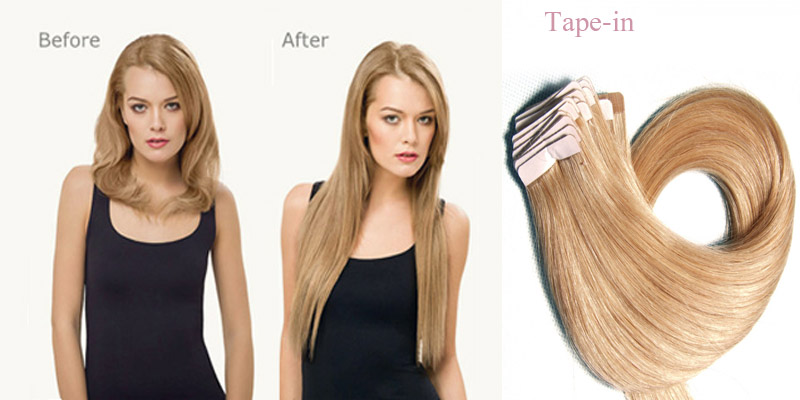 Application Time
Hold Time
Pros
Fast and easy application
Minimal damage to your hair
Hair is reusable
Cons
Not recommended for thin hair
Not recommended for people who swim often
Hot Fusion Hair Extensions
Now, hot fusion is a method that is pretty involved and requires a well-trained professional. The procedure itself starts off with a keratin U-tip bond extensions that are lined with silicone to be attached to the extension. The extension is then bonded to the root of your hair with the help of a heating tool. The silicone lining basically protects your hair from heat damage.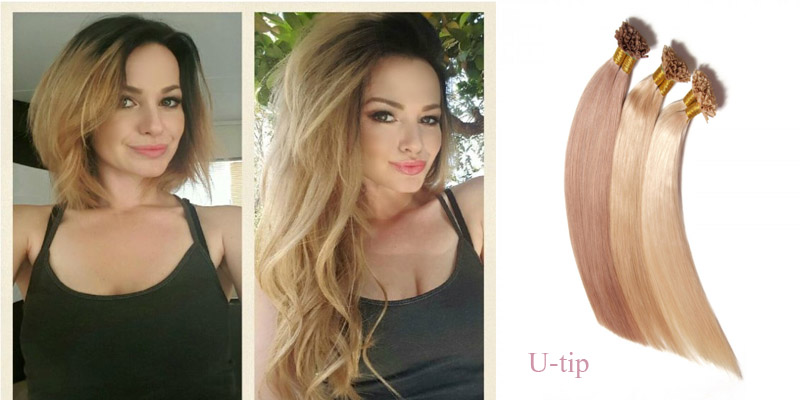 Application Time
Hold Time
Pros
Since the Keratin is clear, it matches your hair color
Blends perfectly with your natural hair
Cons
Costly to maintain
Not recommended for short hair
The heat application required for attachment can damage your hair
I-tip Hair Extensions
I-tip hair extensions are similar to fusion hair extensions in that single strand hair extensions are attached to small sections of your natural hair and also called micro-ring/bead extensions. However, micro-ring extensions are clamped to your hair instead of glued. No heat or chemicals are required. Like fusion hair extensions, you should avoid oil and silicone hair products at the roots to prevent the beads from slipping.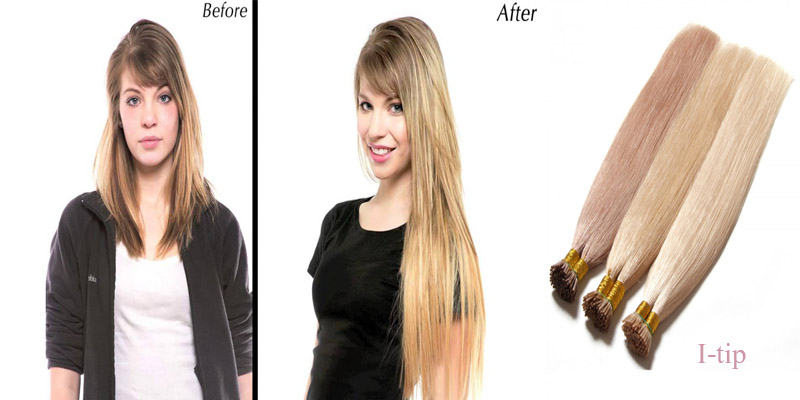 Application Time
Hold Time
Pros
No heat or glue that could damage your hair
Easy to remove or adjust
Cons
They are detectable with short hair
Not good for people with hair that breaks easily
Not suitable for very fine or thin hair
Weave or Sew-In Hair Extensions
Weaves are applied by braiding your natural hair into a tight corn row and then sewing the extensions in. While human hair weaves take several hours to complete, they are the most popular type of sew-in hair extensions because they are permanent until you take it out. Since this process is highly specialized, a professional should always perform it for you.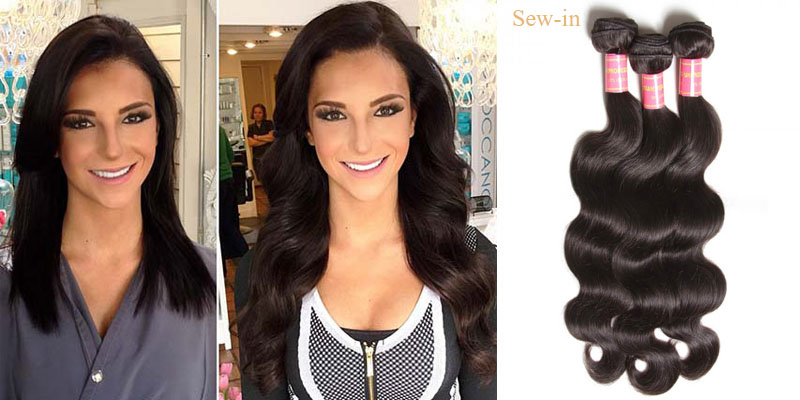 Application Time
Hold Time
Pros
No heat or glue involved that can damage hair
Easy to take out
Cons
Can be painful due to the tight braids
Hair Loss is possible if the braids are too tight
In Summary
So, there's everything you need to know about the different types of hair extensions on the market. Now that you are fully-equipped with the knowledge on how each extension is applied and their pros and cons, you can rest assured that you'll be confident when choosing a set of hair extensions that are suitable for your hair type and lifestyle. If you want to know more knowledge of hair extensions, you can learn more in this post.
Some Tips You Need To Remember
With hair extensions, your head will feel heavier than normal when your hair is wet.
The extensions will also take longer to dry than your natural hair. This is another reason to match the extensions to the texture and weight of your own hair.
Having thicker hair extensions than your natural hair will weigh more on your scalp and can cause pulling irritation, and hair loss.
Incorrect installations can damage the hair and scalp, and hair loss can be permanent.
Loosely plaiting your hair at night can help prevent tangling.
Comments are Closed for this post.