How To Tell If It's Authentic Brazilian Hair Extensions?
Check What Customers Are Discussing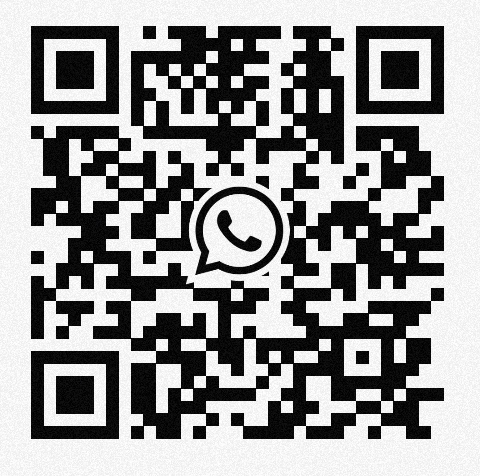 Scan The QR Code
Dec.06,2017
When washing Brazilian Remy, any other so-called virgin Brazilian Remy or virgin hair, if you see a black dye coming out, then you can be very sure that it is not truly virgin hair. So if you're a rookie buyer considering the likes of authentic Brazilian Remy hair extensions, you have to keep a sharp eye and an open mind. Why? There are fakes out there mixed with authentic ones, and all you'd want is the real thing. Therefore, it becomes important for you to make sure that you know how to tell if your Brazilian hair is authentic.
Real Remy Virgin Hair – What Is It?
Remy refers to the hair chosen from a single donor after first taking into consideration its root end. The cuticles remain intact with each strand of hair facing the same direction. Frequently, Remy hair is also known by the name "cuticle hair".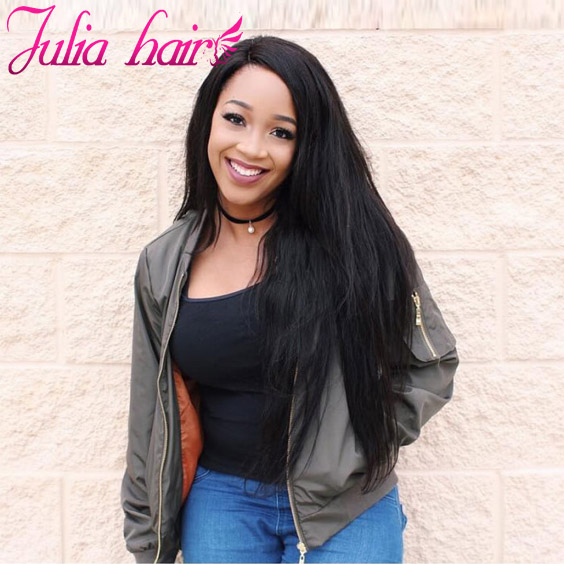 Fake Brazilian Hair, Authentic Brazilian Hair – How To Tell The Difference?
Check for Post-Processing
Pure virgin human hair should never have any chemical processing—dyeing, perming and relaxing included. For instance, one giveaway that a hair bundle has been chemically processed is its color. No one is born with jet black hair, so if the bundle is a shade of deep, rich black, it's been processed. You can also check for chemical processing by wetting the hair bundle and applying a small amount of neutralizing shampoo into it.
Hair Grade And Texture
Virgin Brazilian Remy will not be extremely straight or silky. Often, it is coarser and has a yaki-like texture, blending and resembling that of colored women. Hair that is not the virgin is generally subjected to silicone treatment and chemical straightener coating. This gives hair a silky and straight appearance. You will be able to get a feeling of the coating if you run your fingers through hair that is not actually virgin hair.
Perform Flame test
Cut off a small sample of the hair which you purchased and place it directly above a small flame such as a cigarette lighter or a candle. Fake synthetic hair is extremely flammable and will produce a big flame when it comes into contact with a lighter, Real Virgin hair is not highly flammable, when it touches a flame it usually produces smoke but not a huge flame as synthetic hair does.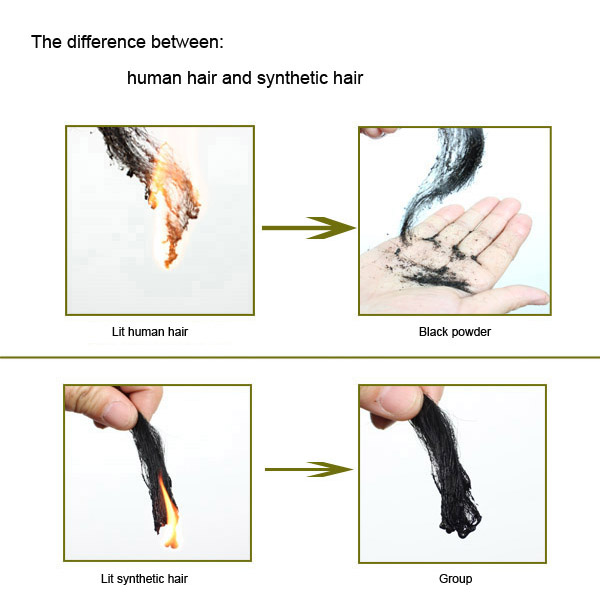 Perform Wet Test
If the hair is not virgin it feels heavy when it becomes wet. On the other hand, virgin hair will retain its wave pattern or natural curl even if it is wet. This is because product build-up and dirt are removed when hair is washed. You must, however, remember that hair that becomes curly or wavy when wetted need not necessarily be virgin Remy hair. Several lines may offer hair that is wet and wavy, but it may not be virgin or Remy.
Bleaching
When you bleach human hair, it lightens very fast depending on the grade. If it is fake, it will most likely burn.
Referrals Sellers
There are unscrupulous businesspeople who mix human and synthetic hair thus you need to be keen when buying. Good reviews from people you trust will also help in getting the right hair.
Know the Hair You're Looking For
Different types of weaves possess different physical characteristics. Brazilian straight hair weaves, for instance, are known for being usually thick, wavy, fine, soft and available in a variety of colors. All these properties come with excellent manageability, which makes them perfect for styling. They're also typically expensive, which is the price you'll have to pay for a high-quality weave. It's also low-luster, which helps it blend easier with African-American hair.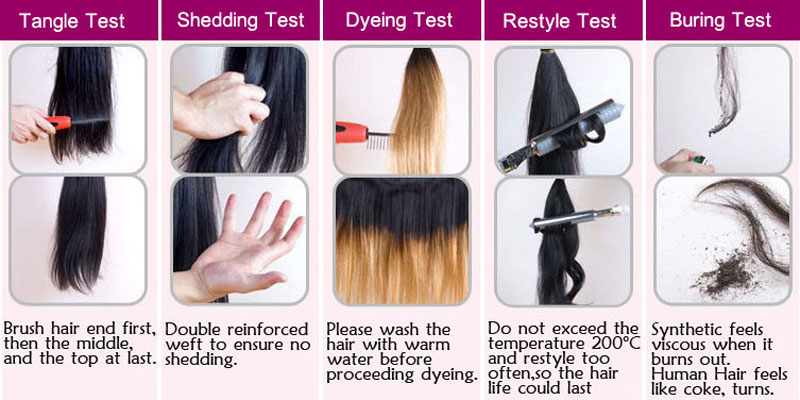 Check Color
If the hair has subtle changes of color and highlights, it is most likely natural. Real hair acquires color through exposure to natural light, which is quite difficult to achieve through artificial means. If a vendor asks you what color of hair you want, then that is a sign it is not real. Human hair comes in the natural color, which is either black or brown. You can always dye it later if you want a different color.
Hair Price
The cost of the hair can also be a huge giveaway. If it is unrealistically cheap, even if they call it a special offer, be wary. If it is real, the seller will try and get the best price for it. This, however, does not mean that you go for overpriced hair. Shop around and get the average cost.
Tangle
Real human hair will tangle, but just a little. The longer the hair, the more likely it is to tangle especially at the back of the neck, but this should not worry you much. If the tangling is excessive, be wary.
Shedding
This too can happen with human hair but if it is excessive, it is not genuine. Shedding should only be a few strands when you comb through. Sealing the wefts of the weave will ensure the hair stays on. Comb the weave with a wide tooth comb from the tips to the roots to reduce shedding.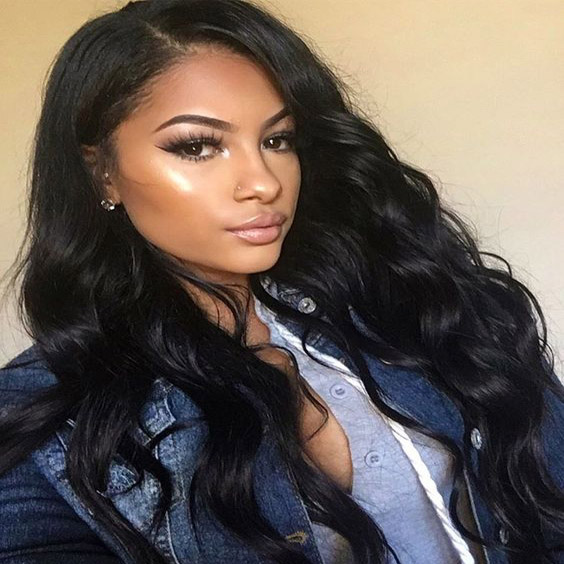 Purchasing Brazilian virgin hair is really a big challenge but is also a great investment. This is because pure virgin hair offers you the highest quality texture and always blends well with your own natural hair.
Further, the quality and versatility of this hair cannot be matched by any other type of hair. If you maintain it properly, this hair can stay tangle or matt free for many months. However, it is very important that you make sure that you are buying Genuine Virgin Brazilian hair before going ahead with the investment.
You Can Read Our Related Articles To Learn Some Care Tips On Your Virgin Hair.
Care Tips For Your Virgin Human Hair Extensions