Fabulous Option Hair Wigs With Bangs
Sep.04,2020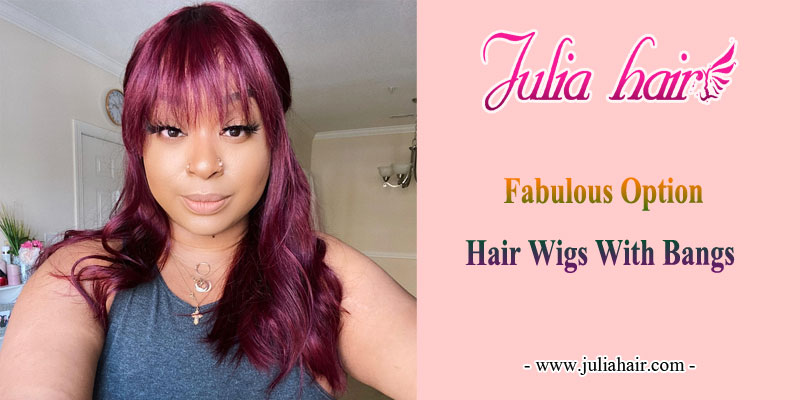 Wigs with bangs looks great when you wear it right. A human hair wig with bangs may be more suited to someone with a larger forehead. The square face shape also is suited to human hair wigs with bangs. Colored wigs burgundy wigs with bangs create a fabulous effect than normal hair wigs. Let's see how wigs with bangs help you enhance your beauty.
Which face type suitable for wigs with bangs
Wigs with bangs are most suited to haircuts that are textured and are medium or short in length. Loose curls look great with styled bangs, but that is not to say that straight hair does not complement the style. Therefore, there is no one face shape that can be pinpointed to be the most suited to the style, but it is the way the style is carried and complemented.
How many types of human hair wigs with bangs could be chosen
There are two types of hair wigs you can purchase if you want bangs – either you can purchase a human hair wig with bangs already cut, or you can purchase one without bangs, and cut them yourself. A third option does exist, though, in the form of hair topper bangs, but this is difficult to match with your hair type and may fail as a look. Wigs with bangs made by human hair bundles real hair, so the hair wig is silk and bouncy, which can be last long.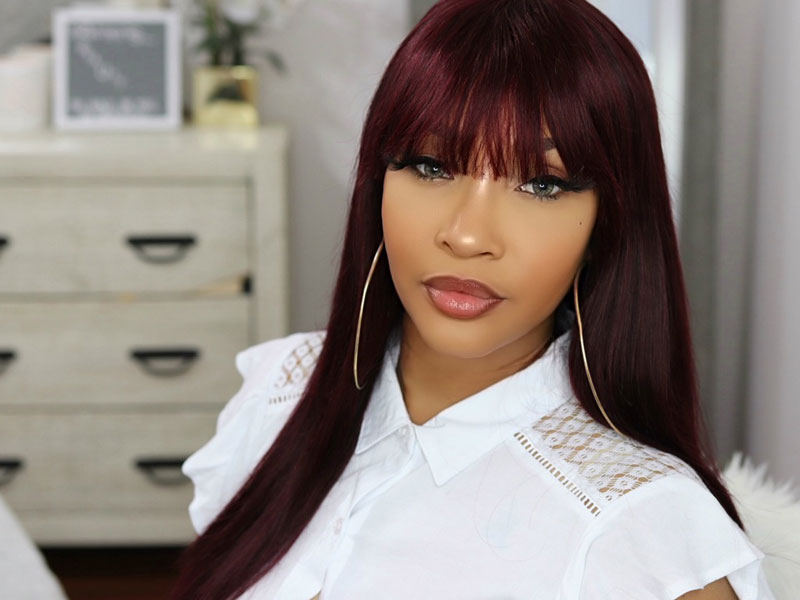 Here are some kinds of human hair wigs with bangs you must try:
Blonde Human Hair Wig, Bob with Bangs
When purchasing this human hair wig with bangs, remember to look for a product that is 100% human hair. This will make sure the wig is long-lasting and durable. Human hair wigs with bangs are the best for styling repeatedly and usually are accompanied by wig caps that can expand up to 21-23 inches and some bobby pins. The most commonly found blond human hair wigs are shoulder length and have bangs that can easily be side-swept rather than kept on your eyes.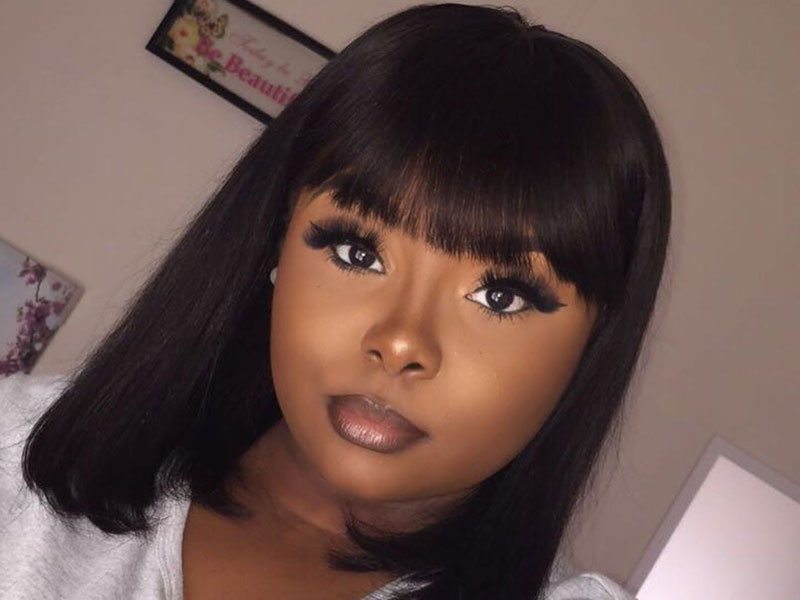 Straight Human Hair Wig, Bangs included
Silky straight Brazilian human hair wigs can be used for obtaining straight human hair wigs with bangs. This is because the Brazilian hair type is smooth, tangle-free, and rarely comes blended. It has 150% hair density and can be processed and colored as pleased. Though these bangs are easily the most alluring, this wig, with its back combs and adjustable caps, weighs about 300mg on an average.
The hair on this wig is strong and beautiful and can be styled using heating products with adequate precautions.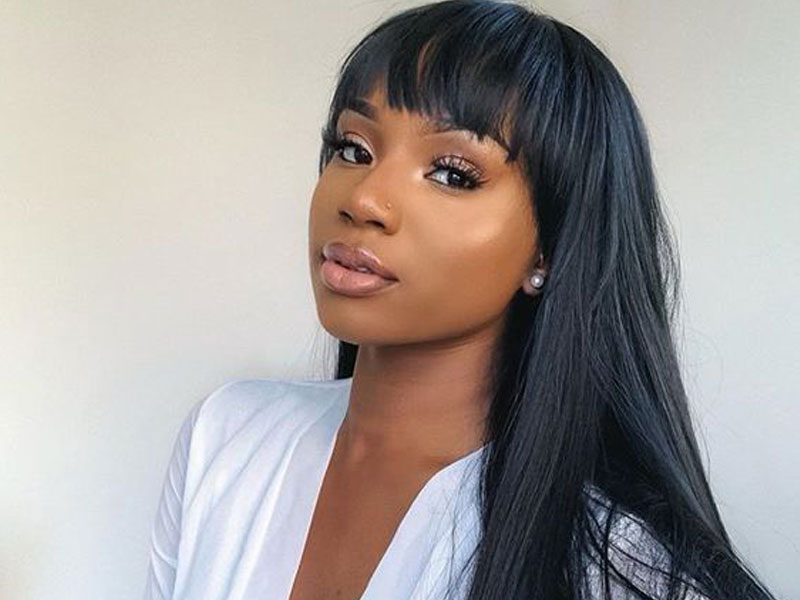 Brazilian Body Wave – Human Hair Wig with Bangs
You can easily find Brazilian body wave human hair wigs with bangs already cut in glueless options as well as regular options. It is available in longer lengths and consists of a lace for your head and is one of the easiest to style. This hair can be trimmed and processed, as well as styled every day with long term use. It is durable and has fluffy bangs cut already so that your look is enviable!
Wet and Wavy Human Hair Wig – Short with Bangs
Nothing spells cute and sexy like a short bob with bangs. Pick up a human hair wig with bangs that come in a shorter cut, and watch your face look more and more youthful. These human hair wigs come with 150% hair density as well and can be purchased with straight or soft textures as preferred. The wig comes with a cap, as well as a no shedding promise, which means that you can easily bleach and process this hair to suit your needs. These wigs are long enough to be able to go up in an updo as well.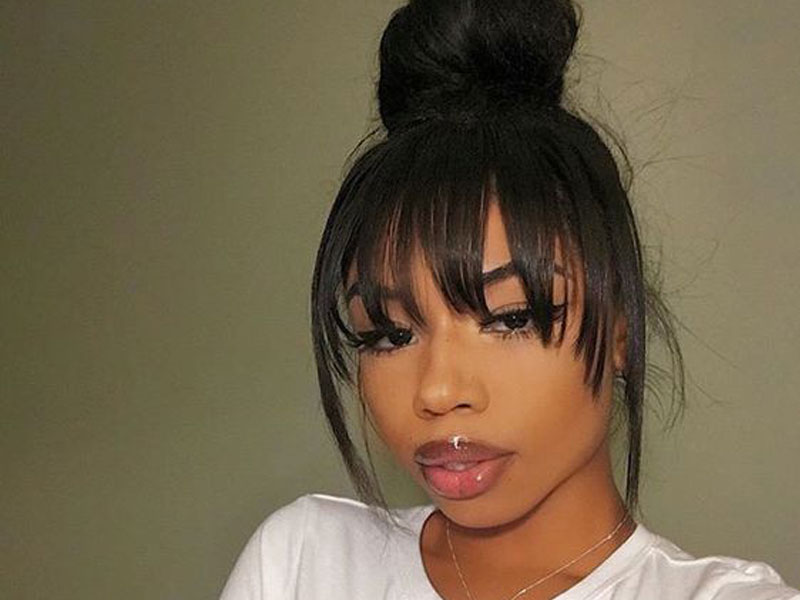 Pixie Human Hair Wig with Bangs
A straight cut pixie human hair wig with bangs is another set of unprocessed hair that can give you the look of a sharp young lady without the loss of length in your natural hair. This cut is classy and comes in several colors.
Brazilian Silky Human Hair Wig with Bangs
Brazilian human hair wigs with bangs are available in smooth textures and are at 130% hair density approximately. These wigs are usually long as well and weigh about 170-300 grams. These bangs can also either be side-swept or can be kept sitting atop your eyelids.