Why To Buy Virgin Hair Bundle Deals?
Nov.13,2017
If you're looking for high quality cheap virgin hair weave bundle deals, Julia Hair is the best choice. We offer various hair weave in the following textures: Body Wave, Deep Wave, Loose Wave, Natural Wave, Curly Hair, Straight Hair. All of our hair textures are made from 100% human hair.We chose to do virgin hair bundle deals with the cuticle intact deals for our customers.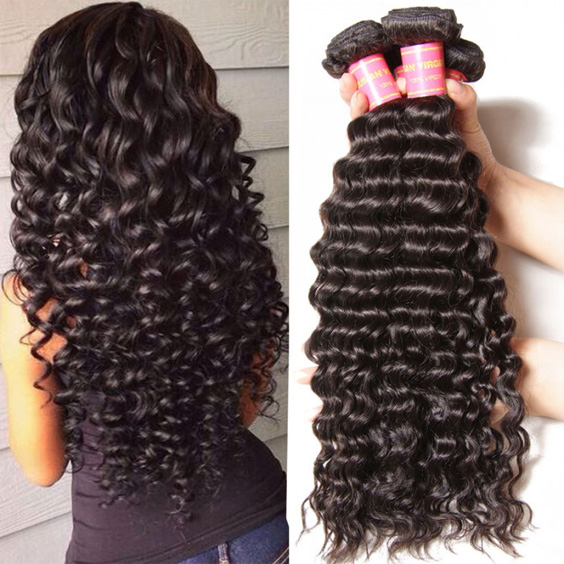 Why Do We Buy Virgin Hair Bundle Deals?
Choose Your Texture
We offer our bundle deals in every texture including straight, wavy or curly. Our straight bundle deals are matched impeccably to create long, flowing locks that fall perfectly in a layered fashion. If you are looking for a sleek and chic style that complements every look, our straight bundle deal is the way to go.
If you desire a seductive wave with natural elegance, our wavy bundle is the optimal choice. The bundles are paired specifically for the waves to cascade down your back and curve with the contours of your face and shoulders. This will create an individual look just for you.
And if you are looking for bountiful ringlets of hair with dramatic volume, our curly bundle deal is the superior choice. This bundle deal will offer the most volume and the most versatility.
Features of Virgin Hair Bundle Deals
♥ 100% Virgin Remy human hair.
♥ Can be colored, cut, flat ironed and curled.
♥ Last from 6 months to a 1 year depending on care.
♥ No shedding or matting.
♥ No synthetic mix.
♥ 1 bundle 3.4oz to 3.7oz ( about 100 grams)
♥ 12 inch to 16 inch needs 2 bundles for a full sew in. 18 inch to 30 inch needs 3 to 4 bundles for a full sew in.
Why Buy Hair In Bundle Deals?
Because most of the high-quality virgin hair for sale online is so expensive, many women opt to only purchase small amounts of hair weave whenever they need items. Unfortunately, that strategy is not as clever as it may seem. Purchasing one of our virgin hair bundle deals is a large up-front investment that results in long-term savings. If you compare the price of our bundles sold together in a pack to the price of bundles sold separately, you will realize that you can save more money by buying them together.
Benefit from Varying Lengths
At juliahair.com, our diamond virgin hair bundles come in a variety of different lengths, allowing you to choose from casual shoulder-length hair to dramatic waist-length hair. In addition to the varying lengths, the bundles are grouped together in sequential order. When installed, this gives the hair weave a more natural layered look, representing how the hair grows naturally from the scalp. By choosing one of the pre-matched bundle deals, it reduces the stress of choosing the correct lengths and simplifies the buying experience.
If you are looking for the best price with top quality virgin human hair products, customer orientated return policy, and services, free shipping, Julia hair is the right place for you! Julia hair mall provides hair bundle deals that cost you quite less. We sell Brazilian, Malaysian, Peruvian and Indian virgin hair bundle deals for your fashion and beauty.
Comments are Closed for this post.