The Top 10 Best Bob Wigs You Should Try for 2022 Summer
Mar.12,2021
Bob hairstyles have always been quite the hot favorite among celebrities and runway stars! 2021 Summer is approaching, do you want to change a hairstyle to suit this summer? Wavy or curly hair wigs seem too thick. If you are thinking about going with a bob, you have many cool, sexy, and classy fabulous looks to choose from, it looks thin and more comfortable.
We have a variety of bob human hair wigs for your choice. Today, we will share with you the top 10 best bob hair wigs for you to improve your beauty in 2021 summer. Follow Reading!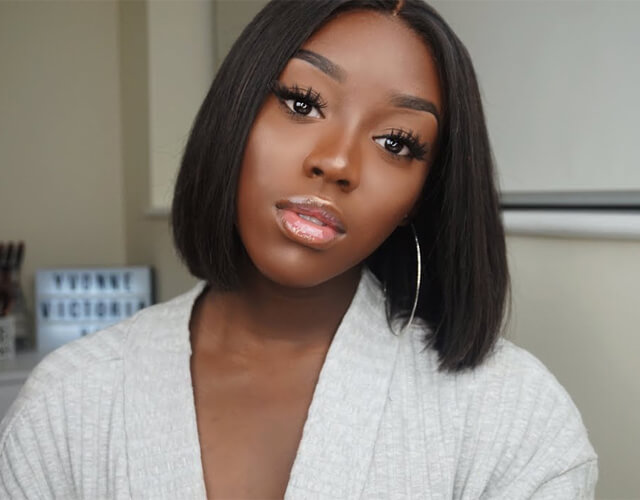 Why Choose Short Bob Wigs?
Bob Wigs style is more and more popular in 2022.
Differ to other wig styles, bob wig hairstyles to keep you looking fresh and fashionable. It is easy to match clothes, this is the biggest reason.
Bob wig is short hair, normal length is around your ear, long one will be your shoulder. This length of hair won't touch your clothes, it won't have large static electricity. Your hairstyle can keep for a longer time.
Another reason I like this wig is that the length of the hair can minimize the cost and maintenance, so you have an amazing hairstyle.
In addition, you can also attach this new style with some added styles. Try this cute, small, inverted look to get a natural effect.
One of the best advantages of a short bob wig is that you can match it with different clothes on different occasions. Bob wigs are available in various colors and lengths, so you will definitely get a wig that fits your needs and makes you look better.
The Top 10 Best Bob Wigs For 2022
Find the perfect short bob hairstyle ideal for you with a big discount.
1.Short Bob Water Wave Headband Wigs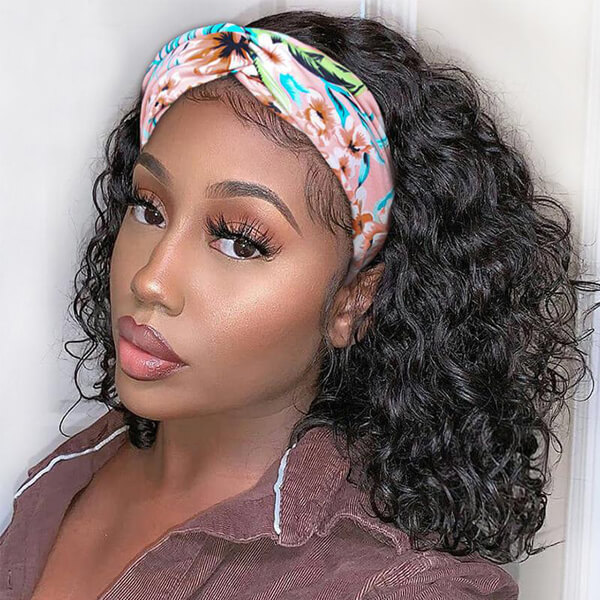 Short water wave headband wigs are the fashion and designed scarf wigs. It is Beginner-friendly, non-lace front wig, designed to utilize your own hair or hairline. This short headband wig allows you to show your own hairline and edges, and looks very natural and realistic. You do not need glue or gel, easy to install and secure, perfect for beginners, lazy girls, daily working, or workouts.
2.Curly Wave Short Bob Headband Wigs With Bangs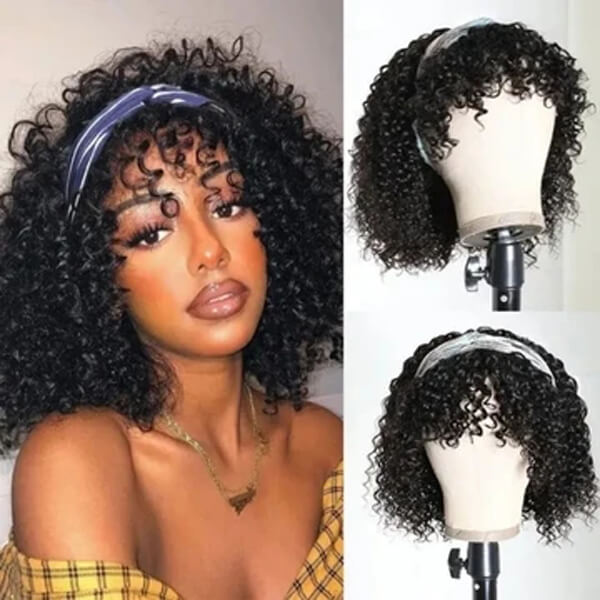 If you prefer short hair with bangs, but with curls, this curly hair headband bob wig may be ideal for you. The beauty brought by short curly hair is worth your effort in knitting. This hairstyle is both stylish and fashionable.
Choosing a short curly headband bob wig with bangs can never go wrong. They are easy to wear and easier to manage than other wigs. With the development of all work and party themes, this hairstyle will be your good choice for a long time.
3.Short Bob Straight Hair Wig With Bangs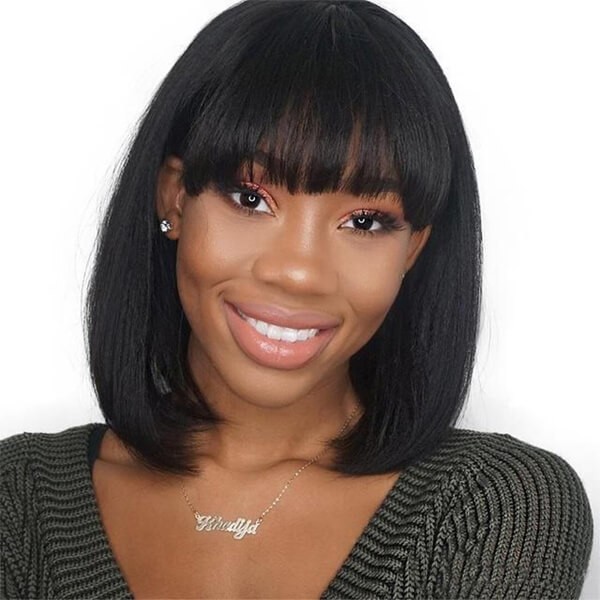 If you want to try short straight hair with bangs, this bob hairstyle is your best choice. The magic of bob wigs is made of 100% human hair that it can make you more distinctive like makeup, short straight wig with bangs makes you cuter, fashion, charming! The magic place for a wig is that it makes you more distinctive like makeup and you deserve to have it!
These fashionable and stylish short hair wigs look natural, real, very pretty, and feminine, soft touch. Suitable for long-term use, we provide a high-quality product with natural color and good texture and shiny, the short bob wigs just look just like your real hair, super soft and skin-friendly.
4.Straight Short Bob Lace Closure Wigs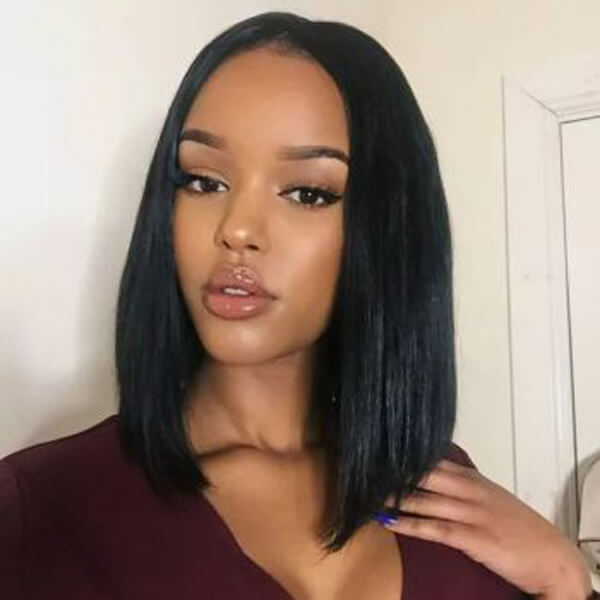 Look ever-so-sleek with this stylish look. A Straight Short Bob Middle Part Lace Closure Wig is perfect for long, oval, and heart faces, and can create a beautiful, balanced look. You can use either your flat iron or curling iron to style it. You can style it up to higher temperature without melting it or interfering with its high-quality.
Straight Bob wig can be used flexibly for various hair types, and the seamless hairline has been correctly mixed, imitating how the hair grows out of the scurf, making it look like real hair. It can also use a variety of hairstyles, making it difficult to tell that it is a wig.
5.Short Bob Curly Hair Lace Front Wig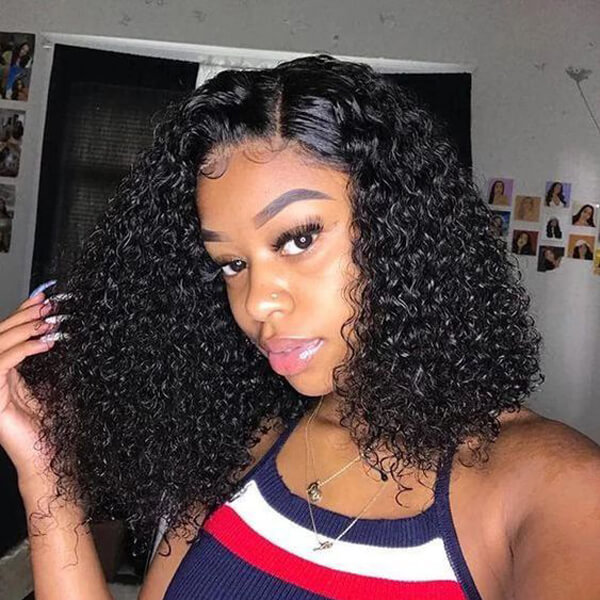 Almost every Instagram influencer has been or is wearing the curly bob. Wearing into a side-swept style or middle part adds more fashion to the bob.
Short curly bob hairstyle is lit and women all over the globe are trying new and spectacular weaves to give texture and volume to their bobs. The easy class and elegance that comes with curly bobs are worth all the effort that you must put into setting a weave in it. There is hardly any hairstyle as chic and trendy as a short curly bob wig.
Loving a hairstyle is cool, but going ahead and getting it something way cooler and satisfying. So, if you want to try a new short curly bob, you can get an idea from these lovely curly bob lace front wigs.
6.Ombre Straight Short Bob Wigs 1B/99J Headband Wig
Spice up your look with some warm burgundy tones through a headband bob wig. Similar to the jewel tones of the greens, this look can be dyed with minimal lightener. Alternatively, a wig is a protective and versatile option.
However, another option, which is perfect if you've had your hair permanently straightened, is a color wax. It's affordable, easy, non-damaging, and washes out.
Generally, it comes in a tub, and you just apply it to clean, conditioned hair using your fingers or a comb, and let it dry. It deposits pigment on the surface of the hair strands and can cover dark hair. Plus, this is an easy way to switch your colors and styles up, without having to commit to anything long-term.
7.Curly Wave Short Bob Headband Wigs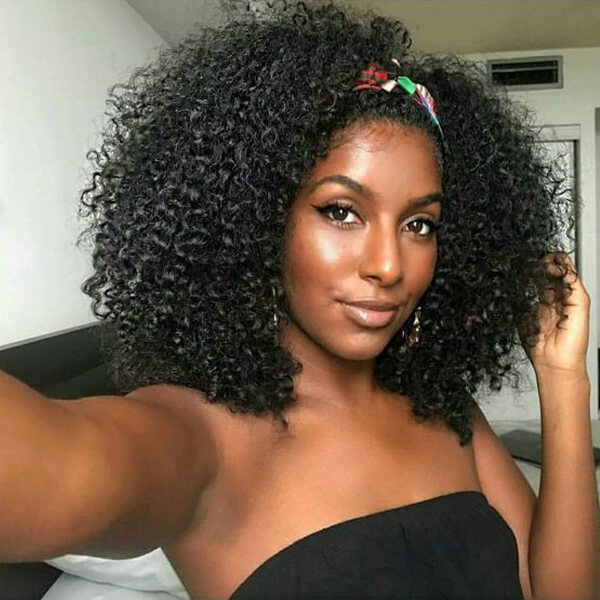 Curly hair headband bob wigs have glueless velcro snapping design, so it is easy to secure your wig, allows you to show your own natural hairline. So that is naturally the transition from real hair to a wig, which is very realistic and natural.
You can make a ponytail or bun according to your personal preference. The short wig with a headband attached is suitable for various occasions and you can use different headbands to match your different dress up. Let you completely say goodbye to "Bad Hair Day".
The short wavy bob wig is very easy to wear, beginner-friendly.
8.Ombre Blonde 1B/TL412 Short Bob Straight Wigs With Headbands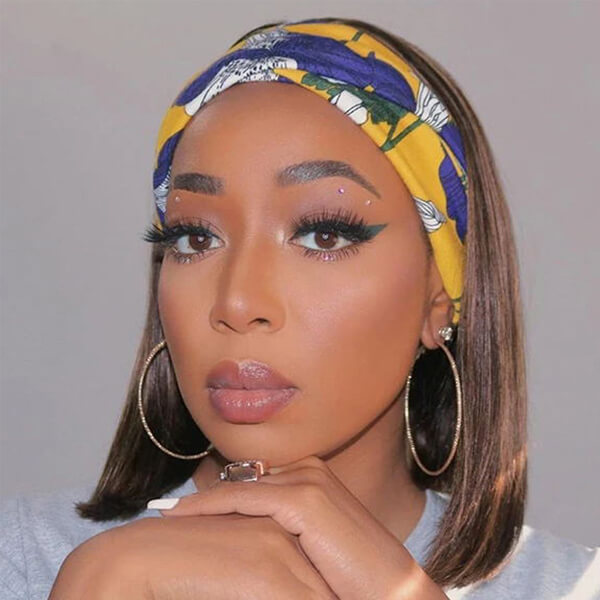 This ombre blonde short hair wig is very suitable for American women. If you have a party and want to draw others' attention, then this ombre blond hair is a good choice. After all, having a beautiful ombre blond 1B/TL412 short bob straight hair wig is a dream of many black women. We have 10-14 inches of this short bob wig.
You do not have to bleach it anymore, if you need any color you could take the 1B/TL412 color as a base color so that you could get any color you want, it is a more popular and trending color.
9.Headband Wigs Short Bob Straight Human Hair Wigs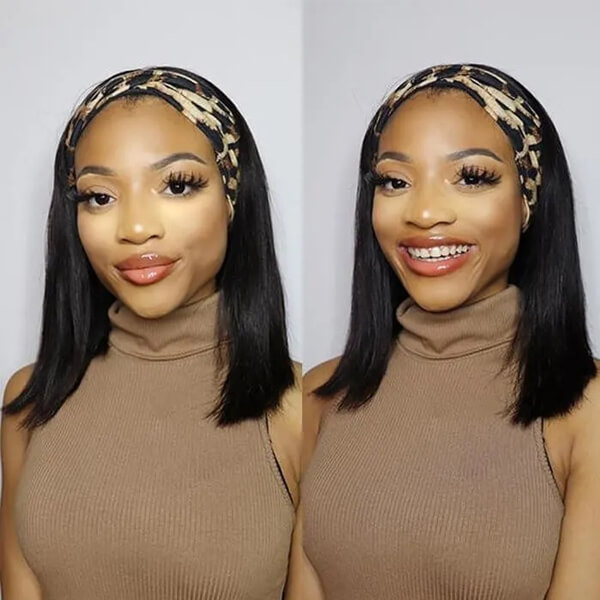 The straight headband short bob wig is a 100% virgin human hair wig, natural and healthy, minimum shedding, and tangle-free with regular maintenance. It can be dyed, curled, and flat iron. You can do many different feelings with this headband wig.
The headband bob wig made of high-quality elastic ice silk, which very soft and comfortable & breathable.
It is easy to secure your wig, allows you to show your own natural hairline, easy to make a ponytail or bun, makes your wig more realistic. We have 10-14 inches of this short bob wig.
10.Highlight Straight Bob Wigs With Baby Hair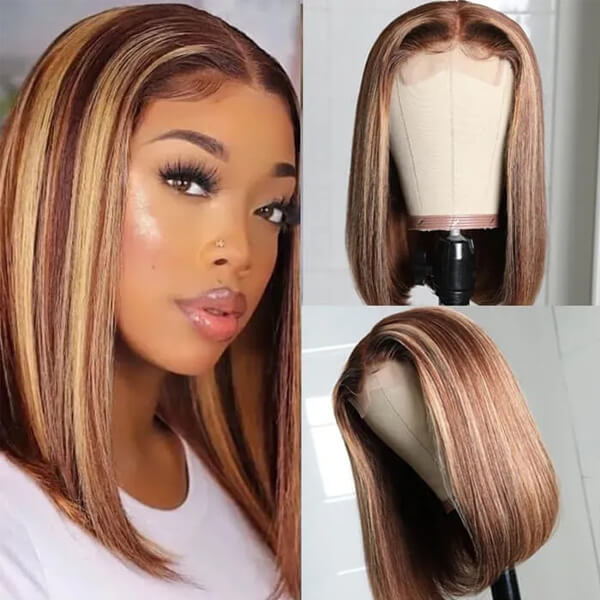 Highlights bob wigs are simply pieces of hair that are lighter than your natural hair color. If your base color is brown, you can add highlights that are a lighter brown, or even have brown hair with blonde highlights.
For blondes, blonde highlights incorporate lighter blonde shades. It's important to note that there are also different types of highlighting techniques. Highlights can accentuate hair color, bring out cheekbones, and even slim faces. They show off the lines of your haircut, create depth, and the illusion of fullness.
The hand-tied cap was designed to give you natural movement with styling options and a comfortable feel. The 4*0.75 lace part wig allows you to style the front layers and away from the face. The lace is 100% hand-tied to give you natural volume and adds movement to change your hairstyle and look.
There's a reason why everyone considers highlights at least once in their life. A few well-placed streaks can add dimension and movement into hair that otherwise feels flat and stagnant. Highlights wig can easily transform your look.
Conclusion
Short bob wigs give you a unique hairstyle, especially if you choose the most suitable one. You can learn more about the types of short wigs from this article and know which one is best for your beauty and natural look. The fashion trendy short bob wig is very flattering for all face shapes. You can choose the best suitable bob wig this summer at an affordable price.