Should You Wear A T Part Wig Or U Part Wig?
Nov.12,2021
Nowadays, there are many hair wig types in the hair market. U part wig and T part wig are the newest hottest trend on the market. They are fast and easy protective hairstyles for you in the beauty world.
Do you know the difference between the t part lace wig and u part wig? Should you wear a t part wig or u part wig? Today, let's talk about the problems and you will choose the best protective hairstyles for winter.
What You Will Learn From This Article
What Is U Part Wig?
The Features Of U Part Wig
The Pros And Cons Of U Part Wig
What Is T Part Wig?
The Features Of T Part Wig
The Pros And Cons Of T Part Wig
What's The Difference Between T Part Wig And U Part Wig?
Should You Wear A T Part Wig Or U Part Wig?
Firstly, What Is U Part Wig?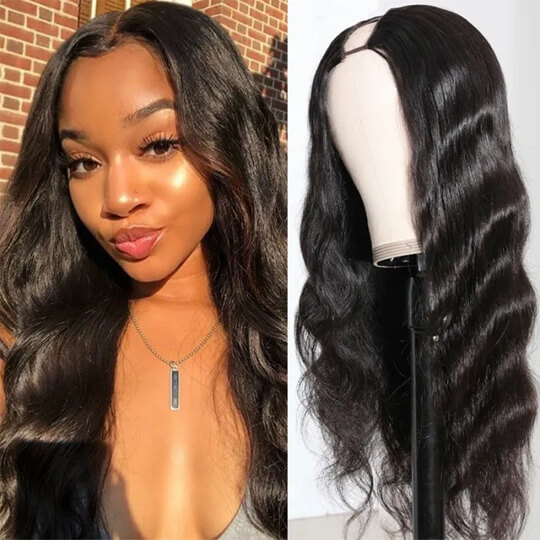 U part wigs, aka ¾ wigs, are hair extensions that are sewn on a U-shaped wig cap that features fine sheer mesh and clips underneath. Typically, U part wigs come in an array of sizes to suit your needs.
You can choose a center, middle, or side U-part to achieve your desired style. Since the U-shape part is constructed at the top of the wig, this offering allows you to wear your natural hair through that opening.
As a result, you'll be able to blend your natural hair with the wig and cover the extensions to achieve a more natural-looking hairline—all without spending too much time in the mirror. Not to mention, your natural hair will be able to breathe, which is always a plus!
The Features Of U Part Wig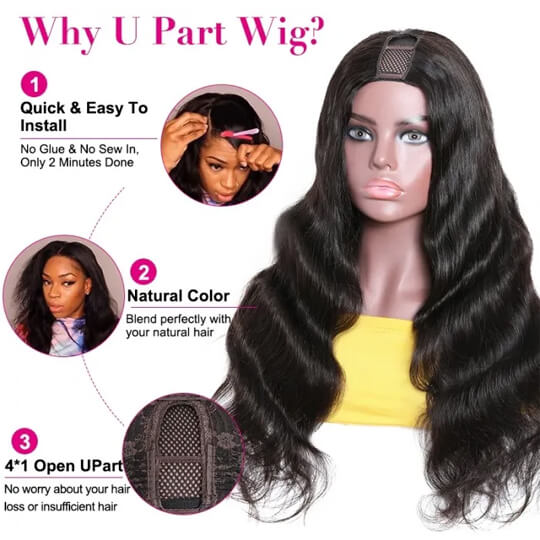 1. Hair materials are 100% raw hair, there is no chemical process, tangle-free, shedding-free, glossy, shiny, no lice, and no split.
2. A lace cap with a U shape design, you can leave out your own hair for this part, there is no need for lace closure or lace frontal to sew in. One thing should pay more attention to, you'd better choose the same hair color with your own hair, or dye it to the same color, or it won't match your own hair.
3. 3 clips in the wig cap, you can clip the wig on your own hair easily immediately without glue, stable and secure. No harm to your own hair.
4. Adjustable straps on the back of the wig cap. So you can adjust the size of the U part wig, not too tight, nor too loose. Very comfortable!
5. U part wig complete by machine-made, and the wig cap is breathable and comfortable. Machine-made hair products reduce the time of production. Customers can get it very fast.
6. Blending perfectly to your own hair, is very natural, invisible, and undetectable. Supernatural looking without any harm to your own hair.
The Pros And Cons Of U Part Wig
The Pros:
Since a portion of your natural hair will be left out, U part human hair wigs offer more versatility when it comes to sectioning out your hair, and often give a more natural-looking finish. You also have the freedom to style your edges however you'd like.
They're a great choice for anyone who wants to add some length as well, but either wishes to give their hair a break from weaves or wants the option to easily take their hair off at the end of the day.
The same rules apply for U-part wigs when it comes to maintenance, hair care, and storage as they do with lace fronts.
The Cons:
When clipping in the wig, you have to be mindful of any tension it can cause on the scalp, as this can also lead to traction alopecia. Also, when you're in the process of picking out your wig, you will need to pay attention to the size.
If the wig is too small or large it can then lead to pulling which can cause rips and tears in the lace, because it's fragile from wear and tear.
Another con is that while it can give you a more natural finish since your own hair is left out if you're constantly using hot tools to help blend your hair with the wig, it can lead to severe heat damage, breakage, and split ends. So, learning how to manipulate the hair without using excessive amounts of heat is key.
What Is T Part Wig?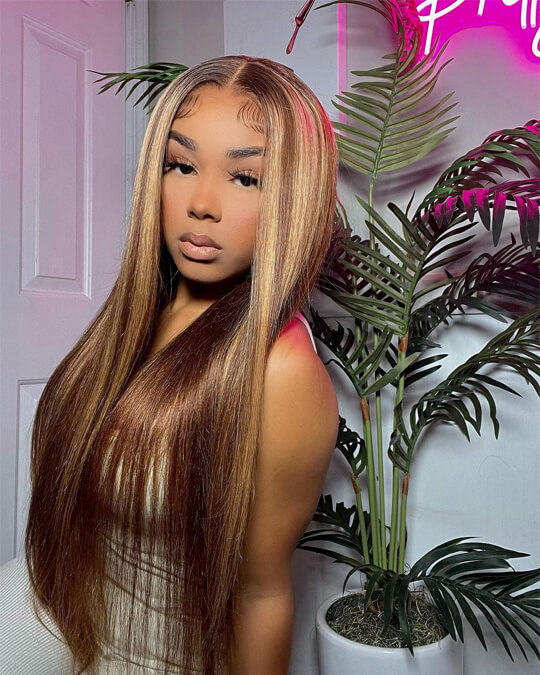 For a T part wig, you'll get lace from one ear to a different one on the sides and within the splitting space, which makes a "T" shape on the wig.
The hand-tailored lace region stretches out from ear to ear (13inches) the same because the lace front wig is yet insufficient lace at the rear with the expectation of complimentary splitting. You'll simply be able to part with in the center. The splitting length for the foremost part comes in 4inch and 6 inches.
The Features Of T Part Wig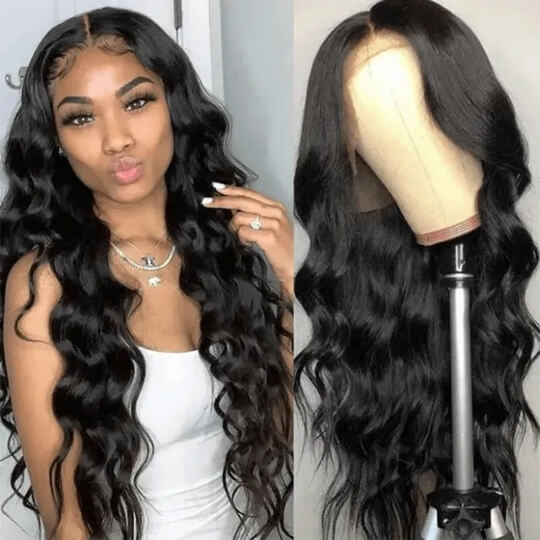 1. A typical 13*6 T-part lace wig just has a 13" * 6" "T" shape parting space and other sections are machine-made. This is an attempt to make lace wigs more affordable but still with long deep parting. If you are not spending all your coins on a lace wig, you can choose T-part lace wigs.
2. Because of the "T" structure of the wig cap, only has lace along the perimeter. and the parting area, it's a fixed part line, so you are unable to free part your T-part lace wig. But you can customize your parting area on the left, middle, or right part of the cap.
3. This wig is quite similar to a standard lace wig. However, it has less lace, and so the hand-sewn section is less than regular full-frontal lace wigs.
4. This is where it gets nice. The T part wig is quite versatile, and you can style it in as many ways as people do with a lace front wig. So, you can get creative with your styles. Straighten. Crimp. Curl.
The Pros And Cons Of T Part Wig
The Pros:
Convenient: Due to the T part wig being bleached and pre-styled, you can wear it out of the box. All you need to do is cut off the extra lace edge and comb it naturally. The whole process just takes a few minutes, even for beginners.
Cheap: The T part wig is one of the most affordable wig types. It is much cheaper than a lace frontal wig, but without diluting the natural-looking effect.
Natural: The cheap price doesn't always mean bad quality. The T part lace wig owns the natural hairline in the front "T" section. You can create the natural illusion as the frontal lace or full lace wig does.
Good quality: Not because it's cheap doesn't mean that the wig isn't good quality. Moreover, the quality T-part lace wigs are made from 100% (Remy or Virgin) human hair. So, you can style it like your own hair, dying, washing, or coloring it.
The Cons:
Breathability: More than 4/5 of T part wig caps are machine-made. So its breathability will be worse than ordinary lace wigs, such as full HD lace wigs. Considering that, T part wigs may not a good choice in the summer, especially for sweaty ladies.
Versatility: The T section is pre-style in the middle ( also has the left or right side part). And the transparent lace is only in the "T" shape. So, you can't part free, in another word, you can't change the part where it is.
Don't change the part: Because of the structure of the wig cap – the T part and lace only at the T section – the part line is fixed. So, you can't change up where it's parted.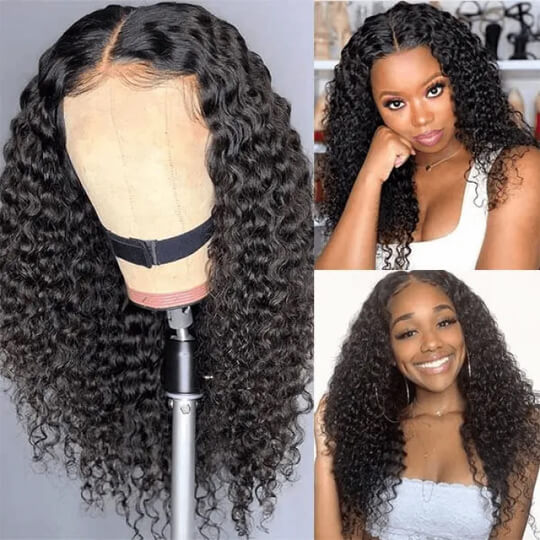 What's The Difference Between T Part Wig And U Part Wig?
1. There is no lace on the human hair U part wig, but the T part wig has lace around the perimeter.
2. Curly U part wig has machine-made construction, while the construction of the T part human hair wig is hand-tied.
3. The U part wig has a u-shape opening, while the human hair T lace part wig has a T-shape opening.
4. With a U part wig no leave out, you can freely make a middle part or side part according to your preference. However, people who choose to wear T part wigs can hardly change the way they part their wigs because of the fixed lace section. The middle-parted hairstyle will be the only choice on the table for T-part wig users.
5. When installing a T part closure wig, you need to cut the extra lace and use glue or adhesive to secure your wig. So don't U part wig.
6. U part wig is the upgrade of the U part wig that can leave out your natural hair, but T part wig can't.
Should You Wear A T Part Wig Or U Part Wig?
Whether you choose a U part wig or a T part wig, there are some points you need to take into consideration.
For these people who are seeking middle-parted wigs, a T part wig will be a perfect choice.
The U part wigs are not suitable for people who have thin or bald hair as your natural hair may not completely cover the U-shaped opening, thus making it easy to see that you wear a wig.
You can depend on yourself to choose u part wig or t part wig for you. Julia Hair Mall has various of the best and most affordable u part wigs and t part wigs for sale in any style and color. You can use our coupon code and buy now and pay later with Klarna, ZIP pay, or Paypal. Come on, beautiful girls!