Buy Now Pay Later 100% Human Hair Wigs On Klarna - Julia Hair
Sep.07,2021
Do you want to buy the best quality Klarna hair? Do you have enough money to buy your favorite things? Don't worry, it is easy to deal with Klarna. Buy now, pay later! Even if you don't have enough money, you can buy things with installments payment for 4 periods.
We are wig companies that accept klarna, with no credit check, you can get buy now pay later wigs 100% human hair wigs, hair extensions, hair bundles...
Split any purchase into 4 interest-free payments with Klarna. Do you know about Klarna? Today, we will share with you more about Klarna's payment to help you get the human hair wigs and hair weave with buy now pay later.
What Is Klarna?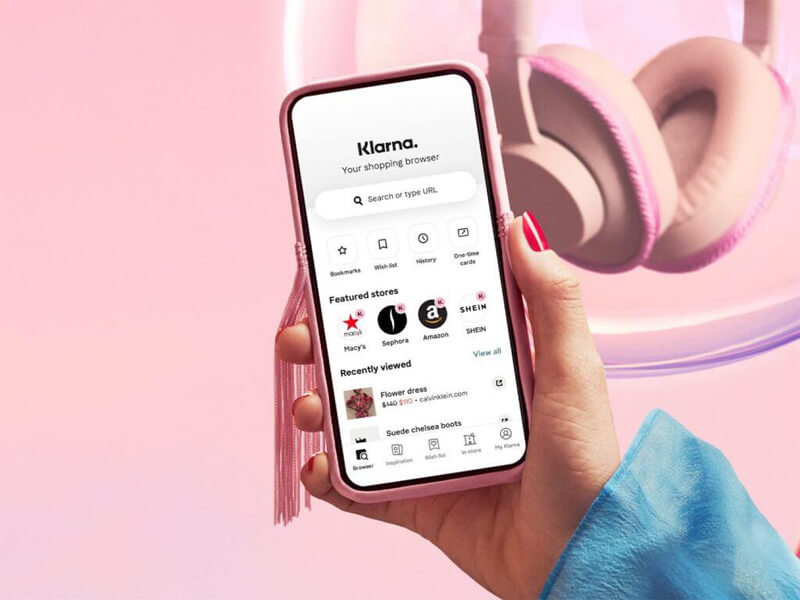 Klarna is a multifaceted payment solution, offering a variety of unique payment plans designed with online shoppers in mind. Through partner retailers, Klarna users can qualify for interest-free installment plans or flexible financing options – depending on the merchant.
Alternatively, the Klarna app allows users to make a purchase with any online retailer and take advantage of an interest-free installment plan – allowing users to test products without worrying about the cost upfront.
Klarna is a payment option that allows you to shop now and pay later by splitting your qualifying purchase into 4 interest-free payments.
How Does Klarna Work?
Klarna's most popular products are two interest-free payment plans:
Pay in 4: This plan lets you split your purchase into four equal payments. The first payment is due when your order ships and the next three are due every two weeks, for a total repayment period of six weeks.
Pay in 30: This plan lets you order an item without making any upfront payment. When the item ships, Klarna will send you an invoice due 30 days later.
For purchases too big to pay off in 30 days or even six weeks, Klarna offers paid financing options, most of which are structured as lines of credit. The plans you're offered will vary based on your personal details and the retailer selling the product, and monthly installment plans range from six to 36 months. Merchants may also run special promotions on certain purchases, such as offering reduced or deferred interest.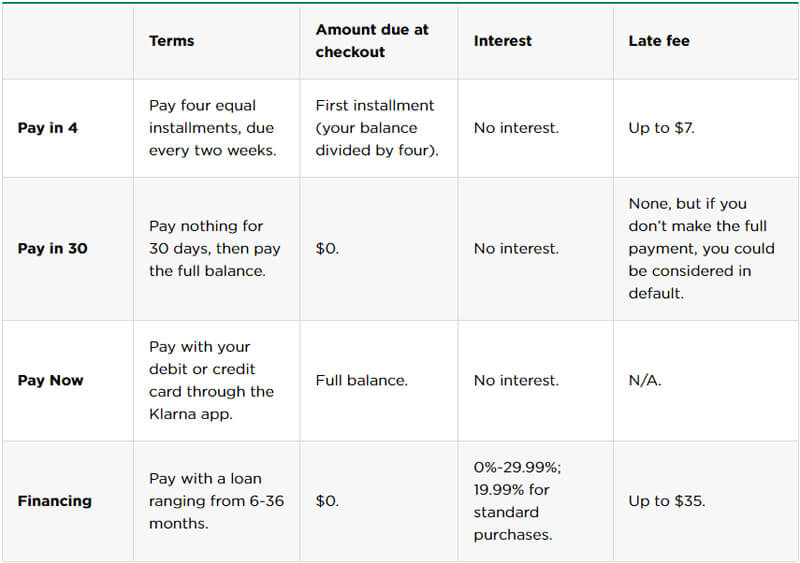 Julia Hair recently launched a new wig with no baby hair, which is the feedback from Tik Tok wig influencers.
@therealebai My first time really doing a style for my wig install, idk how I feel about it lol its cute though, Kinky straight wig from @juliahair.com link in bio ☺️#wiginstall #wiginstallation #gluelessinstall #kinkystraight #kinkystraightwig #wigstyling #wandcurlstyle #wigstylingtutorial #wigstylingideas #wigtok #wiginfluencer ♬ original sound - EBAI
Therealebai made this wig no baby hair, and directly tied two pigtails on the hairline, transparent lace, which can fit the scalp well. Because the wig designed according to black women does not need to cut the lace many times, it is convenient and easy to use. At the same time, this wig can also create a baby hair, with a pair of ponytails, which is simple and monotonous.
Should You Use Klarna?
Paying cash is always cheaper than financing a purchase. However, Klarna can help you purchase something you need but can't fully cover upfront — as long as you're certain you can afford the subsequent payments.
Look specifically for a payment plan that charges little to no interest. In this case, the Pay in 4 or the Pay in 30 plans would be your best bet.
The Pros and Cons of Paying With Klarna
Klarna offers variable payment plans that can be incredibly valuable for shoppers looking to pay off large purchases over time, but like any payment solution, it comes with pros and cons.
The Pros
Installment plans and pay-later purchases allow you to pay over time without accruing interest or affecting your credit score.

You can pay for any major purchase over time by shopping through the Klarna app. Other payment services work with a limited list of retailers.

Unlike some other installment plan services, Klarna accepts American Express and Discover cards.
The Cons
Financing plans can trigger a hard pull on your credit and might have a higher interest rate.

You can't customize your payment due dates on an installment plan.

You can't pay early for an installment if funds free up.

Pay-later payment options are limited.

You can't pay with a prepaid card.
What are the Requirements for Using Klarna?
AU.S.-issued debit or credit card

You're 18 years of age or older

AU.S. billing address

A phone number that receives text messages

Your online or in-store purchase must total between S10 and $1,000 to be eligible. Gift Cards and Beauty Box subscriptions cannot be purchased with Klarna.
Guide to Use Klarna At Julia Hair
It's a safe and simple way to get the stuff you want when you want it. Here's how it works:
It's really easy.
If you already have an active Klarna account:
Step 1: Select the human hair wig or hair weave you want to order.
Step 2: Add products to your cart and select "Klarna" when you check out.
Step 3: Enter a few personal details and you'll know instantly if you're approved.
Step 4: Klarna will send you an email confirmation and reminders when it's time to pay.
Step 5: You can complete your future Klarna purchases with just one click.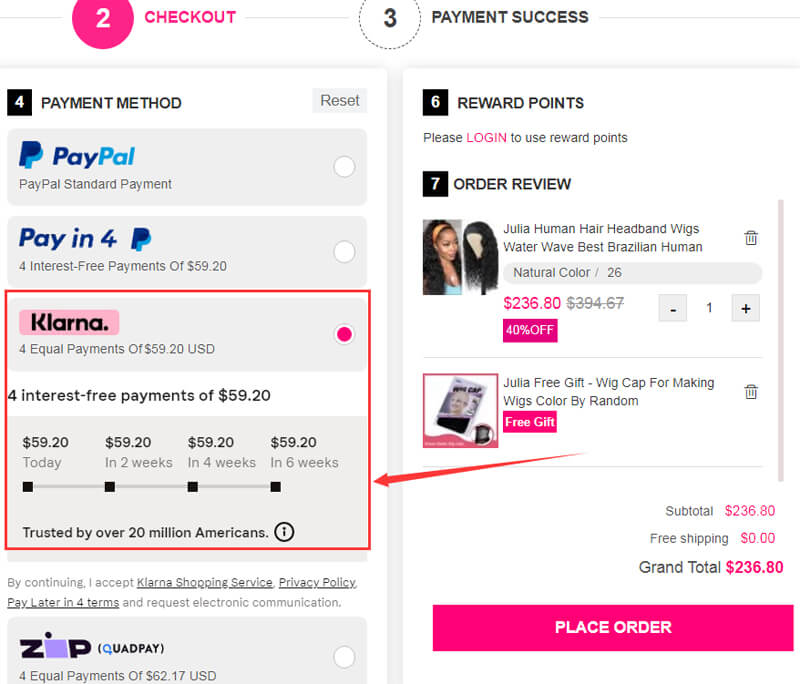 Faqs About Klarna
Q: Is there a fee to use 4 interest-free payments?
A: There are no interest charges with Pay later in 4 payments, and no fees when you follow your automatic payment schedule. A Late Fee of up to $7 may be charged if an automatic payment cannot be collected.
Q: Will this affect my credit score?
A: When you choose 4 interest-free installments, Klarna may perform a soft credit check. This type of check will not impact your credit score or show up as a hard inquiry on your credit report.
Q: How do I check my Klarna payments and schedule?
A: Sign in to your Klarna account on the Klarna app or via Klarna's website to check your payment schedule, and contact Klarna's Customer Service team with further questions.
You can also check your email account for an email from Klarna containing your payment schedule. If you don't see it, be sure to look in your spam folder or trash history.
Q: What happens if I make a return?
A: If you need to return part or all of your order, Klarna will issue you with a new statement. Simply follow the retailer's return instructions and make sure to take note of the tracking number. Log into your Klarna account, select "report a return", and we'll pause your statement. As soon as the retailer has processed your return, we will send an adjusted invoice.
Q: I have canceled my order. How long will it take until I receive my refund?
A: As soon as we have received your cancellation or your return, the repayment will be processed within the next 14 days.
Q: There's something wrong with my order. Do I still need to pay for it?
A: You do not need to pay for goods that are received damaged, broken, or defective. Follow the retailer's dispute instructions and "report a problem" in your Klarna account to pause your statement until the issue is resolved. As soon as the retailer has registered your return, the refund will be processed within 5-7 business days.
Q: Can I have a different delivery address than my billing address?
A: Yes, when selecting Klarna as a payment method, you can choose to deliver the goods to an address other than your billing address. At the checkout, you will be given the option to enter a separate delivery address.
Q: What if I get declined from using Klarna?
A: You can use an alternate payment method to complete your purchase. To use Klarna for future orders, please contact Klarna's Customer Service team to discuss options.
Q: I have not received my order. What happens to my statement?
A: You do not need to pay the statement until you have received your order. Contact the retailer for a delivery update, log into your Klarna account, and "report a problem" to pause your statement until you've received your order.
Q: My statement is incorrect. What should I do?
A: If your statement does not match your order details, please contact the retailer directly to correct your statement. Log into your Klarna account and "report a problem" to pause your statement until the details have been corrected.
Q: What are the payment options offered with Klarna?
A: Pay in 4 interest-free payments with Klarna
Split your purchase into four interest-free payments. Just enter the credit or debit card details of your choice and make automatic payments every two weeks.
Available on all orders. CA residents: Loans made or arranged pursuant to a California Finance Lenders Law license.
Q: When is my payment due?
A: The first ¼ of your payment is due when your order has shipped. The remaining three payments will automatically charge every two weeks. Your payment schedule is sent via email and you can also access your payment schedule in the Klarna app by clicking on 'Spending', choosing the order you want to see, and then clicking on 'Show Plan'.
Q: Can I pay before the due date?
A: Yes. Just open the Klarna app or log onto the Klarna app to pay off your balance early.
Q: Is my payment information safe?
A: Your payment information is processed securely by Klarna. No payment details are shared with Merchant. All transactions take place via connections secured with the latest industry-standard security protocols.
Recommended Different Styles Of Baby Hairs
1.#33B Brownish Red Body Wave Human Hair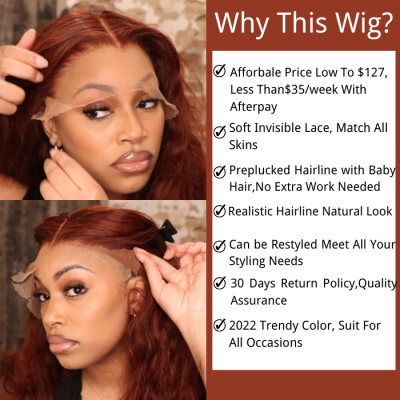 2.Piano Brown Color Water Wave Hair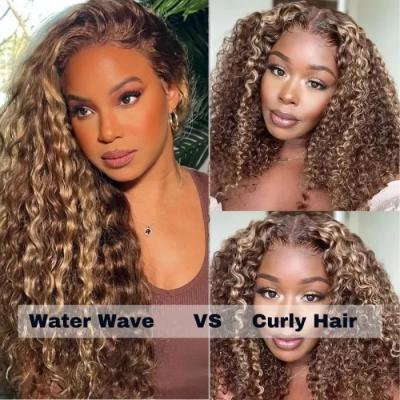 3.Invisible 5x5 HD Lace Closure Wigs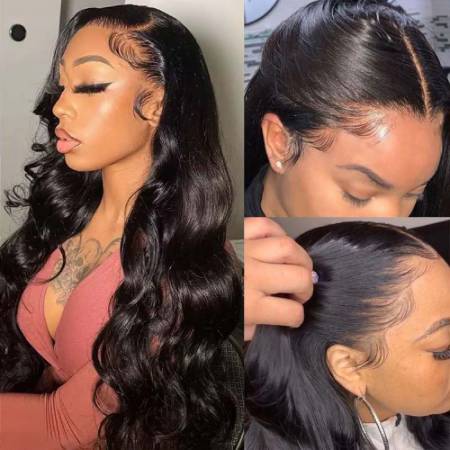 4.99J Burgundy 13x4 Lace Front Wig
5.Highlights Body Wave Transparent Lace Human Hair Wigs