Julia's New Arrivals Are Here! Come And Pick The One You Like!
Mar.03,2022
The warm spring is gradually approaching us. With the departure of the cold winter, people gradually changed into new clothes and hairstyles. In this beautiful spring, Julia also has a lot of new wigs for all the African American women, including different colors and hairstyles. Today we will classify them by color and introduce them to you one by one. You can take a brief look at them and maybe you can find a wig you like.
Natural Black Hair Wigs
Natural black wigs are always the classic ones that will never be out of fashion. Because they match all your cloth styles perfectly. Meanwhile, natural black wigs can generally satisfy your styling needs. Therefore, the first part is about the wigs of natural black hair.
1. S

traight Blunt Cut BOB Human Hair Wigs

This is short bob hair. The unique advantage of short hair is easy to maintain and style. Compared with long hair, a bob hair wig highlights your cute facial features. Besides, the special blunt cut builds a very neat look. If you want an energetic and lovely appearance, the blunt-cut bob wig will work.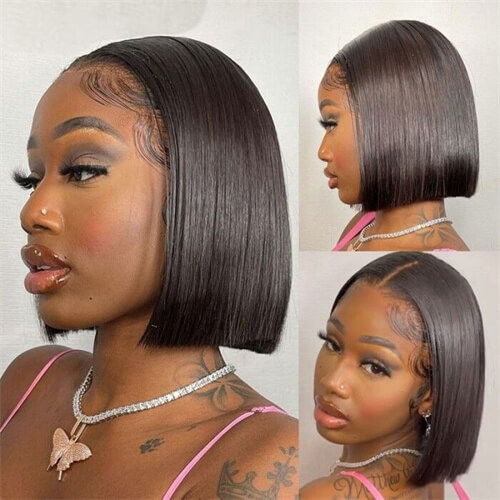 2. Afro Short Kinky Curly Human Hair Wig
s
Afro Kinky Curly hair mimics the natural condition of African American women so they can give you an extremely natural look. In addition, Afro kinky curly is fluffy so they can add volume to your hair look. Fluffy hair will make your face look more delicate and smaller and give you a cute look.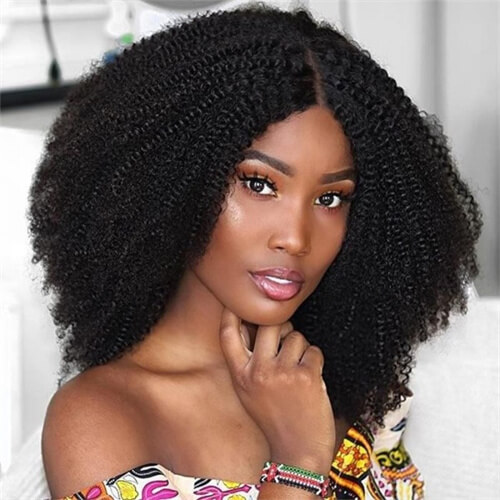 3. Short Glueless V Part 150% Straight Bob Human Hair Wig
The biggest difference between this bob wig and the first one is the construction. This is a glueless wig, which means you do not need to spend time and energy to deal with the lace part. And you can get a bob wig at a more affordable price. The end of this bob wig is not as neat as the first Bob wig, giving others a messy and natural feeling.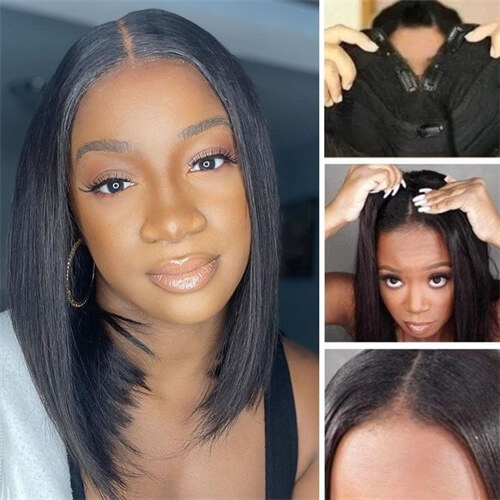 4. Long

Straight Glueless V Part Wigs

This is also a V part wig which is very suitable for the warm spring and hot summer. You can take off them at night to give your scalp and natural hair enough time to relax and breathe. And the sleek and smooth hair is very manageable. The hair length range is 14-24 inches, you can decide to choose a longer or a shorter one according to your preference.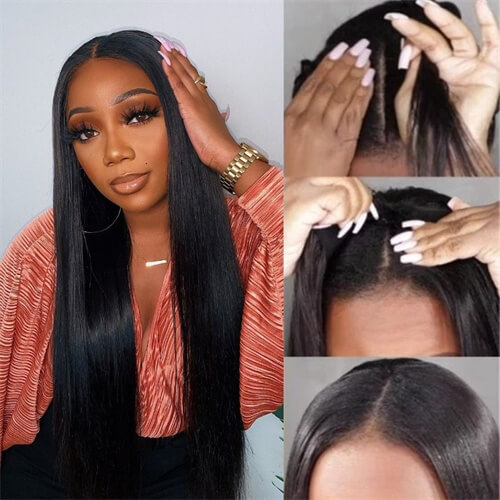 5. Medium Length Layer Cut 13x4 Lace Front Straight Human Hair Wig
s
From the picture, you can see that the end cut of this wig is quite special. The hair on both sides of the face looks like the wings of a butterfly, so this hairstyle is also called a "butterfly cut". Medium-length hair shows the particular design of this hair better, so we designed it into 16 inches. If you want a special hairstyle, then this wig is definitely a good choice.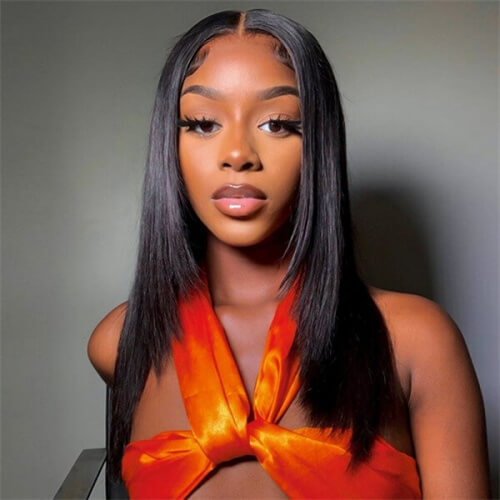 6. Wet
A

nd Wavy Deep Wave V Part Wig

s

This is another glueless wig. Wet and wavy hair is more and more popular in recent years. 14-24 inches are designed for you to choose from. If you prefer a wig with curls, this will be a good option for you.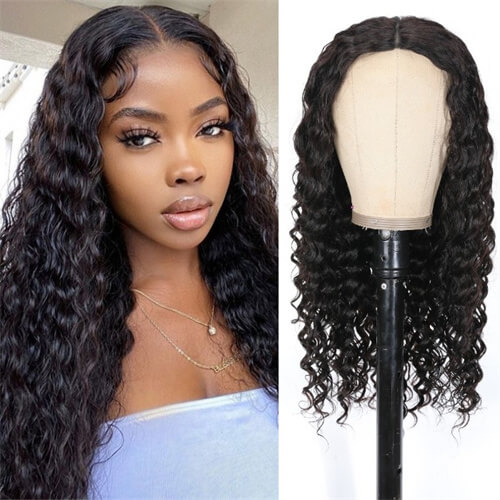 Black and highlight wigs
If you think natural black hair is too monotonous, but don't want to try too bald color, then highlight wigs will be very suitable.
1. V Part Balayage Curly Wig
Use black as the base tone and brown as the highlight to make your hair look layered in color. Second, Balayage curly wigs are very fluffy, and small curls are especially good for adding volume to the hair.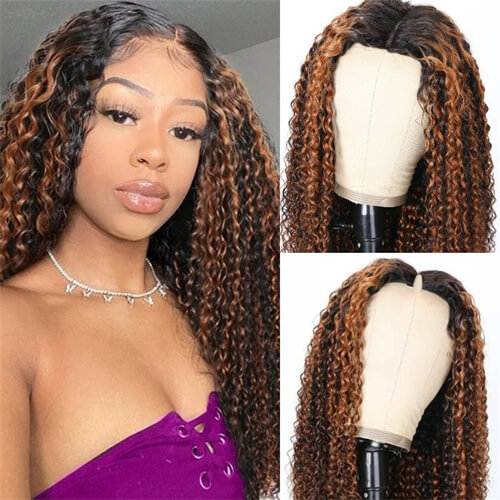 2. Balayage Highlights Jerry Curly U Part Wigs
The highlight of this wig is a darker brown and the color contrast with the black is not as apparent as the first one. It is known to look more harmonious and natural. Also, this is u part wig, which requires you to leave your natural hair on top to blend with this wig, which will give you a very natural hair look.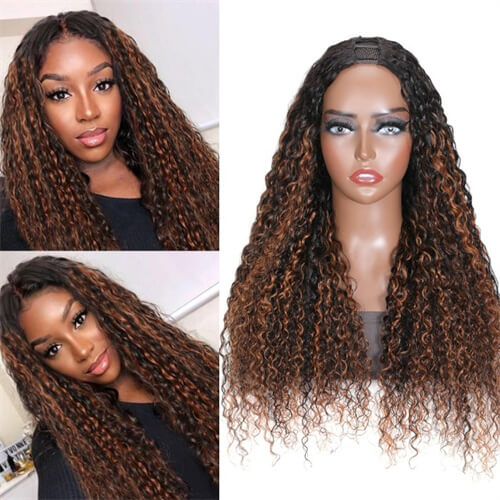 3. 99J Burgundy Roots Black Human Hair Wigs
This is the popular skunk stripe hair recently. Burgundy is a very hot color, and it has a unique charm when paired with black. Compared with scattered small highlights, this largely concentrated highlight can help modify your facial complexion and highlight your charm.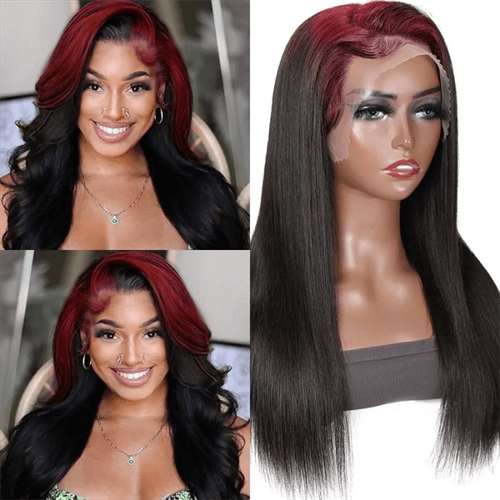 Ginger hair wigs
Ginger hair has been popular for a long time. If you have never tried a ginger wig, spring is the best time! The last part is about ginger wigs.
1. Ginger Water Wave BOB Human Hair Wigs
Water wave hairstyles are becoming more and more popular recently. This bob water wave will show your lovely face thanks to the voluminous hair on the sides. And the ginger color will match your skin tone perfectly. If you want short ginger hair, this one is worth considering.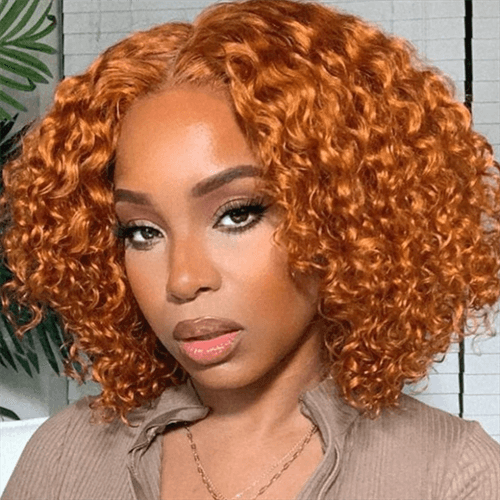 2. Blunt Cut Bob Human Hair Wigs
This is a longer bob wig with a blunt-cut hair end. This color adds a little copper, and it looks more like red color. Besides, you can also do free part hairstyles.
3. Auburn Ginger Coily Human Hair Wigs
This hair is very fluffy and gives the hair a very full feeling visually. This is a medium-length wig, so it won't be too difficult to manage. It should be noted that this is a T part wig, you can only keep the hairstyle of the middle part, but this hairstyle is very suitable for the middle part.
4. Ginger Water Wave Human Hair Wigs
This is a very beautiful water wave hairstyle. And long hair will give others a very gorgeous feeling. Ginger long hair can add more charm to you. From 14 to 26 inches, you can choose the length you want.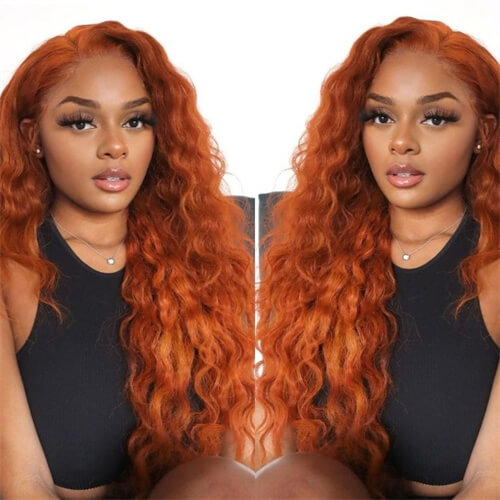 5. Body Wave 13X4 Colored Transparent Lace Front Wigs
This one is a reddish-brown wig. The color is a little darker than normal ginger. The design of the hairstyle is the classic body wave, which is also a more versatile hairstyle, no matter what clothes you match, it can highlight your charm.