How To Do A Sew In Weave?
Jan.06,2018
Julia Hair 5th Anniversary Super Sale:
Warm-Up
Time:Apri 29,2022-May 5, 2022
Shop Now, Get 13% Off, Code: PRE13
Order For $239+, Get $29 Off, Code: PRE29
Order For $299+, Get $49 Off, Code: PRE49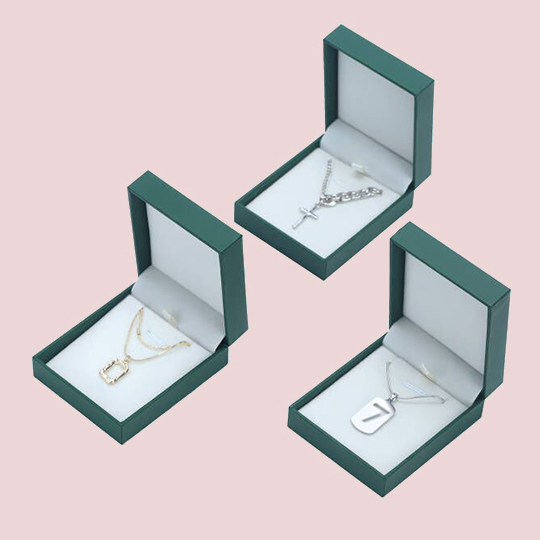 Formal Start
Time: May 6, 2022-May 8, 2022
1. All wigs can enjoy a 50% discount+an additional 16% discount. (code: JULIA)
2. Exclusive discount JULIA also enjoys multiple benefits.
(1)After purchasing goods on Julia.com, customers can get a necklace gift worth $69, and their points will double.
(2)New customers can get $500 points when they register in the mall.
(3)Participate in the $37 new product spike activity.
Human hair weaves are definitely popular at the moment and this trend doesn't appear to be ending anytime soon. Sew-in weaves are loved by many because they give you the freedom to experiment with your hair without a real commitment.
Do you want to learn how to sew in weave extensions? You can create any weave hairstyle you can imagine at home with the right knowledge, a few supplies, a little time and a lot of patience.
Don't worry, we've broken the sew-in weave installation process down into a few easy-to-follow steps. With these step-by-step instructions, you will be able to install your own full or partial sew-in weave.
First, What Are Sew-in Weaves?
Sew-in weaves are a form of weave for the hair that you can actually sew into your hair rather than glue onto your scalp. If you're going to wear a sew-in while you transition, you'll want to wear one that covers all of your hair and leaves none of it exposed. This will also save you from having to worry about blending the sew-in with your natural hair color, type and texture.
Who Will Use Sew-in Weaves?
In the past, it may have been more common for coilies to opt for a sew-in, but waves and curlies get them done as well! In the natural hair community, we all go through the same issues, and many of us are transitioning, which isn't limited to any particular hair type — and neither are sew-ins!
Some Things Should Be Ready Before
Before you begin your at-home sew-in weave adventure, you will first need to gather a few products and styling tools.
Human Hair Extensions or Hair Weave (on the weft)
Curved Hair
Sewing Needle
Hair Sewing Thread (same color as the hair)
Tail Comb
Hair Clips
Scissors
Step By Step: How To Sew-in Weaves?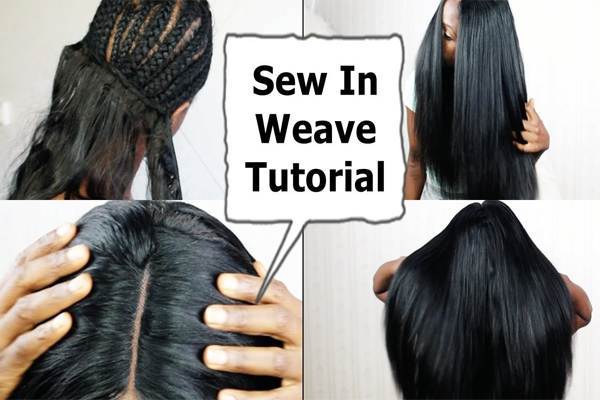 Step 1
Shampoo, condition and blow dry your hair.
Step 2
Plan the hairstyle you want and make parts showing where the braided base will go. Separate and pin up any hair that will stay out of the weave.
Step 3
Use a small amount of extension hair as reinforcement and braid the hair in either a continuous cornrow braid or part horizontal sections and braids those.
Make the cornrows as flat and narrow as possible. Use the needle and thread to sew the ends of the braids along the bottom of the cornrows. Use enough long and strong thread to keep the hair can be sewn with one length.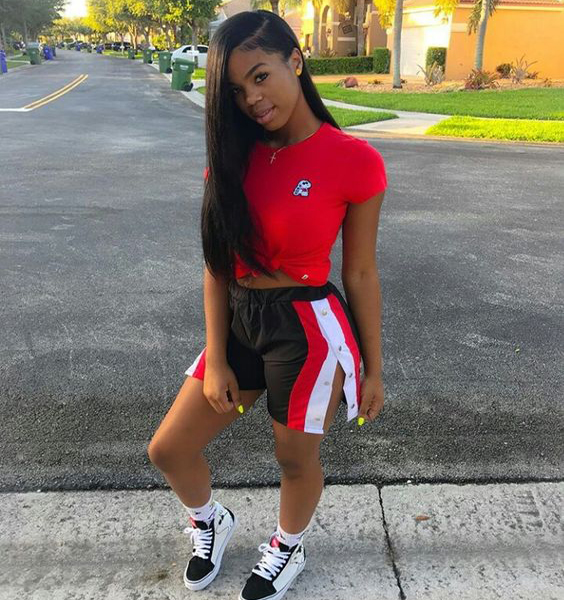 Step 4
Starting from the back of the head, sew rows of extension hair onto each cornrow. Start from the very edge of the cornrow and keep the track as flat as possible. Go over the same spot a few times with the needle and thread when you start the track to secure it properly. Do the same thing when you get to the other end of the cornrow.
Step 5
Cut the track once you've secured the end to the cornrow. This helps to get the measurements exactly right.
Step 6
Continue sewing the hair onto the cornrows this way until you've completed the whole head.
Step 7
If your style came with a closure piece for the crown of the style, Trim the net of the closure depending on your empty part, sew it in the place and then cut the needless part that you don't want if it is necessary.
Step 8
Trim it, Iron and Color as you like, also style the hair any way you like.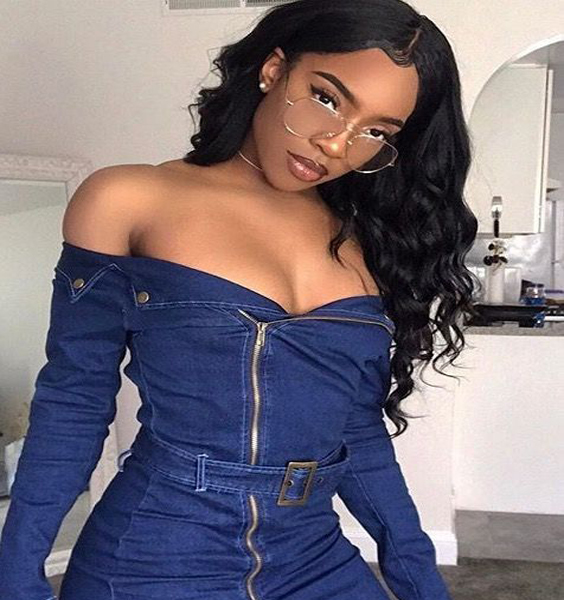 Now, you have already finished your work and check all your hair by the mirror 360 to confirm your head looking good from all the angle.
Tutorial Video: How To Do A Sew-in Weave?
This video is a step by step self-install tutorial from start to finish on how to sew in a weave on your own hair yourself at home.
Hair Information: Julia Virgin Brazilian Straight Hair 18 20 20inches
How Much Hair Do We Need To Buy For A Sew-in?
If you want to go for a partial sew in virgin hair bundle deals, you'll most likely be fine with one pack of hair. A full head sew in will require at least two of those. That makes approximately 8oz of hair. Don't forget to take into consideration the desired thickness of a weave when shopping for hair extensions.
Sew-in Weaves Maintenance Tips
Always follow the guidelines for every condition such as washing your hair upside down so the residue does not pile up on top of your hair.

You should shampoo it once in two weeks.

Pick organic styling products which are alcohol-free.

You should regularly moisturize or deep condition to protect your hair and scalp from damage.

When sleeping, use a satin pillow so your curls will stay in place.

If you are planning to go swimming, secure your hair using a swimming cap. It is important, especially when you are swimming in salt water.
The Pros And Cons Of Sew-in Weave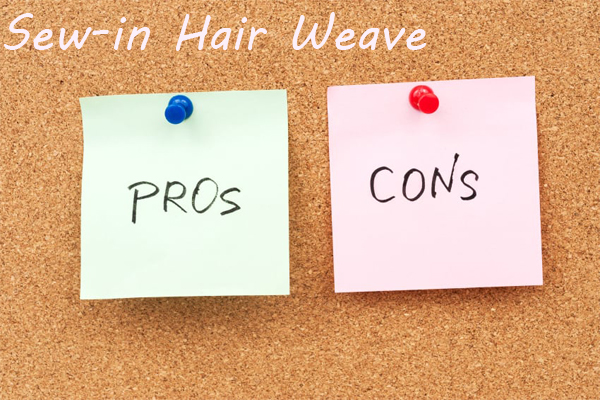 Pros:
Your hair is completely covered and protected, with the exception of your leave-out.

Low to zero manipulation during style.

Freedom to make dramatic hair changes without commitment. So, cut and color away!

Protection helps retain length.

It can last up to two or three months.
Cons:
Tight braids can cause breakage.

It's hard to wash and condition your real hair during this style.

Take down can be time-consuming.
A Few Other Things You Need Know
The weave is best done on hair that's healthy and full and that's roughly ponytail length for easy blending.

Like a normal weave install, it can be done on all kinds of textures–relaxed, natural, curly, kinky. Just be sure you find hair that blends well with your hair.

You'll need about 3 – 4 packs of hair for a sew-in weave.

The style lasts 8 – 10 weeks.

Avoid wearing heavy weaves, heavy weave hair can pull on your hairline, leading to damage.