Fashionable Ways to Wear a Baseball Cap Wig 2020
Oct.28,2020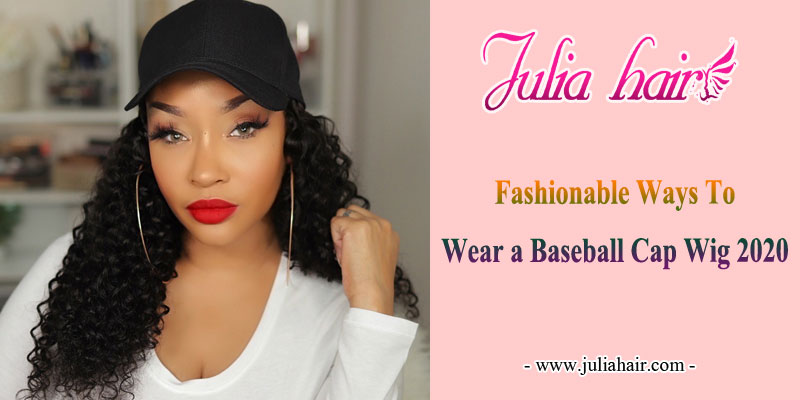 New fashion trend weave hairstyle is baseball cap wig, which has curly wave cap wig, straight wave cap wig, and so on. It is made by real human hair bundles, bouncy and soft. Baseball cap wigs are easy to wear and go, super natural, and remove off easily. Don't you want to know how to make changable hairstyles with hat wigs- baseball cap wigs, let us start with Julia hair sharing!
Wearing a hair wig has always represented the concept of reinventing yourself. This makes perfect sense if you know what is the basic use of these. Every woman from all over the world would like some massive change in hairstyle once in a while. Therefore, it should comes as a surprise that they have always been so popular. We can see that there were many different meanings behind wearing wigs throughout history.
For example, in ancient Egypt, it had an almost religious character since pharaohs and their wives were almost considered as gods. Furthermore, the practice of judges wearing some kind of these is pretty common even in this day and age. It should be said that the main concept behind all of these situations was the concept of authority. Even though we can see that there are some of these elements still present in modern times, it should be said that they are mainly used for pure aesthetics.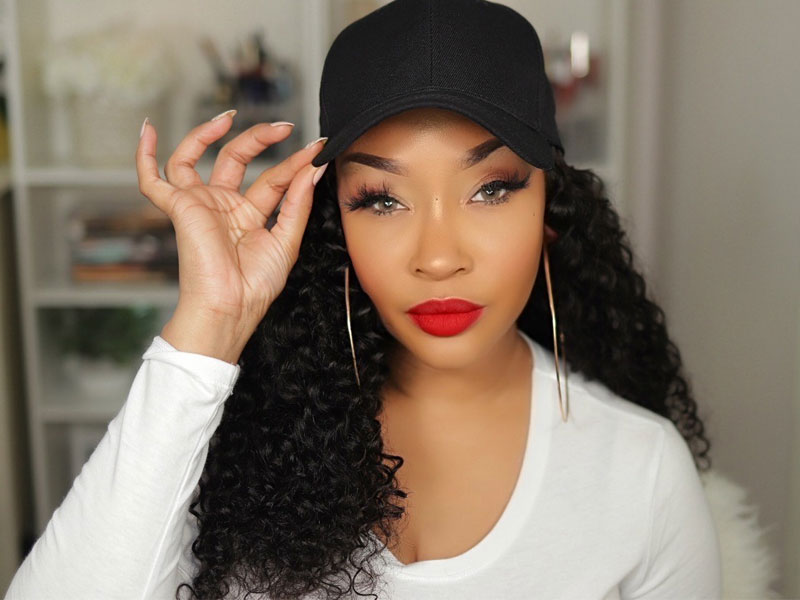 For a really good number of years, wearing these human hair is a pretty popular practice. We can see that many celebrities try out some new wigs wherever there is an event that has a lot of following and interest, like concerts or something similar. Looking for the source of today's popularity of wigs can be found here. Also, we can presume that this is a trend that will not leave us soon. Thankfully, there are a plethora of different models to choose from. If you are interested check Julia's hair.
With all of this information in front of us, we can take a look at some situations in greater detail. Today, we would like to discuss the concept of baseball cap ones. We can see that they are pretty popular nowadays. So, without further ado, let us provide you with a couple of ways you can wear these and look pretty fashionable at the same time.
1. Curled Hat Wig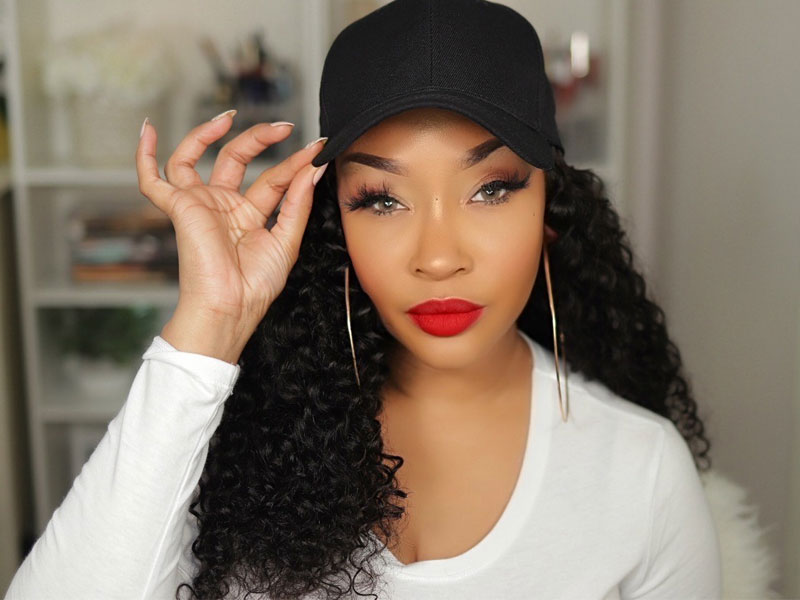 2. Wearing a Bun With Cap Wigs
Wearing a bun wig is definitely an unusual thing, right? Well, we can say that it's not common at all, due to its nature. However, that doesn't mean that wearing this kind of wig and a baseball cap doesn't look good. In fact, you can be sure that this basic kind of image can provide you with a plethora of different benefits. For example, you will not have to invest too much of an effort to make it stick. Plus, since we are talking about a pretty light weight wig, you will not have a hard time wearing it. Due to its minimalistic nature, it goes without saying that it became really popular really fast. So, you can bet that it will turn some heads while you are crossing the street, attracting eyes among people.
3. Curly Ponytails By Hat Wigs
One of the simplest ways you can turn a baseball cap wig into something really great is to look for a low curly ponytail. Even though we are talking about one of the commonest styles many girls are interested in when they don't have too much time to invest in preparing their hairstyle, that doesn't mean that this is not a popular style. If done properly, it can be pretty good-looking and even fashionable in some moments. Naturally, it all comes to the wig you are going to choose in terms of length, color, and even a cap. Since we are talking about a really interesting and popular style, you can be sure that there are many models you can choose from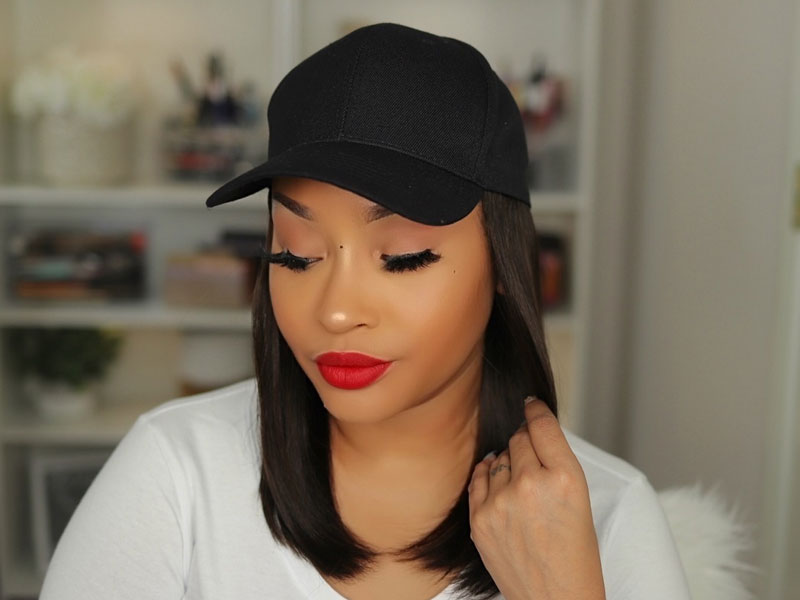 4. Don't Force Cap Over Wig
In the previous tips, we've discussed a couple of different hairstyles you can use in order to look as fashionable as possible. Now, we would like to talk about the ways you can wear it. The first thing that we would like to mention is that forcing a cap over the wig will not provide you with too many good things. So, instead of doing something like this, you should take it easy and have a cap on, without too much pressure. Otherwise, you can risk damaging the cap wig. At the same time, there are chances of damaging your natural hair. Furthermore, you should avoid anything that stands out too much from the wig in question. Try to handle it as naturally as possible.
5.Connect Wig and a Hat
Last but not least, we would like to talk about attaching a hat and a wig. That way you will avoid all the unnecessary accidents like damaging the hair wig, or it falling off your head together with a cap. There could be some struggle while you are making it work, but you need to do it nonetheless since you will prevent all the negativity that could arise. Achieving the right position will surely provide you with a proper look, which can be upgraded on in order to become pretty fashionable after a couple of these upgrades.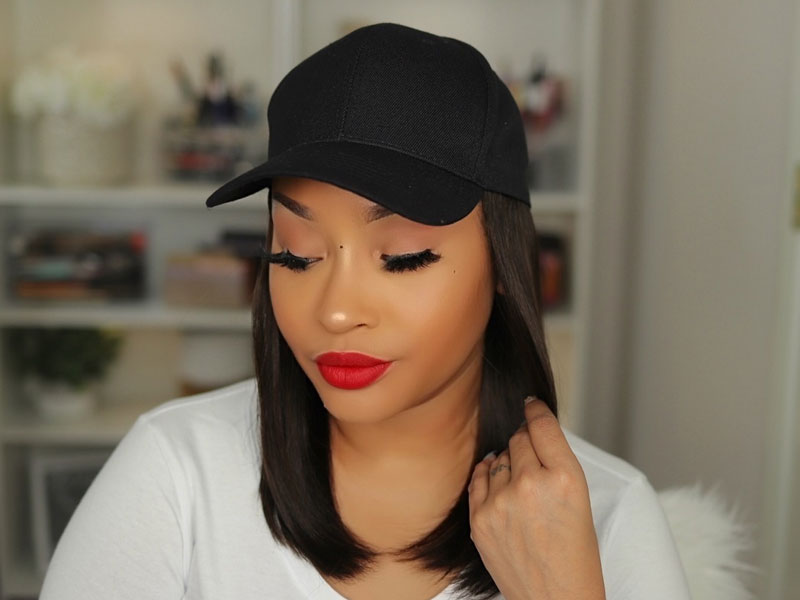 In Conclusion
As you can presume, wearing some of these can be a pretty good way to change your image fast. At the same time, when you get bored with it, you can quickly change to some other one. Wearing a baseball cap wig is a pretty good method of having both a stylish and casual look that's bound to look great in cases where really good care was taken of the unnatural hair and when the cap fits it completely.
Woman's Halloween Wigs On Sale In Julia 2020:
Extra $5 Off Order Over $99 With Coupon: HW5
Extra $10 Off Order Over $159 With Coupon: HL10
Extra $15 Off Order Over $179 With Coupon: HW15
Extra $15 Off Order Over $179 With Coupon: HL20
Extra $25 Off Order Over $279 With Coupon: HW25
Add Julia hair On Home Screen Get $5 Off With Coupon Code: week5
Surprise More Free Gifts On Halloween Sale!