Christmas Say Hello to Icy Blonde Hair!
Dec.07,2022
Christmas is just around the corner! Have you chosen your hair for Christmas yet? Icy Blonde Hair is the ultimate hair trend of today, and Icy Blonde is the choice of many celebrities. It is a bold and beautiful choice for today's trendsetters. The cool, crisp colour echoes the cold weather of Christmas. This blog will share our knowledge on maintaining Icy Blonde Hair, popular hairstyles and more.
Icy Blonde Wonderful Hairstyles
1. Icy Blonde Hair With Dark Roots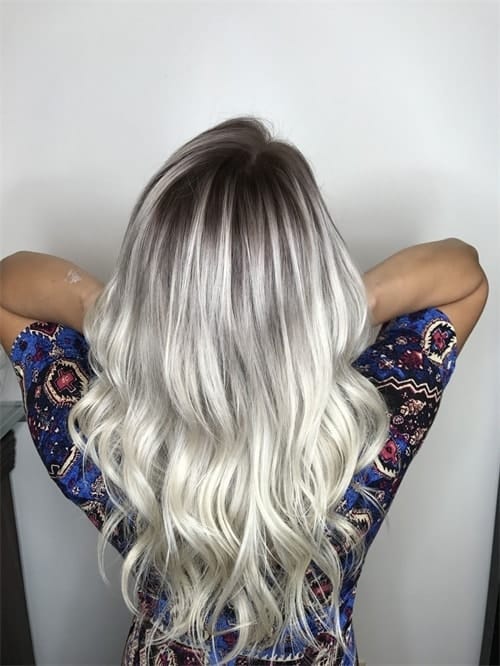 Icy Blonde with Dark Roots is sexy and beautiful. Layer from the shaded roots to the white ends and curl into deep waves with a large barrel curler. Icy blonde for the focused woman. Dark hair roots are low maintenance compared to other Icy Blonde Hairstyles. Because even if your dark hair roots grow out, it doesn't matter.
2. Icy Blonde Highlights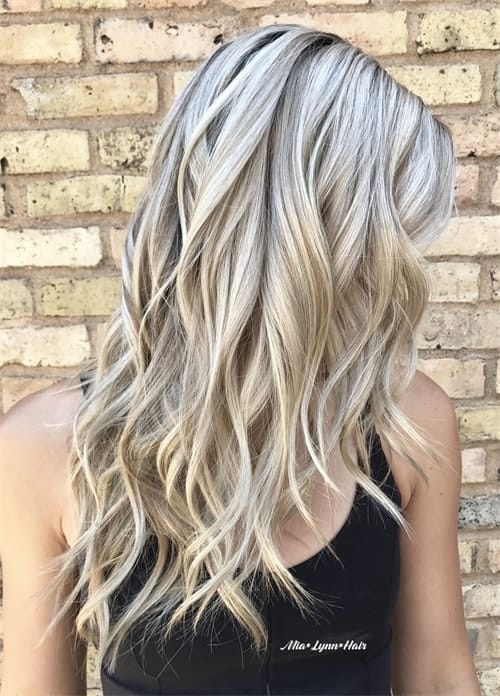 If you want to experiment with the look and colour of Icy Blonde hair, then highlights are a good choice. It tempers the icy blonde hair colour trend by adding striking icy blonde highlights to add dimension and brightness. highlights also add layers to Icy Blonde Hair.
3. Icy Blonde Bob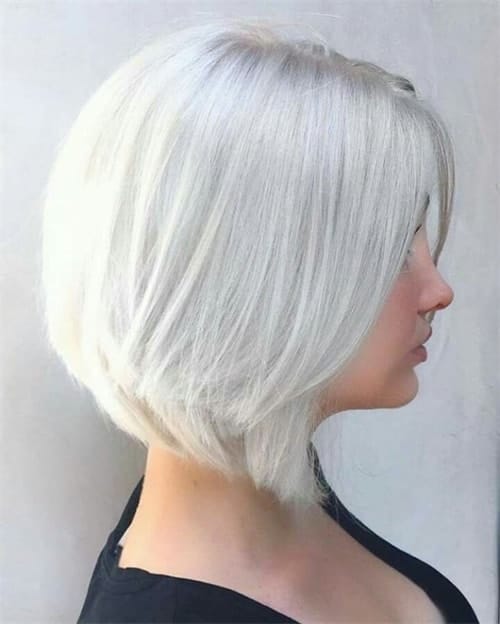 Ice Blonde combined with Bob hair will make you the coolest girl at the Christmas party. the multi-dimensional shades of Ice Blonde will make your hair look stunning. Please use toner regularly to keep your hair looking shiny and healthy and your colour just right.
4. Icy Blonde Balayage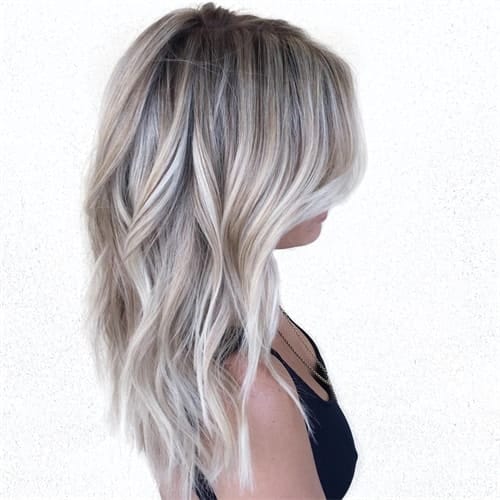 Icy blonde and balayage are the perfect pair in hair heaven, combining two popular trends. To recreate this style, try loosely wrapping two inches of hair around a curling iron, finger combing it, and spraying it with a styling spray.
5. Icy Blonde Body Wave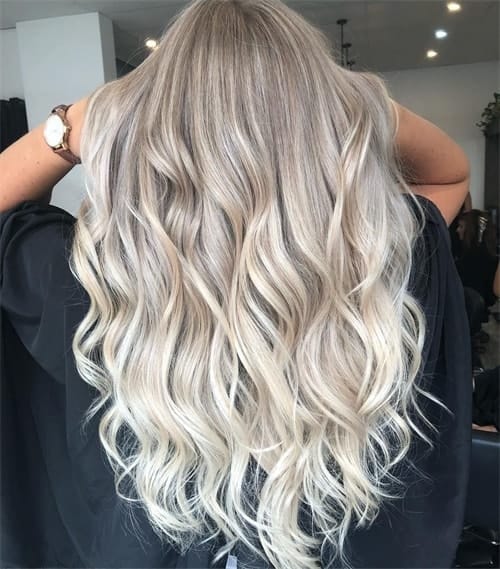 Icy Blonde and Body Wave combine sexy and cool. The cool platinum blonde highlights, along with the wave, look stylish and messy. This look is not for everyone! Depending on your hair's natural colour, hair colour history and other hair conditions, it may require multiple colourings and treatments to achieve the perfect look.
6. Icy Blonde Long Pixie Cut Bangs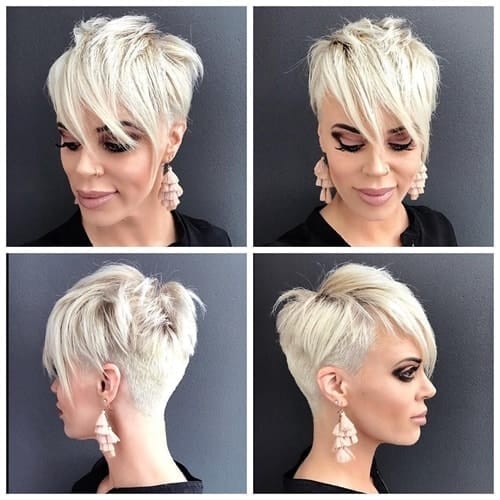 Clean bangs compliment the Icy Blonde long pixie cut. When consulting your stylist, don't forget to ask for a lot of texture. Any of them can be cut to a point or even shaved off. Be careful not to over-process when whitening to ensure your hair stays healthy. Finish by applying Aquage's Beauty Cream. Heat between your hands and slowly work through the layers.
7. Icy Blonde Lob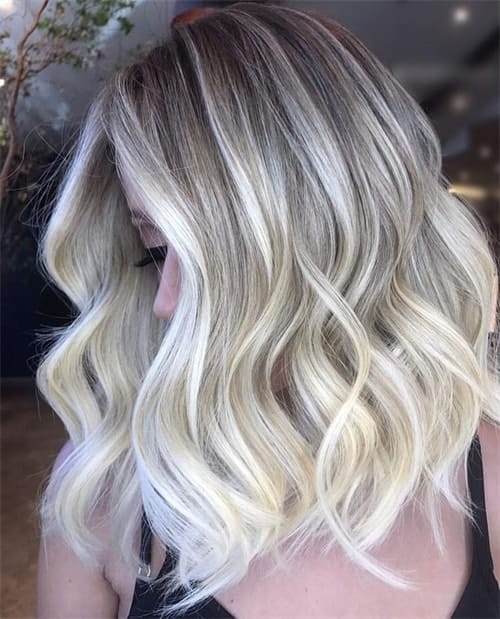 Icy Blonde Lob can exude deep beauty. If icy white is your goal, it's important to remember to maintain it. Platinum shades like this not only require regular touch-ups but also require you to avoid over-chlorinating the pool.
8. Icy Blonde Blue Long Body Wave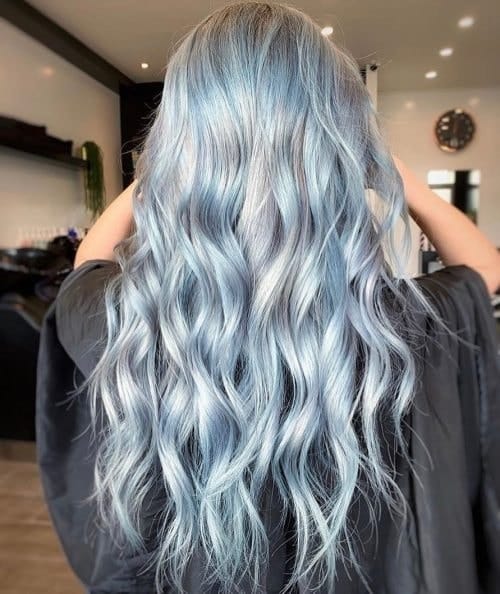 Having ethereal blue Icy Blonde Blue Long Body Wave Hair for Christmas will make you look like an elf standing in a snowy landscape. The ice blue look is very creative. You can transition from platinum silver to this soft blue colour. This soft shade is only possible if your hair is natural platinum or bleached to platinum/silver blonde (or as close to it as possible).
9. Icy Blonde Purple Hair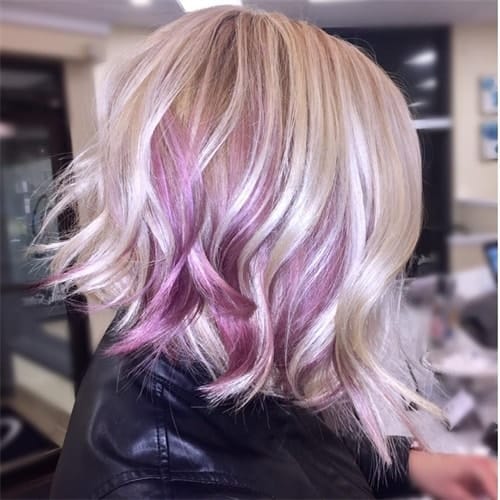 A light silvery purple hue offers a shiny, bright finish and a subtle pop of colour. It's a great choice for experimenting with playful shades. Purple looks young and energetic on you.
How To Keep Icy Blonde Color?
Arguably, Icy Blonde is the hair colour that requires the most maintenance. Once you get the Icy Blonde you want, you must use the right hair care routine to keep it looking its best. Here are three tips to keep your colour in tip-top shape
1. Use Color-Safe Hair Care Products
To prevent colour fading, it's important to use hair care products formulated specifically for coloured hair. Choose sulfate-free hair care shampoos and conditioners. Because they colour hair gently, they also strengthen hair and address the damage that can be caused as a result of bleaching. They prevent future hair damage by strengthening fragile hair bonds as well.
2. Use Purple Shampoo
Purple shampoos help avoid unwanted yellow or orange tones. Once you notice brassiness in your hair, you can use a sulfate-free purple shampoo and conditioner. They work well together to help neutralize brassiness in your colouring process.
3. Use a Toning Gloss
Another great way to make Icy Blonde look lively is to use products that enhance the colour and shine of your hair. They can give the hair more texture.
4. Comb Your Hair Properly
When your hair is tangled, you should not pull it hard. It would help if you first untangled the tangles with your fingers and then combed through them with a comb. Because the pulling process can damage the hair texture, the hair texture is reduced, and the hair will lose its shine.
Conclusion
Icy Blonde Hair can blend perfectly with Christmas! Choosing Icy Blonde Hair will surely make you shine at the Christmas party! If you have other different opinions, please leave them in the comment section!