How To Blend Dark Roots With Blonde Hair At Home?
Feb.22,2022
When you've bleached your hair blonde, you'll find that it takes a lot of effort to care for and maintain it. And, since the fast hair growth, you'll find that your roots show up after getting blonde hair.
Many people feel that their root color looks out of tune with their bright blond. To make your hair look more natural at this time, there are generally two simple and affordable ways to do this: The first is to blend your roots into bleached hair, and the second is to simply bleach your hair roots. However, what we are going to teach you today is the former.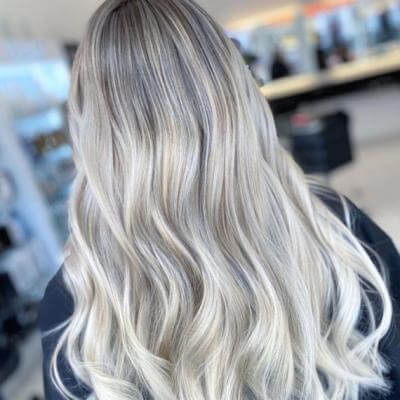 How To Choose The Roots Color

?
To make your roots blend with your blond hair blond hair naturally, certain techniques are required. Applying the dye neatly to the roots is definitely not a good method, because it will form a clear color dividing line and looks very abrupt.
All you need to do is to create a fading effect from dark to light and make your roots gradient as naturally as possible. When you apply the dye is to brush some parts longer and some shorter into the blonde, creating an irregular line.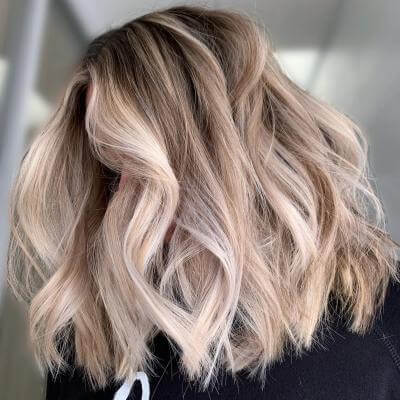 Here are two methods to choose a suitable color for your dark roots. The first is to choose the color the same as your natural hair. If your hair is a deep blond or brown or somewhere in that range, it's perfect. The second is to choose a color two shades darker than the blonde in your hair.
For example, If your hair is light blonde, light brown will be better; If your hair is extra light blonde, medium blonde will be suitable for you; If your hair is medium blonde, then you can choose brown.
How Do You Blend Dark Roots Into Blonde Hair?
Before dyeing the roots, there are some materials you need to prepare:
Color kit: get your hair dye and developer ready
Bowl: you need to add the dye to it.
Dye brush: mix the dye and apply it to your hair
An old t-shirt: prevent dyes from staining your clothes
Gloves: protect your hands from the dye's chemical damage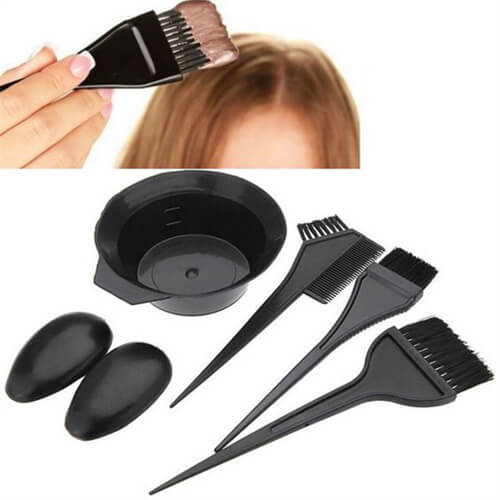 1. Do Some Preparations
Make sure your hair is clean enough because leaving hair masks and serums will create a barrier preventing the hair dye. Then brush your hair and remove the tangles. Next, section your hair to make sure the hair dye is applied to all your hair roots area completely.
2. Prepare The Hair Dye
In the first step, you should read the hair dye instructions carefully. Then put the dye and developer into the bowl. Don't use the dye directly from the tube, as that will open up the possibility of spotting in your hair. Then mix them with the dye brush.
3. Apply the Color
Now you can brush it evenly through your hair. Apply some hair dye along the line where your blonde and natural hair color divide. Sweep the color up towards the roots and down towards the blonde part using the application brush. Don't draw a straight line but a more irregular line, you will get a more natural final look.
These irregular lines will help you create a blended, melted look in your hair. Make sure to use this shading technique through all roots before exiting.
4. Leave The Dye On Your Hair
You can read the instructions before you use the hair dye. Then you will get the information about how long you should leave them on before you rinse them out. Usually, leaving it for 30-45 minutes is enough.
5. Rinse The Dye
Rinse your hair thoroughly and make sure there is no color leaving in your hair to avoid chemical damage to your scalp and hair. During the washing process, you should keep gentle and never use hot water. Lukewarm or cooler water is better.
As for the shampoo and conditioner, you can choose the exclusive products for the colored hair to keep the shine for a longer time.
6. Dry Your Hair
Last, dry your hair. You can dry it naturally or use a blow-dry with a low heat setting. Because high heat will take away the moisture of your hair and make it drier.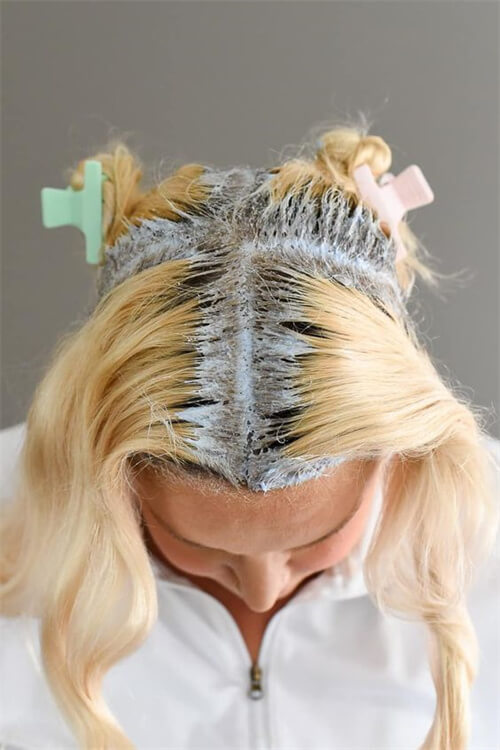 FAQ About Blending Dark Roots With Blonde Hair
1. Why not dye roots blonde?
If you choose to dye your roots blonde because your hair has its own growth cycle. After you dye your roots blond, new ones will grow back after a period of time. In this case, you need to bleach your hair roots every once in a while, which is very damaging to your scalp and hair.
2. Can I go to a salon?
Of course! If you can handle it, blending the roots at home will be more affordable. But if you are not sure whether you can blend them perfectly, a professional stylist will choose the most suitable color for your roots and make the most natural look for you.
Feedback From Customer Caroline A On Juliahair wig
This lace front wig can perfectly complement the skin so well. And Honey Blonde can create spring vibes.