Wigs With Bangs Weave Hairstyles
Jun.30,2020
Wigs with bangs are the favorite weave hairstyles for most black women which look neat, clean, and young. It becomes a new fashion trend in the hair market, there are many hair vendors that provide human hair wigs with bangs. So you can make different weave hairstyles as your wish.
Today, let us introduce some wigs with bangs hairstyles.
What are wigs with bangs?
Wigs with bangs are a kind of hairstyle, the forehead with full bang hair which shows your face is small and cute.
Lace wigs with bangs are made by a machine which sews in the wig cap with the hair bundles, it costs less time because the whole wigs were completed by machine, but the shortage is not as natural as full lace wigs or lace frontal wigs. Sometimes, you will see the hair tracks on the wig cap, there is no lace on the wig.
While the lace front wigs with bangs or the full lace wigs with bangs were sewed on the lace by hand-tied, they are very natural and comfortable. The hair looks like your own hair grows out from your scalp. The hair strands were sewed on the lacing needle by needle and make knots.
People who wear hair wig normally, would like to wear full lace wigs or lace frontal wigs, which are similar to their own hair. The hair wig with a bang in Julia Hair is 100 human hair without any processing and chemical, tangle-free, and shedding-free.
How many kinds of wigs with bangs?
According to the hair color, you will find there are natural black wigs with bangs and colored wigs with bangs. If you choose by hair length, you will see short bob wigs with bangs and long wigs with bangs. If you order by hair texture, there are straight wave full bang wigs and body wave wigs with bangs normally in the hair market. Let us recommend some wigs with bangs hairstyle in Julia Hair that are hot selling.
No.1: Julia Natural Color Long Brazilian Straight Hair Transparent Lace Front Wig With Soft Bang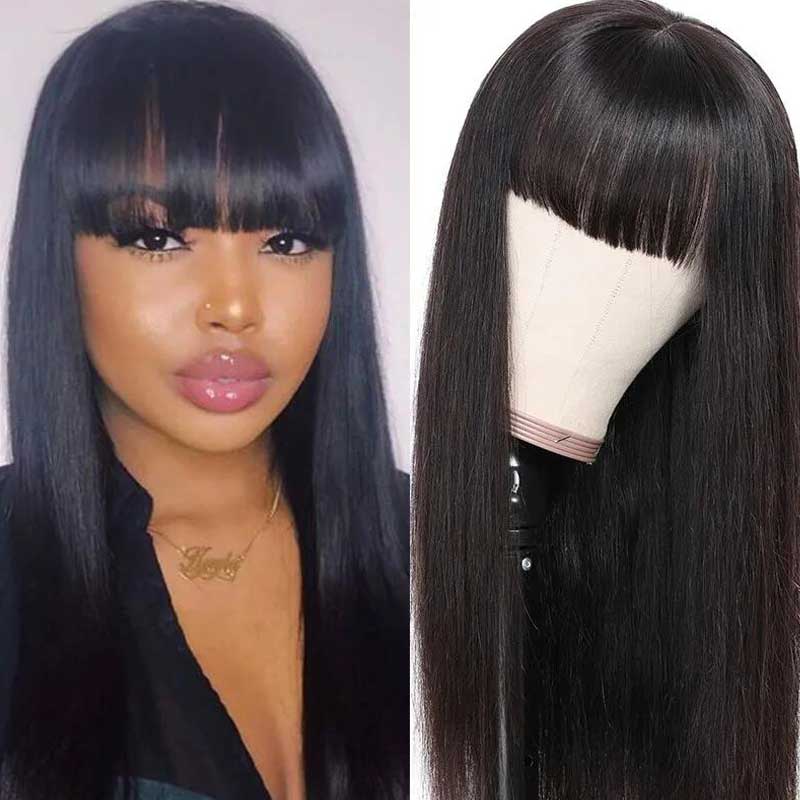 Juliahair Brazilian hair lace front Straight wigs with bangs slightly bleach knots with transparent lace natural color 100 human hair wigs for sale, half hand tied and half machine made, 10A grade hair, 130% and 150% hair density are available, 12 inches to 24 inches can be chosen. Soft, natural, breathable, and comfortable.
No.2: Julia Short Bob Lace Front Wig With Bang 130% 150% 180% Density Brazilian Straight Wigs For Women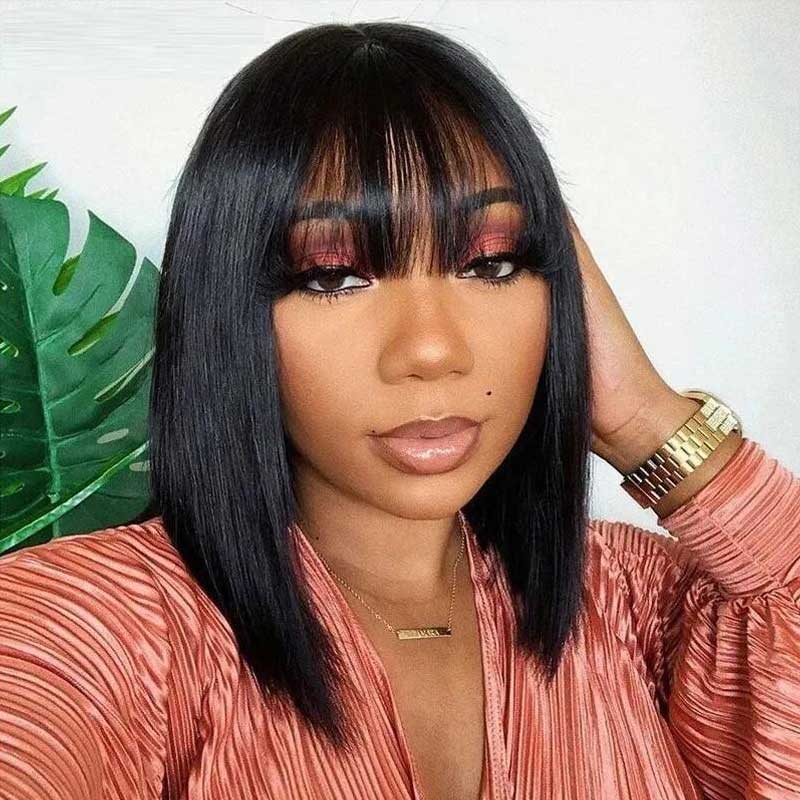 Juliahair short human hair bob wig with bangs lace frontal straight wave wigs for African American women 8 inches to 14 inches bob wigs, 130%, 150%, and 180% hair density are available, natural color, pre-plucked hairline. Compare with the long straight wave wig with bangs, the hair length is short to your neck. People who wear short bob wigs with bangs wigs are a wisdom choice in summer which is cool and energetic. You can also make updos with this hairstyle.
No.3: Julia Long Honey Blonde Highlight Straight Human Hair Wigs With Bangs For Women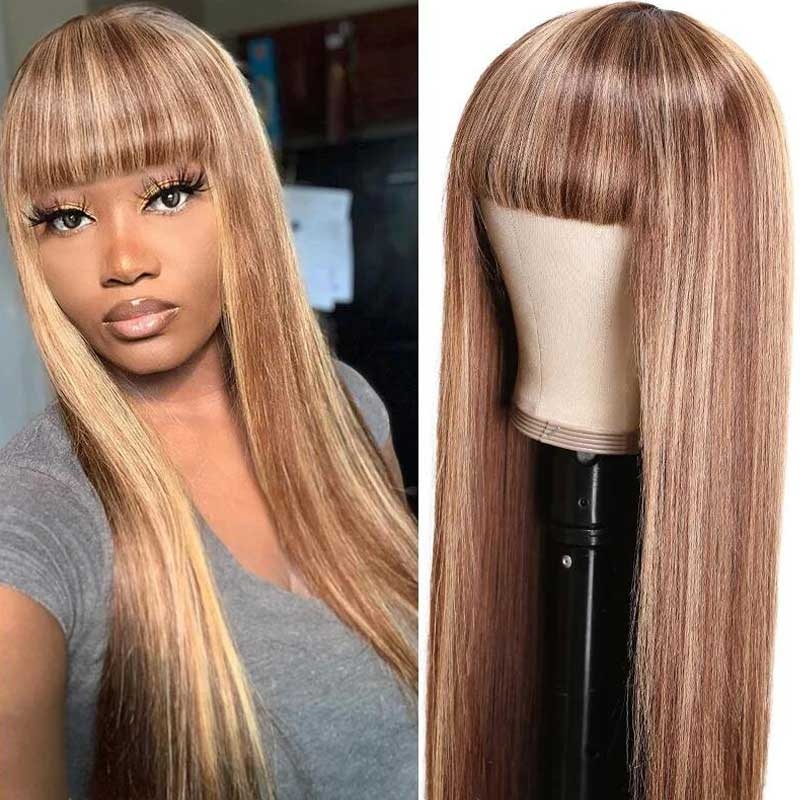 Juliahair highlight straight lace wigs with bangs machine-made honey blonde sew in hair wigs for black women cheap human hair wigs TL412 Brazilian hair colored wigs add hair color to the natural hair. Highlighted lace wigs with bang long human hair wigs
There are also other highlight lace front wigs in Julia Hair, let us see what the customer says about Juliahair highlight 13x4 lace front wig.
Don't you want to be a gorgeous lady like her, please follow her steps on how to make a lace front wig highlight natural with baby hair, she will give you honest Julia Hair reviews:
No. 4: Julia Dark Auburn Color Body Wave Real Capless Human Hair Wigs With Bangs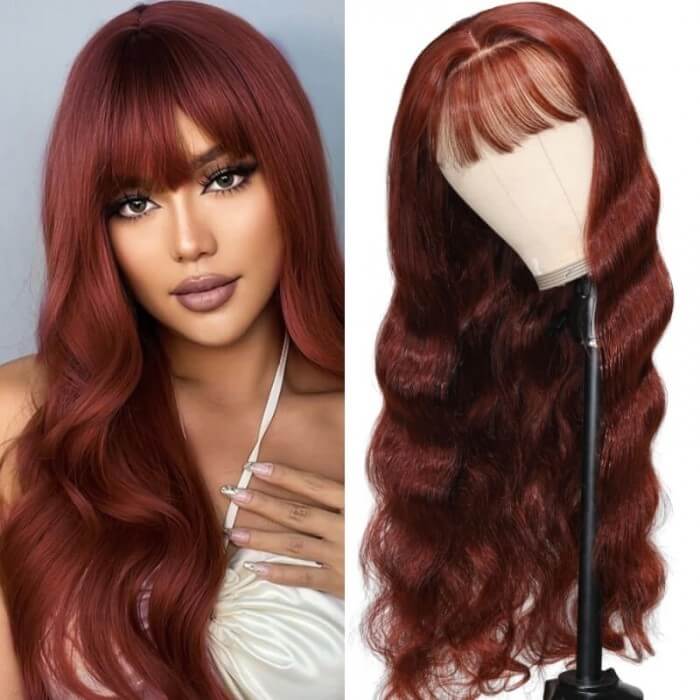 Juliahair colored wigs with bangs ginger orange, purple, and burgundy 99J, no matter long or short, add the most beautiful hair color for your hair. You can use it to join parties or shows which will make you the most shining star in the activities. See how beautiful they are with the colored wigs with bangs.
Except for straight wave bob wigs with bangs, body wave bob wigs with bangs, there are other kinds of the curly wig with bangs, no matter short bob wig with bangs or long wigs with bangs, both of them can change your hairstyle immediately. Don't you want to have a try?