Why Choose a Lace Closure For a Hair Wig
Apr.22,2020
A hair wig is more and more popular for black women, they use a human hair wig to create different hairstyles. Normally, they use hair bundles for sewing in a wig. While this is an old way of making a wig, now, people choose to use hair bundles to match with lace closure to make an invisible and natural look. Today let us share with you why we choose lace closure when we make a wig.
1.What is a lace closure?
Usually a lace closure is 4x4 inch which covers u part of a wig on your head. Now you will find 5x5 inch lace closure, 6x6 lace closure, and 7x7 lace closure. Sellers part the lace closure to free part, middle part, and three-part. If you don't know which part you want to choose, we suggest you choose the free part, then you can part in any direction you want.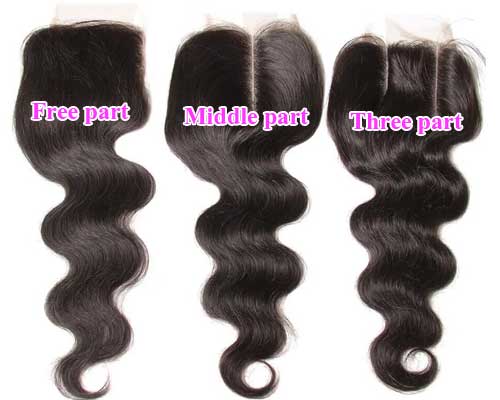 You may be questioned how can I choose it. The difference among these lace closure is the size of the lace is different. According to your requirements, you can choose a different size.
The larger the lace closure which means the lace closure covers a bigger area on your head, the bigger size of the lace closure can make your wig more natural, you can cover part on the lace which is invisible and undetectable.
Of course, the price is also different, the larger, the price is higher. Some customers want to have real hair like their own, they can choose lace frontal, there are many kinds of lace frontal too. Such as 13x4 inches lace frontal, 13x6 inches lace frontal, and 360 lace frontal. 360 lace frontal cover all the line of your head. So if you choose this frontal, no matter which hairstyle you make, it looks more natural than other wigs.
2.What features of the lace closure?
2.1 The lace we used was imported from Swiss, the materials are very good. So the lace is durable and breathable. Even a powerful man can't break the lace by hand. Please don't worry about the quality of the lace.
2.2 The hair is real hair, 100 human hair. Never mix other hairs, we use real human sew in hair. Masters sew the hair on the lace one by one. So there are hair knots on the lace. To make the knots invisible, you can bleach it, but be careful to bleach, or it will ruin the hair.
2.3 Pre-plucked hairline. Different hair areas we use different hair density which closure to the real hair. Because the hair is pre-plucked, customers are not necessary for plucking the hair. Of course, you can pluck a little more if you think it is not suitable for your hair.
2.4 Baby hair around the edge of the hairline. We leave some baby hair around the lace closure. You can trim it to the hairstyle you like.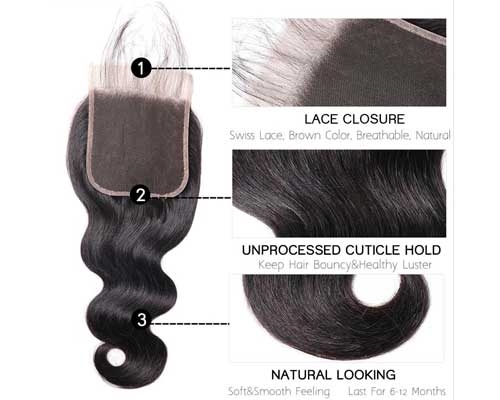 3.How to use a lace closure?
When you prepare to sew in a closure wig, you can leave a part for lace closure. Lace closure should match with hair bundles to make a complete hair wig.
First, choose a wig cap, mark the line for hair weft and lace closure. Put the wig cap on the standing head, then use a marker pen to mark the corns on the wig cap.
Second, sew in closure weave from the backside of the wig cap by needle and thread along the hairline you marked.
Third, pin the lace closure on the stand foam. Sew the lace closure to cover the left part.
Forth, comb the wig you make, flat the hair. If the lace closure you purchase is a free part, you can part to sideway or middle part or others.
See this lady how to use a curly lace closure with curly hair weave to make a wig by Julia hair step by step.
It is not complex for making a wig by lace closure which makes your wig more natural as your hair grows out of your scalp.
If you want to buy the same hair with this lady, please visit Julia hair to choose the proper hairstyle for you. We provide straight wave hair, body wave hair, deep wave hair, loose wave hair, natural wave hair, curly wave hair, kinky straight wave hair, and other hair extensions.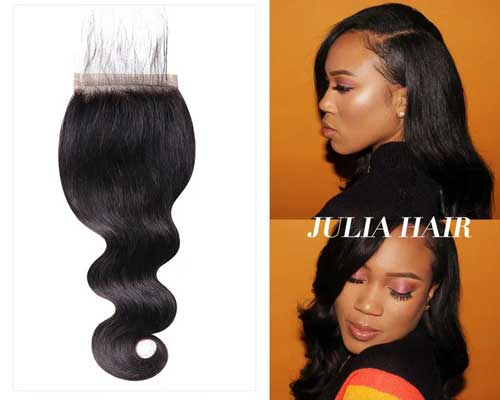 There are various wigs offered, lace front human hair wig, full lace wig, 360 lace frontal wig, transparent lace wig, colored lace wig, fake scalp lace wig, and highlight lace wig, there should be one fit for you.
Please don't be hesitate, you deserve the best hair at a cheap price from Julia hair.
10A quality human hair, natural-looking, cheap hair bundles, fast shipping, and amazing customer service. Go hurry and get your new gorgeous impression now.