What Is a Transparent Lace Wig
Dec.05,2019
Women who wear human hair wigs know there are many kinds of wigs in the market. Lace front wigs, full lace wigs, lace wigs, 360 lace wigs, light brown lace wigs, transparent lace wigs, and fake scalp lace wigs. Last time we talk about fake scalp lace wigs, today we will share with you about what is a transparent lace wig. We hope this article is helpful to you.
By this essay you will get:
What is a transparent lace wig?
The difference between a transparent lace wig and common brown lace wig
The features of the transparent lace wig
How to put on a transparent lace wig?
How to remove your transparent lace wig?
How to maintain your transparent lace wig?
What is a transparent lace wig?
A transparent lace wig also called HD lace wig, is a kind of wig named by the color of the lace. The most lace wig in the market is light brown, transparent lace closure is a new material which suitable for any skin. It is very invisible and undetectable. When you wear a transparent lace wig, it just looks like your own hair grows out from your head. The hairline is natural and pre-plucked with baby hair around.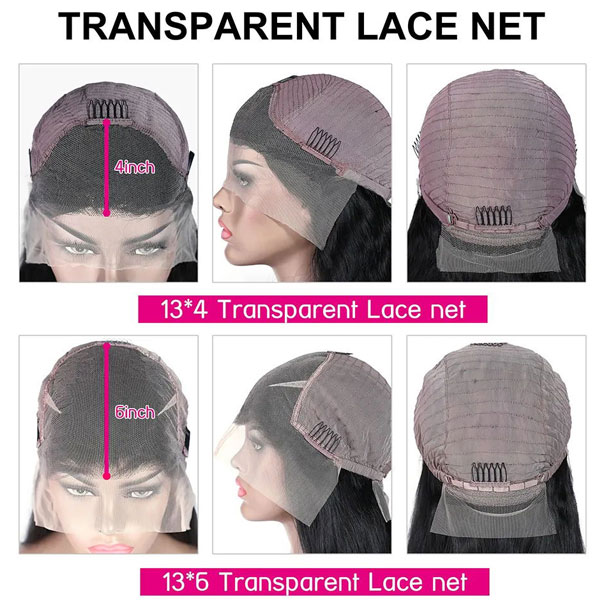 The difference between a transparent lace wig and common brown lace wig
Generally speaking, the most part of the wig is the same, the only difference is the color of lace, common lace is light brown or medium brown. While transparent lace is transparent.
Transparent lace wig exactly called transparent lace front wig, the forehead of lace is transparent. There are two sizes of lace front: 13x4 inches and 13x6 inches. The hair density is 150% and 180%, 10 inches to 22 inches are available in Julia hair mall.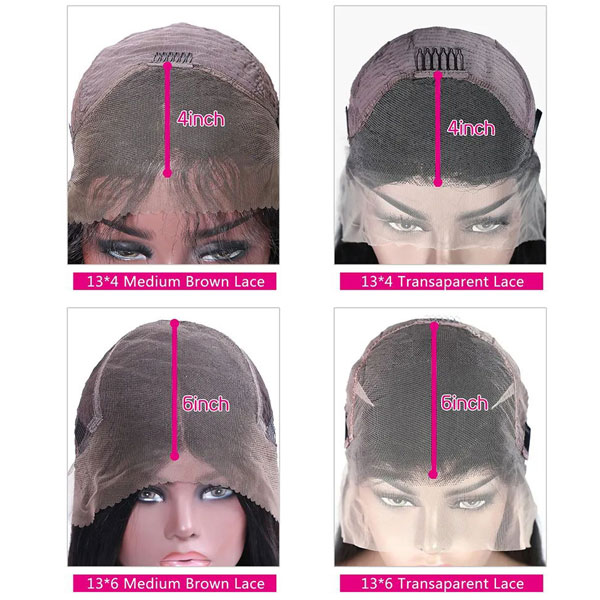 The features of transparent lace wigs
① Transparent lace wigs are 100% human hair, very comfortable and breathable. All the hair sew in the wig cap is Remy virgin hair without any processing. There is no chemical, we just use the steam hold the shape of the wig. Because the hair is real human hair, so you can do any hairstyle in a proper way.
② The wig is half hand-tied and half machine-made. The hair strands on the lace front are sewed by hand, to make an invisible effect, the kills of sewing need high. The knots on the lace undetectable. On the edge of the hair, the forehead is pre-plucked, the hairline is natural. It is not necessary for you to trim the edge of the hair, slightly bleached knots.
③ There are four types of hair texture available: Brazilian hair, Peruvian hair, Malaysian hair, and Indian hair. Straight wave, body wave, and curly wave human hair wigs hairstyles.
④ The transparent lace is suitable for everyone, and skin. the wig is invisible and undetectable. Normally, the person who uses the wig needs to use some powder cosmetics to make the color is the same as their own. But for transparent lace wig, it is easier to install.
⑤ The wig cap size is average size. Normally the head circumference is 54cm to 58cm. There is a strap on the back of the wig, you can adjust the size fit your own head. If your head size is special, please contact the seller first before you place an order. You can be questioned whether they can customize your size. Of course, the price is the same.
⑥ The hair density is not too thick nor too thin. There is and range on the cap. In a different area, hair density is different. We make the wig very natural and breathable. There is two hair density you can choose, 150% density and 180% density. If you need your wig thicker and fuller, you can buy 180% density.
⑦ The lace material is Swiss lace, transparent color. Swiss lace is strong and durable, even a powerful man can not tear it easily. And the breathable effect is very good.
⑧ Glueless lace front wig, if your skin is easy to allergy, you can use this one, when you install the wig, it doesn't need glue to stick it. There is baby hair around which makes a decoration about the edge of the wig.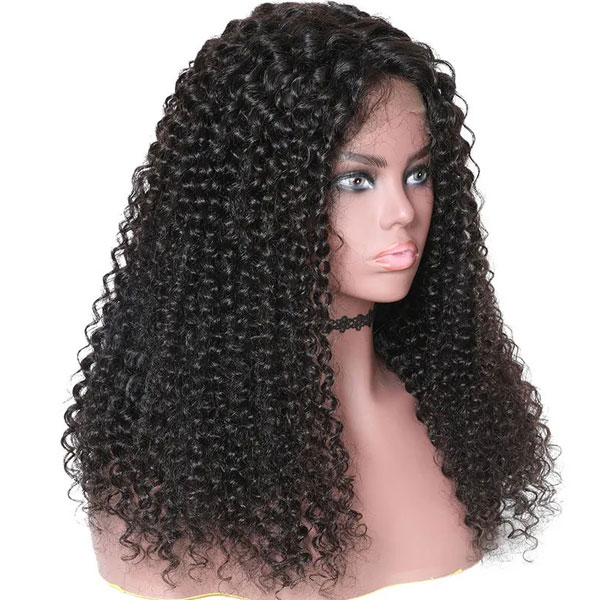 how to put on a transparent lace wig
1. Use warm water to clean your own hair and braid it tightly; wear a lace cap which near to your skin color to protect your own hair if needed.

2. Put out the wig you shop, wear it on your head. Adjust the position to fit your head, not too tight or too loose. No matter too tight or too loose, it will make your head uncomfortable or easily drop off from your head. Inside of the wig from Julia hair wig, there are 4 clips, you can use them to fix it stable.

3. Trim the lace forehead carefully by scissors. Along with your hairline, cut the extra lace neatly. Then apply some liquid lace adhesive fix your transparent lace wig. Please make sure to use a clean makeup brush to apply the adhesive in a thin line along your entire hairline. After that, you should wait for some minutes till it dry. It is transparent lace, so it is easy to make it close to your skin by cosmetic makeup.

4. Trim your baby hair. Baby hair can make your wig more natural like your own. Use your brush to make some style of your baby hair. Julia hair human hair wigs with baby hair, so you need to trim the baby hair and fix it which reduces the process install a wig.
How to remove your transparent lace wig
You can use some hair products melt the glue or adhesive on your head, wait for minutes till the glue loose. Then move the wig from your head gently. Don't scrub your lace wig in a strong power, or it will hurt your hair.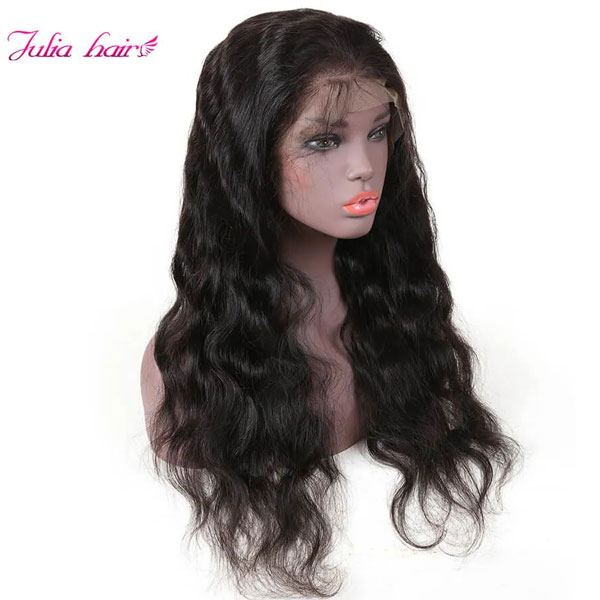 How to maintain your transparent lace wig?
1. Comb your transparent lace wig gentle, please don't use regular brushes. The comb should be wide, when you comb your wig, it can pass the hair without tangle. Gentle can make sure the hair doesn't shed, you know the hair sewing in the lace, if you use power on it, it will make the knots loose, for a long time, the hair should be shedding.

2. When you are sleep or sit at home, please take your wig off and put it on the stand which can keep the wig's shape well. Some customers thought that since the hair is true human hair, so they can wear it like the real, of course, this is wrong. Wigs are sewn on your head when you fell asleep, you have no conscious at that time, it will make the hair matte. A wig just like a decoration for women, so if you don't use it, you'd better take it off.

3. Using wig dedicated shampoo and conditioner when you want to wash your wig. Avoid your wig touch with seawater or hot water. Most customers thought that the hair is true human hair, so they can use common shampoo or conditioner as their own hair, actually, normal shampoo is very harsh, they will damage the hair, so does the seawater or hot water.

4. When your wig is wet, please don't make any hairstyle which will ruin your wig. Dry it in the natural air on the stand. Even our own hair, if we want to make hairstyles, we should wait until the hair is dry after washing. When the hair is wet, the inner part is different from dry hair, making style should use high temperature, it will ruin the organization of the hair. A stand is necessary for the person who uses wigs. After you take off your wig, you can't put anywhere you want, the hair is easily messed, so the better way is putting on the stand to keep the shape. After washing your wig, using the towel dry it gently.

5. Keep it on the stand or the wig box when you don't use it. this is the place to keep the hair dry and in good shape. If the place you put is wet, it may have lice which are a big problem for a person.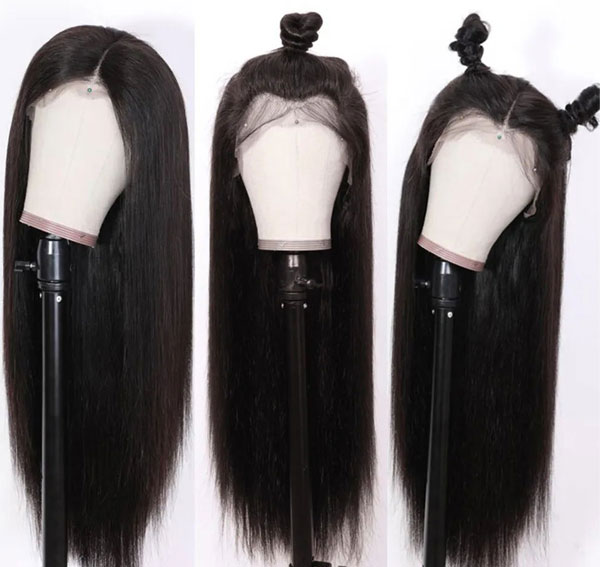 Now you know more details about the transparent lace wig, please follow these tips. Everything should follow the rules to keep, not only save your money but also make you keep a good mood. Inspire your beauty with Julia hair, be more confident and beautiful. Shop Now!