What Color Is Brunette Hair And Why Should You Try A Brunette Wig?
Jul.08,2022
Summer always makes people excited. Brighter makeup colors, lighter clothes, and of course, a new hair color! Right now, brunette hair color trends are better than ever. This is an extremely natural hair color. If you have no good idea about your next hair color, why not try a trendy brunette wig? Before you decide whether to choose a brunette hair color or not, here is some knowledge about brunette wigs to help you know more about it.
What Color Is Brunette Hair?
The term brunette is the feminine form of the French word brunet. According to the Oxford Dictionary, the definition of brunette refers to a woman or girl with dark brown hair. Brunette includes a range of hair colors from brown to black. Brunette color is very close to chestnut, tawny, and chocolate.
Actually, people have a few misconceptions when it comes to brunette hair color. They think the brunette color is going to be too warm or too brassy, or worry that brunette hair ages them and that it will look dull overall. But, that doesn't hold true. You can throw some contrast into your blonde for a cool multi-dimensional effect using balayage, highlights, ombre, and more! You can change it into dark brunette hair, light brunette hair, money piece hair brunette, brunette hair with highlights, and so on.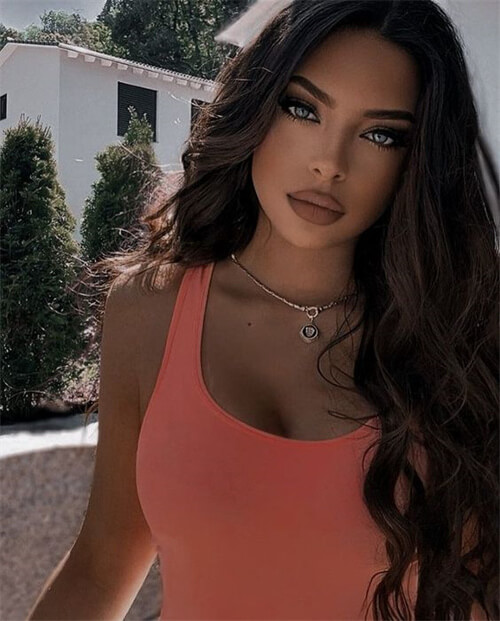 Why Should You Try a Brunette Wig?
A wig with brunette hair shades is very popular among global women with different skin tones and of different ages. Then why has it received favor from people? Here are some advantages of a brunette hair wig.
1. Gorgeous Hair Look
Compared to the ubiquitous black hair, brunette hair color look more gentle. It is very suitable for girls who like warm hair color but have tired of black hair color. Different styles of brunette wigs can complete different personal styles.
2. Multipurpose
With a brunette wig, your hair will be ready for anything. No matter the dark or light skin tone you have, it will match your complexion perfectly. This is a classic color that will never go wrong on any occasion. You can wear a brunette hair wig to attend a ceremony, a party, or a date. Select a satisfying cloth and wear your brunette hair wig, then you will get a charming and gorgeous appearance.
3. Versatile
After you get a brunette hair wig, you can use your styling tools to restyle it. And if you want to add more interest to your wig, you can try to play with your imagination on it, for example, make some highlights, do a money piece hair, or cut bangs for your wig. In addition, you can even bleach and dye it to get a refreshing hair wig. But the premise is that your wig has a high quality, or the hair strands are too fragile to be restyled.
Hair Color Ideas For Brunettes
If you haven't tried going brunette yet, it is time to make a change in favor of brown hair. Spark some color with highlights, look glam with balayage or feel cute and cozy with ashy mushroom brown hair.
1. Balayage brunette hair
Balayage hair is famous for the highlights which can help brighten your complexion and make your hair more attractive. This style will effortlessly breathe some life into your hair.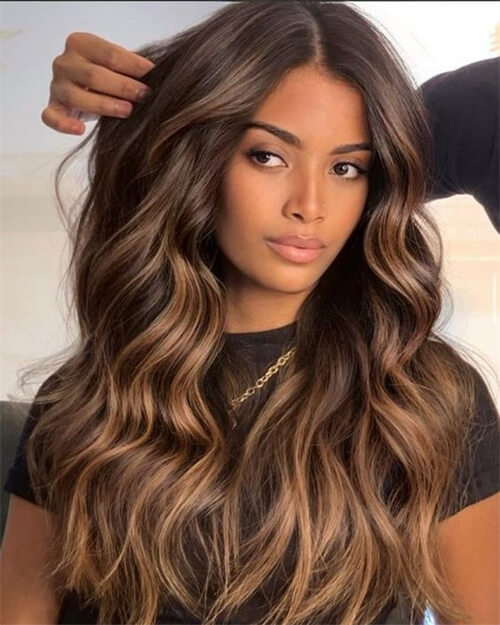 2. Brunette and Caramel Brown Hair/h3>
Lacing brunette hair with light brown pieces creates a match made in heaven. Check how the radiance of these chunky caramel highlights resonates perfectly with her warm skin tone.

3. Rich Chocolate Hair Color
When we think of a perfect brown shade, we want to imagine something like this. Voluminous, thanks to caramel babylights woven throughout, you and your new style will absolutely become the center of attention.

4. Glossy Brunette Hair
Dark hair colors such as this dark chocolate brown hair naturally appear voluminous and luxuriant. Add honey-hued highlights and finish up with a good quality hairspray for a knockout-gorgeous appearance.

5.Light Brunette Hair with Copper Tones
Hands down, this sensual and warming, copper-rich balayage color should be on your list of hair colors to try.

6. 3D Brunette Hairstyle
A chameleon style that anyone, including you, won't be able to take their eyes off. Blueish hues with almost black roots meet a broad range of browns and caramel that create a multidimensional feel.

Conclusion
In a word, the brunette is definitely worth trying. For us African American women, the way to get a beautiful brunette hair color is to purchase a brunette wig. And we advise that you'd better choose a brunette wig made out of human hair which has a longer lifespan and higher quality. Julia hair has dedicated to providing high-quality and affordable wigs for women of color. You can visit Juliahair.com to check more information about hair wigs.