What Are Afro Wigs?
Jun.24,2022
The hairstyle of wigs seems to be updated all the time with the increasing demand for wigs. A new type of wig has attracted people's attention recently, and that is afro hair wigs. This wig is sought after by many African American girls for its natural and fluffy advantages. If you are also looking for a very natural wig, then you must not miss this blog, we will introduce afro wigs for you in detail.
What Is An Afro Wig?
An Afro is a hairstyle produced by a natural growth of kinky hair, or specifically styled with chemical curling products by individuals with naturally curly or straight hair. To create this hairstyle, you should comb the hair away from the scalp, dispersing a distinctive curl pattern. An afro wig is formed into a rounded shape, much like a cloud or puffball.
What Are Afro Wigs Made Of?
According to the different materials of wigs, wigs can be divided into synthetic wigs and human hair wigs. Synthetic wigs are usually made of plastic or acrylic fibers that mimic hair. The fibers are heated to a certain temperature and then strung into hairs that resemble human hair fibers. Human hair wigs are usually made from natural human hair, and human hair wigs are also classified into different grades depending on the origin and quality of the hair. Remy human hair is considered a premium option.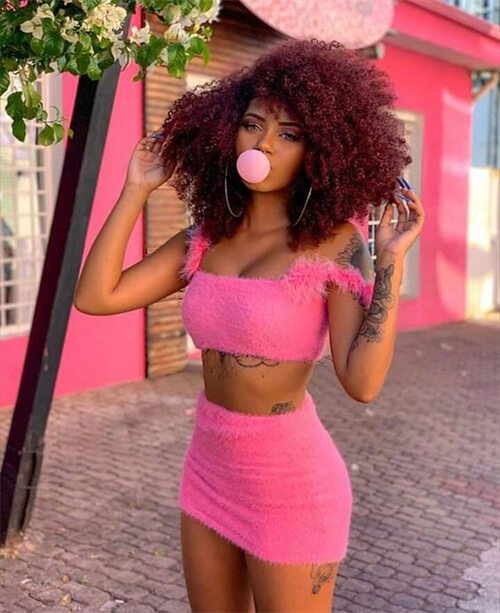 A high-quality afro hair wig, usually made from 100% human hair. Human hair afro wigs can give you the most natural hair look, looking like the hairs growing naturally from your scalp. And compared to synthetic afro wigs, afro human hair wigs offer the wearer more styling possibilities, as they are of higher quality, and allowed to be bleached and dyed. For example, you can dye your black afro hair wigs into pink afro wigs, brown afro wigs, white afro wigs, and so on. Besides, you can use heat tools to restyle them into new hairstyles.
How Long Do Afro Wigs Last?
A typical synthetic afro wig will last between 4-6 months with good care. While for an afro human hair wig, luckily with the proper care, tends to last more than a year when worn daily and up to three years when worn occasionally.
However, the specific use time depends on your wearing frequency, daily care, and other factors. Generally speaking, dying and often high heat can shorten that time frame. To make your afro wig last for a longer time, you have to condition it as carefully as possible.
Why Should You Choose Afro Wigs?
Why are Afro wigs so popular? They seem to have some of their unique advantages. Afro wigs are definitely a wig worth trying. Below we will list the advantages of afro wigs.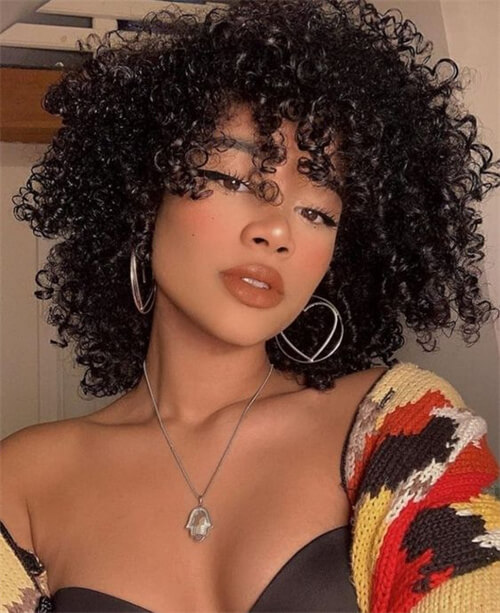 1. Natural Hair Look
Afro wigs mimic the natural hair of African American girls. The wearers look like they are not wearing any wigs. It's perfect for an African American girl looking for a natural wig. And as long as you take care of it carefully, you will have a very gorgeous and cute hair look with an afro wig.
2. Different Types To Choose
You will find different types of afro wigs, such as lace front afro wigs, afro wigs with headbands, V part afro wigs, and so on. In addition, there are various colorful afro wigs for you. You don't have to take the risk of damaging your natural hair by bleach and dyeing your hair. Blonde afro wigs, auburn curly afro wigs, brown afro wigs, etc. You can choose anyone according to your preferences.
3. Versatile
No matter your darker or lighter skin tone, it will perfectly match you. Besides, it will create a gorgeous hair look for you. You don't have to select the clothes carefully, you can wear them on any occasion.
How Do You Pick An Afro Wig?
To get a suitable afro wig, there are some factors you should take into consideration. You can take them as a reference.
1. The material. Generally, afro wigs made out of 100% human hair have higher quality and a more natural hair look.
2. The length. Choose a length that you like. But it should be noted that a middle or a short length is better for an afro wig. Because of the voluminous look, too long hair will look too heavy. Short afro wigs are much more like a cloud
3. The color. To mimic the natural hair of African American women, most afro hair wigs are natural black in color. But that doesn't mean you have no other options. You can choose the wig colors according to your preferences.
4. The wig construction. There are lace afro wigs and glueless lace wigs for you to choose from. Lace frontal wigs can help create a natural scalp and free-part hairstyle, while glueless wigs can be installed and removed very easily and have a more affordable price.
Hot-selling afro wigs in Julia
All the wigs are made out of 100% human hair. We always promise to provide high-quality wigs at a reasonable price, which is the reason why Julia hair has been more and more popular among women of color all around the world. There are some hot-selling afro wigs for sale in Julia mall. You can also visit Juliahair.com to get more types of hair wigs.
1. V Part Afro Curly Wigs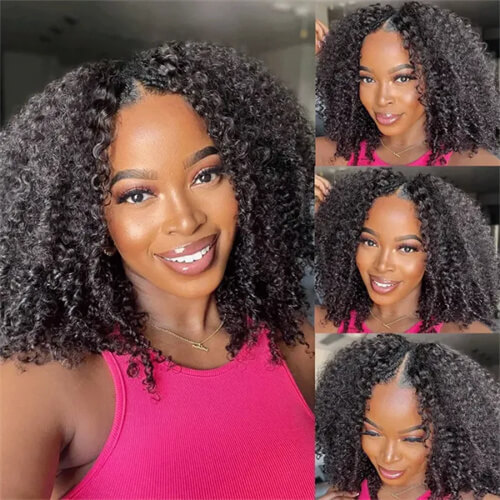 2. Dark Auburn Glueless Afro Wigs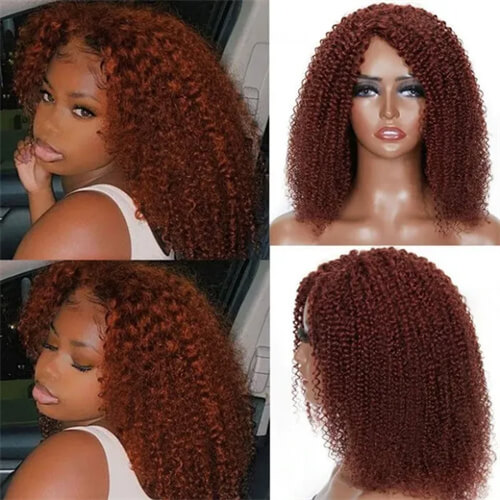 3. Hair Half Afro Wigs For African Americans