Wedding Season Sale For Virgin Weave Hair
Jun.12,2018
The wedding season is coming and here is a good news for you: we have a big sale in wedding season. You can buy the top quality virgin weave hair with low price for your sweet wedding.
Wedding Season Sale
Time: June 11st - June 15th
Over $119, Get $6 off, code: WD6
Over $199, Get $10 off, code: WD10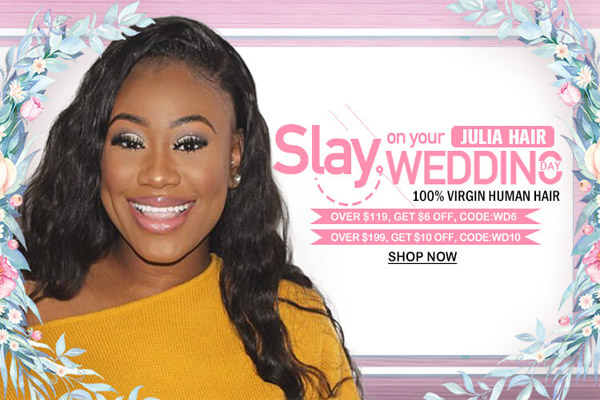 Black women have many different textures of hair; luckily there's a variety of different textures and types of weave that can suit just about any texture. The most sought-after types of weave are Brazilian hair, Malaysian hair, Peruvian hair and Indian remy hair.
Each type of weave hair is characterized by a particular texture and comes in multiple wave patterns including straight weave hair, body wave weave, deep wave weave, loose wave weave, natural wave weave and curly weave hair.
Common Reasons for Wearing Weave Hair
Has suffered hair loss due to health reasons or an accident

Suffers from naturally thinning hair

Has hair that regularly breaks or won't grow due to any number of conditions

Wants to look great, but has limited time to "get ready" each day

Enjoys changing their hairstyle frequently

Does not like the way their natural hair looks or handles.

Wants beautiful hair without processing their natural hair

Is preparing for a special occasion like a wedding, prom, or graduation
Hot Sale Hair Types
Brazilian Hair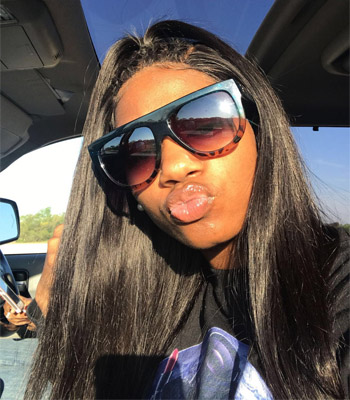 Brazilian hair is one of the best textures for African American women. The texture is very full, very thick and just flat out fabulous. This type of hair is most commonly available in a wavy style, but some companies do offer Brazilian hair in a curly style.
Malaysian Hair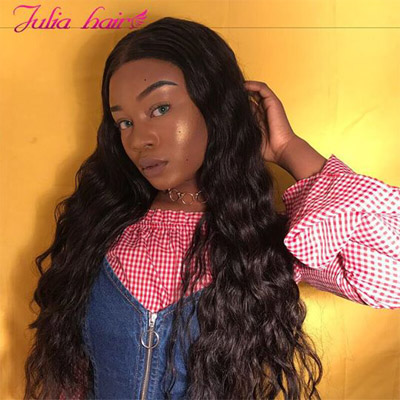 Malaysian hair could be a great fit for a person with natural or texturized hair. It is very lightweight and soft. It blends very well with African American hair and also the hair of people of Asian heritage. It is also very popular in fashion girls.
Peruvian Hair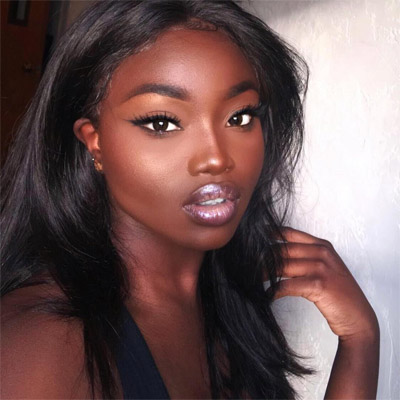 Peruvian hair is quite flexible and is often used by African American women. The hair is not too thick and is sometimes also used by individuals with Caucasian hair that is coarse. One of the most beneficial features about Peruvian hair is the fact that it looks luxurious and it is very lightweight.
Indian Hair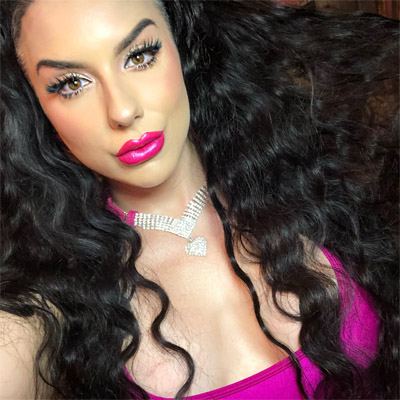 Indian hair is one of the most popular types of hair and often costs much less than other types of hair. Indian hair has a unique texture and the hair is generally very thick. Indian hair's curls are also usually very tight. The hair is also easy to maintain and lasts longer if it is properly taken care of.
Straight Weave Hair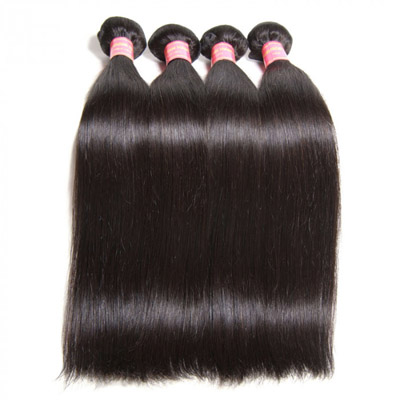 This beautiful look is best-worn shoulder length or longer. It creates a youthful look and requires little upkeep. If you want long silky locks that you can run your fingers through, this is the look for you! The Silky straight weave hair look is best suited for Malaysian hair, and the longer it is, the better it looks!
Body Wave Weave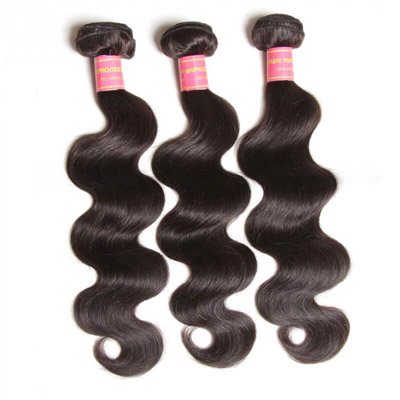 This fashionable look is available in all the latest colors and styles, and the body wave is probably the most popular look because of its versatility. Another reason it is so trendy is that it gives great volume to any hair. It is the perfect choice for those of you with thinning or flat hair. It has the look of loose curls set in a bouncy wave which is just the ticket for adding volume, shine, and life back to dull hair. The body wave hairstyle is perfect for the client with shoulder length or longer hair.
Deep Wave Weave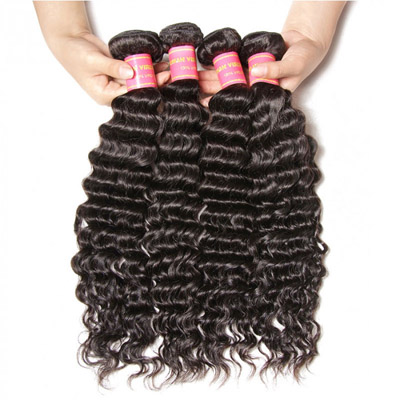 This hair has a super tight almost ringlet type wave. It is a great look for those who want a full and voluminous head of hair. A deep wave hairstyle is truly gorgeous but does require a bit more care to maintain its intricate shape. This deep wave curl pattern is a perfect look for a special occasion or a fun night out.
Loose Wave Weave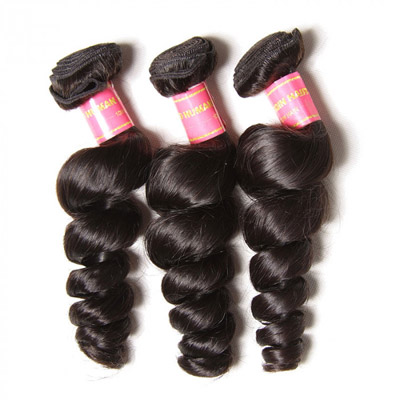 As the name implies, this is a more relaxed looking wave. Loose wave weaves are an excellent choice if you do not want to have super curly hair. It is a casual and fun looking wave. This loose wave style is the type of look that is often called "the beach wave" because it looks so great with summertime wear. Although this wave looks good on any length of hair, it is best suited as a shorter cut. Loose wave hair is hot!
Natural Wave Weave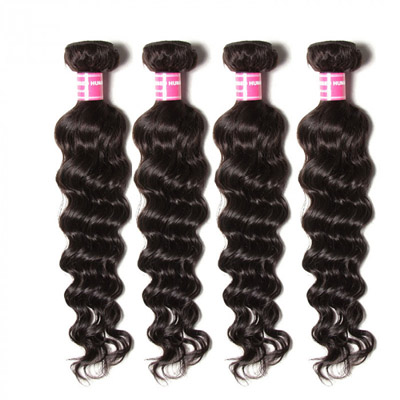 Natural wave hair weave styles are as varied as the women who wear them and switching looks can be fun. Shorter styles are perfect for the summer and are ideal for the busy lady on the go. Longer styles add glamour and more styling versatility. They can also easily go from day to night.
Curly Weave Hair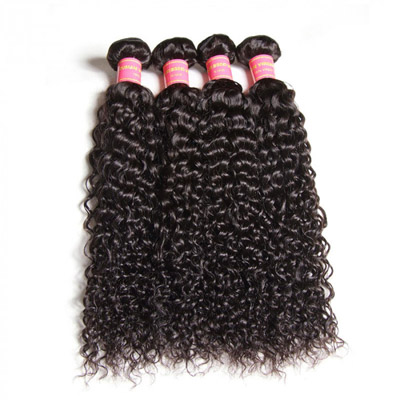 Actually, curly weave hair is very similar to deep weave. The biggest difference is curly weave has curls that coil around completely as opposed to tight controlled waves. Curly weave gives a look of flirty bouncy.
Tired of carrying the same hairstyle get going and try some best weave hair to spice up that old look. Choosing the best human hair weave would be a treat if you are clear with your requirements, your hair texture, volume, length etc.
The soft and silky touch of the weaves would boost up your confidence. To make your hair look thicker and full try an extra weave. Hurry, choose any of these amazing virgin hair and restyle your hair for that amazing look. When it comes to the beauty and health of your hair, never accept anything less but the best.
Wedding Season Sales Best Virgin Weave Hair
Shop For Virgin Indian Natural Wave Hair 3 Bundles Deals
Shop For Best Brazilian Colored Real Human Hair Clip In Extensions
Shop For Best Virgin Indian Remy Loose Wave Bundles