Tried A Headband Wig, No Lace, Zero Adhesive Needed
Aug.19,2021
Hey, guys welcome back to my channel if you're new welcome, so we're gonna jump right into this video. Today, I'm going to be trying out a headband wig. Now I've been seeing people wear these all over youtube.
Tried A Headband Wig From julia hair
To be honest, I was kind of on the fence about them. I've had a few companies reach out and ask me if I want to try their headband wigs, so before watching this video I watched a few videos. I'm like wait everyone looks really cute with them, and so here I am trying to headband wig. This headband wig is from Julia hair.
It's still in the box, let's open it up, you get a wig cap which I don't know what you would use it. I'm gonna clarify if everyone gets these headbands when you order their headband wig or if they're only sending it to like people who they're sponsoring. They sent me a whole bunch of headbands. These are all really girly curly but colorful. I like black grays but it's really cute.
I want to wear this Julia hair wig, It's Brazilian hair and it's 24 inches. When I got it I didn't open it at all because I really wanted this to be like a first impression. It's like a 1b color but this is what it looks like upfront.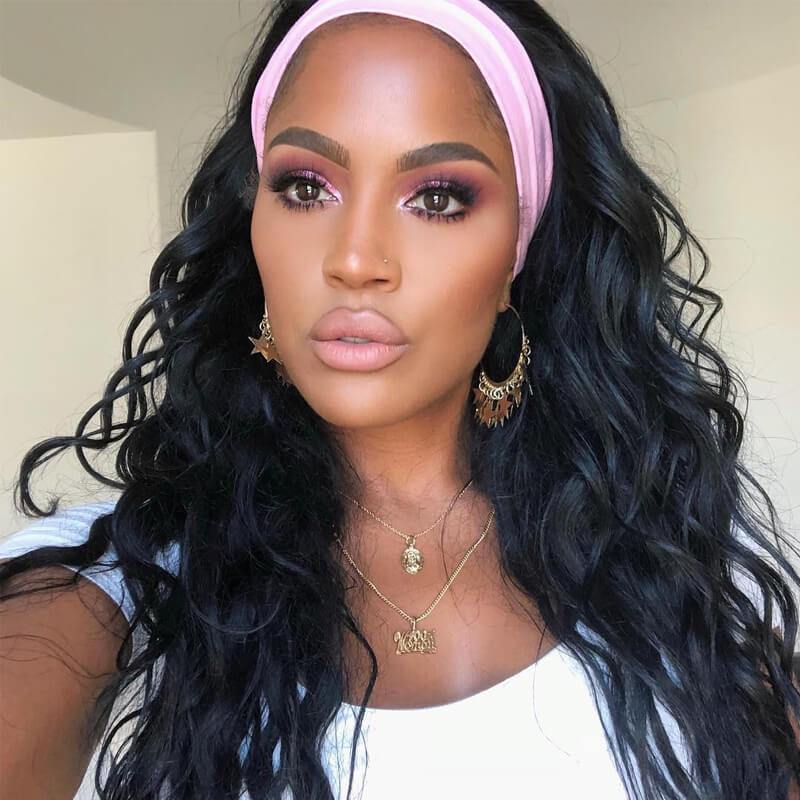 How To Put The Headband Wig On My Head?
Let me show you guys the inside, you have two clips, this clip is right here and then you have a back clip. So you can clip the back and you put in a ponytail, I'm going to brush on my hair, it's already proctored and I had like a braided ponytail in earlier, so that's why it's like high up. I brush my hair into a little ponytail.
I hope this color blends into my hair. This wig is like 1b. I don't know if I should lay my edges like before or after the wig but let me just try it on and get an idea of how it's going to fit on my head. I think it'll look better if this isn't a middle part. It needs to be brushed back.
I really hope it looks cute on everyone. Now we can put this headband wig on my head. I'm just gonna take this clip up top put that on the clip the back. Then I take the headband to attach it like that.
There's a lot of hair, so make sure that the bottom clip is attached probably either if you have someone to help you. Hold this hair up while you do the back. It's a little difficult maybe I just put a ponytail real quick. Then I will put some of my real hair out to like to make it look more natural.
Where's my freaking edge brush, let's lay our edges really fast. I don't know what I was expecting and to be honest, I like my hair pushed back which is why I like ponytails. I like this look, it's just hard to get that with front toes because when so like with side parts, middle parts a little easier, but when you want to work your frontal straight back, you got to do so much more customization. It looks really natural.
Let's put on the headbands. It feels so secure if I want literally just put in a ponytail like this and just make sure the clip is hooked in the back now. Make sure we looking natural still this would be a cute gym wig. It's so good and so natural, it's considered a wig that it doesn't feel tight.
You can see this video to learn more about the water wave headband wig.
The Review From Arnellarmon
This wig is perfect, we gotta do that video very soon because this wig is giving me comfortable for that. I don't know what to say about my review on this hair. It is really soft and nice I love the texture too. It's gonna look even more top tier or a die jet black like even better because it still blends with my hair now, but jet black just hits a little different.
I know it's gonna look even better. I love this wig so much it is so beginner-friendly. It's so easy to wear you just gotta stick your hair back put on a ponytail like this, it is like a perfect go-to wig and so convenient.
I've worked for all types of wigs. The headband wig is much easier than other wigs. That's my review on this wig. I just love this wig, the fact that you could still get that like really nice where was this wig. This is a perfect vacation way I think of every time this wig would have come in handy for me like just a little situation.
I don't want to like really pluck a frontal and closure, I don't like dealing with lace, this wig would have been perfect. So you guys will see me in this way again. Thank you to Julia hair for not only sponsoring this video but being the first company senior headband wig because now I've discovered something that I love.