Top 10 Colorful Wigs For You In The Colorful Season
Apr.02,2021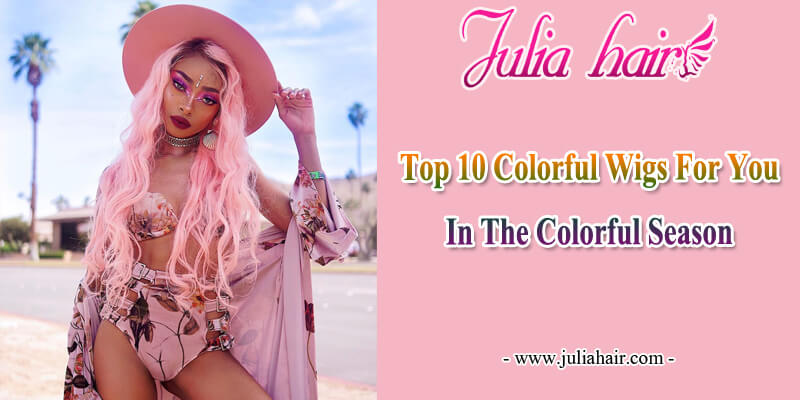 Spring is coming. More and more people want to go outside and enjoy the good times and fresh air. So the hairstyle is very important for every fashion woman. The natural black human hair wigs are not fit this season, the colored wigs are the fashion trendy and more and more popular at the hair market!
Many fashion women are foregoing natural wig shades in favor of a more adventurous, colorful style. While natural wig shades can make a person feel more like themselves, choosing to don a red, blonde, highlight or ombre wig can give you a whole new feeling of confidence. Let's take a look at why colored wigs are gaining so much popularity, what colored wigs work best for you.
Why Choose Colored Wigs?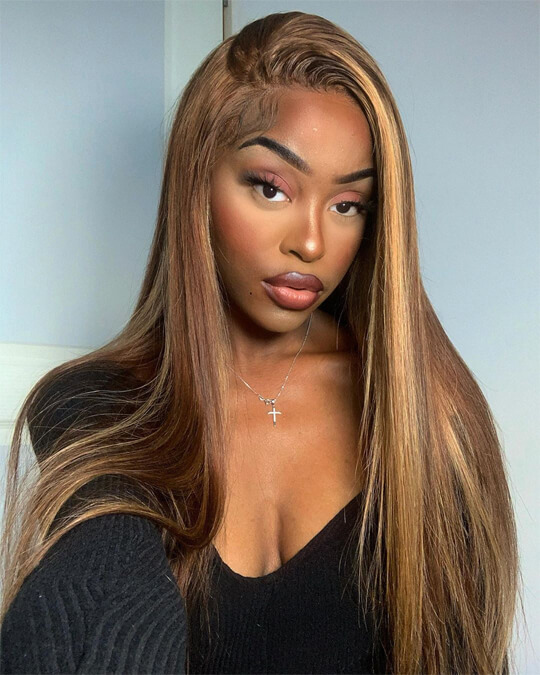 Have you been on Instagram lately? Brilliant, bright hair colors are IN! Bold shades are far more accepted nowadays, even compared to 5 to 10 years ago. While colorful wigs are currently on-trend, you may be asking yourself "Why should I purchase colored hair?" Here's the reason:
You will get a total confidence boost.
Colorful wigs also give off an air of courage or determination to those around you.
You get to wear your favorite color every day.
You will feel more in control of your situation.
If you have hair and want to try out a bright color, wigs will not damage your own real hair and are often less expensive than a professional hair-dying session. Plus, the color will be exactly what you want without fading or yielding other undesirable results.
While all these could apply to even natural colored wigs, colored lace front wigs just have a certain magic about them. Are you sold on the idea but not sure what color you want? It's time to figure out which color suit to you!
Which Color Is Best Suit For You?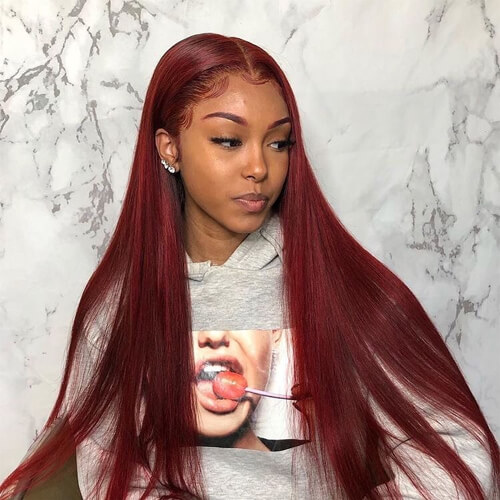 If you find a color you love, and you wear it with confidence, then none of this should matter, but it can be a helpful starting point for people who haven't experimented with different hair colors. Now let's take a look what the wig colors that will suit you best and match your skin tone.
Ladies with a Warm Skin Tone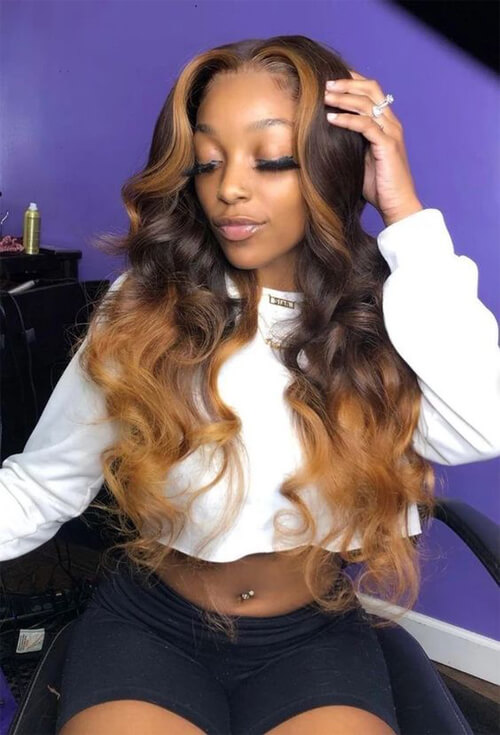 If you have a warmer skin tone, you should focus on wigs that incorporate: Chocolate, Dark mocha, Warm browns, Chestnut, Cinnamon, Honey, Amber. These colors can take the form of a full wig, but choosing a wig that has highlights or lowlights of these shades is also a good option.
People with warm-toned skin should pick a color in a cool tone to complement it. Think ashy blondes, cool browns, and brassy reds. If you choose a warm color, like golden blonde, you'll look washed out or dull.
For people with pale warm-toned skin, opt for a pale blonde or platinum hue. Silvery blonde colors look particularly great on these people. If you prefer a darker hue, choose a brunette shade in a cooler tone like a rich black-brown or fawn-colored light brown.
For people with medium to dark warm-toned skin, go for a hair color that is two to three shades lighter or darker than your natural hair color. If your hair matches too closely to your skin tone, you'll have an overall faded appearance.
Ladies with a Darker Skin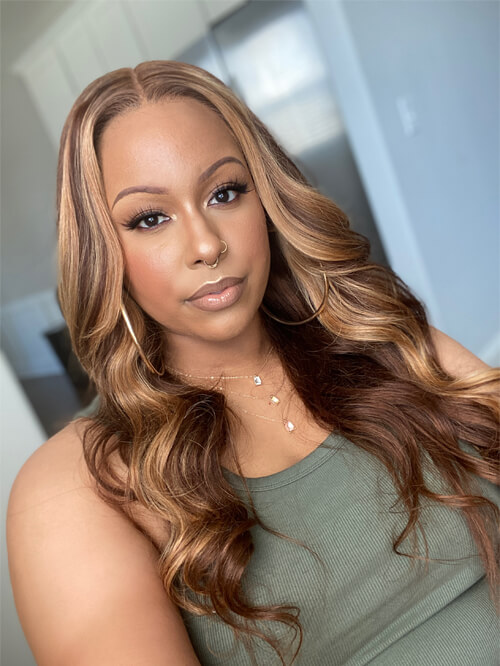 If you have darker skin, there is a wide variety of wig colors that will compliment your skin tone. We recommend the following wig colors for darker skin:
If you want a natural look, then opting for a brown wig is a great idea. If you want to keep things looking as natural as possible, don't go any more than two shades lighter or darker than your natural hair color.
Darker skin tones suit all varieties of brown, including those with blonde, honey, chocolate, caramel, red and coffee tones. The color you opt for is completely dependent on preference!
To achieve the perfect highlighted or ombre look opt for bronze color highlights, they'll give your look a glow and elevate a darker brown base color. If your base brown color is a lighter shade, then golden brown tones will complement and bring out the warmth in your skin.
Top 10 Best Bold Colored Wigs You Should Try
1.Julia Body Wave Brown Balayage Highlight 13X5 Lace Part Human Hair Wigs #FB30 Body Wave Wig With Baby Hair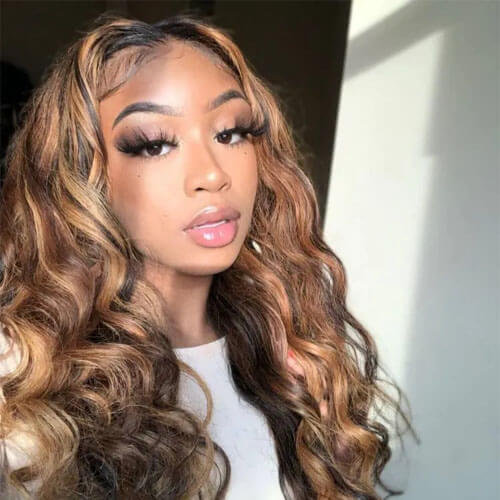 This is a new colored wig in Julia hair. The smooth, free-flowing Body wave hair should be put on your buying list for hair products for it gives a simple, fashionable hairstyle.
Body wave hair looks beautiful and natural with its perfectly tousled tresses, which is arguably the most sought-after hair on the market. It is easy to straighten and holds a curl like no other.
2.Julia Human Hair Straight Wigs Colored Blonde Highlights Wigs Pre Plucked Middle Part Lace Wigs With Baby Hair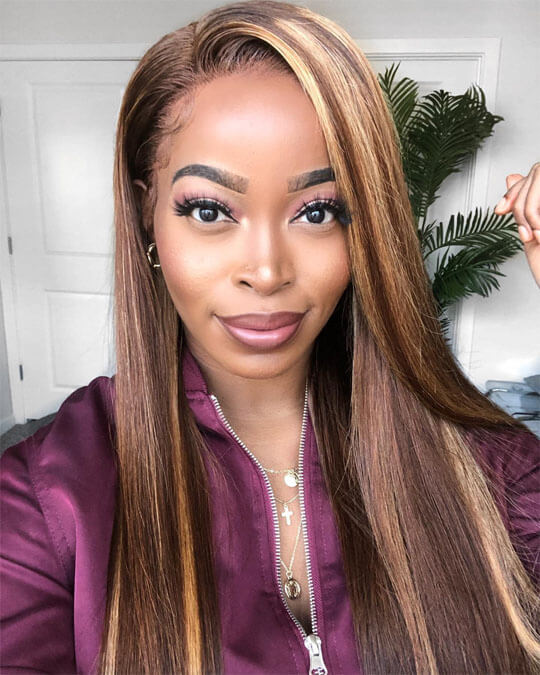 If your wig color is black or dark brown, then choose blonde highlights on the front sections to make your look pop. This hair color has made a comeback in 2021, and it looks like it's here to stay. Appear fresh with minty-colored wigs and slay the style with confidence.
3.Julia Highlight Human Hair Wigs For Women Colored Honey Blonde Straight Hair Wigs Pre Plucked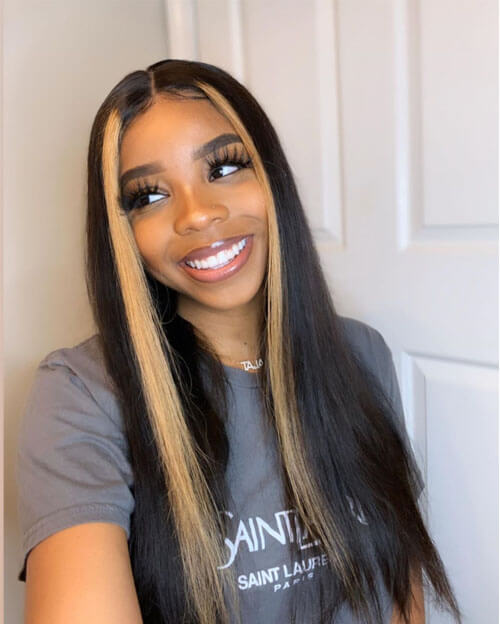 Get honey blonde highlights on your straight human hair wigs to elevate your look. The honey blonde color on your lace front wigs makes you look chic, and it is a popular color among wig lovers.
4.Julia Hair Honey Blonde Headband Wigs Body Wave Ombre Human Hair Wig With Scarf Attached High Quality And Easy Wear
Make your human hair wigs look natural with a honey blonde ombre color this summer. Brown ombre hair compliments dark skin and makes your eyes pop. You can use the headband wigs (2 minutes wig) and easy wear. Create curls a few centimeters away from the roots to achieve a voluminous and radiant look.
5.Julia Short Bob Wig Straight Wave Wigs With Headbands Attached Ombre Blonde Wigs 1B/TL412 Adjustable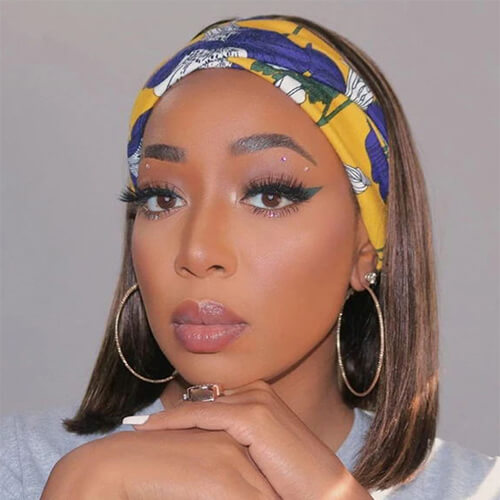 The beauty of ombre blonde colors is that there are many different colors available, and one of the most sought-after colors is the blonde ombre. It is a classic color that is appropriate for work and fun for after-work activities. Choose a headband short straight blonde bob wig and look gorgeous.
6.Julia Hair 99J Dark Burgundy Colored Headband Wigs Yaki Hair Wig Black Root Headband Wig Glueless More Hairstyles For Women
99J Dark Burgundy Color, as the most passionate color, will definitely attract his eyes and make you stand out in the public. Wear a 99J Burgundy Colored headband wig to express your love boldly. Instead of a long natural black wig, we would recommend you try a glueless headband wig made of human hair.
7.Julia Long Honey Blonde Highlight Straight Human Hair Wigs With Bangs For Women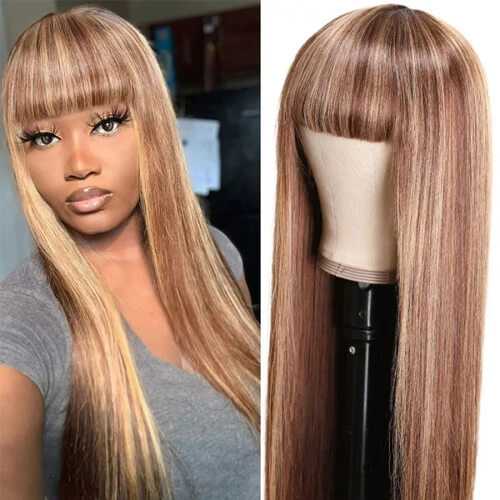 Honey blonde highlight color is also a hot trend in the hair world and is highly sought after amongst our clients as well for their human hair wigs. It's a great way to deepen your color or freshen up your highlight and transition to a more natural look. Wigs with bangs give you a young look and unique beauty.
8.Julia 150% Density Blonde Long Real Human Hair Wig T4613/ 613 Color 13x4 Lace Front Wig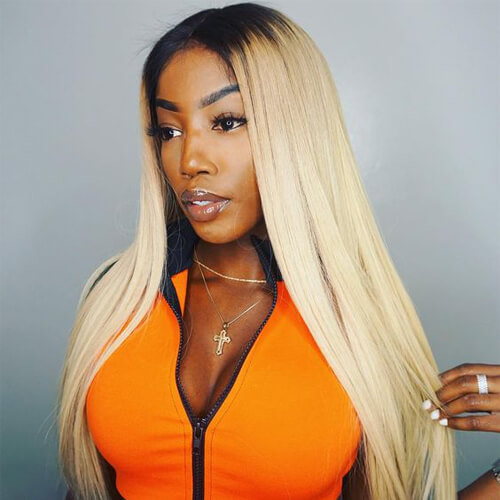 613 Blond tones are trending taking inspiration from the sun brightened natural streaks you would find on little kids. This color is really popular amongst our wig clients.
It is always recommended to add a root color on top to make the blond tones more realistic and natural. It is important to test strand the wig to make sure the color tone can be achieved before beginning. It is recommended to buy our T4/613 wig color to achieve your beauty and natural looks.
9.Julia T4/613 Color 100% Body Wave Human Hair Lace Front Wigs Pre Plucked Blonde Body Wave Hair Wigs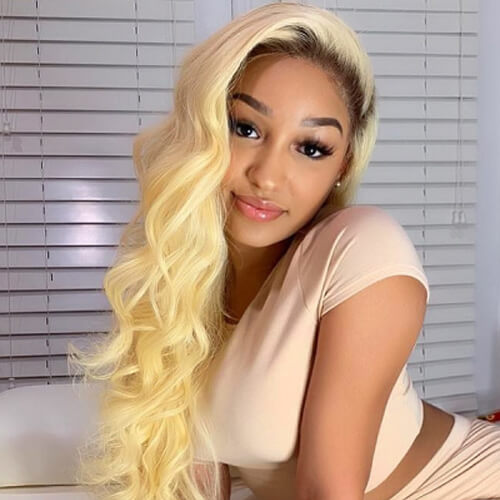 Ombre blonde body wave lace front wigs are T4/613 hair color, baby hair around, body wave hair texture, pre-plucked natural hairline, virgin human hair wigs can be dyed again and permed. 10A grade hair is high-quality at a competitive price. Factory directly supplier and free shipping.
10.Julia 1B/4 Dark Brown Bob Human Hair Wigs Pre Plucked 13x4 Lace Front Short Bob Wig For Women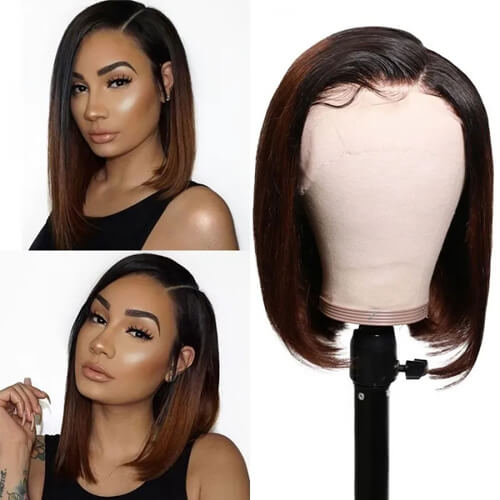 Dark brown is considered the most romantic color. Wearing a 1B/4 dark brown wig will increase the romance of this season naturally. Dark Brown Bob Straight Human Hair Wigs look soft and charming. Based on this idea, we would like to recommend a short bob 1B/4 dark brown human hair wig for you.
Buying a colored wig is exciting. With a simple change of color, you can instantly change your look. Plus trying new colors is faster, easier, and won't damage your natural hair. Don't forget to consider your skin tone, eye color, and personality as you are making your selection.
Remember, have fun experimenting with different wig colors. A new color is an opportunity to be a new you!