The Best Outfit For Your Halloween Celebration 2018
Oct.30,2018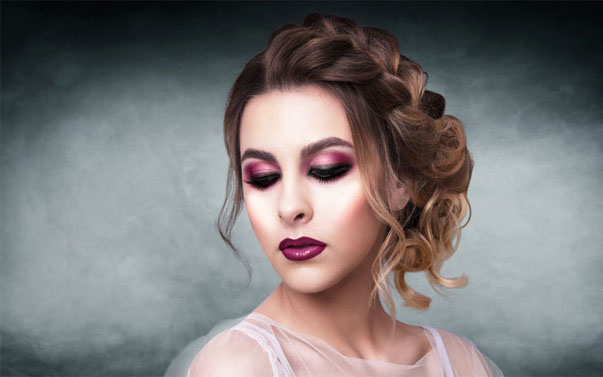 I absolutely love the fall season and the holidays that come with it. Halloween is one of our family's favorites. We can throw a party with friends and family, decorate for the season, or participate in events around our town. Have fun and enjoy the festivities with friends and family members. With some preparation and planning, we and our loved ones can enjoy a fun and festive Halloween.
With Halloween just around the corner, it's time to start putting together ideas for your outfit. A great outfit and Halloween makeup can certainly help create a great costume. To prepare our parties, we should have some ideas about Halloween costume, including Halloween hairstyles, Halloween makeup, Halloween sweet treats, Halloween food.
Finding Halloween costume that matches your beauty is always the most frustrating aspect of bringing together an epic. The good news is that you don't need to spend a bunch of money or time in order to pull it off. We will share with you the best outfit for your Halloween celebration. Enjoy Reading!
Halloween Hairstyles
The right hairstyles can make or break your Halloween costume. We have gathered 8 Halloween popular hairstyles that literally only take a few minutes to accomplish with a few of the right tools– most of which you may already have at home.
A few of these items include hairpins, curling irons, elastic bands, ribbons and hair extensions to match your costume. Some of the other costumes do include different hair accessories and embellishments but you can substitute them with items already in your home or even consider DIYing them instead.
1.Marie Antoinette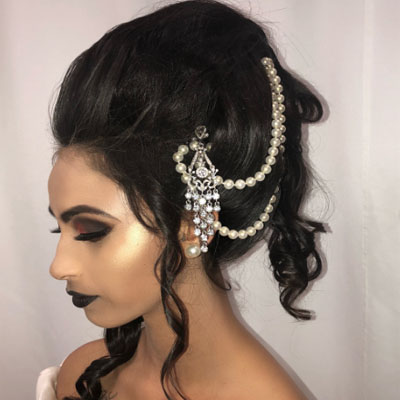 If you have a teasing comb and a lot of hairsprays, you can totally achieve sky-high volume like this. Add some ringlets and a few hair accessories, and you're ready for the ball.
2.The Pumpkin Bun
For a super cute, kid-friendly look. To create the look, she pulled the hair up into a perfect ballerina bun, used a temporary orange-colored hair-spray to color the pumpkin, and added a leaf hairpiece at the base of the bun to create the illusion of a pumpkin stem. This is done on straight hair, but you can try this one on a variety of textures.
3.Lioness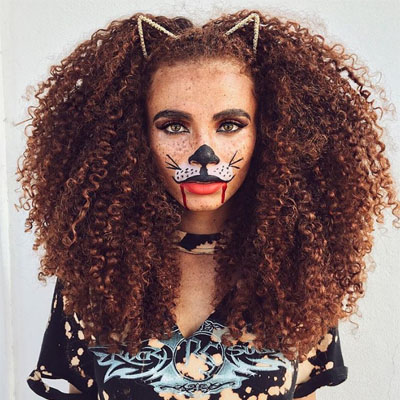 If you have naturally big, textured or Malaysian curly hair, the lioness look is totally fierce and easy to accomplish. Add some cat ears and make up a model makeup, and you'll be good to go.
4.Zombie Hair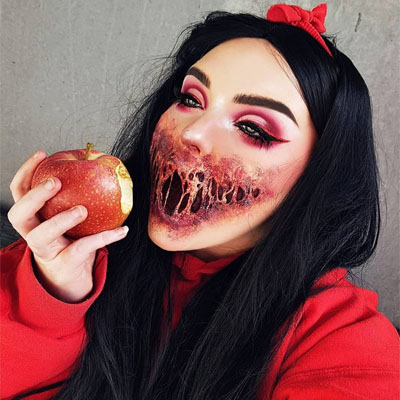 This bridal hairstyle takes a dark turn when it's a zombie bride. Get the undead vibe with haunting makeup and a messy side braid. If you're a pro at braiding hair, this is a Halloween hairstyle to consider—plus, it'll give you gorgeous Brazilian wavy hair the morning after.
5.Alien Hair: Galactic Girl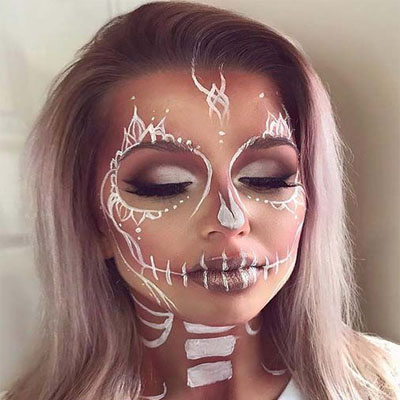 For a Halloween hairstyle that's out of this world, channel your best alien and go for a hairstyle that's creative and wild. After all, there's no better moment to do so. The trick to creating this oversized, curly faux hawk is making your curls as big as possible.
6.Medusa Hair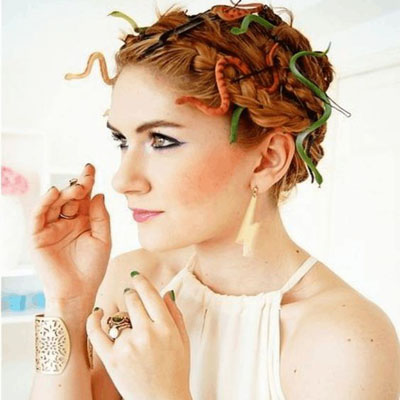 This is a great last-minute Halloween look. Have a white dress? Gold jewelry? You're more than halfway there. Stick some braids and snakes on your head, and you'll be good to go.
7.Braided Cat Ears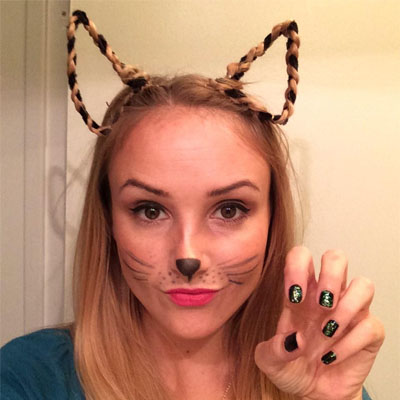 When a simple hairstyle can be the anchor of your entire costume, well that's when you know you've found something special. Grab some pipe cleaner and some basic braiding skills and poof! You're the cat's meow.
8.Spider Bun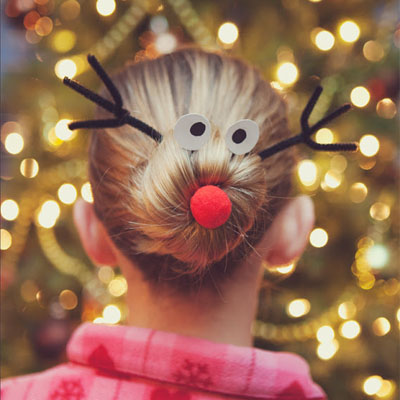 Really, the spider is doing all the work here. Still, keeping your bun off-center looks unexpected and a little weird—which is exactly what you want in a Halloween hairstyle. First, part your hair in the center, and then gather your hair in a high bun. Pin your spider on the side of the bun, swipe on your darkest lipstick, and get ready to impress.
Halloween Makeup
Whether your look is as gruesome as a killer clown or undead zombie, or as magical and otherworldly as a fairy or unicorn, professional-looking makeup can take any costume to a whole new level of awesome. And the best part is that you can find makeup like this when you choose Spirit Halloween's selection of makeup and accessories.
It'll be here before you know it—your feed will be flush with a whole new crop of elaborate, out-of-the-box makeup ideas, including the deeply creepy, the crazy beautiful. So to help keep you from another year of procrastinating, scrambling, and ultimately hating on your costume all night, we rounded up our favorite ideas, below, to get you inspired way, way ahead of the big night. Here are the best and easiest makeup ideas for Halloween!
1.The Wakanda Forever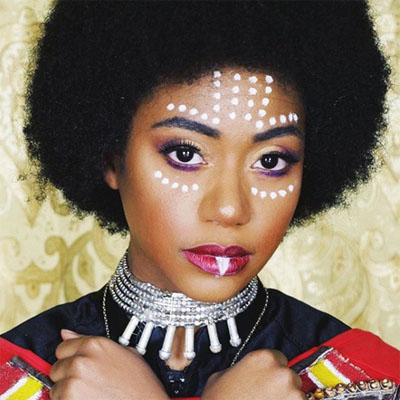 The world will be transformed into a living, breathing Wakanda on Halloween night, thanks to the brilliance that was Black Panther. Recreate the vibes with white dots lining your forehead and eyes, along with a white stripe down the middle of your lip.
2.The Blue Slime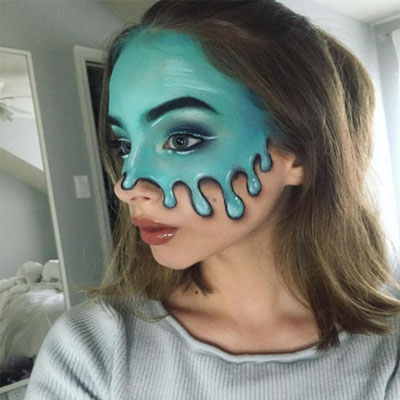 In a Flubber-meets-Avatar moment, this two-toned look pairs the abstract (dripping, teal-blue "slime") with the classic (bold brows and glossy brick lips) for a weirdly pretty—and kind of creepy—finish.
3.Scarecrow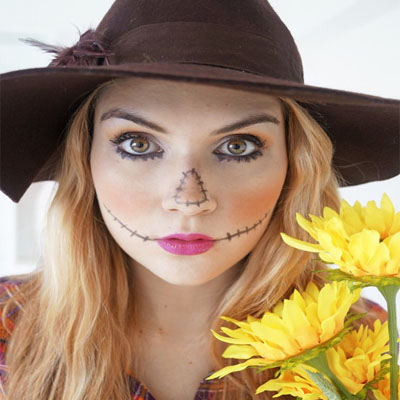 A plaid shirt and some eyeliner are all you really need for this simple but festive scarecrow Halloween makeup.
4.The Crazy Clown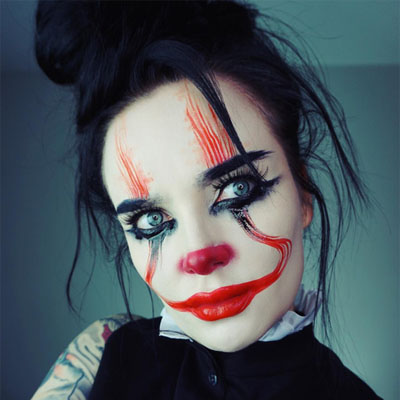 We're still having nightmares from the one time we saw It, but that doesn't mean you can't put your own spin on the creepy clown trope with some smeared eyeliner and overdrawn lipstick.
5.The Mermaid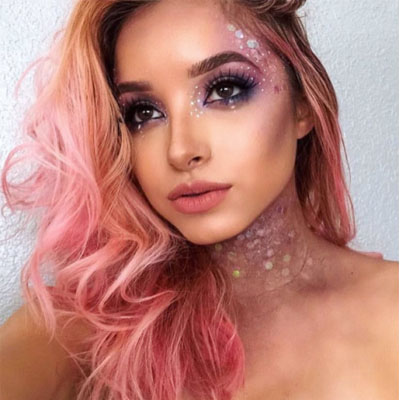 Even though it feels like we've hit peak mermaid and unicorn everything, please feel free to indulge one more time with all of the sparkles, glitter, and washout rose-gold hair dye in the world. I mean, it looks damn pretty.
Halloween Treats
Halloween parties need two things: foods and costumes, and lots of themed decorations. Food included. These scary-good treat ideas are a must at any Halloween party, whether you're hosting or heading to a friend's.
From homemade candy corn and adorable candy spiders, to jack-o-lantern sandwich cookies and a graveyard dirt cake, you're in for a treat. Need more Halloween recipes? These recipes are perfect for kids and adults alike. Try our ideas.
1.Candy-Coated Marshmallow Spiders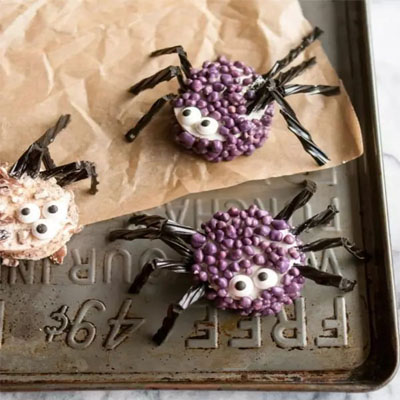 These arachnids are the friendly sort, and they'd love nothing more than to march across your buffet table and perch on the edge of your plate. So grab some sugar googly eyes and pick up some licorice — your Halloween is about to get crafty.
2.Banana Mummies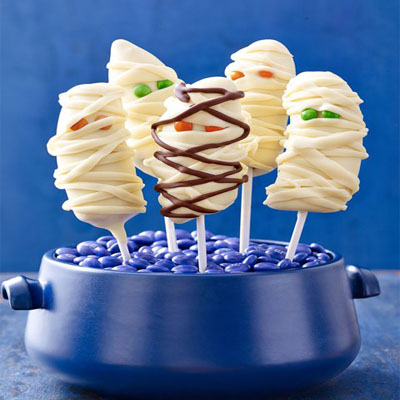 These mummified treats are hiding a sweet, healthy secret — underneath the chocolate are frozen bananas!
3.Two-Bite Nutella Chocolate Cookies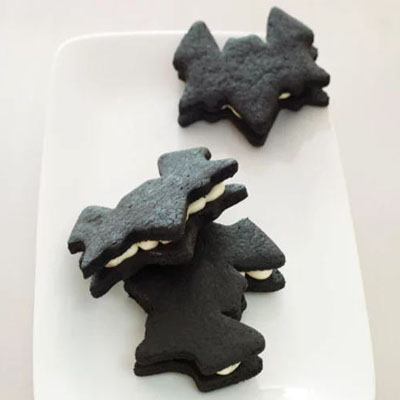 With a crisp, crackly top and a super-gooey center, these Nutella cookies are everything you could want. You can skip the icing if you like, but the Halloween colors make for a festive treat.
4.Halloween Pumpkin Cookies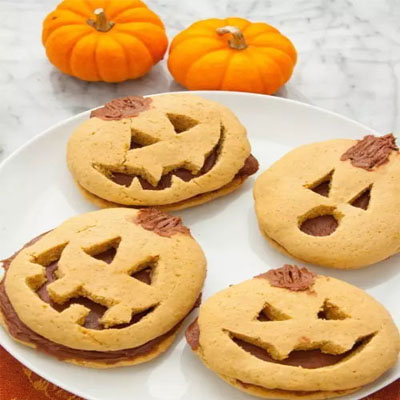 These pumpkin sandwich cookies hit all the delicious marks: they're made with both real pumpkin and pumpkin spice, they're perfectly soft, and they sandwich quite nicely with chocolate frosting. And they could be cuter.
5.Chocolate-Filled Pumpkins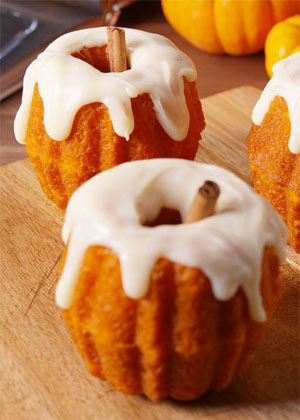 Filled with not one but two kinds of chocolate (milk and white chocolate ganache!), these mini pumpkin cakes are the perfect individual dessert idea.
6.Reese's Bats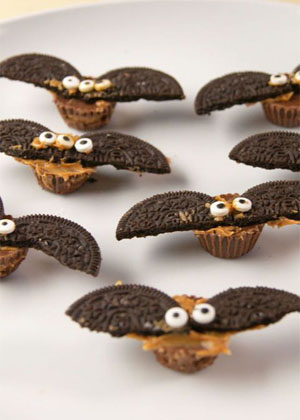 Bats aren't so scary when they combine two of our favorite things—Reese's and Oreos.
7.Spider Web Cake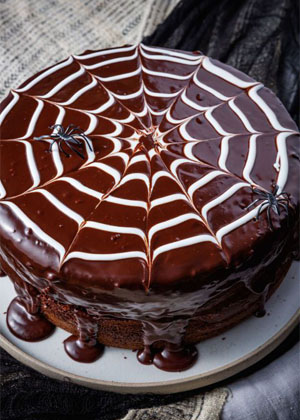 We wouldn't mind getting stuck in this spider web — give us a fork, and we'll eat our way out of this chocolate and marshmallow dessert.
8.Peanut Butter and Chocolate Graveyard Dirt Cake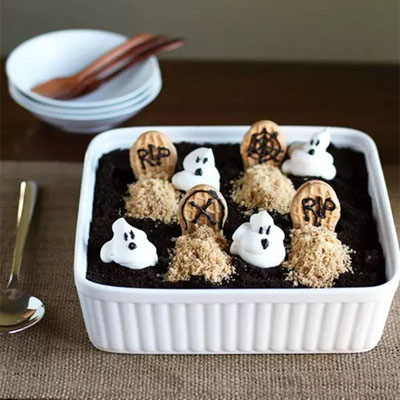 This dirt cake (complete with a layer of lightly salted peanut butter pudding and another layer of dark chocolate pudding!) is topped with a fun mini graveyard, made with Nutter Butter cookies and whipped-cream ghosts.
Halloween is a big festival for all people. Have fun and enjoy the festivities with friends and family members. Happy Halloween!