The 10 Easiest Hairstyles You must Have This Halloween
Check What Customers Are Discussing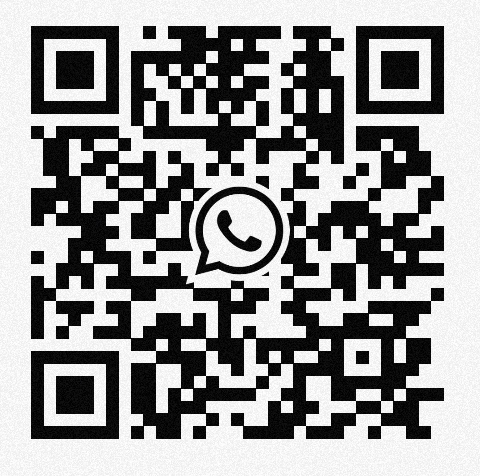 Scan The QR Code
Oct.22,2021
Hey, I believe you have noticed that Halloween is approaching! How will you celebrate this festival? Do you have any ideas about the costumes and the hairstyles for Halloween? Today we want to recommend some Halloween hairstyles to you.
If you are still thinking about what hairstyle you should do this Halloween, let's keep watching the post together, maybe you will find the one you like the most from the ten easiest Halloween hairstyles for girls.
The Top 10 Easiest Halloween Hairstyles
1. Double High Ponytails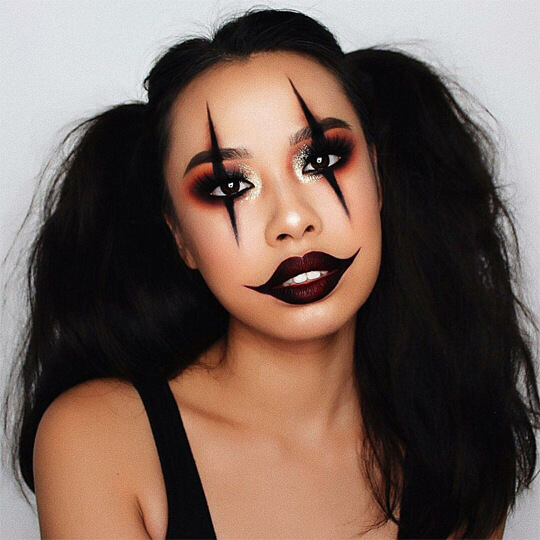 This is a quite easy hairstyle, and it is one of the most common hairstyles in our daily life. High ponytails give others a feeling of youth and vigor. The twin high ponytails make us look like little witches. The black hair color is similar to the night color, which is in line with the theme of Halloween.
In addition, black is a very versatile color. No matter what kind of costume you wear, it can match your outfit very well. And you can add any decoration you want to show your unique style.
2. Double Buns Hairstyle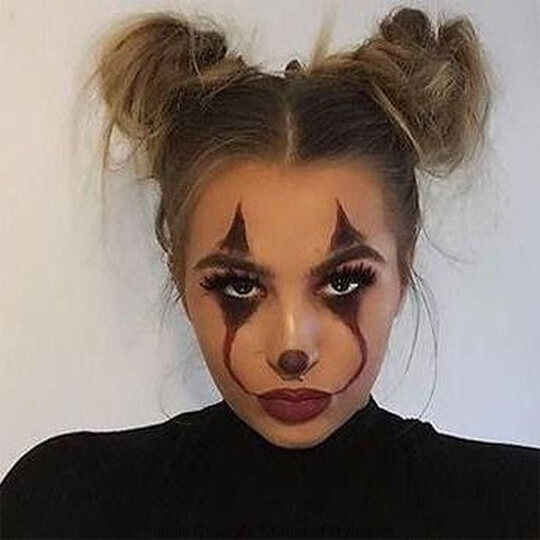 This hairstyle is also super easy. Like the first one, this hairstyle suits any outfit you wear. The hairstyle will make your dressing up more playful and energetic, which is one of the cute Halloween hairstyles.
After you divide your hair into two parts, the left and the right, tie them into two ponytails, and twist them up separately to make two buns. If you don't have enough hair, you can use Bundles to wrap around them to get two fuller and larger balls. Also remember to leave some baby hair, so that it can modify your face better.
3. Half Black Half White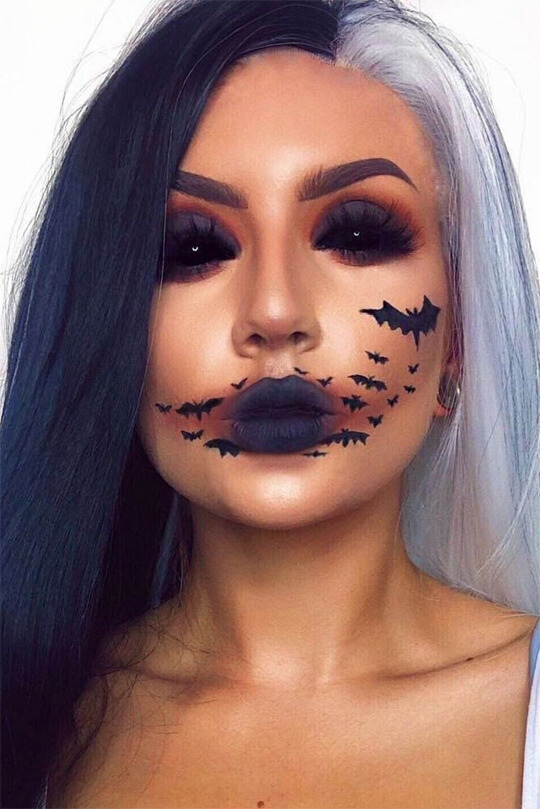 This is a hairstyle with two different colors on the left side and the right side. Black and white are two very contrasting colors, like a combination of night and day. The contrast will give people a surprise, which is very suitable for Halloween.
To get this hairstyle, all you need to do is bleach your hair. We advise you to purchase a hair wig instead of using your own hair to avoid bleaching damage. Then divide the hair into two sections, a middle part or a side part is up to you. Last, choose one part and bleach and dye them into white color.
4. Half up Half down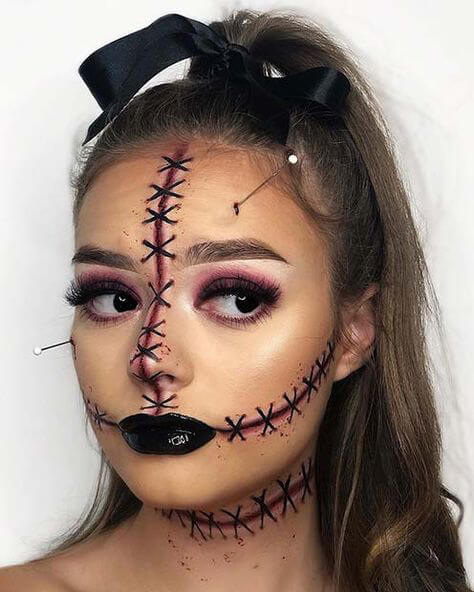 This is a common but beautiful hairstyle. You can use it at the Halloween festival if you don't want to spend much on the hairstyle. In addition, you can keep the hairstyle after Halloween.
Firstly, you can get a quality hair wig or hair bundles. Divide the hair into the top and the down two sections. The up hair does not have to be too much. Tie them up on the top of your head. Then you can add some decorations. In this picture, she just wraps a black ribbon around the base of the ponytail. You can adorn any hair accessory with Halloween elements you like.
5. Curly Brown Hair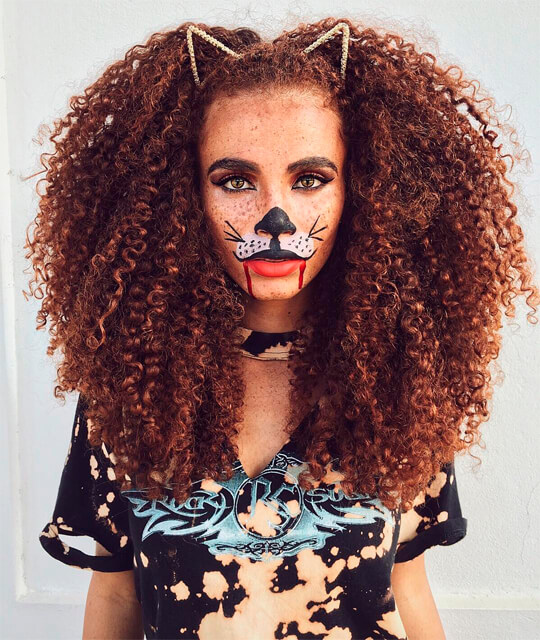 As you can see, if you plan to make this hairstyle, it will not require many procedures. You just need to dye your long hair dark brown and curl them with a curling iron. And if you want to get it more conveniently, you can just buy a brown lace front wig.
The color dark brown is very suitable for Halloween. Because it matches the color of the pumpkin very well. And this color is also very versatile, which allows you to wear clothes of any color.
6. Side Parting Hairstyle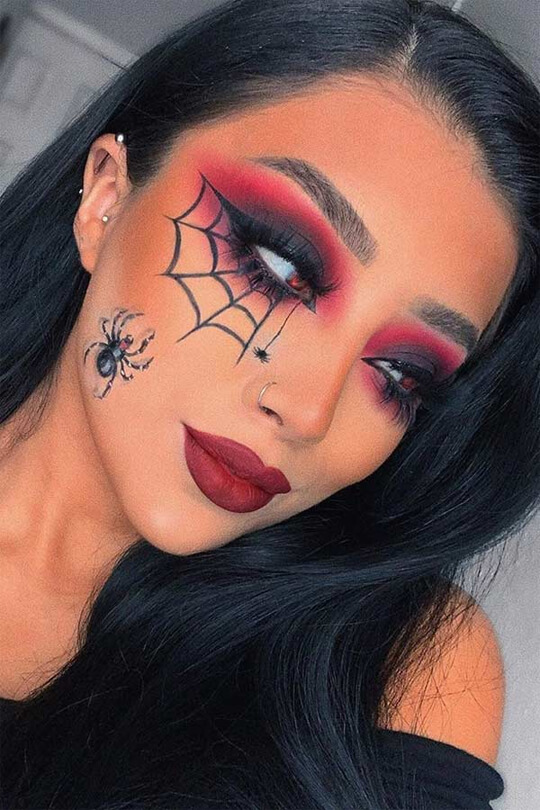 This is an easy Halloween hairstyle for long hair. If you have a body wave hair wig, this will be the easiest hairstyle. Just doing a side part is OK. You do not have to worry about what you should do to make the hair and makeup be coordinated because of the natural color of the hair. Besides, a brown hair wig is also a good option.
7. Devil Horn Hairstyle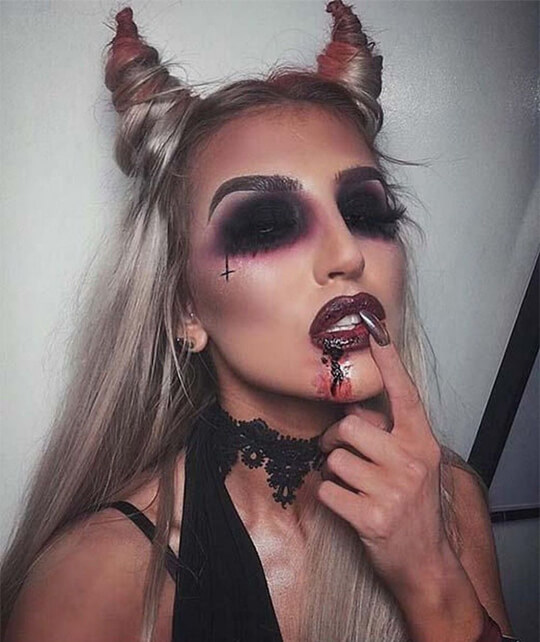 This hairstyle will make you look like a sexy and beautiful devil. The two devil horns on top make the hairstyle unique.
Take the hair on top of your head and divide them into two parts. Firstly, tie them into two thin ponytails. Remember not to twist your hair during this process. Just keep it flat and hold your hair, then grab it with your other hand. Now start to wrap the hair around, After you finished, remember to fix them. You can use hair spray to get red horns.
8. Straight Red Hair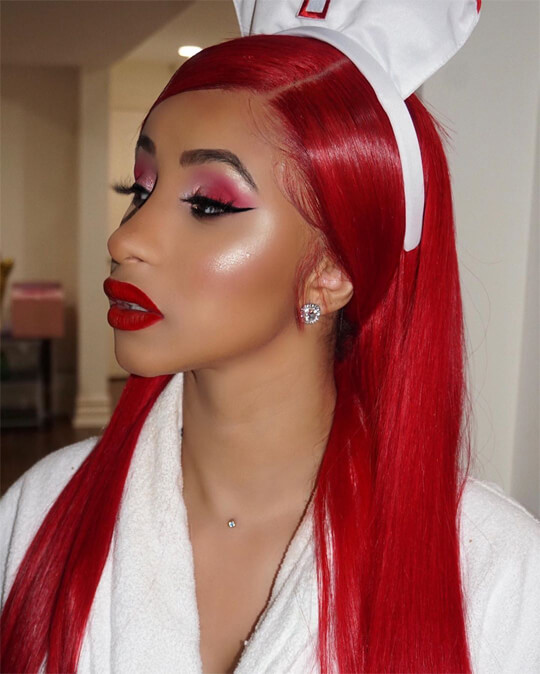 Red is the symbolic color of the devil, as well as the color of blood, which is very consistent with the theme of Halloween. Just dye your long hair bright red, you don't need to do any curling. If you want to wear scary blood and wounds on the makeup of your face, then red hair is really very suitable.
9. Snow White Hairstyle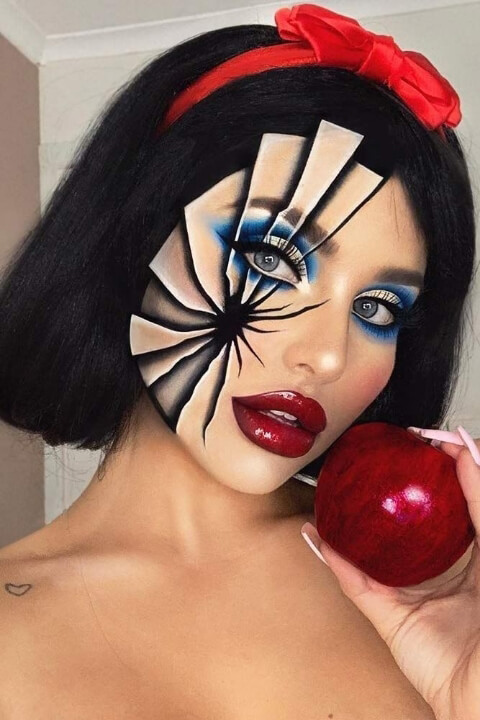 The hairstyles mentioned above are all about Halloween hairstyles for long hair. This one is short hair. As you can see, this is the same hairstyle as Snow White, which can make you look cuter and more elegant. And this hairstyle is very easy to make, does not need to be bleached and dyed, and curled.
10. Jasmine Hair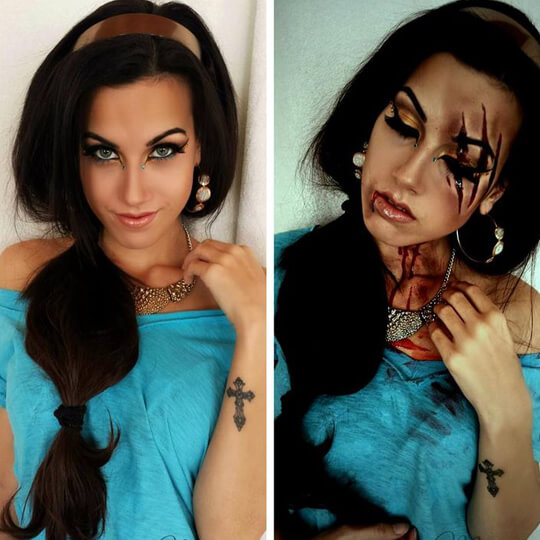 The last hairstyle was inspired by Princess Jasmine. This hairstyle makes people look noble and elegant, and it is also one of the hairstyles you can choose on Halloween.
You need to make all your hair on one side and tie it with a rubber band. What needs attention is not to tie it too tightly. Make sure the hair on your head is fluffy and full enough. The ponytail is tied up in sections with several rubber bands, and also don't tie it too tightly and keep it fluffy. Finally put on the headband and it's done.
These are the ten easiest Halloween hairstyles we want to recommend to you. Although they seem simple, with your makeup and costumes, they will become crazy and cool Halloween hairstyles.
If you want to prepare a perfect hairstyle for Halloween, but your hair can not help you get the hairstyle you want, Julia is selling various types of hair weave. Whether the hair wigs or hair bundles, the length or color of hair, they are all up to you to choose from. And all our hair is made of 100% human hair, the quality is top. Bleaching, dyeing, curling and straightening are all allowed. Welcome to choose and purchase!
Wish you a happy Halloween.