Tax Season Sale Hair Weave
Mar.04,2020
Tax season sale is coming, don't you prepare to purchase something you favor? As a lady, the first impression starts from your head, so if you have a beautiful hairstyle which will attract more attention. Julia Hair Mall provides hair weave, lace closure, lace frontal, and wigs which help you create your beauty. Tax season hair sale helps you cost less money but enjoy the high-quality hair.
Let us recommend some hot selling hair products in Julia hair mall, including human hair bundles, bundles with closure, bundles with frontal, wigs, transparent lace wig, fake scalp human hair wig, and highlighted lace wigs. Here we go!
No.1 Julia Body Wave Human Hair Wig 13x4 4x4 Lace Front Wig Pre Plucked 150% 180% Density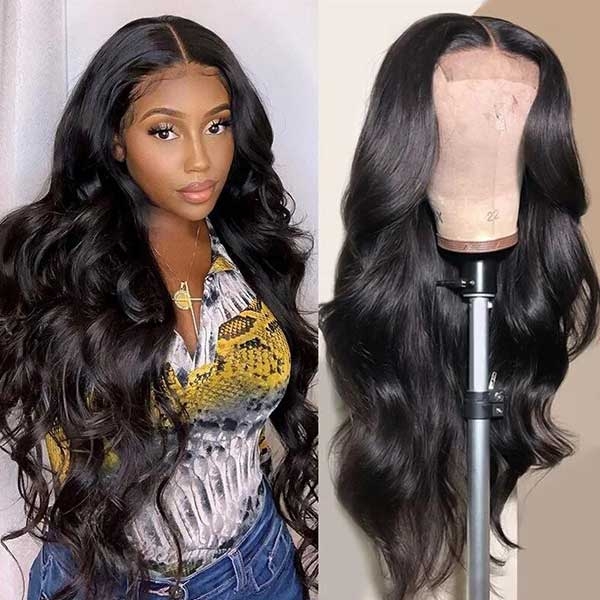 Body wave human hair wig is 100 human hair, pre-plucked hairline. This type of wig is lace front wig, the lace size is 13x4 inches and 4x4 inches. Half machine-made, half hand-tied. The lace front part is hand-tied by the master.
Now we add new arrival 13x4 transparent lace. Different customers have different requirements, someone likes thick, someone like thin, the wig has two hair density be chosen 150% hair density and 180% hair density.
The transparent lace is invisible and undetectable, which suitable for any skin. The lace imports from Swiss, very durable and strong. The wig cap is an average size international standard.
The stretched length from 10 inches to 26 inches. If you buy the short one, you can have a short human hair lace front wig.
The hair sews in the wig cap from different hair texture, Brazilian hair, Peruvian hair, Malaysian hair, and Indian hair. You can choose your favorite hair texture.
The wig can be divided side part or any other part, you can make lots of hairstyles half up and half down, ponytails.
No.2 Julia 3 Bundle Deals Virgin Body Wave Brazilian Hair Weave With Lace Closure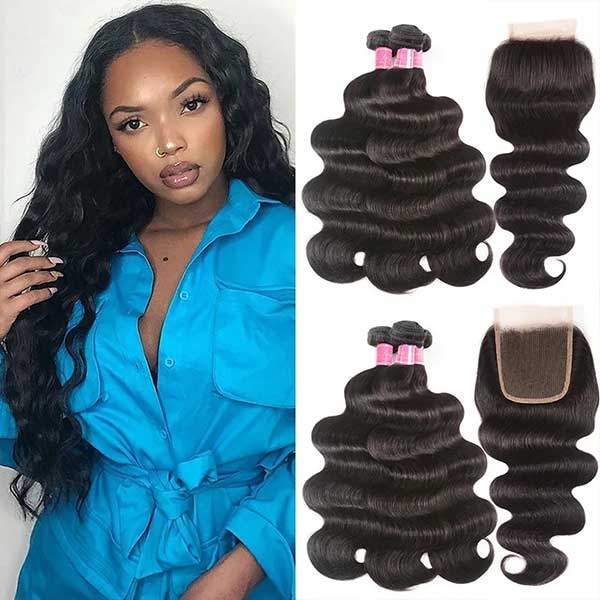 Virgin Brazilian hair body wave bundles with lace closure can be used to sew in a wig. 3 human hair bundles with a lace closure for a common wig, the quantities are ok. Sewing the hair weft on the wig cap you prepared, then use a lace closure cover the leave out.
Virgin Brazilian hair is soft and bouncy. The hair is real human virgin hair, no lice, no split and tangle-free.
The hair weft is double machine weft which avoids the hair shedding. There is no glue on the hair, please don't worry about the allergy. Human hair bundles match with lace closure is a good combination.
The lace closure has the free part, three-part and middle part. If you choose the transparent lace closure, only one free part can be chosen.
Each sew in hair bundles about 100g, lace closure about 30-40g. healthy hair with full ends, no splits.
Brazilian virgin hair body wave is popular among African American women who use hair products usually. Bundles deal is cheaper than buying hair weave by a single bundle.
No.3 Julia Curly Lace Front Human Hair Wigs With Pre Plucked Best Brazilian Human Hair Wigs For Women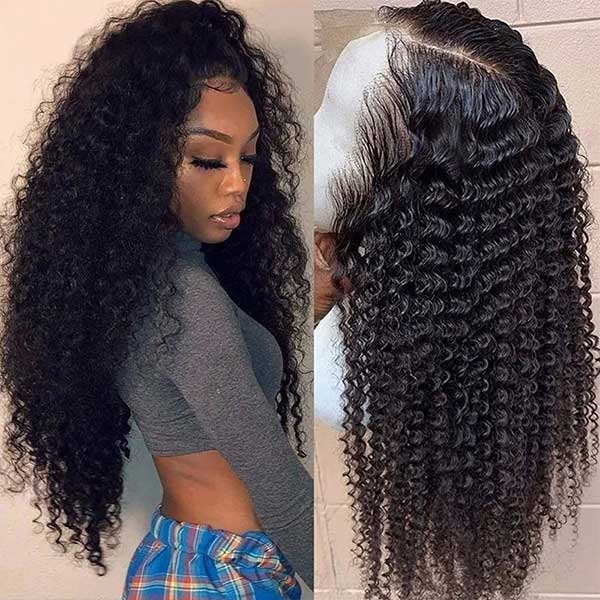 Lace front human hair wigs curly wave is a welcome fashion trend. Jerry curly hair wig the curls are tight. Of course, the hair is real human hair, no tangle, shedding free, and no lice.
Pre-plucked hairline has different hair density which is completely similar to our real hair. So when you wear the wig, just like your own hair grown from your scalp.
Curly lace front wig is half machine-made and half tied. The lace front part can be part of any direction you like.
Leave some hair for trim, then you can get a baby hair around. Bleach knots that make the knots on the lace are invisible. So the lace is more natural.
Brazilian virgin hair used for sewing this wig, which is extremely soft and glossy. You can use some hair conditioner to protect the hair.
The hair wig is human remy hair, so you can dye it to any color you like or permit. But please make sure you know the way how to dye hair weaves, and how to permit. Or you won't do that. Cause the hair is very fragile, it is easily damaged by any un-proper way.
Curly lace front human hair wigs from 10 inches to 24 inches. You can choose the short length as a short bob wig, and you can also choose the longer one which makes a long curly human hair wig.
Please remember using a wide tooth comb to avoid tangling and matte.
If you wear a straight wave wig for a long time, you can buy this curly wave for trying since the price is not high and the tax season sale discount.
No.4 Julia Virgin Brazilian Straight Hair 3 Bundles Best Straight Hair Weave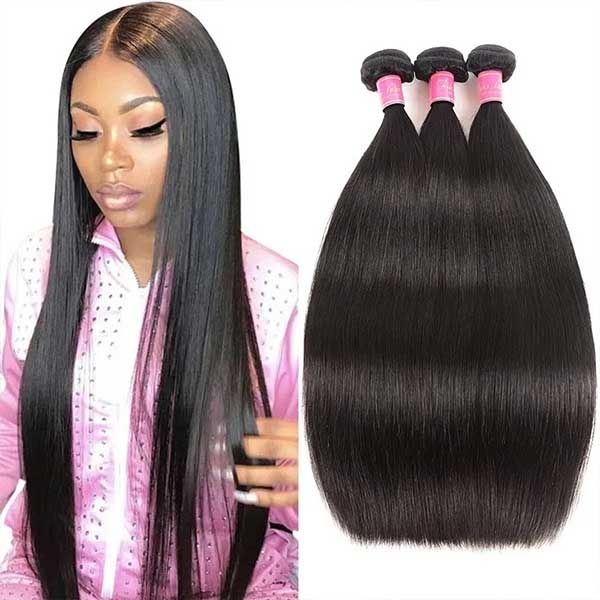 Virgin Brazilian hair straight wave 3 bundles deal is 100% human hair. The hairstyle is straight wave that is suitable for most people. If you are not sure which hairstyle you are suitable, you can buy a straight wave.
Because the hair is natural black remy hair, so if you are tired of the straight wave, you can permit to any other hairstyles like body, curly, loose, etc. But please set the iron flat at a low temperature which can protect the hair cuticle.
The straight wave hair is easy to take care of it. After washing it, please use some olive oil to protect your hair weave. Because the hair leaves the vendor, there is no nutrition for it, gradually, the hair will change to dry and split. Moisture olive oil can protect your hair glossy and shiny.
Do you want to have full hair like her, please grasp this chance?
No.5 Julia Premium Body Wave Weaves 3Pcs/lot Best Bundles Of Human Hair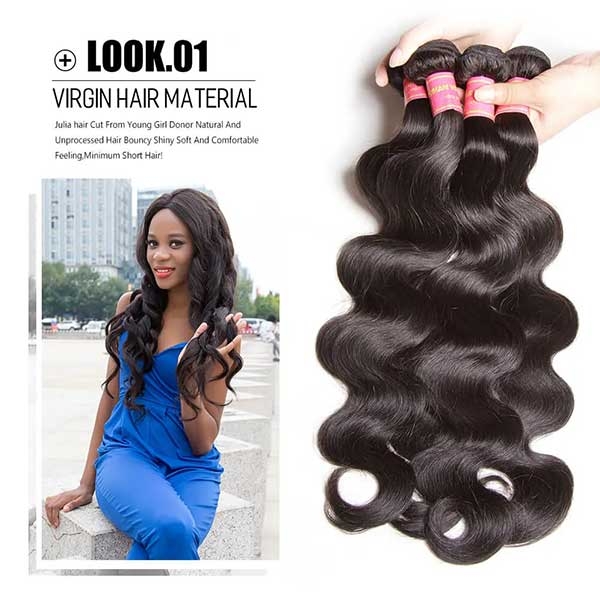 Body wave hair weaves is the most common and popular hairstyle except for straight waves. A head of body wave hair like a waterfall, very nice and beautiful.
3 pieces of body wave hair bundles enjoy 20% off in Tax season sale. During the goddess day, if your order over 159$, you can get extra 3% off. Totally you can get up to 23% off. Don't you attract by this discount? Come and order now!
These body wave weaves are human hair extensions Remy hair. Cut from the virgin vendor, the hair is healthy with full ends. No lice and split, very glossy and shiny.
You can sew in the hair weft on your wig cap make a wig only by human hair bundles.
There is one thing that should be attended, the body wave hair texture is easily changed to loose. So when you use it, you can use the finger curl. This way can keep the shape of body wave.
Our hair is natural black human hair without any chemical process. To make the shape, we only use some stream to make a hairstyle to keep the hair cuticle.
These are top 5 hot selling of hair products, please catch up this big discount:
20% off for hair bundles/ closure or frontal + make into wig without any code.
18% off for all the wigs without any code.
During the Goddess day, we have an extra promotion.
If your order over 159$, you can get up to 23% off. Base on the basic discount, extra 3% off for your order.