Something You Need To Know About Brazilian Deep Wave
Mar.26,2018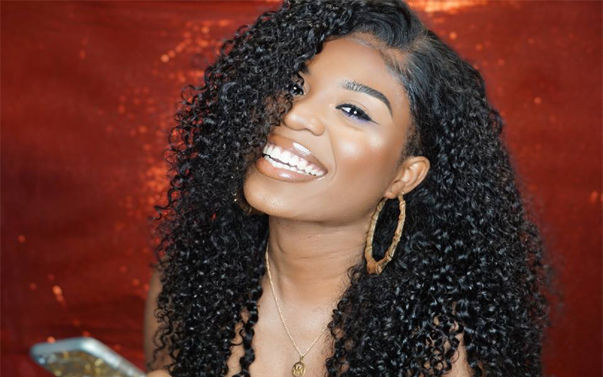 One of the most popular virgin Brazilian hair textures is our deep wave hair--and for good reason. It reigns supreme in versatility and can go from smooth curls to kinky, full waves all with the spray of a product.
While we could spend all day talking about how gorgeous deep wave Brazilian hair truly is, we'll spare you the time. We'd rather show you than tell you something you need to know about Brazilian deep wave hair.
About Brazilian Hair
Brazilian hair is the most popular brand of virgin hair and is primarily known for being able to blend very well with ethnic natural hair textures. Brazilian virgin hair comes in many different textures such as straight, wavy, and curly.
Different styling can easily be achieved with the use of flat irons, bendy rollers, Bantu knots, braids, and more. And will be able to hold the style for long periods of time.
Brazilian hair brings the bounce and fullness that all women desire. The cuticles on our Brazilian hair flows in one direction which prevents any tangling. There's little to no shedding and the hair can last 4-6 months to a year with proper care.
Brazilian hair is the most counterfeited hair on the market, most often Asian hair that has been dyed.
Supposedly humidity resistant.

True Brazilian hair is durable, but it also very dense, so it poses some limitations in terms of movement and styling.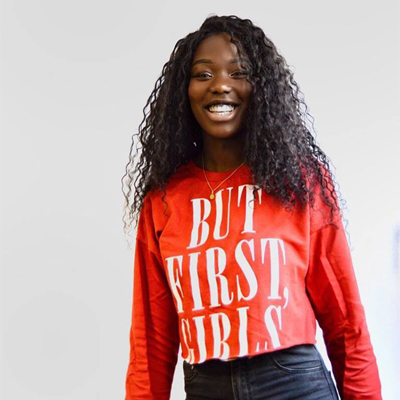 About Brazilian Deep Wave
Brazilian deep wave virgin hair has a very tight curl pattern. This type of curl is great for that tropical look. Deep wave hair needs to be maintained properly and moisturized at all time.
Although this hair can be straightened, we would recommend you to purchase a different type of texture if you are going for a straight look. You do not want to lose the natural beautiful curl pattern by putting too much heat on this hair.
The best way to blend the deep wave Brazilian virgin hair with your natural hair is by 2 stranding your leave out overnight with your favorite products, and unraveling the twist in the morning.
Our Brazilian deep wave lace closure is the perfect choice if you want a natural looking part of damaging your natural hair. If your hair has been permed or doesn't match the texture of the deep wave pattern, the closure would be a great option for you. Our closures come in a free part, middle part, or three parts. Each closure has a density of 150% and will blend well with your virgin hair bundle deals!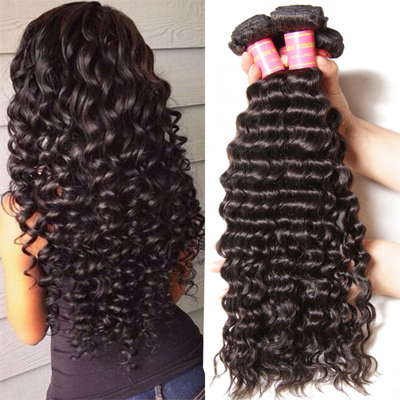 How To Treat Brazilian Deep Wave Hair?
Remember you should not apply any styling gel, mousse or other such products on your Brazilian deep wave hair extensions. If at all needed, it should be done by a stylist. Heat and dyes can be used on the hair to get a stunning customized look. It can be done so because this hair has never before gone through any kind of treatment. So, you can be sure you will get your desired natural and beautiful results.
Care Instructions Of Brazilian Deep Wave Hair Bundles
In order to keep the longevity of your virgin Brazilian deep curly hair bundle deals, you must properly take care of them. Treat your bundles the same way you would treat your real hair! Here are a few tips on how to keep your virgin hair bouncy, shiny, soft, and tangle free!
1. Wrap your hair every night with a satin scarf, or sleep on a satin pillowcase.

2. You can use flexible rods (bendy rollers), perm rods, or Bantu knots to keep your hair curly, bouncy, and voluminous without using any heat.

3. Do not use excessive heat! This may cause damage to your hair bundles.

4. Instead of blow drying, allow your hair to air dry instead.

5. Wash your hair bundles at least once a week.

6. Peruvian hair deep wave should never be brushed, not even with something such as a paddle brush, as this will only cause the curls to unwind. A wide tooth finger comb or even your own fingers should instead be used.

7. Prior to going to bed at night, twist your hair into a single braid before covering the entire surface with a cap made of satin.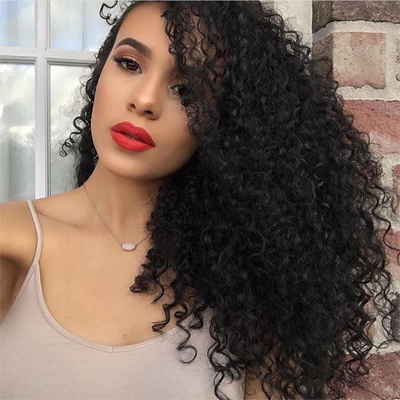 Why is Brazilian Hair So Popular?
If you wear hair extensions there is a great chance you have tried wearing Brazilian hair. You really can't go wrong with the quality, textures, and the results when wearing it. As a matter of fact, our Brazilian deep body wave hair extensions has been our best selling product for recently. Let's take a look at everything related to Brazilian Hair!
Versatility – can be styled in different ways. It's thickness fuses seamlessly with your natural hair.
Volume – Brazilian hair has a natural bounce and fullness; makes your hair extensions look and feel like your natural hair.
Durability – When cared for properly, Brazilian human hair can last up to six months. It's naturally strong and damage-resistant because it's free of harsh chemicals.