Some Hair Care Habits That Damage Your Curly Hair
Sep.15,2017
Curly hair can be both beautiful and difficult to manage. Being someone with curly hair myself, there are many times when I have wished that I just had straight, easy-to-manage hair. But the trials and tribulations of curly hair aside, I did realize that I was making some hair care habits that damage my curly hair. Today, we're here to give you the lowdown on bad hair styling habits that you need to give up. It's time to start playing some damage control and saying farewell to those everyday bad hair styling habits you have gotten so fond of…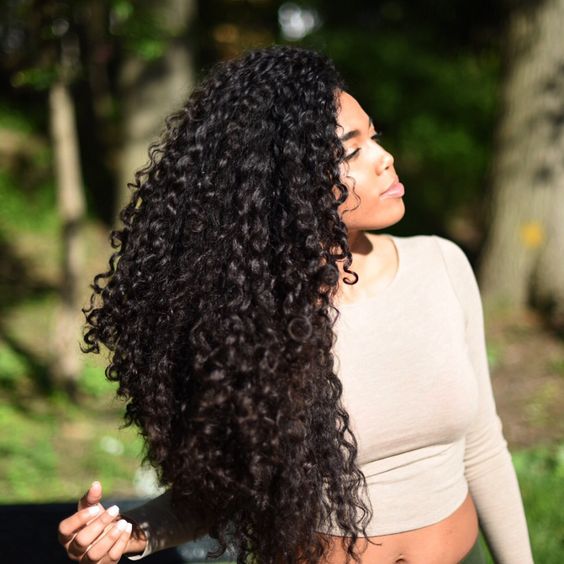 Not Really Detangle
Detangling can be a daunting task, especially for natural and curly hair, but it is so necessary. When you finally decide to get down to the nitty gritty of detangling, you might pull and tug hair and break it. Hearing hair rip while detangling is a bad sign. If your hair is more than a few inches long, get into the habit of sleeping in sections. Create either Bantu knots, two-strand twists, or chunky braids before wrapping your hair up and laying down. This will help prolong your next detangling session and not have to worry about experiencing more hair fall than normal during your next one.
Not Washing Your Hair Enough
Okay, so your hairstylist is probably telling you to wash your tresses less for healthier, shinier hair. Which in some aspects is totally right - we mean, don't go washing your hair every day as this will strip your hair of its natural oils. But, don't get too comfortable with your dry shampoo - product buildup attracts dirt and weighs down your hair which works to leave it dull and week. All you need to do is make sure that you are washing your hair 2-3 times a week as this will help take away that product buildup and excess oil. Also, be sure to use a clarifying shampoo once a month as this helps to get to the grease that gentle sulfate - free shampoos miss. It will also leave your hair primed to soak up the smoothing ingredients in your conditioner, too.
Using a lot of hair products
Taming curly hair is no mean task. Conditioners, mousse, hair sprays and products to prevent frizz are all common fixtures for people with this kind of hair. But while these products might help keep your hair looking absolutely perfect, know that they can cause a lot of damage. For one, these products contain numerous chemicals that can damage your hair in the long run. Apart from that, if you don't wash off the product and apply a fresh layer of it over unwashed hair, it tends to trap dirt and grime on your hair shaft which can eventually harm your scalp leading to infections.
Brushing When Wet
When your curly hair is wet, it's significantly weaker, and brushing it in this vulnerable condition leads to increased breakage. The individual strands can't handle the tugging and tension, so they stretch until they snap. To detangle wet hair during or after the shower, gently use a wide-toothed comb, working from the ends upward. Better yet: use your fingers.
Pulling it back and tying it tight
One way to get your curly hair to settle down is by pulling it back into to a bun or a pony tail. But this practice has a lot of repercussions on your hair and scalp. Pulling back your hair causes your hair line to recede and can even lead to a condition called traction alopecia (where you lose hair due to styling it in one way too often). So, it would be a good idea to change the way you tie your hair.
Turning Up the Heat
One more time: Heat damages your hair. We're not suggesting you swear off it completely, but you need to keep temperatures in check. If your blow-dryer hurts your scalp, it's too hot. Your best bet is to use one with at least 2000 watts and set it on medium heat. That way, you're relying more on airflow than on heat to eliminate moisture. And never, ever turn your flat iron above 350 degrees.
Julia Curly Hair has Brazilian, Indian, Malaysian and Peruvian curly hair which are all 100% Human Remy virgin hair. These curl hair waves are luxuriously soft and bouncy! Our body wave is easily blended with most hair textures and styled easily! We make the female as our guide customer, use the special design to transmit the warm, romantic, free elegant and delicate to you.
This entry was posted in
Hair Care
By julia hair
Comments are Closed for this post.