Red Bob Wig For Sale In Julia Hair
Jul.01,2020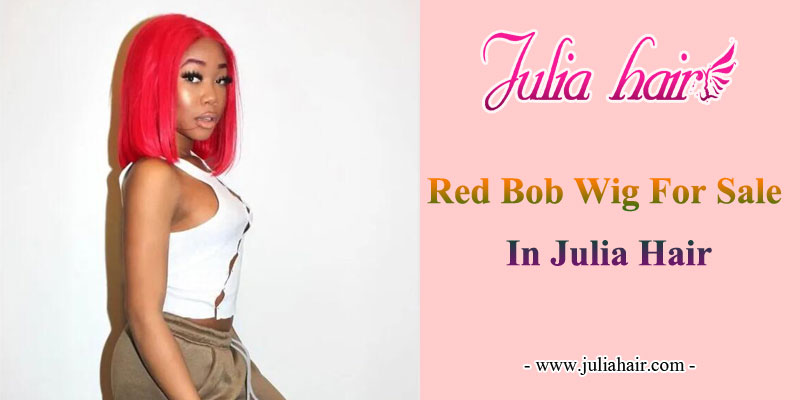 Most wigs people wear are natural black, do you want to have a try on red bob wig which is hot and amazing? People will say they are not suitable for the weave hairstyle, why? If you don't try, how can you find a red bob wig is the most attractive hair color.
Today let us share with you the new arrival hair wig in Julia hair red bob wig.
Content:
Introduction about red bob wig
Features of red bob wig
How can I install a red bob wig
How long does a red bob wig last
Can I dye or perm the red bob wig
Where can I buy a red bob wig
Is a red bob wig easy to find a match clothes
Introduction about red bob wig
Red bob wig in Julia hair is human hair lace frontal red bob wig. In the hair market, the most colored wig is synthetic wigs, the price is cheap, and after you use it, you can throw it away. The colored wigs used in the show or cosplay, but it is not real hair, the breathable is not as good as the real hair. 150% hair density middle part red bob lace front wig in Julia hair is 100 human hair, 8 inches to 14 inches are available, if you need a longer length, please contact the customer service before you make the order.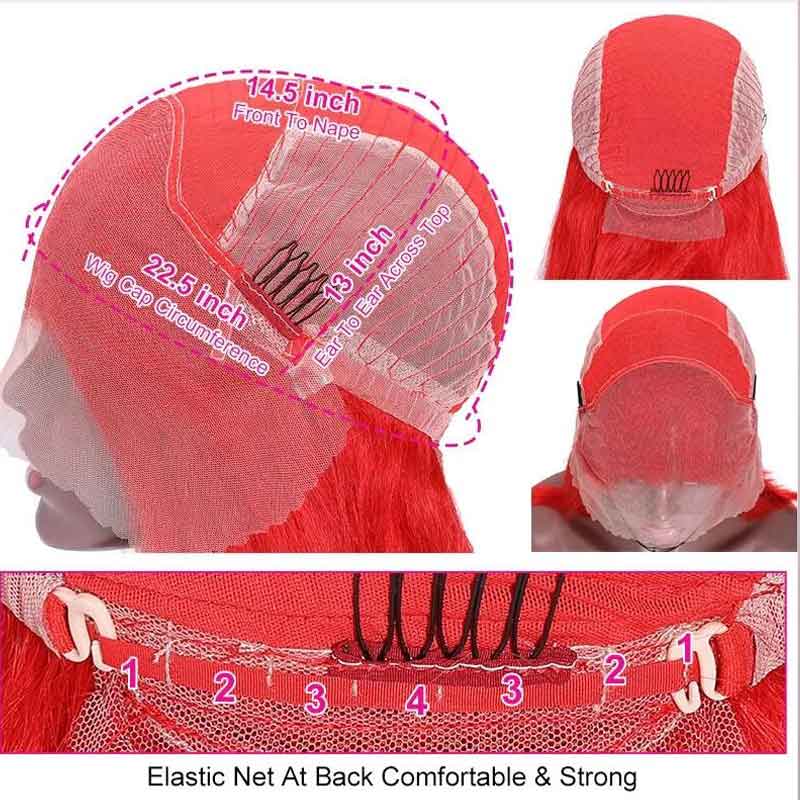 Features of red bob wig
1. The processing skill is hand-tied and machine-made, the lace front part was sewed by hair strands with knots. The other part was completed by machine. So you cost half price but get full lace experience.
2. The lace is Swiss lace transparent, so it is invisible and undetectable, very natural and comfortable. Transparent lace frontal red bob wig has a bomb effect.
3. The straps on the wig cap make the wig flexible and fix it well.
4. Pre-plucked hairline with baby hair around, easy to install.
5. Lace front part can be made by the middle part, side part, or others you like. Make more natural hairstyles such as human braiding hair or updo.
How can I install a red bob wig
Step 1: braid your own hair make it as flat as possible.
Step 2: cut the extra lace forehead along the hairline carefully after you are sure you will keep the wig you order. (only the wig unused be accepted return or exchange)
Step 3: put on the wig cap and push a little back about 1 inch of your own scalp.
Step 4: adjust the size to fit your head, make the wig stable, and can't slip off.
Step 5: comb your wig to style your part. Apply your wig, match wig part to your part.
Step 6: let the clips and strap fix it well, if your wig is not with glueless cap, you might need to apply some glue or sew down your wig to make it stay in place. If you order a u-part wig, you can release your leave out hair, comb and style your own hair to blend with the wig hair.
Step 7: style it to make your hair more natural.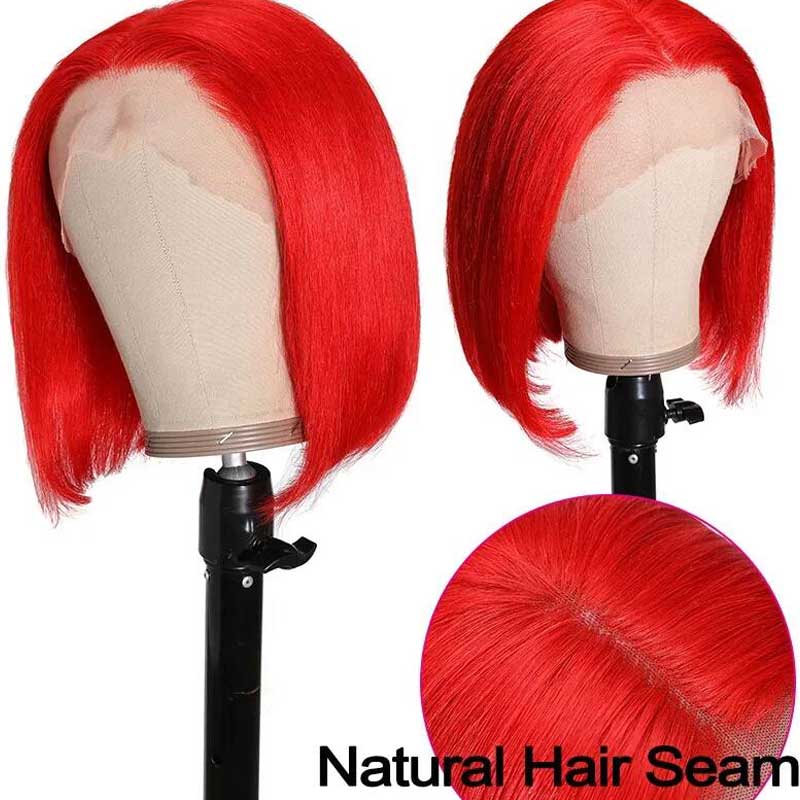 Some tips you should know when you install your red bob wig:
1. Use some pins to make your wig stable if necessary.
2. After you install your wig, if you want to make the hairstyle, you can use some gel to make your hair flat.
3. Use some cosmetic which color is similar to your own skin color which makes your part looks more natural.
How long does a red bob wig last
It depends on how to use your wig. If you use the hair in a proper way, it can last about 6-9 months, some can last about 2 years. If you use the wrong way, it will be ruined immediately.
Low-quality hair shampoo will make the hair lose glossy, matte, and dry. If you twist the hair after washing, the hair cuticle will be ruined, the hair will be a tangle. If you use the blow drier at high temperature, the hair will be burned. We can make sure we send you the high-quality hair wig, but we can't make sure you can use it in the right way.
So if you are a green hand, you can go to the hair salon in the local place to make a fabulous hairstyle.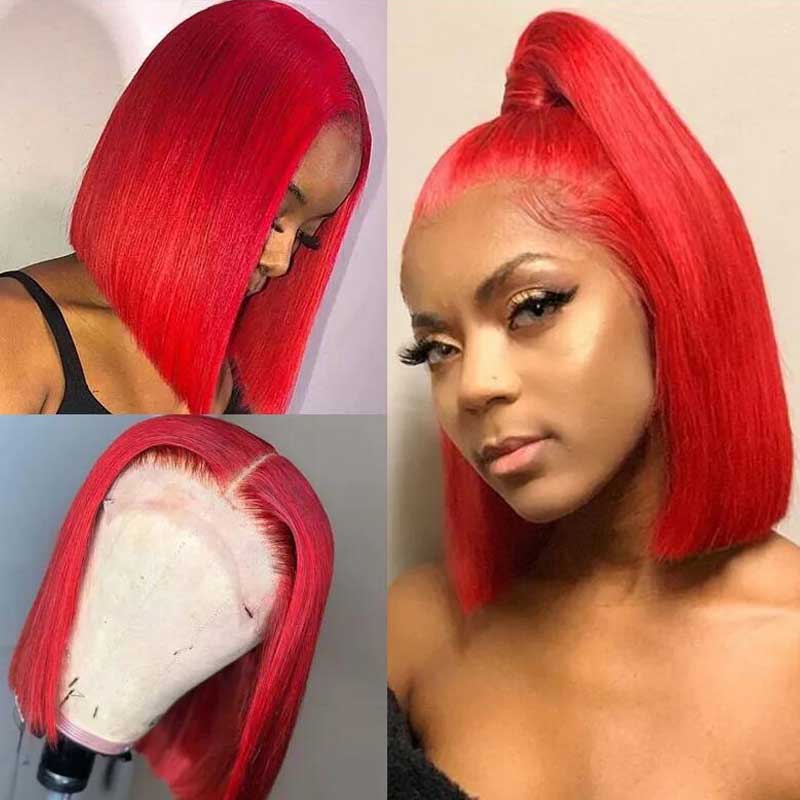 Can I dye or perm the red bob wig
Of course, you can. The hair we use is 100 human hair, Remy virgin hair. So you can dye it to any other hair colors you like, permit to other hairstyles. Our red bob wig is straight wave, you can curl it by curled iron.
If you want to save time, you can buy other colored bob wigs in Julia hair, such as natural black bob wig, orange bob lace wig, purple bob wig, pink bob wig, green bob wig, and blue bob wig. Various colored bob wigs are available in Julia hair.
Where can I buy a red bob wig
There are many hair vendors in the hair market, for red bob wig is a new hair trend, not all the hair vendors have this product. Red bob wig needs high-quality hair which can be dyed to the red hair color. So the processing skills need high. If you want to buy red bob wig, you can come Julia hair, Only cost 86.8$, you can get one 8 inches hair wig, it is real hair, not fake. Please click the button below the picture and buy it now.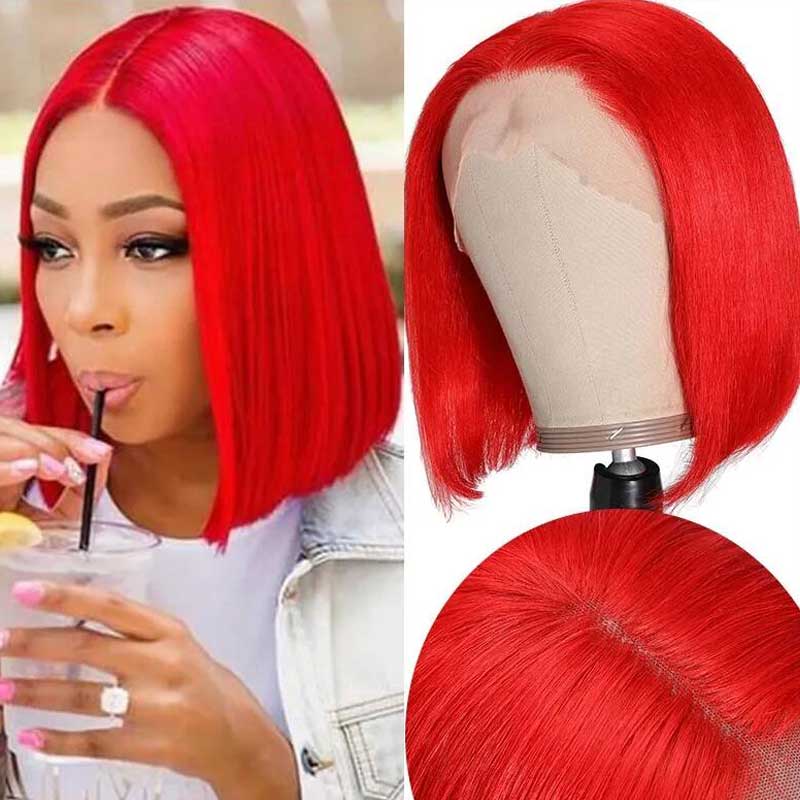 Is a red bob wig easy to find a match clothes
People may be afraid of the red hair color is not easy to find clothing to match, it is totally wrong, no matter which hair color you have, there should be proper clothing match with it. Take the Barbie pink as an example, no one thinks it is suitable for black women, but when they use the pink clothes, pink accessories, and pink lipsticks. It is very effective for anyone who likes it. Don't hesitate to buy a red bob wig, you will find it can match most of your clothes.