Real U Part Wig Customer Reviews From Julia Hair
Jul.30,2020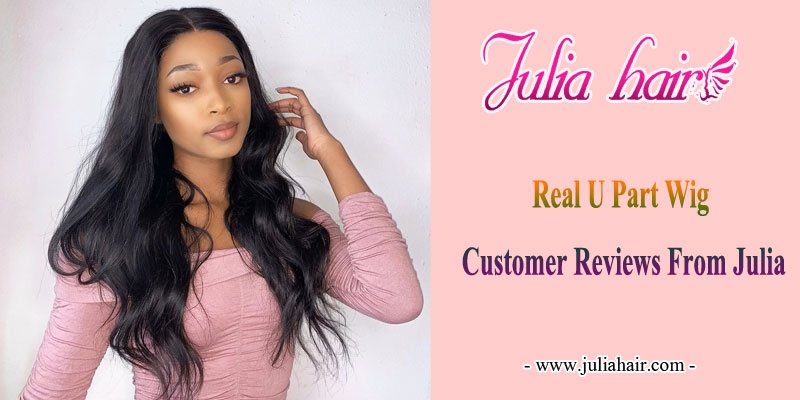 U part wig as a new fashion trend hair product in Julia hair, how was that? does U part human hair wig is suitable for customer requirements? Let us see what does Julia hair customers say about U part wig human hair wigs for black women.

J*****ny
Natural look
By on May 29, 2020 Verified Purchase
This u shape wig is 14 inch I order and was true to length. The hair color was natural black but appearance is more of a brown reddish tint. I dyed to a natural black and the color took well. The cap size was a little big for my head, once the straps were cut but was able to add additional clips for a snug fit. The wig was a prefect blend to my natural hair and undetectable. There was minimal shedding from the multiple co-washing. I would definitely recommend the wig.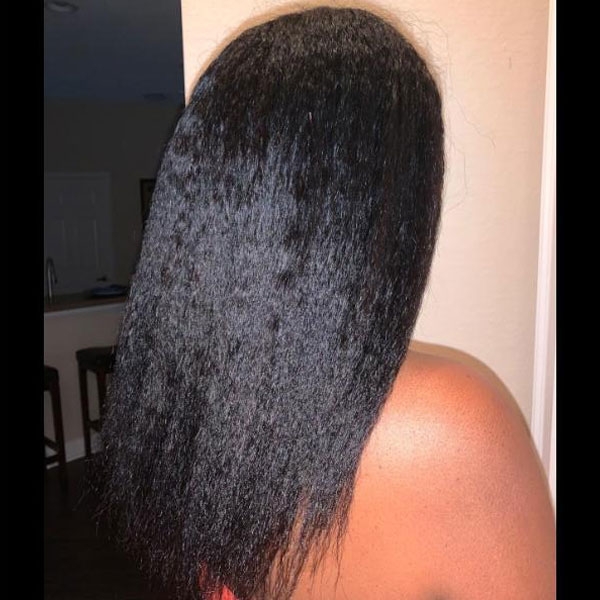 June
Great quality hair -u part wig kinky straight
Reviewed by in the United States on July 21, 2020 Verified Purchase
At first, the shipping was super quick from US warehouse. Hair came in a nice package. I've been purchasing hair for many times and I have to admit this is very good quality. It is kinky straight U part human hair wig so it was exactly same texture as my kinky hair when I flat my hair.
The u part wig comes with 6 clips unlike others companies that only has a small comb. Their clips is small and strong, hair will stable on head!!! I got the 12 inches and it's right below my shoulders, true to length. The hair is real hair and soft and I used a wand to give it some beach curls. Hair smells nice. I've ordered from other places before and they always have odd smell that never 100% goes away, so I'm happy about that. Hair is bouncy and shiny but not fake shiny if you know what I mean. Their customer service is top notch!! They answered my questions very fast. Overall the hair is great quality, exactly as described , fast shipping and great for the value. I found my new hair Company that I will continue to purchase from.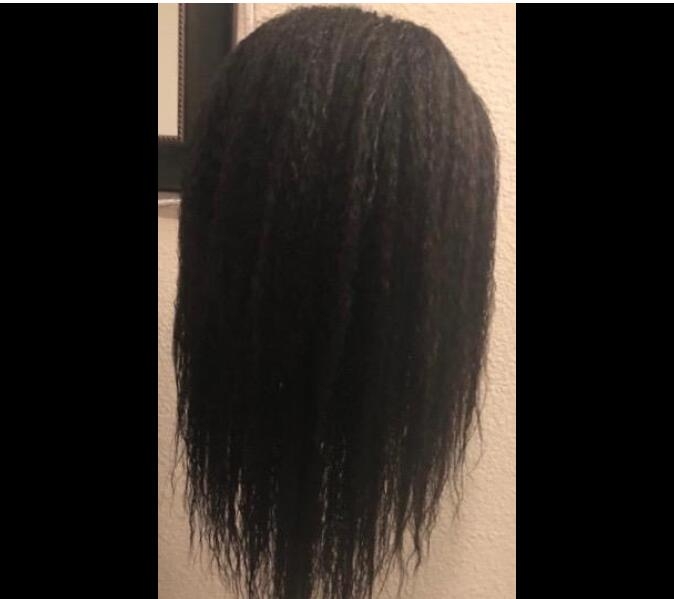 Olufunto
This U-part wig is GREAT!
Reviewed in the United States on July 15, 2020
Size: 14 Inch Color : Kinky Straight Verified Purchase
So, a friend of mine bought this wig and I loved it on her. I immediately sought to buy mine. Initially, I was concerned about the shipping; so, I emailed the seller and I was assured "I would get it FAST". I got it like 3-4 working days after. Which is one of the reasons I am giving this 5-star. I like the U-part which is very convenient and very adequate for protective style purposes. The hair is also very soft and combs easily. I intend to dye it and see how it is afterwards... hopefully, it retains its beauty. So far; I'm loving this hair and I'll update more pictures after the dye!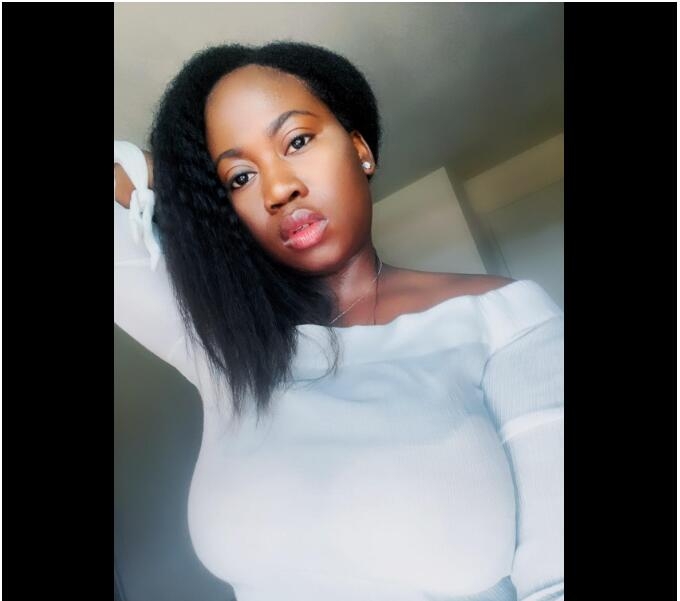 NaturalistaB
Definitely worth the money
Reviewed in the United States on July 14, 2020
Size: 12 Inch Color: Kinky Straight Verified Purchase
Trial and error always make for good learning. The only thing I have to say is, the wig was closer to a brown/reddish tint. I ended up getting a dark brown rinse and dyeing it, so it would be a natural black, and it blended perfectly with my hair(I usually get color 2 for any hair). After washing, I let it air dry in my tub, and the fluffiness of the hair is great. If you want it to blend well with natural hair, I recommend NOT putting any product on in, because it makes it silky/stringy. To flexirod set, I just lightly spritz water, and rolled. Curls seem to set very easily and quickly in this hair. I had the rods in maybe 20min, and said "nah, I'll just use a wand curler", but the wig was already curled, and they are still in 2 days later. I am personally a 4b/4c texture. This blends well after I blow out my own section of hair. As far as shedding, I haven't experienced any. I have to say, the quality is actually very good, for the price. I plan on ordering again in a longer length.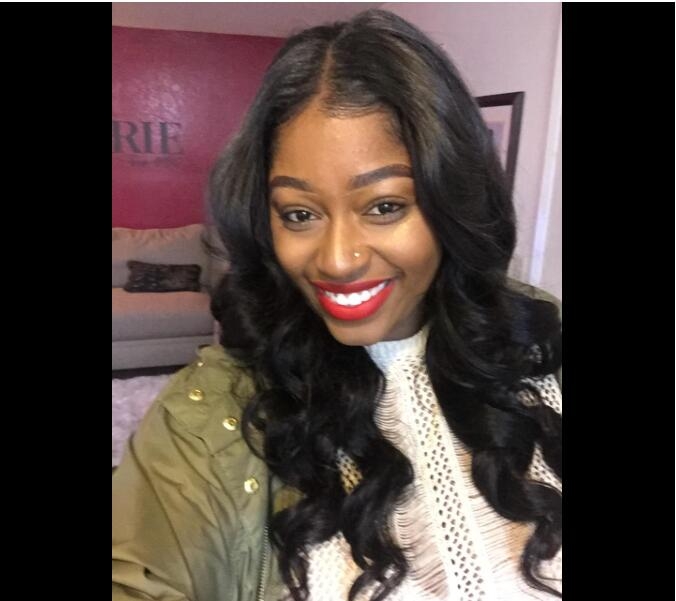 Nick
5.0 out of 5 stars Extremely Impressed
Reviewed in the United States on June 15, 2020
Size: 18 Inch Color: 180% Density Verified Purchase
I NEVER buy cheap hair online, but I did for a quick last minute affair and I absolutely love this HAIR! I was sceptical about making the purchase because it was titled "cheap". However the quality of this hair is far from that. It was very soft, no crazy smell, no shedding and the curl pattern was perfect. I was even able to dye the hair and it didn't tangle once during the process or after. Neither did it shed during the dying or after. The seller is also very responsive if you have any questions or concerns about the product. They even gave me tips on dying the hair because I didn't think dying was an option because it was labeled "cheap" but they reassured me this hair could be dyed and it worked! I'll be purchasing from them again and my best friend is also making her purchase as well.

Keosha
5.0 out of 5 stars LOVE IT
Reviewed in the United States on January 21, 2020
Size: 20 Inch Color: 180% Density Verified Purchase
I absolutely love this u part wig! It blends with my own hair perfectly and looks VERY natural! What I love most is Every strand is true to its length! I strongly dislike when other sellers are cheap and mix short strands with long to make more profit! Not Julia hair! Every strand is it's proper length! THANK YOU!!! I was a bit nervous at first but as soon as I brushed it the fullness and length came through. I will eventually order a shorter one to make a bob with! Thanks again for such a quality product!!!! (It's longer than it looks in the picture. Most of the hair is behind my back
So many customers are satisfy about this u part wig human hair, we can't list all here, but we will keep concern and update.

The features of human hair u part wig
1. Flexible: u part wig doesn't need glue, so it is more healthy. With the clips u part wig, you can change your hairstyle frequently and quickly with in several minutes. U part wig is a perfect hair wig for any one who want to get human hair extensions.
2. Wash and condition easily: human hair U part wig give you an chance to take care of your own hair. You can also make the proper wash and hair conditioner as your own hair easily.
3. Avoid hair loss: there is no sewing needed! Just clip the wig on your own hair with the leave out, there is no damage to your own hair, so the hair can avoid shedding.
4. Add hair volume: you can use it to add your hair which make your hair looks fuller, thicker, and glossier.
5. The hair is real human hair, you can dye and curled it.
Tips for wearing a u part wig
1. Leave more hair on the top of your head
2. Middle part fringe is better for middle part style
3. You hair leave out should be longer than 12 inch to cover the u part wig.
Choose this U part wigs, then you will lover it completely.
Back to school sale will start from Aug. 3rd, Up to 50% off for U part wig.
50% Off for U part wig
45% off for 7A human hair closure weave
35% Off for New in hair products
22% Off for hot selling hair weaves
Welcome to Julia hair on back to school sale from Aug.3rd to Aug.16th.