Buy Now Pay Later With ZIP Pay Quadpay And Paypal In Julia Hair
Feb.04,2021
Are you worried about the payment for your favorite things? Do you want the afterpay hair bundles and afterpay wigs? It is easy to deal with ZIP Pay Quadpay. Buy now, pay later! Even if you don't have enough money, you can buy the thing with installments payment for 4 periods. By ZIP Pay Quadpay, you have no load on shopping Julia Hair zip pay wigs and hair extensions!
1. What is ZIP Pay?
Zip Pay is an interest-free payment solution provided by Zip Co and it is a fast and easy credit solution. With Zip Pay, you can make purchases from $350 to $1,500 and pay later in regular interest-free installments, with no credit cards required. It's by far the most flexible solution because you can shop and receive your goodies without a deposit.
Their payment plans are flexible, allowing you to pay off your loan weekly, fortnightly or monthly, with a minimum monthly payment of $40. A $6 monthly fee will apply on outstanding payments after the 60-day fee-free period.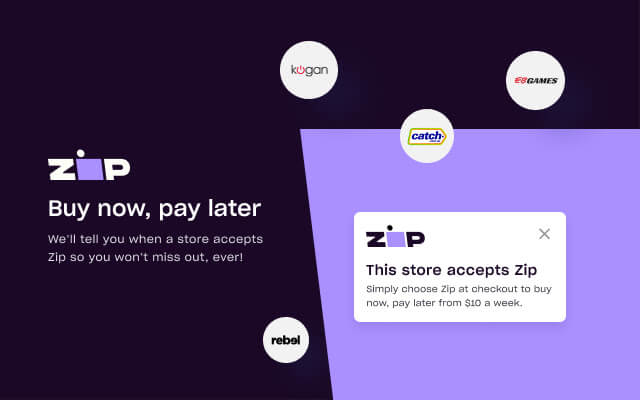 2. Some Features oF ZIP Pay
100% interest-free repayments. Zip Pay doesn't charge any interest on your outstanding balance.
1)Low (and avoidable) Fees.
The $6 monthly fee applies only at the end of the following month from the date of your purchase. To avoid this fee, simply pay your purchase back in full before this date. A late fee of $5 applies if you do not make your minimum repayment within 21 days of the due date.
2)Credit Limits.
Zip Pay offers a credit limit between $350 and $1,500. When you apply, the algorithm will approve your limit.
3)Quick and simple sign-up process.
Simply visit Zip Pay's sign-up page and use a valid Facebook or PayPal account to get set up.
4)Instant use.
Once you've completed the quick sign-up process and are approved, your Zip Pay account is immediately available to you.
5)Available at thousands of stores across Australia.
6)Very flexible repayment plans.
As long as you meet the minimum required $40 monthly repayment, you can set up repayments as you like. You can choose to pay off your loan weekly, fortnightly or monthly for any amount you choose.
7)Automatic deductions
You can set up a direct debit to automatically deduct repayments from your bank account or credit card according to the repayment schedule you've set up.
8)Tap & Zip
With your Zip account, you can use your phone to tap and pay for everyday expenses like petrol or groceries. This feature can be used anywhere Visa is accepted.
3. Why choose ZIP Pay Quadpay?
Generally speaking, With QuadPay, you can get your product for free and pay in installments later; Your order is divided into 4 installments and paid in 6 weeks(Order day +Second week +Fourth week+ Sixth Week). Zip Quadpay will debit your associated card and complete the payment within 6 weeks. It has no hidden costs and no extra costs.
4. How to get ZIP Pay Quadpay?
4.1 Live in the US.
4.2 Be at least 18 years old.
4.3 Have a valid and verifiable mobile number.
4.4 Use a US credit or debit card to make a purchase.
5. How to use ZIP Pay Quadpay in JuliaHair?
A: Look up the Julia Hair store you would like to transact at or enter this address.
B: Enter the amount of your purchase including taxes and shipping.
C: Swipe, dip or tap your Quadpay Visa card at any store, or use it online to complete your purchase.
D: When you check out, after fill all your information, please choose ZIP Pay payment, your total amount will be divided into 4 periods automatically after you make the payment.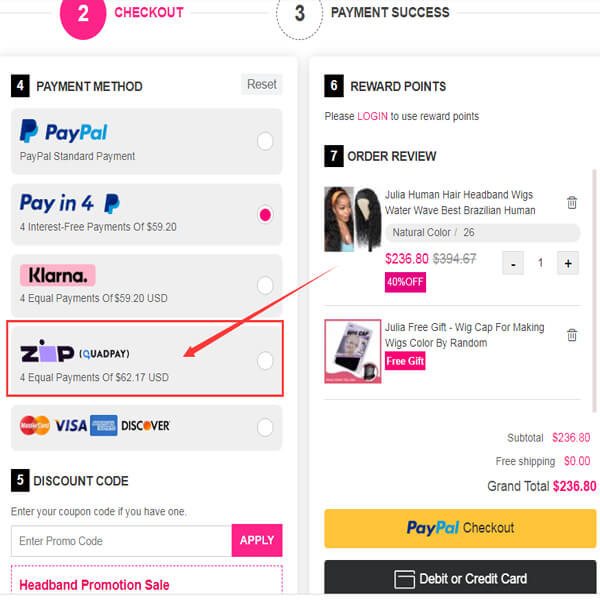 6. How safe is Zip Pay?
Zip Pay uses advanced Secure Socket Layer (SSL) encryption along with two-factor authentication on all purchases to protect your personal information and transactions.
7. How do I avoid fees?
Repay your purchase within the initial period (up to 60 days) to avoid the $6 monthly fee.
8. Is there any other charge for using Zip Quadpay Checkout?
No, only the minimum installment fee for 4 installments:
Interest-fee=[Order x(1+4%)+0.3]/4
For example: If your order is $65.5, you will pay for every installment : (65.5x1.04+0.3)/4= $17.105
But it will be a late fee if it is overdue. In order to meet the requirements of all States, Zip Quadpay updated its late payment policy. Therefore, if your order is delayed, you may have to pay an initial late fee of $5--$10, depending on your state. See details here: late payment fee.