Pink Hair And Pink Christmas Tree Go Better Together!
Dec.09,2022
Recently, pink Christmas trees have become a major topic of conversation in the world of Christmas tree trends. Once considered a bit tacky, pink quickly becomes a hot color for decorating rooms during the holiday season. From playful pink hair color to black hair with pink highlights, to blonde hair with pink highlights, and other pink hair colors, pink hair is always on trend.
Pink Christmas Tree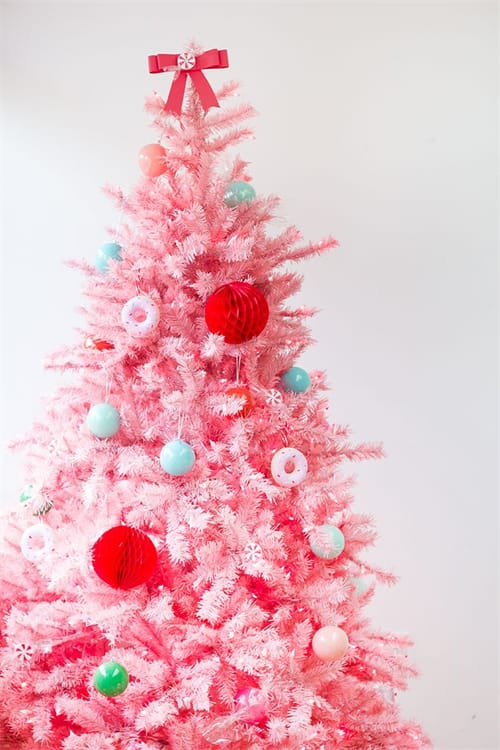 Pink Christmas trees look unusual and bright. The combination of pink colors is romantic, spectacular, and stylish. You can buy a pink Christmas tree if you like the pink trend in winter holiday decorations. In addition, you can add pink Christmas tree decorations to create a colorful display. Pink Christmas trees and pink-toned decorations romanticize your home and add a bold look to your winter holiday decorations.
The pink palette brings gorgeous hues, including beautiful, gentle, and bright colors. Pastels, pastel shades, and warm pinks complement whites, blacks, creams, and all light and dark purples. The pink Christmas tree decorations contrast beautifully with the silver and gold accents.
Blue and green are the perfect partners for pink Christmas decorations. Soft pinks give a gentle touch and a gorgeous Christmas color for vintage decorations. Bright and warm pink tones bring energy and excitement to a room.
Now that you've got your pink Christmas tree created, pick a pink hairstyle to blend in better with this pink home!
Hot Pink Hair
1. Hint of Pink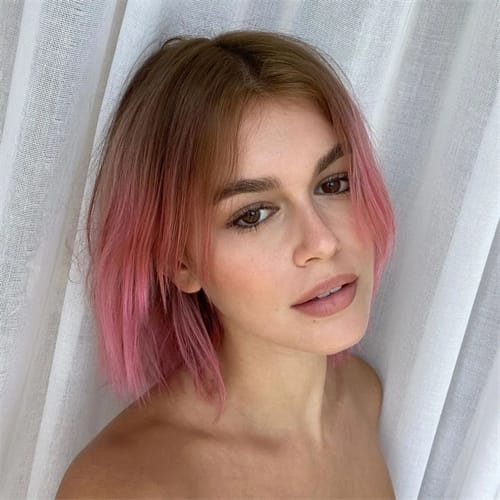 A chic gradient color look, so the hair fades nicely. This hair is perfect for everyday dressing. It's a great choice for beginners who are ready to try pink for the first time.
2. My Little Pony Pink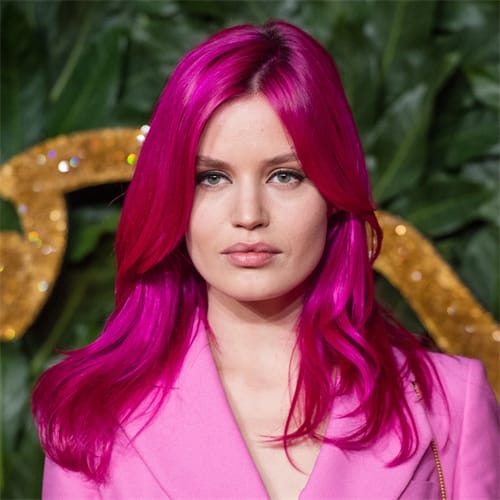 Georgia May Jagger walked the red carpet at the 2018 Fashion Awards in London, rocking this super bright magenta hue. The rich color is slightly on the purple side but still very bold and bright pink. It's a welcome color for the usually dreary winter months.
3. Intense Pastel Pink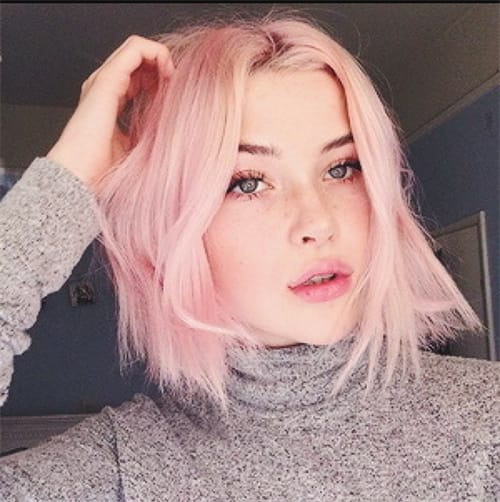 This is a pretty soft pink look. Even though this shade is very light, it will not fade. The color is strong and bright, yet soft at the same time. The shade also gives an overall look and a very layered feel.
4. Pink Ombre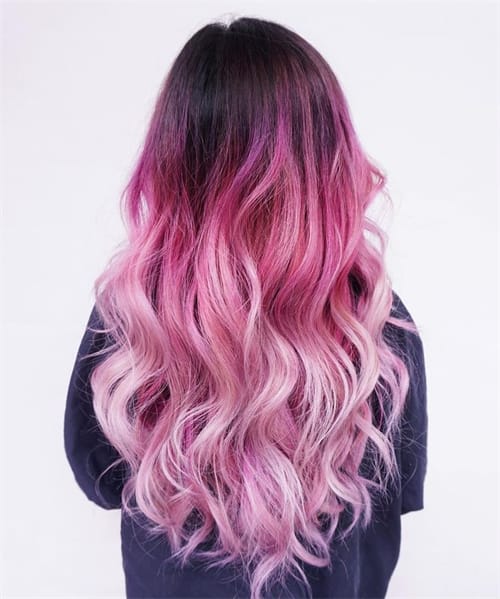 You don't have to bleach your head to get the pink look. You only need to dye the bottom half of your hair to look beautiful. You can achieve a similar effect by adding pink hair extensions if you have shorter hair.
5. Faded Rose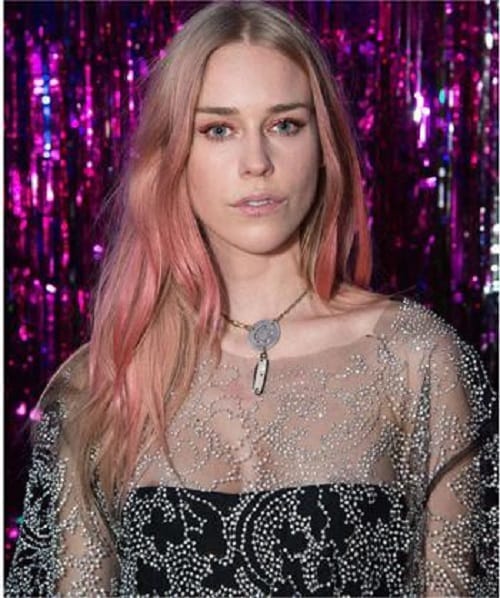 This is a way to turn pink and make it look effortless and comfortable. As British singer Mary Charteris did here, avoid adding pink to your roots and ends. The faded rose dye creates an almost tie-dye effect that fascinates us.
6. Pink Hair With Dark Roots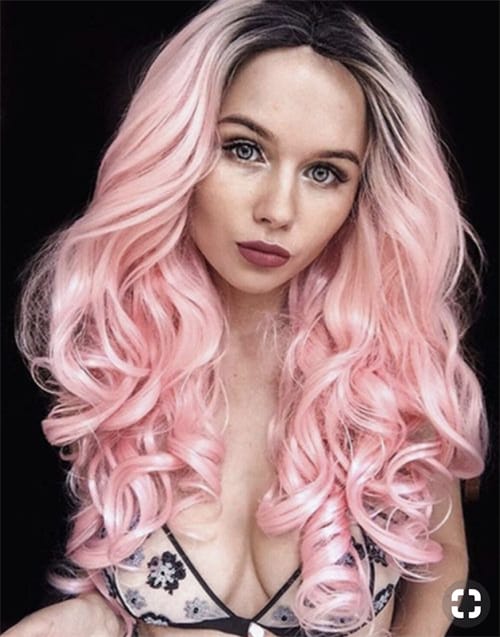 Use dark roots to create a gorgeous black and pink gradient. The best thing about this particular dye job is that you don't have to worry about coloring your hair as often. It's easy, and the new growth of black hair won't stand out.
7. Icy Pink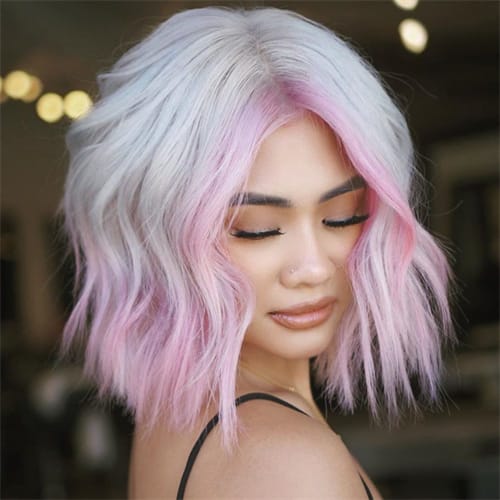 The combination of Icy Blonde and pink, two cool tones, is perfect for this cold Christmas season. A light layer of pink shakes above the icy blonde tones and almost sparkles in the light.
8. Pink Lemonade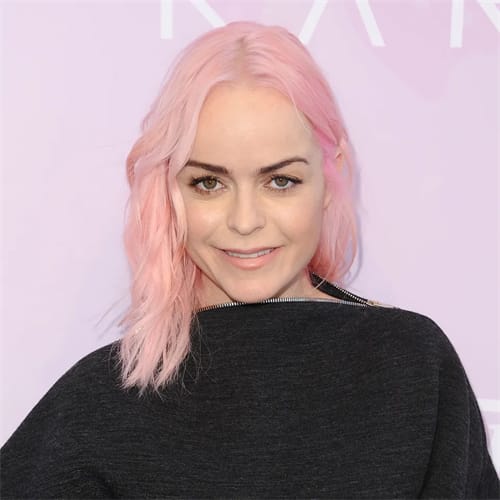 If you favor the lighter shades of the rose gold spectrum, this is the hair color for you. The golden undertones make this color shine, giving a shimmering effect to the highlighted pieces.
How To Maintain Pink Hair?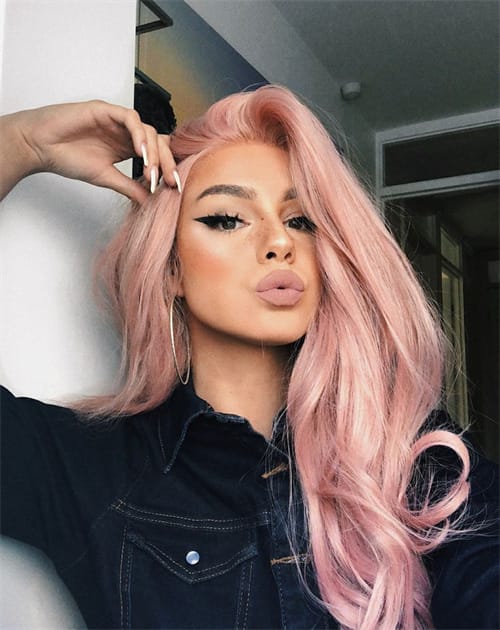 1. Maintain Healthy Hair
If by chance you haven't turned pink yet, you need to take good care of your hair. Hair with less porosity retains its color longer, so keep it strong and well-hydrated for a few weeks before the pink hair transformation. To do this, you can use nourishing hair products to treat your strands with nourishing treatments to add nutrients.
Purchase a non-toxic, salon-quality shampoo and a range of conditioners: a regular, a deep conditioning mask, and a mask mixed with a household pink dye.
2. Turn Down The Temperature
Too much heat can distort the color of your hair. No matter what color you prefer. Limiting the use of heating tools will help you avoid color fading for longer, but this is not always possible. So, make sure you use a heat spray on those days when you curl or straighten your hair.
3. Maintain Color Regularly
Keep in touch with your hair stylist to regularly fix areas where the color is not working properly. For long-lasting results, go back every six to eight weeks (or as needed) for root touch-ups, color tones, and trims.
Conclusion
Pink hair and pink Christmas trees are a perfect match that will have your guests marveling at your sophistication. Pink hair is also a hairstyle that we can have in our daily life. If you have a favorite pink hair, feel free to share it with everyone!
If you want to dye your favorite pink color as you like, you can choose 613 blonde human hair. It doesn't need bleaching and the human hair wig is of high quality.