New In Highlight Lace Wig
Apr.20,2020
Do you want to let your hair has some color that makes your hairstyle different? julia hair now has a new in highlighted lace wig, very soft and bouncy, do you want to know more about it, let us introduce it for you.
The highlighted wig is a new product in Julia hair which is a new hair fashion trend in the hair market, it gets more and more attention. We have three types of highlight straight hair wig, short bob ombre wig, highlight ombre long straight wig, and blonde & black straight wave human hair wig.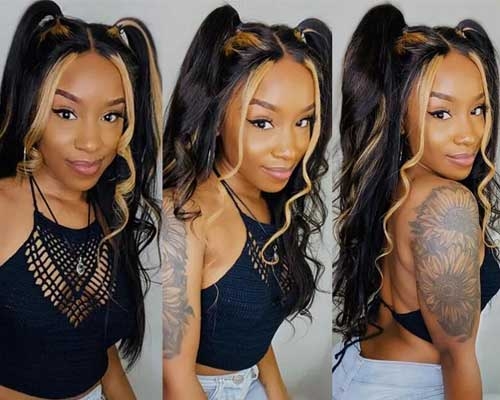 Let us talk about

the features of the highlight lace wig

:
1. Pre-plucked natural hairline. The forehead of the wig is pre-plucked, so it is easy to trim the hair as natural as the real human hair.
2. It is lace front wig, the lace is transparent, invisible and undetectable. You can bleach the knots, no fake scalp needed. This type of hair material is comfortable and breathable.
3. The wig cap can be adjustable. There is a strap on the backside of the wig, you can adjust the size to fit your head. The band we used is elastic, the average size between 54cm to 58cm. If you have a special size on hair wig, you can contact our customer service before you place an order.
4. There are 4 clips on the side of the wig cap. You can make your wig install on your head stable. Don't be afraid the wig slide off.
5. Different hair density. 130%, 150%, and 180% hair density available. Different hair density meets different people's requirements. If you want to have a thick hair wig, you can choose 180% hair density.
6. The lace size on the forehead of the wig cap is different. There are 4x4 inch, 13x4 inch, and 13x6 inch. 13x6 inch hair is suitable for the deep hairline which is more natural.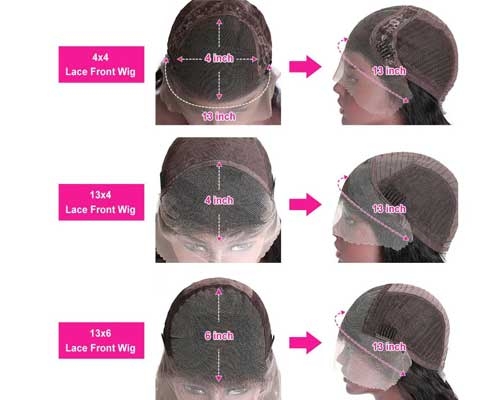 7. Highlight lace wig uses real 100 human hair without any chemical and processing. The hair can be dyed, curled, and straighten. The hair wig is very as natural as your own hair grows from your scalp.
How to use your highlight lace wig?
Step 1 Make sure your skin doesn't allergic.
Different people have different skin quality, some people's skin is easily allergic. So making a test first is very important. If your skin becomes irritated, purchase a hypoallergenic wig tape or adhesive to use instead. It is good if your skin is unaffected, you can wear the wig safely.
Step 2 Make your own hair as flat as possible.
If your hair is short, it can be easily braided flat. But if your own hair is long and thick, you had better braid a straight back braid pattern. The purpose of braiding your hair tight and flat, the flatter your hair is against your head, the better the wig will look. When you secure your braids which go past your neck sew each on upward and attach it the braid on your scalp. This step is very important for you to apply a natural lace front wig correctly. If the braid doesn't flat, it will let your wig like a cap on your head.
Step 3 Put on the wig on your head.
A wig cap that flatten on your hair and made your wig stable. Put on the cap gently and adjust the position to make it cover your hairline completely. If you have little to no hair, you can skip this step. What we did to make sure the wig didn't slide around your head. Even the hair around the back neck, you should make sure it covered in the cap which won't let your hair mess. Adjust the position of the wig, make sure in the right position. Then you can decorate it.
Step 4 Apply the adhesive or gel on the lace forehead to make sure the wig fix well.
Apply some got2be gel on your forehead after you fix your highlight lace front wig well. When the adhesive dries, you can trim the extra lace along your hairline. Make sure your wig cap hold on your head strongly, or it will slide. Please be careful and don't hurt yourself. If the lace of wig that you purchase is short, it is not necessary for you to trim it. This is the general step for most wearing a wig, you can decide according to your own situation.
Step 5 comb highlight lace wig gently and style your wig.
Please use a wide-tooth comb to avoid the hair tangle and shedding. Because the hair we use is 100 human hair, so you can use hot styling tools to make a hairstyle you like.
If you want to remove off your wig, how to remove it, let's see.
1. Prepare some solvent or alcohol, apply it to the front and back.
Wait for a few minutes, then use a makeup applicator or a small brush, rub along the front and back hairline. Keep doing it until the grip of the wig lessening enough to pull it off your skin.

2. If you don't use solvent, the wig won't slide. You can choose small sections of the wig to make it come up. Take care then tugging, as you don't want to tear the delicate lace. If what you did damage the lace, it is complex to repair it.

3. Tearing the wig once the glue becomes loosen, use your fingers to grab one area and pull it off. Some spots are not easy to pull off, you can add more solvent and wait a moment. After you move off the wig, remember to clean your skin.

4. Olive oil is very good for removing the gel or adhesive that left on the skin and hair. Make sure there won't have any glue left on your hair. One thing should be paid attention: slowly and gently, don't do any harm to your wig, so you can use it next time. If you are a green hand, please make sure you can do it well, or you can come to the salon to make a good hairstyle.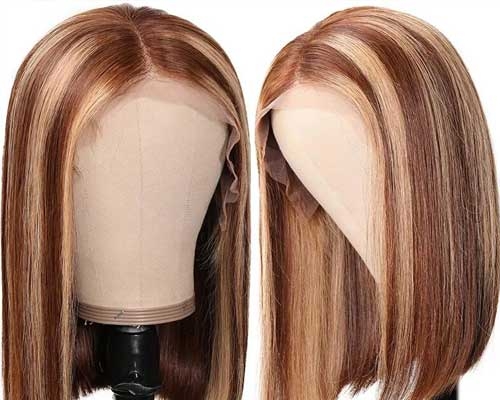 New in a highlight lace wig is a good choice for you to change your hair color. Please hurry on our Easter sale, you can enjoy up to 20% discount without any coupon code, Come on and shop!