Money Piece Hair - The Hottest Hairstyle Trend In 2023
Check What Customers Are Discussing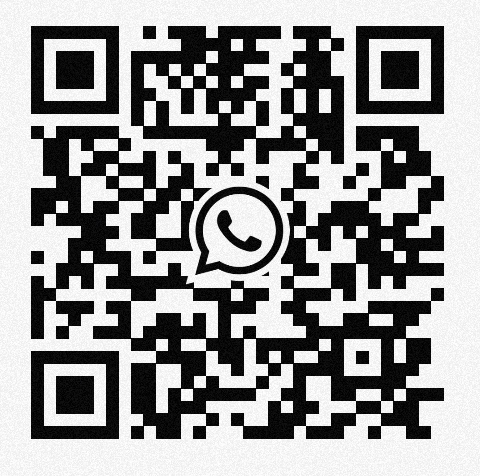 Scan The QR Code
Mar.09,2023
In the summer of 2022, a new hairstyle trend broke the internet: money piece hair, and this hairstyle is still popular in 2023.
1. What Is A Money Piece Hair?
Money piece highlights are a modern version of face-framing highlights that can be seen everywhere in the 1990s.It is also called highlights hair or balayage hair.
The facial contour is high, the front hair color is light, and the two hair colors are prominent and layered.
This hairstyle has risen from the depths of Instagram in many trends inspired by retro culture as more and more online celebrities and Hollywood stars adopt it.
2. Why Is It Called Money Piece Hair?
Money piece got its name because it is well known that this technology can make your hair look more expensive.
3. How to make Money Piece hair?
The First Method:
go to the hair salon and choose your favorite money piece color, and let a professional hair stylist help you finish it.
The Second Method:
buy two different hair dyes and put them on yourself to make money piece.
The Third Method:
buy money piece color hair directly, just install the wig according to the steps.
4. Money Piece Hair Ideas
If you have dark brown hair, try to sweeten it with caramel coins. Earthy tones' combination is low-key and exquisite, and the lightness of caramel coins will form a just right contrast with the coffee line. This is the perfect combination for testing brown hair with coins.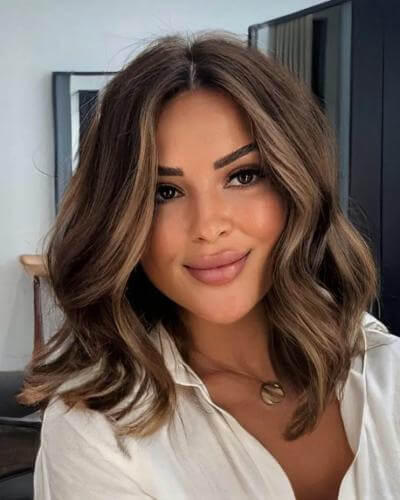 If your hair is warm cream blonde, adding a platinum blonde will bring more luster to your face. In addition, adding platinum tones to your already blonde hair will make your hair look multi-dimensional.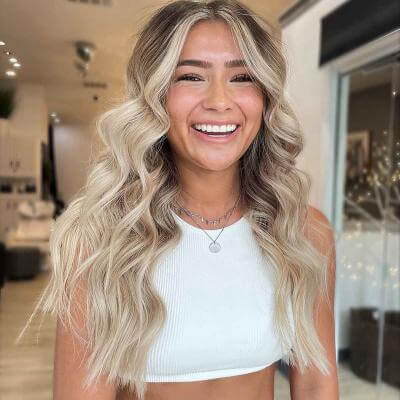 If you have black hair and hesitate to change it to dark hair drastically, then choosing green coins is a good way to immerse yourself in the world of hair color. The combination of green highlights and black hair can add a unique touch to your hairstyle.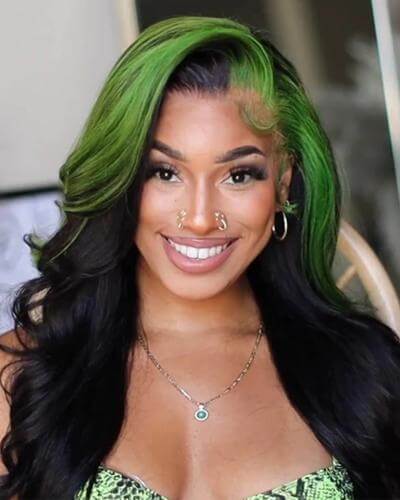 If you have platinum hair, you will have an excellent opportunity to be creative with your coins, because your hair does not need further bleaching. Pink is a popular color, mainly based on it, and green and brown can be added to make bold innovations.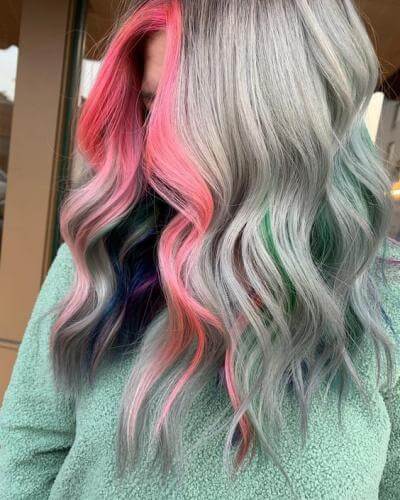 If you have red and brown hair, it is recommended to match it with yellow color. These two fantastic hair colors can be said to be very eye-catching to create your gold coin shape.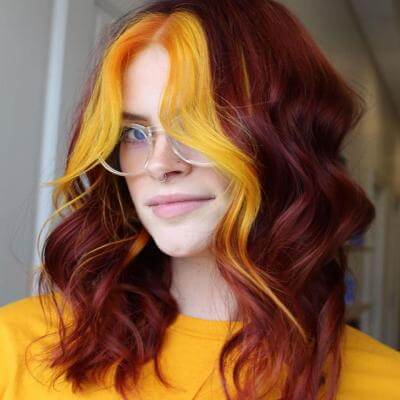 5. The Characteristics Of Money Piece Hair
It can be seamless, and natural and emit a special "sunshine kiss" light.
It can be subtle or intense. Can help adjust the width and position of other balayage highlights.
It can be beach, residential, or four-dimensional.
Colors can be silver gold, gold gold, copper, chocolate brown, and every hue in the spectrum.
It is suitable for a variety of hairstyles-pendants, bob, thick hair, curtains and bangs, long, medium, or short!
6. Make Tips on the highlights of money Piece
1)Attention to detail.
It's important to start small when you try to brighten your hair with money chips. You don't want to paint your hair too much at once. Make sure to highlight only a few parts of your hair at a time.
2). Maintain cleanliness.
Dirty hair will make the color fade faster. When highlighting your hair, try to avoid tying it into a messy bun, braid, or ponytail.
3). Oil maintenance
Try to reshape your hair with oil before you wash the highlighter from your hair. This will help prevent the hair color from fading and make the highlighting process easier.
4) Always design your highlights.
If you keep your hair loose and uncertain, the color will not get the oxygen it needs to keep it fresh.
7. FAQ
1)Can I get Money Piece Highlights through hair bundles?
Sure! In this case, the best choice is to arrange the natural hair and then match the extension with the new hairstyle. Money piece hair can be well matched with mixed tones and balayage tones.
2)How about money chips with bangs?
Not limited to your original shape, but also bangs money tablets can help you highlight the contour of your face.