Machine-Made Hair Wig And Lace Wig, Which Is Better?
Jul.28,2020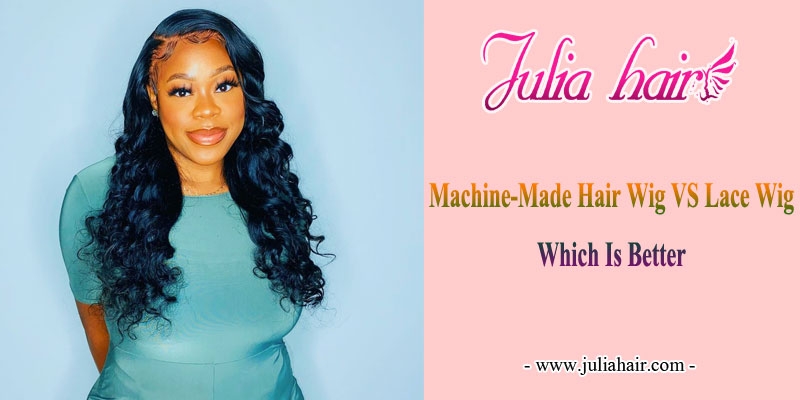 Human hair wigs have main two types: machine-made hair wig and lace wigs. Lace wigs have machine-made and hand-tied lace front wigs, the others are full lace wig. Machine-made human hair wig and human hair lace wig, which is better, how do I choose, today, we will share with you the truth about them.
What is machine-made hair wig
Machine-made hair wig means the wigs made by machine with the sew in hair. Customers purchase real human hair bundles or hair weft, then they sewed these bundles on the wig cap along with the hair tracks.
The processing time is short than other lace wigs. The hair master used machine to complete a wig by double machine weft which can avoid hair shedding.
The shortage of these non-lace wigs are that the hair tracks may display outside if you don't handle it well. It won't as natural as the lace wigs. While the price is cheaper than lace wigs, if you want to buy a cheap human hair wigs, this wig should be the best choice. Of course, the wig cap is the common lace, even it is comfortable as the hat, it won't breathable than lace wigs.
But there is an machine made wig - u part wig, the forehead with a U shape, you can fill this part with your own hair and clip u part wig within 3 minutes. Save time, enjoy human hair, enjoy comfortable, and breathable with U part human hair wigs. No glue, no sew in, easy to handle and install.
What are lace wigs
Lace wigs general divided lace front wigs, 360 lace frontal wigs, and full lace wigs. According to the size of lace, there a 4x4 lace wigs, 5x5 lace wigs, 6x6 or 7x7 lace wigs, 13x4 lace frontal wigs, 13x6 lace frontal wigs (ear to ear frontal wigs), 360 lace wigs, and full lace wigs.
Lace front wigs are the forehead made by lace closure or closure frontal which is large than lace closure. They are also called ear to ear lace frontal wigs. People who wear this wig can part on the lace closure or lace frontal which are similar to your own head scalp.
Of course, compare with 360 wigs or full lace wigs, the price is affordable, you can get a very natural and invisible hair wig by cheap price, that's why lace frontal wigs get more and more popular in the hair market. The hair vendors search the market and produce more lace frontal wigs for black women. Julia hair as a top 10 hair vendor also offer this hair wigs.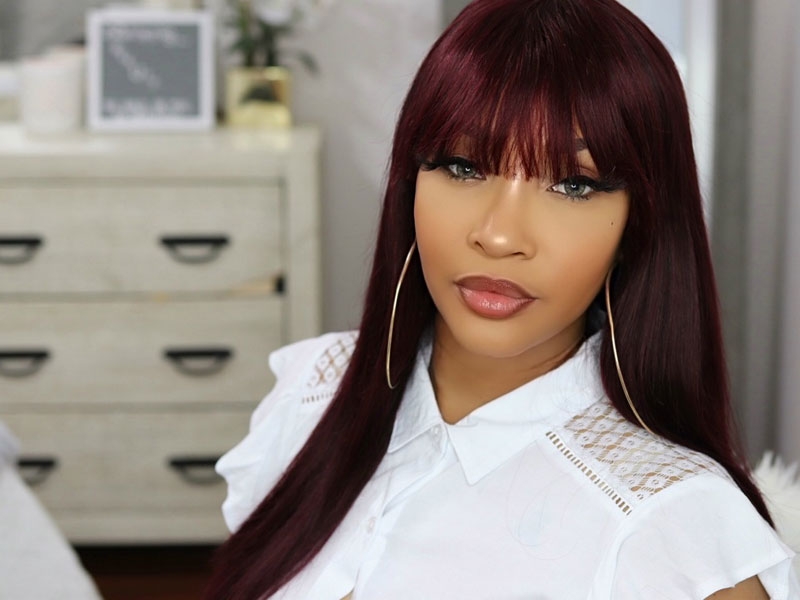 360 lace frontal wigs are the lace along with the whole head edge, you can part any side on the 360 lace frontal. Even you can buy a 360 frontal to make a bun in the summer which is cool and light.
On the back of the lace front wigs, you can't hang it up, because the cap will show out. While a 360 lace frontal wig, you can make high ponytail, bun, half-down and half up. You can make the part anywhere on the 360 lace frontal.
Full lace wigs means the whole wig was sewed on lace with hair strands. The lace is Swiss lace, it is very durable and breathable. Among all the wigs, full lace wigs cost more time (15 days around), completely hand-tied.
The hair master sewed all the hair on the lace, and there were knots on the lace. When you want to bleach the lace, please make sure use the right way, or it will damage the knots, the hair will be shedding a lot.
Full lace wigs are the most natural wig, of course, the price is highest. With proper hair care, it can be kept long and glossy.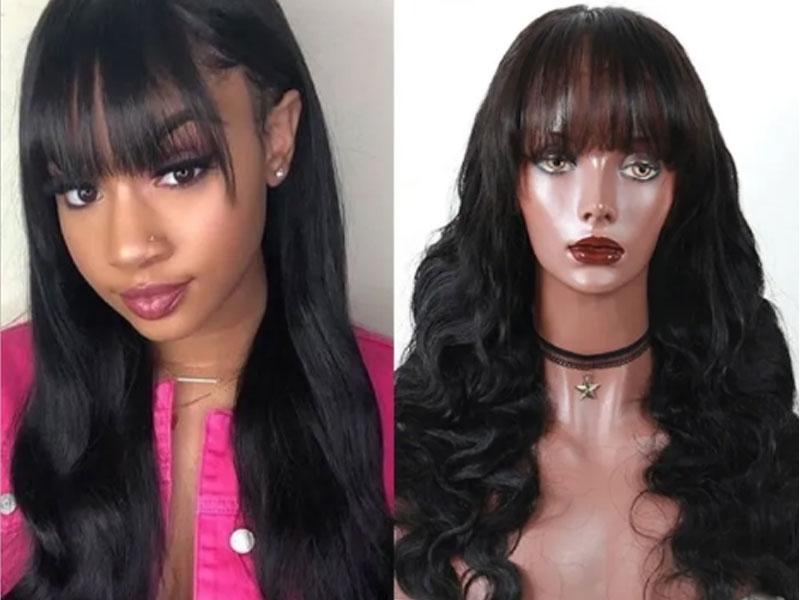 Machine-made hair wigs VS human hair lace wigs, which are better?
It depends on where you use the hair. If your requirements are not high and want to change different hairstyle in short time, you can use the same money buy more machine-made wig to change wearing by day.
If your budget is high, you can buy a full lace wig which can keep long and use more. It earned each penny you paid. No matter lace front wigs or full lace wigs, there are baby hair around, pre-plucked hairline, and glue-less, all these features make the hair wig more invisible and undetectable.
No matter machine-made hair wigs or human hair lace wigs, they are made 100 human hair without any chemical process. Compare with synthetic hair wigs, the human hair wigs are more natural, no chemical problem. Please rest assured to wear it.
What we are saying is that you can choose a fit wig according to your status. The fit wigs are better for you.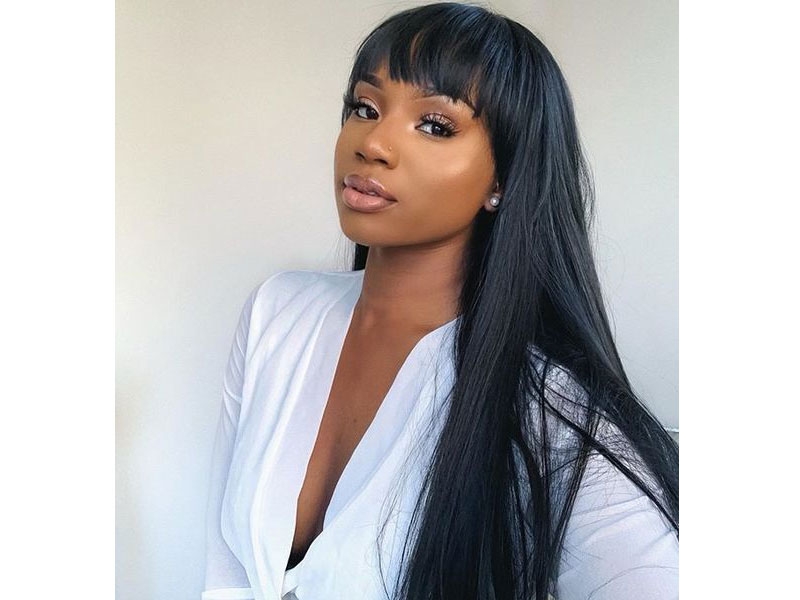 Where can I order the best machine-made hair wigs and lace wigs
All the customers who wear wigs want to buy a good and cheap wigs, but they are afraid to be cheated by the fake wigs. One more thing you should remember, the brand hair is better than there were no brand. At least, they can make sure their hair quality, sales service, and fast shipping. To keep the brand well, they need to try their best to do the work and service.
In the human hair market, you should be hear Unice hair, Alipearlhair, Klaiyihair,Beauty forever hair, Dola hair, Tinashe hair, Julia hair, and so on, they are make efforts on inspire beauty by women's wig. So if you want to buy a hair wig, please make sure purchase in a regular hair company. Don't you think so?
Julia hair offer the best machine-made human hair wigs and lace wigs, come and enjoy their big promotion at May.
Feedback From Customer Caroline A On Juliahair Lace Wig
This lace front wig can perfectly complement the skin so well. And Honey Blonde can create spring vibes.