Best Kinky Straight Hair For Sale
Dec.11,2019
There is one kind of hairstyle named kinky straight hair which is popular among African American women. They purchase kinky straight hair bundles with closure or frontal to sew in a wig or order one kinky straight hair wig directly. Where to buy best kinky straight hair is concerned by women who love beauty.
Shop best kinky straight hair for sale in Julia hair official mall get high-quality human hair wigs.
Different types of kinky straight hair
People who use hair weave through different types, some customers who want to complete a wig by themselves, choose to buy some human hair bundles with closure or frontal sew in the wig cap by hair tracks. Others like buy a kinky straight wig directly, it saves a lot of time, when you get the wig, you can install it directly. Let us talk about these two different styles of kinky straight hair in the hair market.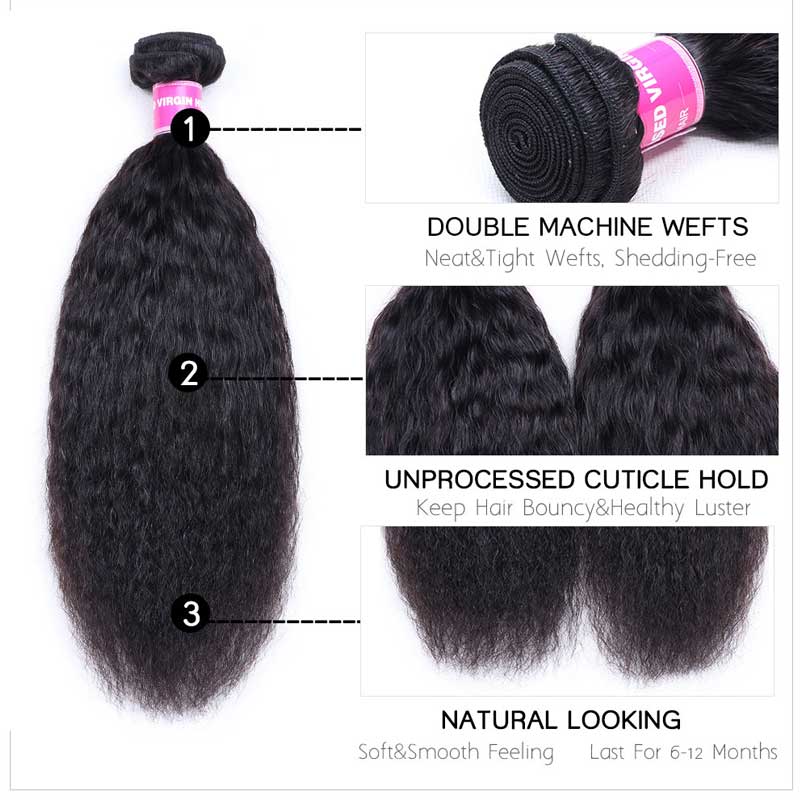 Kinky straight hair bundles, lace closure or lace frontal
Kinky straight hair bundles are the same as other human hair bundles, the hair texture is different not straight nor curly, how to say, it is a little curl on the hair, similar to African curl, but more straight and glossy. People buy some hair bundles with closure or frontal, they sew them on the wig cap prepared, then a wig is complete.
Kinky straight hair is Remy hair, 100 human hair. So you can make any hairstyle on it. If you don't like natural black, you can dye it. If you want to change another hairstyle, you can use a flat iron or other tools to make other hairstyles like a curly wave, body wave, deep wave, or straight wave as you like.
How to install kinky straight hair bundles with closure?
Preparation kinky straight hair bundles and closure, of course, if you want a deep hairline, you can also buy a frontal. We will take hair bundles with closure as an example, the rules are the same for lace frontal.
Prepare some pins, wig cap, stand-foam, needle and strands, 3 or 4 human hair bundles, a lace closure.
Put the wig cap on the stand-foam, use the pin fix the cap.
Mark hair tracks on the cap like corn.
Open the hair weft, sew in the hair extensions on the hair tracks by a needle you prepare.
Sew the hair bundles tightly with leave out. Or you can also sew the lace closure forehead first.
Comb and style your wig. When you finish sewing in a wig, please comb your hair by a wide-tooth comb. You can use some hair protection tools to make some hairstyles on your hair.
See it is easy to make a wig by kinky straight hair weave. Sure, there are many ways to sew in a wig. Please reference how to install your hair weave on the web to get more methods to build your beauty.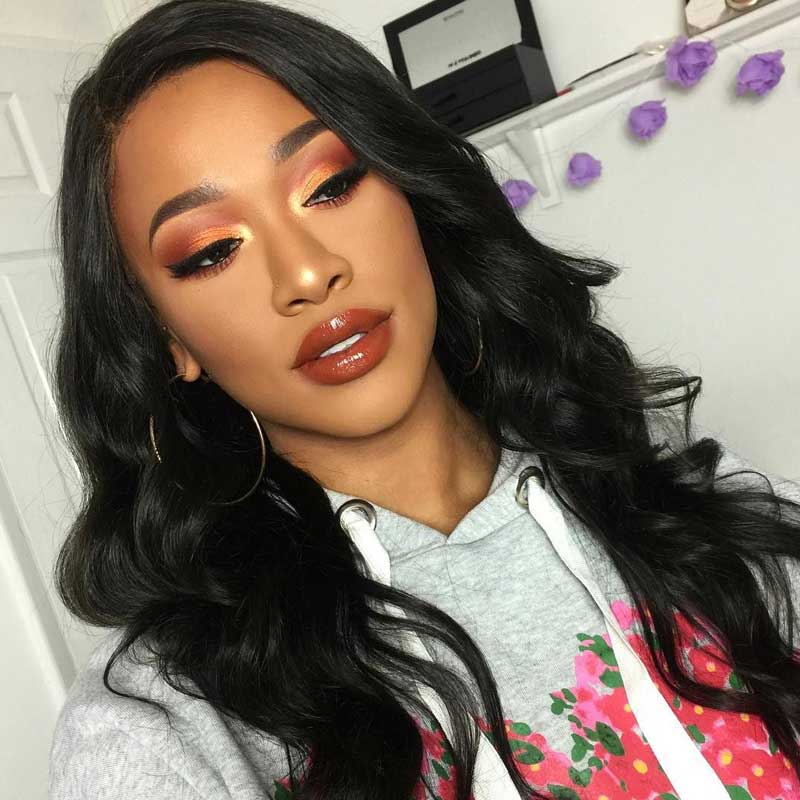 Kinky straight hair wig
A kinky staight hair wig is a wig that can be worn on your head directly, you just need to modify it. Normally there are two types of wigs in the market, human hair wigs, and synthetic wigs. Julia hair sells human hair wigs kinky straight. No doubt, the hair is real human hair with cuticle, Remy hair without chemical, no processing. So the hair can be permed, dyed, and bleached. There is a strap or hairband, you can adjust the size of your wig to fit your head.
How to put on a kinky straight hair wig?
Generally speaking, putting on a wig is almost the same, according to the different natural hair, your way is different. When you get your new wig, it has already pre-styled and practically ready to wear out of the package. With a little shake and fluff, you can install your wig in just a few minutes.
Your natural hair may be long, maybe short, maybe you won't have natural hair, the way to wear a wig is different. First thing you need to use a wig liner to help keep your wig secure. But for short natural hair, you can brush it back simply, away from your face. If you have long hair, you can pin it up by making flat pin curls out of sections of your hair. Keep the hair distributed evenly over your head to avoid bumps and bulges. Some people braid their own hair like hair tracks and flat it to make sure it doesn't mess.
After preparing your natural hair, using your hand hold the wig by the nape where the label is. Tilt your head gently forward. You can put the wig on in a front to back motion.
Adjust the position of your wig to fit your head, put the front of the wig above your eyebrows, and slip the wig on like wearing a bathing cap. Move it to the proper position on your head.
Make your wig at the center of your head, never covering your ears. When you feel comfortable, tuck in any stray hairs.
If you feel the wig tight or too loose, you can use the adjustable straps located in the back of the wig to make it fit your head.
Trim the lace forehead after you fix your kinky straight wig. Apply adhesive to make it not slip off your head. You can also cut some hair as baby hair which makes the edge natural.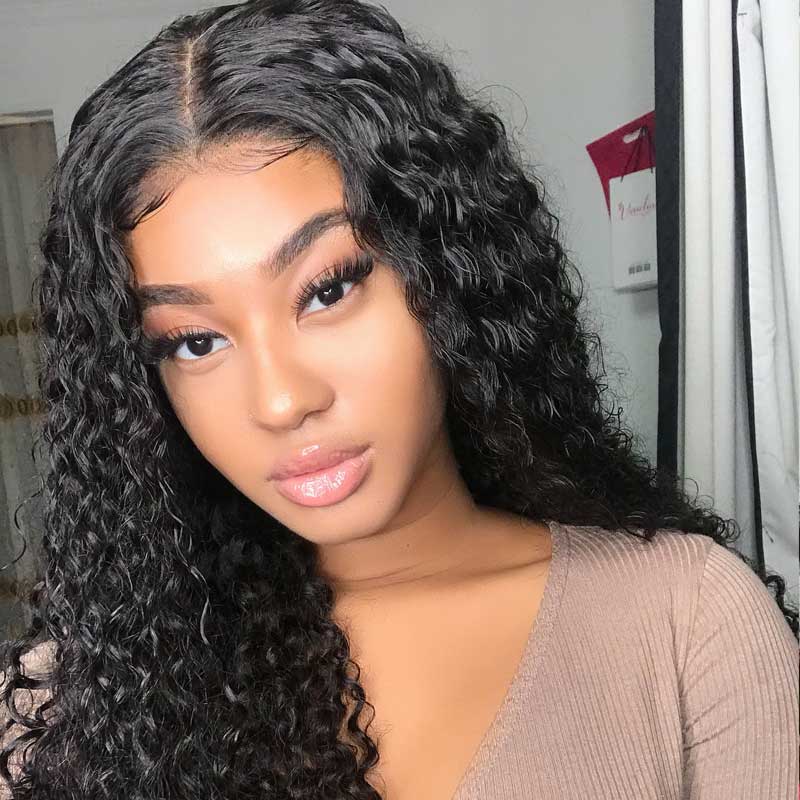 PS: if your wig is lace front wig, you will want to take extra precaution as you fit the wig on your head. A lace front wig cap is designed for off-the-face hairstyling, which often reveals the front hairline. You must pay more attention to avoid damaging the delicate, ultra-fine fabric at the front of the wig cap when putting the wig on your head.
Here is Julia hair customer how to use kinky straight hair wig, please check it as reference:
Beauties, don't you want to have a try on kinky straight hair, come and shop best kinky straight hair high-quality human hair weave, change your hairstyle with Julia hair.
If you miss the Black Friday sale, please don't worry, we have a Christmas sale with a big discount.
Order over 159$ get 5$ off with coupon code: CM5
Order over 199$ get 10$ off with coupon code: CM10
Up to 18% off for hot sale

Are you interested in using hair weave? Please come and visit Julia hair online sale, shop now!