Julia Peruvian Natural Wave Hair Bundles Tips
Sep.18,2017
As we all know, it is human nature wave that all of us should be fond of beauty. So, apart from clothing and shoes, hairstyles also play an important part in girls' life. For many, hair is even seen as a maker of health and well-being. Here, let's talk about Peruvian natural wave hair weave bundles, which is one of the most popular types of hair extensions available on the market today. What's more, it is also hot selling product in the Julia hair mall.
Julia Peruvian hair natural wave is 100% genuine human hair and easily blended with most hair textures. By the way, it is designed to accept color change. Peruvian hair natural wave is extremely exotic and it blends well with natural and relaxed hair textures. Meanwhile, it is very soft, lustrous, and carries lots of volumes, so the natural wave hair pattern can be changed easily if you want to get a new hairstyle.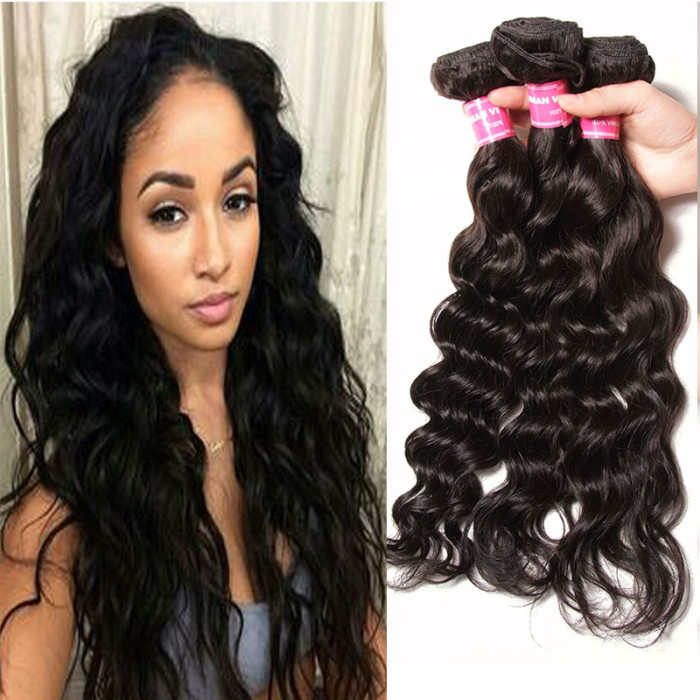 How To Wash Peruvian Natural wave hair bundles?
1.Before you wash your natural say hair, you should brush this to make sure it is free-flowing along with tangle-free.
2.Add frosty water slowly and gradually to soften the natural wave weave. When you soak your natural wavy curly hair into the water, it may lead to matting and damage your hair weft.
3.While you commence to wash it, brush that with a wide comb to make certain it tangle-free.
4.Employ good or our precise shampoo to wash your curly hair.
5.To wash your system natural wave hair weave in the top down while lightly working the shampoo in the strands.
6.Use fine conditioner to make it smooth through adding nutrition to your wavy frizzy hair.
7.To wash away typically the natural wave hair weave bundles from top to absolve and wrap it in the towel.
8.Air dry your whole Peruvian natural wave hair, never use the blower to dry the idea.
Care Tips Of Peruvian Hair Natural Wave Weave Bundles
1. Choose correct shampoo and conditioner that suits your natural wave. After washes with shampoo, you'd better put on some hair conditioner as well, and it makes your hair a lot smoother and shinier.
2. Try not wash your hair too frequently that would cause the over-drying of the scalp which in turn causes dandruff to from, and twice or three times every week is enough.
3. Wash the hair gently and don't twist the hair.
4. Let the hair air dry naturally after washing, and use a wide tooth comb and scrunch.
5. It is recommended to rinse hair with water and condition it after each workout.
6. If you have African-American hair, you should wash your hair every 7 to 14 days, and avoid using conditioners that contain alcohol.
7. Use hazel or other mild astringent to clean your scalp between washing.
8. Always blow dry hair before sleep.
Natural wave hair weave, natural wave hair closure, natural wave bundle deals are available at Julia hair mall. If you are looking for the best price with top quality virgin human hair products, customer orientated return policy, and services, free shipping, Julia Hair is the right place for you!
This entry was posted in
Hair Care
By julia hair
Comments are Closed for this post.