Julia's Headband Wigs For Sale
Aug.13,2020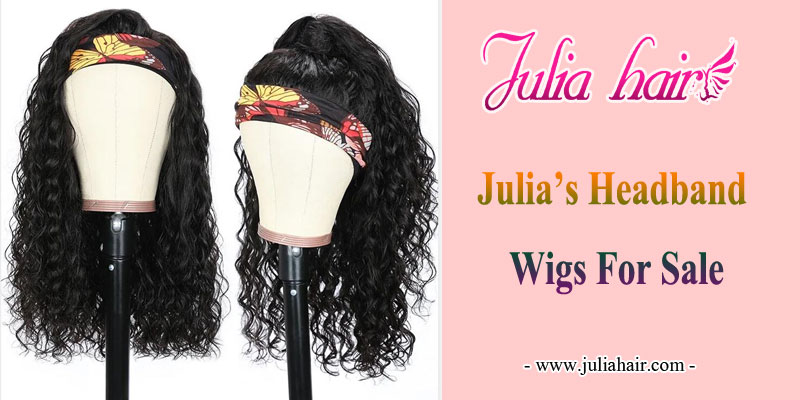 Can you image how beautiful a black women with a headband wig? Headband as a decoration on one's head is normal, for African American women, their original hair with a headband is not recommend, cause it is not pretty. While, they wear a headband wig can enhance their beauty more. People who use it will know how easy to install and modify. Today, we will share with you about Julia's new arrival wigs-headband wigs.
What is a headband wig?
A headband wig is a machine-made human hair lace wig. It looks like a cap wear on your head, to make the hairline more natural, customers can use a headband to make a hairstyle. There is no glue needed, no sew in.
Hair vendors complete the whole wig with machine by hair bundles, there are some clips in the wig cap and an adjustable band to make the wig fit for different customers. There are many headbands you can choose to be a decoration as you wish.
Recently, there is a only one kind of headband wig in julia hair, it is a water wave headband wig. You can make any hairstyles with a headband, such as a bun, up-dos, half up & half down.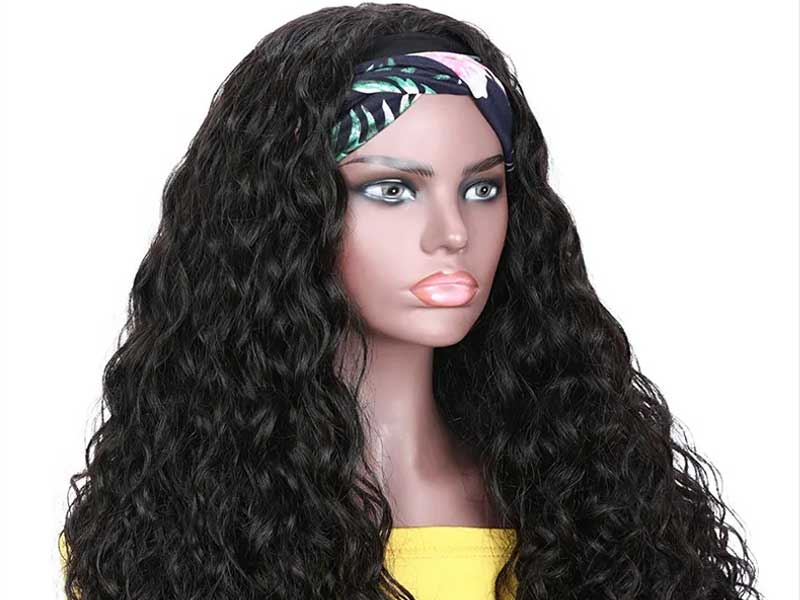 Why choose headband wigs?
1. Headband wigs made by 100 human hair in julia hair store. The real hair materials can last long and no other smell, no tangle, shedding normal. Natural color is normal kind, it can be dyed and permed at the proper way.
2. The hair wig can match with many different headband, you can choose your favorite decoration headband on your head. No doubt, it enhance your impression naturally.
3. There are clips inside. You can clip the hair wig on the braids you make for your own hair. Of course your hair braids more flat, the hair wig looks more natural. Easy to install in short minutes with these clips.
4. Elastic band can adjust the size of the wig. No matter which size of your head, you can adjust it fit your head easily.
5. Wash and maintain headband wig as your own hair, no other optional things needed. Wash it by hair shampoo, then use the olive oil to nutrition the hair to keep the hair glossy and shiny.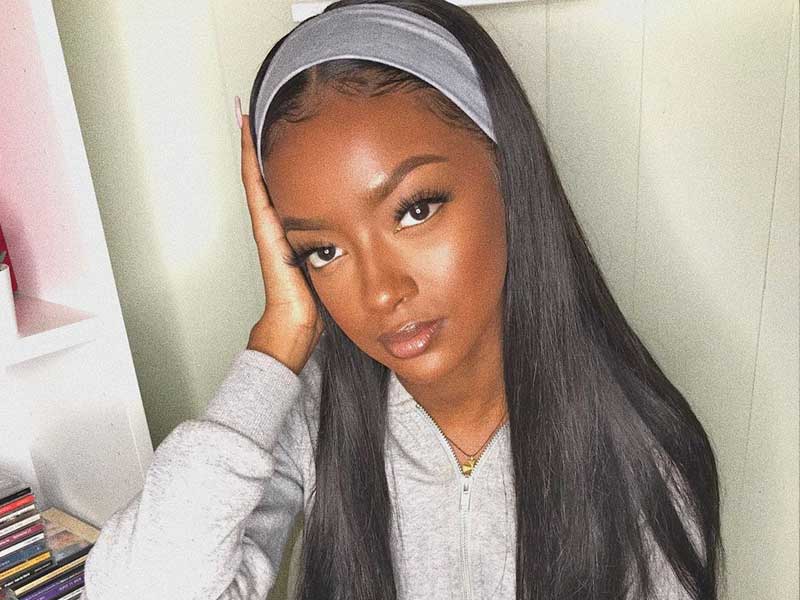 Human hair headband wigs VS synthetic hair headband wigs
In the hair market, there are 2 main hair materials, human hair and synthetic hair. For most customer who wear wigs, they would like human hair wigs. While human hair wigs are expensive the synthetic hair wigs.
Some people think that wearing a wig as a decoration, so they can buy the cheap wigs with synthetic hair, and change hairstyle when they don't want to wear it. Because the synthetic hair wigs are cheap, so they won't think about the money.
But the human hair wigs are expensive, they pay more attention about it. Human hair headband wigs are more breathable and comfortable, you can use long time with proper care. After you use it, you will know it worth all you paid for it.
If your economic status is ok for a human hair headband wig, we suggest that you can buy a human hair wig.
People wear different weave hairstyles, such as lace front wigs, full lace wigs, fake scalp wigs, transparent lace wigs, HD lace wigs, machine-made wigs, U part wigs and headband wigs.
Different people like different hairstyles, body wave, straight wave, natural wave, loose wave, deep wave, water wave, and so on. customers who want to buy a hair wig, they come to different hair vendors.
Local hair store or purchase online, these are the main ways for them to buy satisfy hair. some purchase sew in hair, some order a complete wig.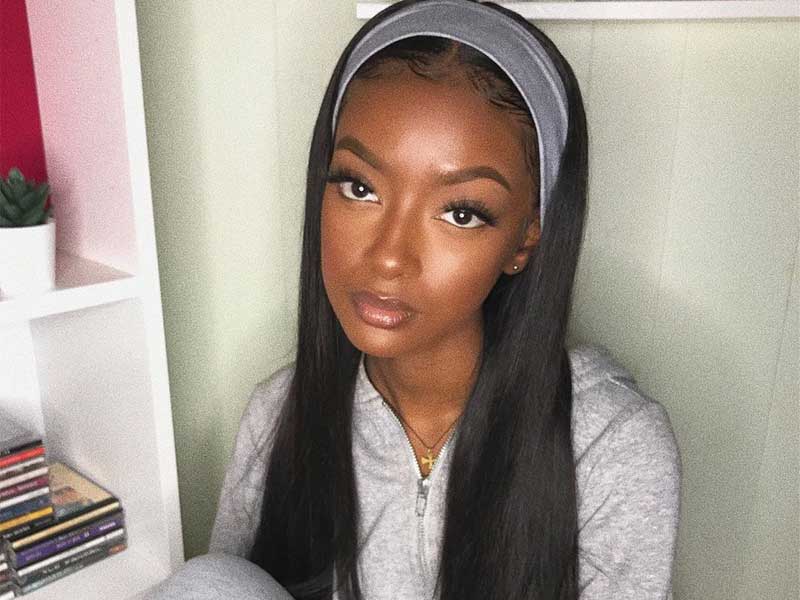 people who purchase cheap sew in hair, they make a wig by themselves after they get the hair bundles. while who buys the final wig, they just need to install the wig or go to the hair salon to wear it.
DIY a wig by human hair bundles can get the hairstyle you like, save money but cost a long time. if you buy a wig, following the right way to wear it can save a lot of time.
Some customers can install a wig by themselves easily.
Headband wigs are easy to install, no glue needed, the headband can decoration your head shape.
Julia's headband wigs are made by real human hair, no chemical, no shedding, no tangle. customers can wear it with clips and headbands. so people also call it as wigs with headbands attached.
In the hair market, there are more and more hairstyles for customers to choose, so you won't need to do any harm to your own hair, you can have fabulous hairstyles immediately.
Do you want to have a try?
Of course, for any woman, they like beauty and they want to change. some will think about the price, but Julia hair provides affordable hair products. Once you want to change, please come to Julia hair who will give you a satisfy answer.
Julia Hair Black Friday Sale 2021
Sales Time: Nov, 17th - Nov, 25th
Order Over $100, Get $10 Off, Code: Black10
Order Over $150, Get $15 Off, Code: Black15
Order Over $300, Get $30 Off, Code: Black30
Order Over $500, Get $50 Off, Code: Black50
Order Over $1000, Get $100 Off, Code: Black100
Sales Time: Nov, 26th
Order Over $79, Get $10 Off, Code: BF10
Order Over $219, Get $30 Off, Code: BF30
Order Over $369, Get $50 Off, Code: BF50
Order Over $699, Get $100 Off, Code: BF100
Order Over $1000, Get $150 Off, Code: BF150