Julia Hair Independence Day Big Sale 2021
Jun.29,2021
Independence Day (colloquially the Fourth of July or July 4) is a federal holiday in the United States. Happy Independence Day. Let's celebrate Independence Day at Julia hair mall with our biggest hair sale of the summer!
The Julia Hair Independence Day Sale is here! It's time to spice up your hair game and get ready again. Our curated selection of human hair weave, wigs, lace closure frontal, and more are on sale! Now we have a big discount for you.
Julia Hair Independence Day Big Sale Details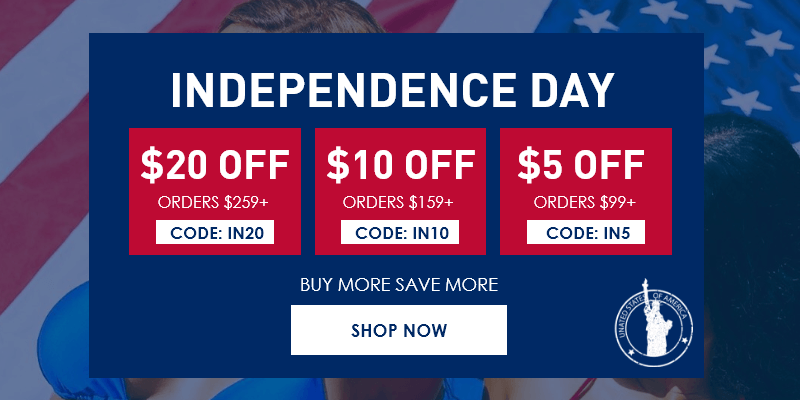 Sales Time: Jun 30th - July 6th
$20 Off Orders $259+, Coupon Code: IN20
$10 Off Orders $159+, Coupon Code: IN10
$5 Off Orders $99+, Coupon Code: IN5
Hot Selling Products At Independence Day
New In Natural Black Deep Wave Lace Front Wig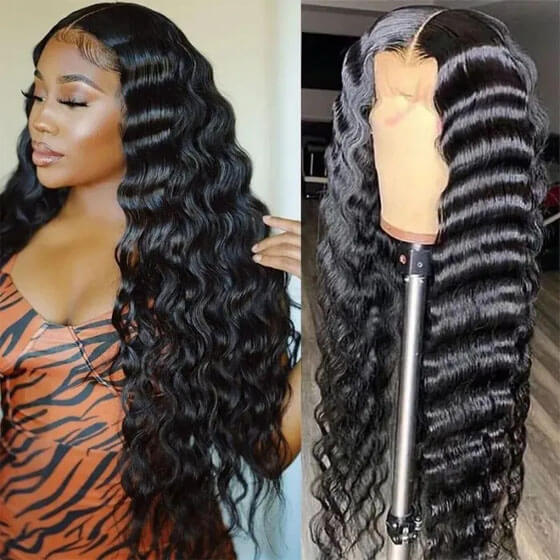 Deep wave hair wig is a popular kind of virgin human hair that is known for blending well with ethnic natural hair textures. It comes in various types such as straight, wavy, and curly. With different styling techniques, it has the ability to hold style for long periods of time.
Women enjoy deep wave hair because it brings the shiny fullness that so many of us desire. Julia new in the natural black big deep wave is a new deep wave hairstyle, it is the new fashion trendy hair textures you must love.
Water Wave Headband Wigs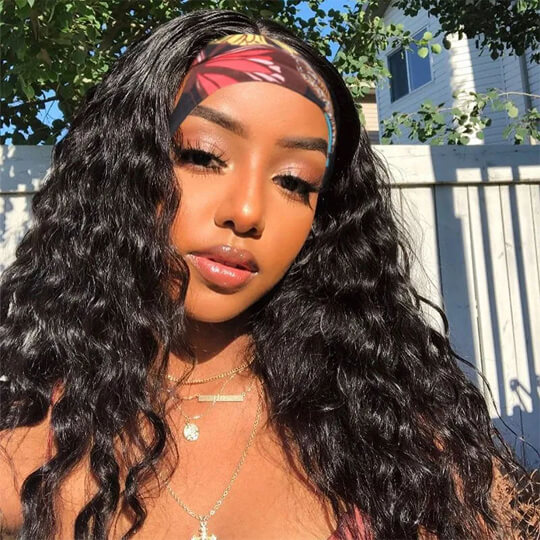 Women mainly need headband human hair wigs to avoid the hassle of maintaining their hair. Headband wigs are very easy to use and save you time. It will give you a look that will last for a long time, and you can choose from various styling options.
Black women have beautiful curly hair, and that cannot be easy to manage. This is the reason why headband wigs are popular among black women. Water wave hair has a good texture for black women, so the headband water wave wig is your best choice.
5×5 HD Lace Body Wave Wig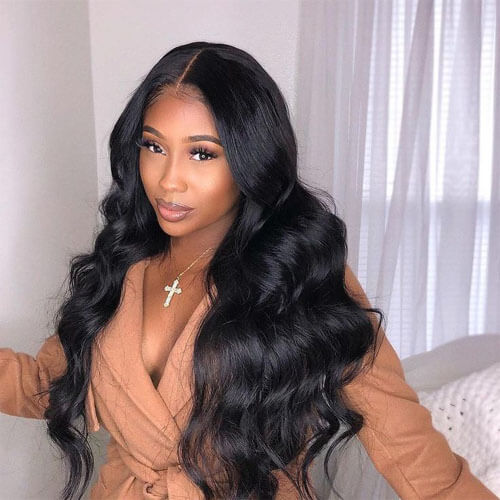 HD lace is a royal lace material that used to be called Swiss lace, and which is invisible when applied to the scalp. This ensures that the wig-wearer can have an exposed hairline, which looks very natural and renders the lace along the hairline highly undetectable. The HD lace wig is made up of HD lace and 100 virgin human hair. The HD lace is the newest kind of lace with the highest quality.
Curly Hair Lace Front Wig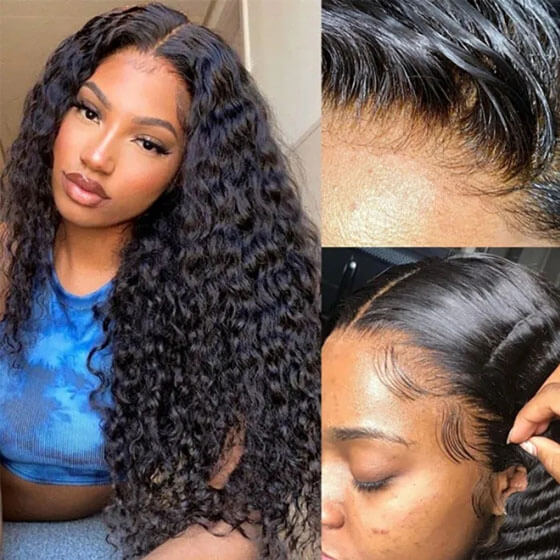 Curly hair lace front wig is very popular among black women. Jerry curly human hair wigs to create a natural and wavy hair wig for black women. Because of the real hair, the hair color is natural color, there should be some gray hair, it is natural.
Curly hair wig is not as shiny and glossy as some synthetic hair. But it is tangle-free, no shedding with one-direction hair cuticles. Curly hair never goes out of style, and a curly wig allows you to sport this timeless look over and over again. Customers prefer human hair curly lace wigs.
Honey Blonde Highlight Curly Human Hair Wig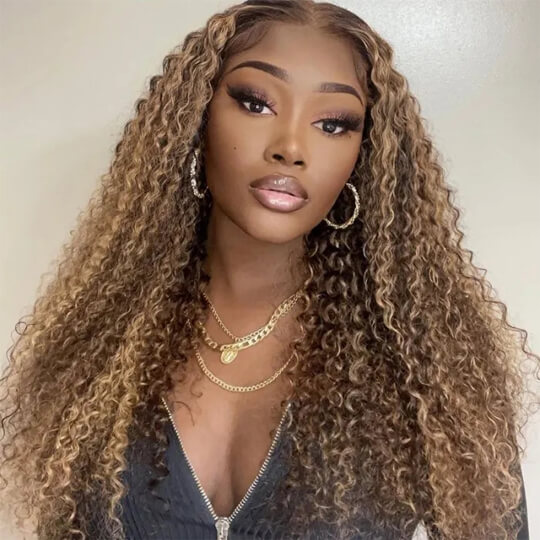 TL412 Honey Blonde Highlight Pre Plucked 13x4 Lace Front Wigs Ombre Color Long Human Hair Wigs, Machine Made & Hand-Tied Swiss Lace Transparent lace Wig, 100% Quality Curly Human Hair Wig. Can be Restyled. Bouncy, soft, and comfortable.
Brown Balayage Highlight FB30 Body Wave Wigs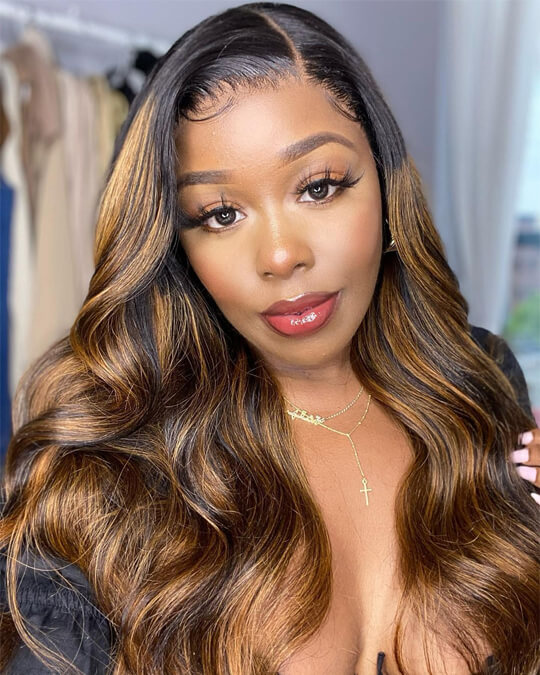 Best Body Wave lace Frontal Wig Human Hair High-Quality Body Wave Lace Wigs For Black Women, #FB30 Super Natural Pre-plucked Hairline. 100% Virgin Hair, Tangle Free, No Shedding. Slight Bleached Knots, Pre Plucked, Natural Hairline, Glueless, Baby Hair Around. Can be Dyed, Restyled, Permed, Bleached, Highlighted, Straighten, Curled or Styled As Your Own Hair.
Ombre Balayage Highlight Color Bob Wigs With Baby Hair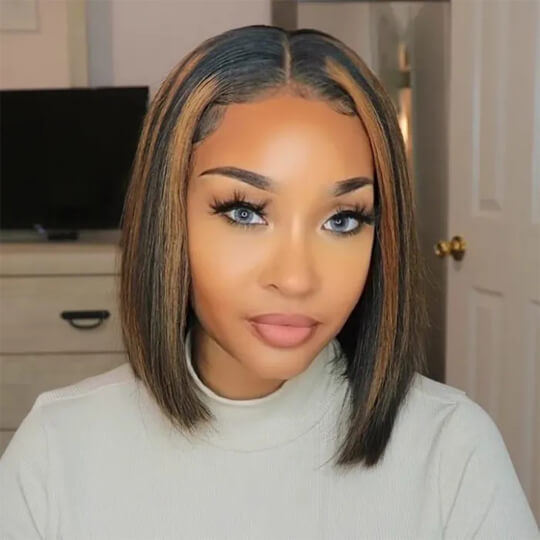 If you ask me what kind of hairstyle always prevails on and will never go outdated, that will surely go to short bob wig. Modern bob wigs are available in every 'style of bob' that you can think of.
Short bob lace wig can have so many variations from the basic bob version into diversified styles according to different requirements and statements they intend to convey, which differs from other styles like straight or wave or curly ones. You can choose the best suitable one for you in the summer.
Whether you're staying in with the family on Independence Day or going out on a romantic and meaningful event, we've got you covered with our best-selling products for you.
All of our products are eligible for free shipping and exchanges. There's even a 30 Days Guarantee, so you know you can easily send back what you don't love, and get the items you won't want to live without.
Don't miss the chance and pamper yourself with the best services and products at Julia Hair Mall. It's very important that we help you to save money. Get The Beauty Look To Celebrate Independence Day!